Diwali gets us all excited. It is a wonderful festival that entails peaceful family time, incredible food, greetings, and of course, gifts. The few days of belonging and cheerfulness are something we all cherish, along with the tremendous amounts of fun that Diwali brings with itself. Gifting, however, can be a little difficult. Be it budget Diwali gifts or premium ones, there is something for everyone, but finding the right one for a particular person would require some personal insight. We would suggest buying a useful Diwali gift instead of a showpiece.
Diwali is all about family time, making people happy, and spreading cheer and the feeling of belonging all around. However, finding useful Diwali gifts is easier said than done. Showing our appreciation to friends and family is certainly the spirit of Diwali, while, finding useful Diwali gifts that people would actively use would require some research, know-how, and a bit of work.
If you are looking for some of the best and most useful Diwali gifts, read on.
---
List of Best Useful Diwali Gifts This Year
1. Clothing
Clothing is one thing that if it is good, you can be sure they will use until it tears. If you wish to buy something great for your friends and family, a good winter jacket, or a sweater, even a good pair of socks might help them get through the upcoming winters. Depending on their style and personality there is something for everyone. You simply need to know their preferences and what exactly they like.
Clothing can be an incredibly useful Diwali gift for friends and family members.
Stylum Women's Printed Shirt-Skirt Set
2. Wallets, purses, and handbags
A lot of folks love wallets and such. They are useful and provides style points as well. Handbags for women also make for wonderful presents, but make sure you get something within their taste for it to be useful. A good designer wallet or handbag can be expensive, but if you have the power of research with you, a smart purchase is not as far as you might think. They make for totally useful Diwali gifts.
Caprese Bailey Women's Tote Bag
3. Merchandise and memorabilia
When it comes to Diwali gifts for nerds and geeks, merchandise from their favorite fictional story could do wonders for their festive mood. From Harry Potter merchandise to Hand of the King brooch from Game of Thrones, there is literally a ton of stuff you could virtually find for your friend or loved one. Since there are as many things available as there are fictional lands, finding one within budget will prove incredibly easy as well.
Brandecision Embroidered Harry Potter Gryffindor Line Scarf
4. Planners and Journals
One of the more useful Diwali gifts for people who are on a schedule, planner notebooks make for the best Diwali gifts. For folks who love to write or draw, a journal, or an art book can prove incredibly helpful. Organizers can be really effective in keeping to your timetable, and for busy people, organizers can make a world of difference. If you know someone who is incredibly productive, planners and journals will surely make them really happy.
Doodle Happiness Journal – Impressionist Hard Bound Planner
5. Travel bags and mini suitcases
For the always-travelling kind, a bag, rucksack, or a mini suitcase can prove incredibly helpful in their endeavors. Each time they go on a trip and take the bag you gifted them; they will thank you for the wonderful gift they received. Cosmetic travel bags also provide a great way to store all your makeup items in the same place while travelling. Mini suitcases are also really helpful for short trips and getting something really pretty and durable can make their globetrotting that much easier. This could truly be one of the most useful Diwali gifts for that loved one who just loves to travel.
Wildcraft 45 Ltrs Grey and Orange Rucksack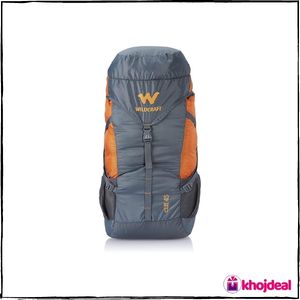 6. Kitchen equipments
If you know someone who just loves cooking and hosting parties, there are a lot of things you could potentially purchase for them that will make them super happy. From cookie molds, ice cream scoopers, knife sets, and bread baskets, there are a lot of things you could buy for your friends and family. If you wish to go a step ahead and not worry about budget, coffee machines, blenders, waffle makers, designer cutlery and glasses, and pizza stones are something they will really appreciate. Recipe books also make for really useful gifts.
Amazon Brand – Solimo Revolving Plastic Spice Rack Set – 16 Pieces
7. Projector
For movie buffs, what is better than a full-on projector which allows them to view their favorite movies on a bigger screen without having to leave their house. A good projector is obviously quite expensive and also requires a bit of know how to purchase. You could either go for budget projectors, or some of the best projectors under 20000.
EGate i9 Pro-Max Full HD 1080p 720p – 2600 L
8. Board games and playing cards
There are a lot of people who love board games and thankfully there are a lot of board games out there to choose from. They not only provide hours of fun playtime but could also be another thing the two of you could potentially bond over. Board games are incredibly fun and can last a lifetime if handled properly. Playing cards can also get expensive if you get those designer versions. There are also different kinds of playing and trading cards that you can gift your friends.
Monopoly Board Game
9. Art and antiques
For those people who love to spruce up their homes with artsy designs, paintings, and antiques, this Diwali, you could be the one that brings them a piece they will cherish for years to come.
Tamatina Wooden Texture Framed Canvas Painting – Sita Ram
10. Tea and coffee
Do you know someone who just simply loves tea? Well, there is one person in every friend circle that will love to taste different kinds of teas. For them, you could easily get stylish tea bags, tea strainers, a brewing mug, delicious tea leaves, and so much more to make their Diwali that much more special. For coffee drinkers, the options are also relatively endless. You could gift a coffee lover a coffee maker, a milk frother, French press, espresso cups, and even customizable and reusable coffee cups and holders. All these beverages and no coaster? Well, you could gift those too.
Country Bean Instant Coffee Powder with Hazelnut, Caramel, Vanilla and Cocoa Mint Flavors
11. Scented candles
There are a lot of people who love a little mood lighting and scented candles after a long day at work. It is incredibly relaxing and sounds like a perfect afternoon to sit with a book or indulge in an in-house date. There are a lot of scented candles available in the market. Customizable ones can also be found. If you know them to like a particular smell, you could easily get a candle that helps them relax.
MINISO Elegant Series-Scented Candle – Floral Bouquet
12. Memberships for online services or classes
With so many TV series' available to watch come buffs who just cannot get enough. There are multiple platforms that offer a ton of exclusive content and for a perfect gift, you could give them an annual membership that brings them endless hours of entertainment. If not entertainment services, you could even get them a membership for online classes they have been wanting to get into. This proves to be one of the more thoughtful gifts and on top of that provides a learning opportunity for them, or entertainment, depending on their preferences.
If they are someone who enjoys entertainment and are on their toes always regarding new and upcoming shows, a membership for these OTT platforms could be one of the most useful Diwali gifts for them.
13. Gardening kit
Gardening is a great hobby. People who indulge are often seen spending on a variety of tools, seeds, soil, fertilizers and more. You could really help them out this Diwali by gifting a set of seeds they could grow, tools they can use, even full-grown plants they can simply re-plant in their garden. Pots, gardening gloves, birdhouses, patio greenhouses, watering cans, and gardening snips, there is simply a lot of things you could potentially purchase to make their Diwali that much better. A proper gardening kit with assorted seeds and such could really make for the most useful Diwali gifts for an enthusiast.
Kraft Seeds Gate Gardening Tools Set
14. Table lamps, lights, and lanterns
Nothing makes people happy than some incredible mood lights, and that too during the festival of lights, Diwali. Table lamps and lanterns make for really fun Diwali gifts that can really light up their festive season and prove useful during their afternoon chill-time hours. You can also buy some modular touch lights that give a certain modern feel to any environment.
Philips Air LED Table Lamp
15. Blankets and quilts
Easily one of the most useful Diwali gifts to prepare for the winters. You know those people that just love being comfortable and warm all winter. Well, a good blanket or a quilt can really help them beat the worst of winter with your help. They make for great gifts and you get to choose the design and pattern in accordance with their interests. Go on, do not shy away from giving them the Harry Potter blanket you know they will love.
AmazonBasics Micromink Polyester Sherpa Blanket – Full/Queen
16. Decanters
A really cool Whisky Decanter can really prove useful to a friend who loves to indulge. They not only provide a great way to store and pour drinks, but also look incredibly great with both, modern and retro décor. They are products unparalleled in craftmanship and quality. Be mindful though, they can get expensive depending on how detailed the craft that went into producing it.
PrimeWorld European Long Champ Crystal Clear Glass Decanter
17. Jewelry
If you wish to gift a loved one something really timeless this Diwali, you could easily opt for some jewelry. Now, of course jewelry can get expensive, but if you play your research cards right, you can pick up some affordable and beautiful jewelry sure to bring a simple to their face. If your man likes jewelry, you could opt for bracelets, necklaces, or rings.
Accessorize London Crystal Sun Bracelet
18. Wind spinners and chimes
One of the best Diwali gifts, often touted as lazy gifts, are wind chimes and spinners. Now, they are not lazy gifts by any margin. If you spend some time finding a good one which works well with their home décor, a wind chime or spinner can really enhance the mood in their house. They are generally colorful and bright which goes well with the spirit of Diwali as well. They also make for useful Diwali gifts for employees.
Reptum Decor 8 Pipes/Rods Windchime
19. Idols
Diwali entails a lot of celebrations and prayers. What better gift than an idol of their preferred god. Ram-Sita idol with Hanuman are the most common ones during Diwali. Ganesh and Laxmi figurines can also help enhance the peaceful feel of their in-house temple.
Aona Brass Ganesha on a Swing
20. Sweets and dry fruits
Or you could go the generic route and gift some delicious sweets or a assorted dry fruit package. They might be generic, but if you put some thought into it, a box of sweets can really make someone incredibly happy. Dry fruits are also some of the better, more easily bought gifts out there. Making sure you understand their taste and likeability, you could offer them their favorite sweets and dry fruit package.
If you want to go the extra mile, you could also make them some homemade sweets yourself. They are not difficult to make and easy vegan sweets are also an option for the health-conscious type. They might not end up being truly perfect Diwali gifts, but they essentially are happiness in a box.
Ghasitaram Gifts Dryfruit Box – 800 g
21. Help them decorate
This gift will only take effort on your part, and that might go a longer way than buying something from the market. As a gift, you could help them decorate their home using the most basic items and a little bit of know how. Diwali is a festival of belonging, lights, and love, and what better way to show you care than jazzing up their home this Diwali. From torans to lights, decorating together can even help you deeply bond with each other. There are a few Diwali decoration ideas you could follow, and trust me, they are not difficult at all. If anything, they are quite fun when there are more hands involved.
---
Frequently Asked Questions (FAQs)
What is the best gift for Diwali?
There is no set Diwali gift that everyone might like. Yes, there are a few generic things that people would enjoy no matter what, dry fruits, clothes, and essentials that everyone uses. However, the most useful Diwali gifts would have to be personalized according to the person you are giving it to.
What should I gift my family on Diwali?
The best gift for your family on Diwali is your time. Just kidding! Buy them something nice, or even make a homemade present, they might really like the thought you put into it.
What are the best Diwali gifts for employees?
Diwali gifts for employees and your bosses is a really difficult thing to get right. If you know them well, it might be relatively easy, but yes, good Diwali gifts for your employees might include some scented candles, a customized mug, maybe a Diwali bonus. You know, there is a lot that you can choose from.
Can I make a homemade Diwali gift?
Yes, totally. Homemade Diwali gifts are really cool. If you are good at drawing, or arts and crafts, you can easily whip up something interesting for them. You can even make a customized dry fruit box, or something with their favorite things in it. A homemade blend of tea is also easy to do and can be really special for them.
---
Conclusion
Celebrating Diwali with your loved and dear ones is a real treat. The bright lights, exchanging sweets, and the fun you have is the true gift that is the spirit of Diwali. If you want to make someone feel special or show your appreciation, there are a ton of different gifts you can find for them. A unique and thoughtful gift can really go a long, long way. Now, of course picking the right gift for the right person is a difficult chore, and for that purpose we bring to you the most useful Diwali gifts. Gifts that not only make them happy but things that they can use for a lifetime.
---