Are you looking for the best Green Tea in India? Then you are at the right place because in this article we have researched and reviewed the top & healthiest Green Tea brands in India. Each of these products has been chosen after conducting an in-depth review. Ingredients, features, benefits and customer reviews have been also been considered.
More and more people are switching over from coffee & tea to green tea to get their daily dose of caffeine. Rich in antioxidants, essential nutrients and anti-inflammatory polyphenols, green tea is one of the healthiest beverages with a gazillion health benefits.
Green tea contains about 30% polyphenols by weight. This plant-based micro-nutrient is beneficial in reducing inflammation, helping to fight cancer and preventing cell damage. Various studies have also shown that green tea boosts the metabolic rate and increases fat burning in the short term.
The caffeine and L-theanine in green tea improve mood, attentiveness, reaction time, memory, physical performance, and overall brain function. Green tea is also rich in catechins that are known to suppress the growth of some bacteria and viruses. This can lower the risk of infections.
If you want to start consuming green tea regularly, scroll down to shop from our top picks for the best Green Tea brands in India. Along the way, we'll also discuss the benefits of green tea.
Top Green Tea Brands With Price In India 2022
Listed below are our Best Green Tea brands picks. They have been selected by our experts after considering things like ingredients, purity, calories and taste. Whether you're looking for green tea leaves, green tea bags or matcha green tea, you'll find whatever you need in our list of Best Green Tea brands.
📌 Prefer coffee over tea? Take a look at our article about the best coffee in India to help you find the perfect cuppa!
10 Best Green Tea Brands In India – Review
Lipton Loose Green Tea
Kimino Japanese Organic Matcha Green Tea
Tetley Ginger, Mint and Lemon Green Tea
Organic India Tulsi Green Tea
Girnar Detox Green Tea
24 Mantra Organic Green Tea
Society Premium Green Tea
LaPlant Tulsi Green Tea
Typhoo Green Tea
Dilmah Pure Ceylon Green Tea
1. Lipton Loose Green Tea
Owned by Unilever, Lipton is a British brand of tea. Lipton teas are a blend selected from many different plantations around the world, from well-known producing countries such as Sri Lanka, India, Kenya, and China. Apart from black leaves tea, the company also markets a large range of other varieties. These include green teas, black flavored teas, herbal teas, Lipton Linea in Europe and Lipton Milk Tea in various Asian markets.
Key product features
Quanity: 250g
Zero calories
Unsweetened
Gives your skin a hydrated healthy glow
Helps maintain a healthy heart
Delicious flavor and great taste
Soothing aroma to help you relax
This is a Vegetarian product
2. Kimino Japanese Organic Matcha Green Tea
Matcha is finely ground powder of specially grown and processed green tea leaves. It is one of the best green tea considering two aspects of farming and processing: the green tea plants used for matcha are shade-grown for three to four weeks before harvest, and the stems and veins are removed during processing. The flavor of matcha is dominated by its amino acids. The highest grades of matcha have more intense sweetness and deeper flavor than the standard or coarser grades of tea harvested later in the year. Kimino's matcha is surly one of the best matcha tea in India.
Key product features
Quantity: 50g
Calories: 3 kcal per gm
Ingredients: Matcha green tea powder
Smooth natural flavor
Vibrant green color
Contains the power of an amino acid called L-Theanine
Gives all day energy, mental clarity and focus
Metabolism booster
All natural product
No additives or preservatives
Combats stress and anxiety
This is a Vegetarian product
3. Tetley Ginger, Mint and Lemon Green Tea
Tetley is a beverage manufacturer founded in 1837 in Yorkshire, England. It is the largest tea company in the United Kingdom and Canada, and the second largest in the United States by volume. Made from the finest young tea leaves and buds, green teas from Tetley have a smooth, mellow flavor and a natural aroma that lingers on forever. A cup of green tea contains five times more antioxidants than an apple, neutralizing free radicals for added benefits. Cleanse yourself from within while enjoying your daily cup.
Key product features
Quantity: 100 Tea Bags
Calories: 92 kcal per 100 gm
Ingredients: Green tea, lemon flavor, ginger flavor & mint flavor
Flavorful blend of Ginger, Mint and Lemon
Ginger soothes ailing muscles and aides digestion & assimilation
Mint acts as a blood purifier
Lemon boosts immunity
This is a Vegetarian product
4. Organic India Tulsi Green Tea
Organic India is one of the best green tea brand in India. This multi-national company founded in 1997, in Lucknow, India, that produces organic herbal and Ayurvedic health products. The company is most popular for its line of organically grown tulsi teas, which are sold in India, the US, Canada, and the UK. The brand's advanced processing methods and dehydration technologies ensure that their products retain their maximum level of potency for the highest quality. We think this is the greatest green tea on the market! It's made from 100% natural leaves and tastes awesome.
Key product features
Quantity: 25 Tea Bags
Calories: 2.16 kcal per bag
Flavor: Lemon ginger
Refreshing and delicious
Boosts stamina
Strengthens immunity
Improves digestion and metabolism
Helps you relax
This is a Vegetarian product
Contains Natural Caffeine
FSSAI Certified
100% Organic Certified
Staple free tea bags
Infusion bags made from unbleached, biodegradable fiber
Ingredients: Ginger, Green Tea, Lemon Grass, Rama Tulsi, Krishna Tulsi, Vana Tulsi, Natural lemon flavor
5. Girnar Detox Green Tea
A yearning to promote and offer world-class teas to their customers, with a passion for excellence was the prime ethos with which Girnar's foundation was laid. It was the belief and conviction of their Founders that started their adventure and romance with Tea in the year 1978. With these ingredients this tea brand has not only created the right mix for a steaming cup of your favorite Tea but also earned the reputation of being one of the finest Tea brands, with a respectable name amongst tea connoisseurs across the globe.
Key product features
Quantity: 36 Tea Bags
Zero calories
Detox green tea with herbs and spices
Ingredients: Green tea, black pepper, ginger, tulsi, asafoetida, clove, cardamom, cinnamon, nutmeg, rock salt, citric acid
Good for bloated stomach and annoying seasonal cough & cold
This is a Vegetarian product
No artificial flavor
No preservatives
📌 You might also like: Best electric kettle
6. 24 Mantra Organic Green Tea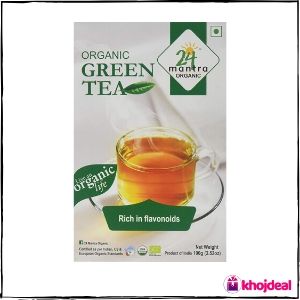 Founded in 2004, 24 Mantra is a pioneer in organic foods. The brand has over 200 products ranging from staples, processed foods, fruit juices, a ready to cook sub range and several new products on the anvil. Under the 24 Mantra Organic label, the brand has a strong presence across India and abroad with 1500+ outlets and own brand stores. From breakfast to dinner from staples to snacks you can find an organic choice with 24 Mantra.
Key product features
Quantity: 100g
Calories: 1kcal per 120 ml
Made from 100% organic green tea
Excellent source of healthy antioxidants
Organic certified
This is a Vegetarian product
No preservatives
No pesticides or harmful chemicals
Better taste
No water contamination
7. Society Premium Green Tea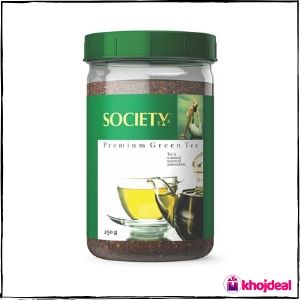 Society Tea is an Indian tea brand, headquartered in Mumbai, Maharashtra, India. It is part of a group founded in 1933. Society Tea today is the market leader in the Tea category in Maharashtra, and has become a dominant force, with around 40% market share of packaged tea in the state. The brand has a considerable presence in other states such as Goa, Andhra Pradesh, Madhya Pradesh, Karnataka, Chennai, Punjab, Rajasthan and Delhi.
Key product features
Quanity: 250g
Calories: 326 kcal per 100g
Rich in flavonoids, antioxidants and other nutrients
Form: Loose leaf tea
This is a Vegetarian product
Distinctive and revitalizing flavor
Can be enjoyed either hot or cold
8. LaPlant Tulsi Green Tea
LaPlant Tulsi Green tea is a unique blend of high grown Green Tea and select Tulsi leaves that provides a deliciously healthy cup with a soothing aroma. Rich in powerful antioxidants and many medicinal benefits, LaPlant Tulsi Green Tea delivers a deep healing experience while completely rejuvenating your mind and body.
Key product features
Size: 200g
Form: Long leaf
Fresh Green Tea & Tulsi Leaves
High Antioxidants contents
Aids Weight Loss
Truly Refreshing & Rejuvenating
Great taste
Soothing aroma
Not bitter
This is a Vegetarian product
9. Typhoo Green Tea
Typhoo Tea Limited is an over 100-year-old iconic British brand with a rich heritage stretching back to 1903 when Birmingham grocer John Sumner developed and sold a blend of tea in his shop. Over the years, Typhoo has developed from being the first brand to sell ready packaged tea, to being a leading tea business that now offers products in every sector of the tea market.
Key product features
Quantity: 100 Tea Bags
Calories: 105.5 kcal per 100g
Rich in antioxidants & phytonutrients
Sugar Free
Free from preservatives
No artificial flavoring
This is a Vegetarian product
Helps maintain immunity
Maintains metabolism
Burst of uplifting freshness
Natural chemical free produce
Ingredients: 100% green tea
10. Dilmah Pure Ceylon Green Tea
Launched in 1988, Dilmah is the first producer owned tea brand. It offers tea picked, perfected and packed at origin. Unlike the multi-origin blends that monopolize supermarket shelves, Dilmah brings tea that is freshly packed at source and therefore rich in flavor and natural goodness. The Dilmah Green tea is an all-natural pure, aromatic, pale yellow beverage that has a slightly sweet finish. It is well known green tea in India with amazing health benefits as it is rich in antioxidants.
Key product features
Quantity: 25 Tea Bags
Calories: 120 kcal per 100g
This is a Vegetarian product
Natural
Aromatic
Slightly sweet finish
Rich in antioxidants
Tea Form: Bag
Low Cholesterol
Ingredients: Pure Ceylon green tea, natural peppermint leaves, natural spearmint leaves
📌 Tea and biscuits are a classic combination that can be enjoyed at any time of day. Whether you like your tea strong or light, milky or black, with sugar or without, there is a perfect biscuit out there for you. Take a look at our article about top biscuits in India to find out more.
Frequently Asked Questions About Green Tea (FAQs):
1. What is the best green tea brand?
Green tea is definitely one of the healthiest teas you can drink. However, choosing one of the many brands and varieties can be a challenge, right? To make your decision a little easier, we have chosen the best green tea brands for you. Our top picks are Lipton, Tetley, Organic India, Girnar, Society Tea, LaPlant, Typhoo and VAHDAM Tea.
2. Does green tea help in weight loss?
Green tea has slimming properties because it is rich in gallic acid, caffeine and theine. It burns fat and accelerates metabolism thanks to theobromine and theophylline which act on the mobilization of localized fats in the adipose tissue and reduce water retention.
3. Are green tea bags harmful?
Yes, green tea bags are harmful. In addition to cellulose, tea bags contain phthalates and polypropylene, a thermoplastic polymer, which, in contact with boiling water, release substances that are harmful to the body. The phthalates contained in tea bags are plastic substances derived from petroleum, which are harmful to health. Immersed in hot water, the prepackaged sachets seem to release up to sixteen different phthalates that are harmful to the endocrine system.
4. Are green tea and matcha the same?
Macha tea is a variant of green tea, but in a more concentrated form. During the preparation of traditional green tea, the leaves are used during the infusion and then removed, while in the case of Matcha the leaves are consumed in the form of powder, contributing to the assimilation of antioxidants, vitamins, and proteins. It contains 137 times the antioxidants present in any green tea and is therefore excellent for fighting the signs of aging and the appearance of wrinkles.
5. Does green tea cure acne?
Yes, according to various research studies, green tea can reduce acne, thanks to its antioxidant powers. The antioxidant with "miraculous" effects is called epigallocatechin-3-gallate or EGCG and seems to be a real panacea for acne treatment. Anyone who wants to defeat a similar skin disorder can therefore try drinking a cup of green tea every day for at least a month.
If you want to make the most of the anti-inflammatory action of green tea on pimples, you can also apply it every day, 3 times a day, to the affected area. To do this, just prepare a cup of green tea and use a cotton ball to apply it on the pimples and let it act for a while.
6. Does green tea increase metabolism?
Green tea infusions are often used as adjuvants for weight loss due to the stimulating action of tea on the basal metabolism and for the ability of this remedy to promote the mobilization of glycogen, the oxidation of fats and to increase lipolysis.
7. Does green tea reduce blood pressure?
Green tea acts directly on blood pressure regulation mechanisms. To better understand these mechanisms, it is necessary to know a little biochemistry: an enzyme in our body, the so-called ACE, catalyzes the formation of a substance called angiotensin II, which has a strong hypertensive action.
And, as is known, the narrowing of blood vessels causes blood pressure to rise. The most recent studies have shown that the catechin contained in green tea limits the action of ACE and therefore reduces the formation of angiotensin.
8. Should green tea be taken hot or cold?
This depends on individual preferences. However, hot green tea has a stronger caffeine content than cold tea and therefore is more beneficial. It is also important to know that green tea should not be prepared in very hot water. It will become bitter. Ideally, the temperature of the water should be between 160 and 180 degrees Celsius.
9. Should green tea be taken with sugar?
The decision is up to you. If you are a purist and want to enjoy tea in its right measure, as it is, do not put anything in it. However, if you want to sweeten it, don't use sugar. It is best to use natural, unrefined products with properties that go beyond just sweetening the tea. Therefore, more than valid options are cane sugar (better if organic), stevia, maple syrup, molasses (better dark one), agave syrup and any other product with these characteristics.
Conclusion
This concludes our review of the Best Green Tea brands in India. As always, we encourage your inputs and suggestions. If you have any comments about the Green Tea we've listed here, we'd love to hear from you.
---
Loved our blog on best green tea brands in India? Do share it with your friends on Facebook, Twitter, and Instagram.
DISCLAIMER: Being a reader-supported blog, Khojdeal earns affiliate commission from purchases made using links on our blog.
Learn more