Updated -
One out of five people in the world suffers from sleep deprivation. Many of them currently rely on addictive sleep medications that have many side-effects. The Dutch start-up, Somnox, is on a mission to change that.
They have introduced the world's first Sleep Robot that combats sleepless nights. The device improves sleep by soothing the body & mind and reducing stress & anxiety so people fall asleep faster, sleep deeper, and wake up feeling refreshed.
Speaking about this path-breaking innovation, Somnox co-founder Julian Jagtenberg say:
"We've been personally exposed to the effects of sleep deprivation. That's why we founded Somnox. Rather than reaching for addictive medication, we wanted to offer a natural approach to improving sleep."
The Somnox Sleep Robot helps users sleep faster by subconsciously synchronizing their breathing rhythm to that of the Sleep Robot. Research has shown that breathing is essential to naturally reduce stress and increase relaxation.
In addition to rhythmic breathing, the device provides its user with ambient audio as well. Scientific evidence is proof that music is effective in improving sleep quality in individuals with insomnia symptoms. Slow-paced music is known to slow down brainwaves, thereby leading to a semi-hypnotic or meditative state which ensures relaxation by greatly reducing the feelings of stress and anxiety.
The sounds of heartbeats, lullabies, guided meditation are included in the accompanying app, which is available for both iPhone and Android smartphones. Personal audio files can also be uploaded. Personal preferences like sleep program, sleep duration, breathing rate, customize audio, etc. can be set during the day to ensure a tailored approach to improve sleep at night.
After 24 months of research and development, Somnox received feedback of over 5000 people, resulting in hundreds of prototype iterations. To ensure the best product possible, Somnox carried out 57 intensive sleep trajectories with selected test sleepers. Somnox co-designed the sleep robot with Royal Auping, Europe's leading circular mattress manufacturer, to provide the ultimate comfort through a sustainable product with high-quality materials.
The ergonomic shape and design of the Sleep Robot make it a comfy and easy-to-use product. Its design allows the sleepers to comfortably place it on their chest, wrap their arms around it and hug it to ensure affection.
How Somnox Works in 3 easy steps?
Step 1 – Setup the device
Set your preferences in the app.
Personalize the breathing rate.
Choose the audio.
Set the sleep timer.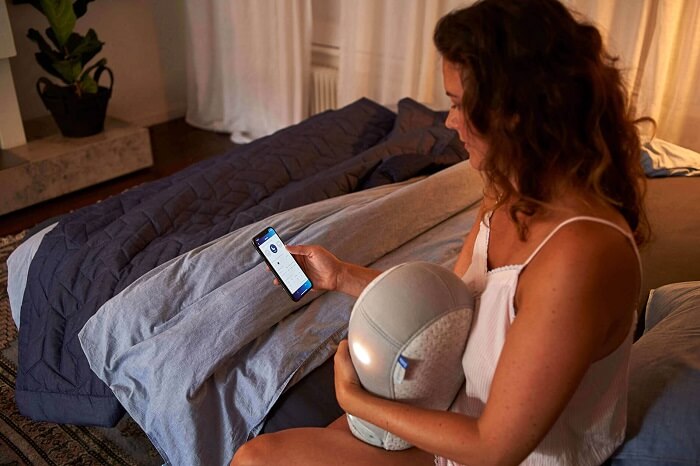 Step 2 – Sleep Fast, Sleep Well
Feel the breathing of the robot and synchronize subconsciously.
Listen to the ambient sounds and relax.
Cuddle with your soft companion and sleep peacefully.
Step 3 – Wake Up Refreshed
No more grumpy mornings
Keep track of how you feel with the app
Improve your life
Technical Specifications
Functionalities
Breathing Simulation
Relaxation Audio
Affection
Comfort
Sensors
Breathing Detection
Motion Detection
Connectivity
Bluetooth 4.0 Low Energy
(turned off at night)
Compatibility
iOS 10 & Above
Android 4.3 & Above
Battery Type
Li-ion
Battery Life
3500mAh
10h breathing (in:out = 1:1)
Dimensions
Height x Width x Depth
355 x 203 x 127 mm
14 x 8 x 5 in
Weight
1.9 kg / 4.0 Ibs
Memory
16GB microSD card
If you're interested in a comforting robot that helps you get a better night's sleep, pre-order Somnox now on the company's site.
Must Read – 7 Upcoming Movie Releases To Look Forward To In April 2020
---
Loved our blog on Somnox? Do share it with your friends on Facebook, Twitter, and Instagram.