A ketogenic diet includes addition of high fat food in place of carbohydrates. It promotes weight loss putting you body in "ketosis". Khojdeal shares an Indian Vegetarian Ketogenic Diet.
The Indian vegetarian diet is incredibly nutritious in its own. Removing all the carbs from your diet can help with weight loss and prevention of chronic diseases. In that, a ketogenic diet forces your metabolism to burn fat for energy. Protein still has to make its way into your diet, therefore eggs are the best way to do so, but for vegetarians, we have the best meals in store for you.
Indian Vegetarian Ketogenic Diet
Disregarding meat and eggs from a ketogenic diet is a little difficult to do. But for vegetarians the options can be slim. Thankfully, the Indian diet in itself is tasteful, nutritious and we can make fatty food out of anything, the perfect example is Palak Paneer. We literally took spinach and made it into fat. Brilliant!
Here is the perfect Indian Vegetarian Ketogenic Diet.
Baigan ka Bharta
Brinjal, or Baigan is a super low carb vegetable that is mashed and cooked with spices and eaten with bread or rice. It is a perfect source of nutrition and contains almost negligible amounts of carbs compared to other vegetables. Indians do love Baigan and eat it in a lot of forms.
Palak Paneer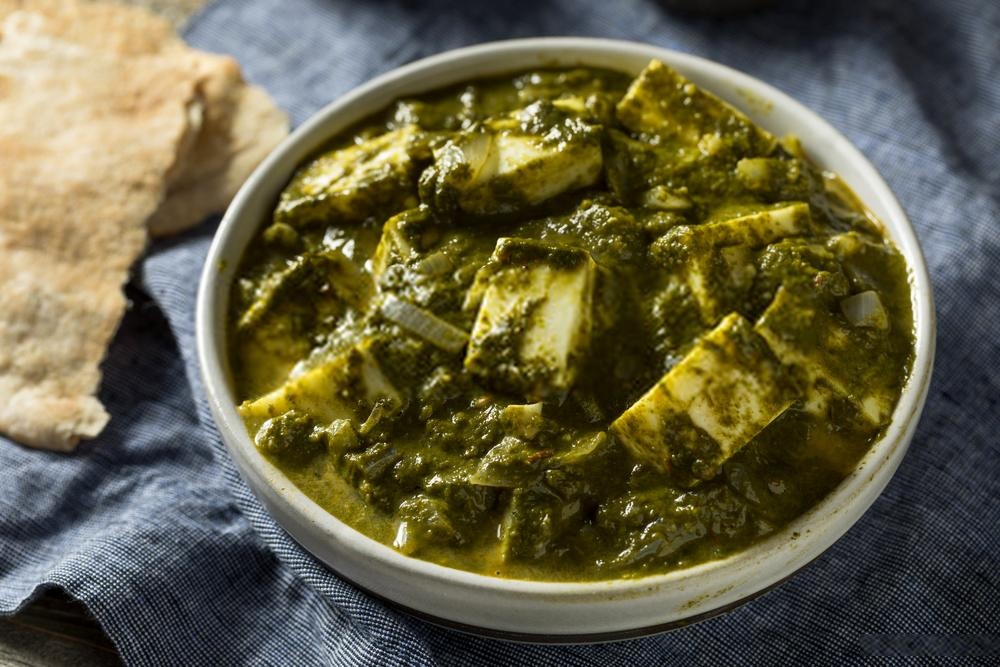 Now this is something on the lines of a perfect ketogenic meal. With fat from the cheese and the nutrients from the spinach is the perfect combination of a fatty but healthy meal. Indians did it right with this one.
Sarso Ka Saag
This mustard dish is widely eaten in North India and is surprisingly low on carbs. Adding some ghee to the dish can easily enhance the flavors and bring in some much needed healthy fats into the fold.
Mushrooms
Mushrooms are again a rich source of nutrients, fiber and minerals. They are incredibly low on carbs, fat and calories. Making a somewhat, cream mushroom meal would make it one of the best foods to eat on a ketogenic diet.
Cauliflower
You can easily eat a lot of this vegetable without failing your keto promises. Cauliflower has a rich nutrient profile, much like broccoli. It is one of the best veggies to consume in a keto diet plan. Mashing cauliflower, adding spices, making patties out of it and pan frying it will result in a really tasteful and healthy meal.
Bell Pepper Basil Pizza
We all love pizza don't we. The best kind of pizza to have in a keto diet is definitely one loaded with bell peppers. Make sure it is thin crust though, we don't want to add too many carbs now do we. Load the pizza with cheese and your choice of bell peppers and top with basil for a perfect, easy to make keto diet pizza.
Grilled Cheese Sandwich
Don't let this breakfast, or pre-dinner sandwich fool you. A grilled cheese sandwich is one of the most keto diet foods you can consume, since cheese is a must in this diet plan. You can also easily substitute the store bought, rich in carbs bread for a more keto friendly one by baking some of your own using almond flour. It is easy to do and you will not regret the final product you consume without breaking your keto promise.
Conclusion
A fair and simple ketogenic diet includes fatty foods and abundant protein sources. For non-vegetarians, the route is simple, add seafood, meat, eggs and cheese to your diet. For vegetarians though, the route is a little more complicated. You have to find more protein sources to add to your diet to make the most of your ketogenic diet plan. Khojdeal lists a perfect Indian Vegetarian Ketogenic Diet.
DISCLAIMER: Being a reader-supported blog, Khojdeal earns affiliate commission from purchases made using links on our blog.
Learn more