If you do not like ice cream, you must be lactose intolerant. There is no other reason for not enjoying ice cream. Well, there are, but you know what I mean. When it comes to this cold dessert, you know there are plenty of options and flavours to choose from. From complex ones, to simple and elegant vanilla and even fruit based ice cream, there is something for everyone.
Beside having to choose the flavour, you might even have to choose the brand as well. So, what are the best ice cream brands in India? Let us have a look.
If you want to, you can even whip some ice cream up by yourself as well. Yes, and it is totally easy to do. Requires only a few ingredients and an Ice Cream maker machine.
---
List of 10 Best Ice Cream Brands in India
1. Amul
2. Kwality Wall's
3. Vadilal
4. Mother Dairy
5. Arun Ice Cream
6. Creambell
7. Havmor
8. Baskin Robbins
9. Naturals Ice Cream
10. Haagen-Dazs
The Best Ice Cream Brands in India
India has a wide range of sweets and desserts, however, ice cream remains a highly desirable food amongst the young and adults alike. Considering the flavours and options you have at your disposal, ice cream might just be one of the biggest industries in the country. As you might know, the dairy industry is anyway highly consumed, however, statistically India only consumes 400 ml ice cream per capita. Whereas, the US consumes around 22,000 ml of ice per capita. Also, milk consumption is highest in India than any other country. It is even greater than the milk consumption of the EU as a whole. 
Anyway, here are the best ice cream brands in India in no particular order.
📌Check Also: Best Biscuit Brands in India
1. Amul Ice Cream
Amul is synonymous with ice cream in India. The incredibly huge chain of primarily dairy-based products, is based in Anand, Gujarat. Founded in 1946, its availability is credited worldwide, with India being its primary consumer. It is essentially a cooperative brand, managed by the GCMMF, or the Gujarat Co-operative Milk Marketing Federation Ltd. The body is jointly owned by a total of 36 lakh milk producers in Gujarat and is the primary supplier of milk to a huge part of the country.
Amul started India's White Revolution, which essentially doubled milk production at the time and has since allowed the country to achieve the title of the largest producer of milk and milk products in the entire world.
For so many ice cream lovers, Amul is the first choice. Amul has been able to provide quality without being overly expensive. Their line of affordable ice cream bricks have been a household staple for years in every household that enjoys ice cream. Easily one of the most recognizable Ice cream brands in India.
2. Kwality Wall's
Kwality Wall's has been another staple in the Indian consumer's dessert plans. The company is a frozen desserts brand that is owned and operated by Hindustan Unilever. It is one of the biggest FMCG companies producing and delivering ice cream and other frozen desserts in India, Pakistan, Bangladesh, Bhutan, Brunei, Myanmar, Nepal, Thailand, Singapore, Malaysia, and Sri Lanka.
For many who do not know, Kwality Wall's is an amalgamation of two brands, Kwality from India, and Wall's from Britain. Unilever simply created a brand mixing the operations of these two companies two build a brand that could potentially run in either country. In 1956, Kwality was the first brand to import machinery to produce and distribute ice cream in India. In 1995, after a visible growth potential Unilever took over the company, merged it with Wall's and has been selling frozen goods under its current brand name ever since.
If you are a lover of Cornetta and Magnum, you should be thanking Kwality Wall's for those wonderful cold treats. Kwality Wall's in no doubt one of the biggest ice cream brands in India, if not the entire South Asian region.
3. Vadilal
Next in our list of top Ice Cream brands in India is Vadilal. Its a huge name in the Indian consumer market, especially when it comes to ice creams, Vadilal has forever been a part of our culture, and for the right reasons. Vadilal is amongst the very few companies that solely focus on ice creams and candies. As a brand, they are a household name in India and have been for a very long time.
Vadilal started out as an outlet in Ahmedabad, Gujarat and is now able to produce upto 150+ ice cream flavours for its quite loyal customers. Primarily an ice cream and flavoured milk manufacturer, Vadilal is also huge with exports of frozen vegetables, breads, and ready to eat snacks. With its modest beginnings as Vadilal Gandhi started a soda fountain in 1926, his son and his grandsons were instrumental in evolving the company into the modern day entity it is today.
4. Mother Dairy
If you are a daily dairy consumer, chances are you know mother dairy and the quality it strives to provide. It is a huge name in both the dairy industry and the ice cream industry. It has a similar kind of loyalty and love within its customers as Amul has achieved. Owned by the NDDB, the National Dairy Development Board, it is easily one of the biggest ice cream brands in India.
📌Check Also: Best Green Tea Brands In India
Mother Dairy Fruit & Vegetable Pvt Ltd is an Indian food processing company that manufactures, markets and sells milk, milk products and obviously ice cream. Its milk products include cultured products, buttermilk, ice cream, paneer and ghee under the Mother Dairy brand. The company also sells edible oils, frozen vegetables, fresh fruits and vegetables, and even processed food like fruit juices, jams, pickles, and such. The company was founded in 1974 has been one of the biggest and most consumed brands in India.
5. Arun Ice Cream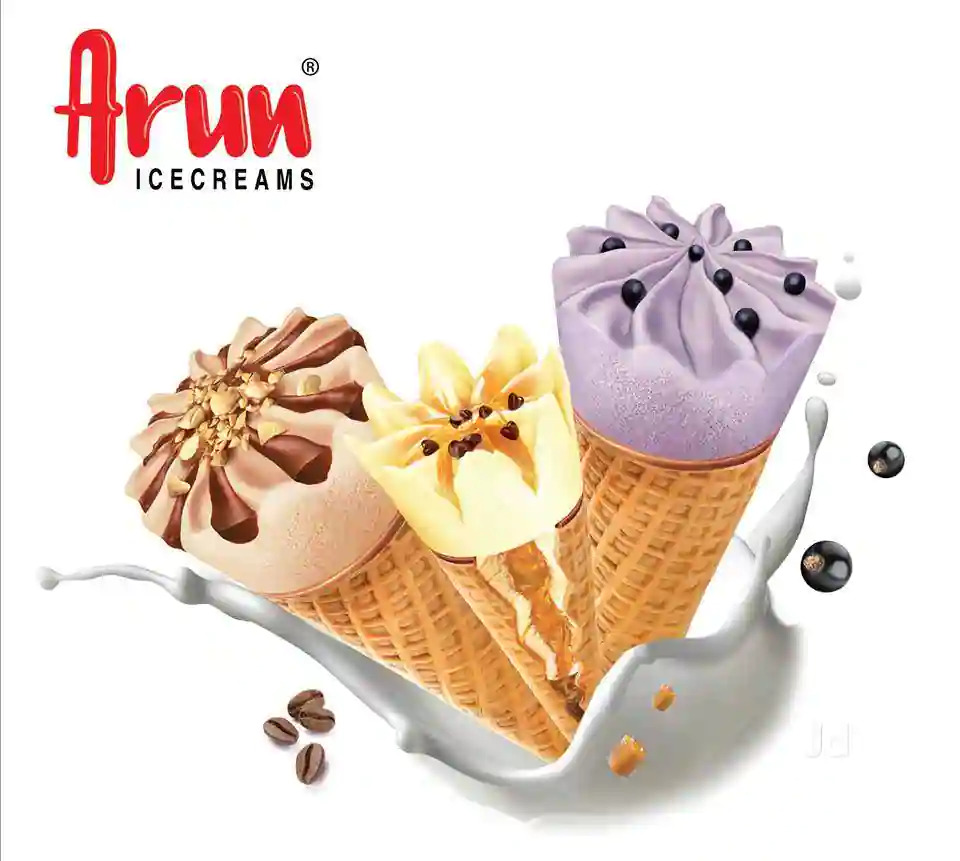 Also one of the more easily recognizable brands to serve ice cream to its consumers in India, Arun ice creams is owned by Hatsun Agro Product, Tamil Nadu. It was started by R. G. Chadramogan in the year 1970 and has since only grown to be in every state of the country. By 1985, the brand was huge in the state of Tamil Nadu, topping ice cream sales in terms of volume. By the year 1999, over 700 outlets in Tamil Nadu, Karnataka, Kerala, and Andhra Pradesh had sprung open. As of 2018, the brand has moved northwards and now owns and operates over 2300 parlors in multiple states and cities.
The company started off serving the rural and suburban public, allowing them to put up affordable products and introducing new flavours every season. This allowed customers to love their concept, affordability, quality and readiness to be an exclusive brand.
6. Creambell
Another loved ice cream brand in India, Creambell is a classic and the one brand that is available in most states you go to. A joint venture between Devyani Food industry and a France-based ice cream company, Candia, Creambell is hugely regarded as one of the biggest ice cream brands in India. They have also been named the fastest growing ice cream brand in India.
The company is headquartered in New Delhi, India and is available in over 19 states all across the country. Apart from serving the Indian public, Creambell is also huge in Nepal, Bhutan, Uganda, Rwanda, Zambia, and Nigeria. Creambell also has multiple manufacturing plants all across the country and over 35,000 outlets in India alone. The company grew to over six times in the period between 2008 and 2013.
However, in May of 2020, the company announced that it is shutting down its business on account of the adverse market conditions.
7. Havmor
If you live in Mumbai, you may be more acclimated to eating Havmor than any other ice cream brand. Havmor is a huge player in the ice cream industry in India. It has consistently shown progress and attention to quality which allows it to stay afloat while many others cannot. It was founded by one Satish Chona in Karachi, Pakistan. Since its founding in the year 1944, Havmor has tried a huge avenue of flavours to entice customers and maintained quality to keep them coming back.
Since then, Havmor has frequently dabbled in different flavours and even started up an ice cream boutique for connoisseurs of the cold and wonderful dessert treat.
8. Baskin Robbins
If you love the taste of premium ice cream, chances are you love Baskin Robbins ice cream. It is an American chain of ice cream and cake-speciality shop restaurants owned by Inspire Brands. Founded in the year 1945, Baskin Robbins was started by Burt Baskin and Irv Robbins in Glendale, California. As one of the biggest ice cream chains in the world, Baskin Robbins serves over 8000 locations in nearly 50 different countries.
As one of the biggest ice cream chains in the world, Baskin Robbins has experimented with a huge variety of flavours using local ingredients, fruits, and flavours depending on the region they sell. Their "BR" logo is one of the most famous ones in the world where its slogan "31 flavours" is highlighted. From simple flavours to more complex and layered ones, Baskin Robbins easily provides one of the best ice cream flavours anywhere in the world. No doubt it is one of the biggest ice cream brands in India, if not the world.
9. Naturals Ice Cream
If you pride yourself on being an ice cream enthusiast, you simply must have tried and loved what Naturals Ice Cream has to offer. The Indian grown ice cream brand is owned and operated by Mumbai-based Kamaths Ourtimes Ice Creams Pvt. Ltd. Founded by Raghunandan S. Kamath who opened his first ice cream shop in Juhu, Mumbai in the year 1984, the brand has only since grown to become one of the biggest ice cream brands in India. Their branding is much different from the mass produced ice cream brands on this list, since they set it apart by providing a more "original taste" in the ice cream.
📌Check Also: Easy Vegan Desserts: Best Recipes for Vegan Sweets
The chain has over 135 stores across India and is only growing since. Their flavours are something consumers do not tire of trying out, and with 125 different flavours to choose from, no wonder Naturals is growing so quickly. Some of their innovative flavours include jackfruit, fig, litchi, cucumber, custard apple, and kiwi.
10. Haagen-Dazs
Another fancy-shamancy ice cream brand on the list, Haagen-Dazs is actually hugely popular in India. Easily one of the biggest brands to sell in this country. The brand is American and was established in 1960, in The Bronx, New York. Its creators Ruben and Rose Mattus started with only three primary flavours, vanilla, chocolate, and coffee. The company opened its first store in Brooklyn, in 1976. Since then, the franchise has grown throughout its native country and has become hugely popular in India, Japan, UK, Singapore, Saudi Arabia, Brazil, Mexico, and even China.
Haagen-Dazs is known to maintain the utmost quality while producing their ice creams, cakes, sorbets, frozen yogurt, and gelators. It is easily one of the biggest and widely consumed ice cream brands in India.
---
Conclusion
So, no matter which flavour you like, or which brand you prefer, when it comes to ice cream, there is something for everyone. Besides the brands we have mentioned, there are so many more dairy brands that dabble in ice cream as well. And as the dairy industry is huge in India, you might realize that there are more brands out there than you can try in a lifetime. Brands like London Dairy and TopNTown are also great, but you do not really find them in huge supply as you would say Amul or Kwality Wall's.
Not to mention the delicious street-vendor kulfi you can find around your local market. So, here were the best ice cream brands in India and all they have to offer. Depending on what you prefer, you could gravitate towards either one.
---
FAQs About Top Ice Cream Brands:
1. What are the best ice cream brands in India?
There are so many to choose from. With the dairy industry being so huge in India, the ice cream industry follows suit. Some of the best ice cream brands in India include Amul, Kwality Wall's Haagen-Dazs, London Dairy, Havmor, and Naturals Ice Cream.
2. Which is the best ice cream flavor?
Everybody has their own favorite ice cream flavor. Depending on your likes and dislikes, you could like vanilla, or strawberry, or chocolate. You could prefer one over the other too, that is totally okay. Try all of them to figure out which one you like best.
3. Which is the number 1 ice cream company in India?
Amul is easily one of the biggest ice cream brands in India. In terms of sales and volume of sales, Amul leaves its competition well behind. Safe to say, it is literally the number 1 ice cream brand in India.
---