If you're looking for ways to recycling your old pair of jeans, our article on how to reuse old jeans will tell you about some creative DIYs that will help you make the most of your old jeans.
There are several ways to reuse forgotten old jeans in the closet because they no longer fit in or are out of fashion. Although it is sometimes good to give them to someone who can use them, there are various ideas for recycling them, given that the fabric with which they are made lasts several years. Do you want to learn how to recycle them?
How To Reuse Old Jeans – 13 Fun And Creative Ways
If you are willing to test your creativity and talent, the following ideas are ideal for making the most of old jeans. The only thing you need to know is to sew or be willing to experiment with your skills with scissors, needle and thread.
1. Reuse jeans to make shorts
This is one of the easiest and classic ways to recycle an old pair of jeans. This idea is perfect when jeans have gone out of fashion or are ruined at the bottom.
All you have to do is mark the point where you want to cut them and then cut them with scissors to obtain the desired length. You can make a small lapel using needle and thread, or leave them frayed, for a more rebellious look.
2. Denim miniskirt
In addition to getting beautiful shorts, you can also create a pretty mini skirt for summer or for an informal occasion. The miniskirt never goes out of style and is particularly suitable for the summer period.
To get it, you will need a pair of jeans of a size larger than yours, so that you can easily join the two parts to form the miniskirt.
3. Purse or wallet
There are several ways to turn an old pair of jeans into a purse or wallet. You just have to use your creativity and add small details that you like. For example, you can create a bag using the fabric of your old jeans and adding stones, buttons, colored inserts, zippers and much more.
4. Kitchen apron to reuse jeans
Making a kitchen apron is quite simple and can also be very useful for not staining clothes while cooking. The only thing you need to do is open the old jeans and cut the shape of the apron to the size you want.
📌Check Also: Top 11 Hobbies for People Who Love to be Alone
If one side of the jeans is not enough, you can join multiple parts. Then you can add pieces of colored fabric to make the edges and laces to tie it. As with the previous idea, you can play with creativity by adding some details such as buttons, stones or pieces of fabric.
5. Coin Purse
Don't you want to leave the scattered coins around? Use an old pair of jeans to get a beautiful purse. You just have to cut the shape you want to give it (square, round, oval, half-moon) and then sew the edges and attach a zipper, pin or button.
6. Reuse jeans to make a diary cover
If you want to personalize your diary, line the outside with old jeans. You just have to take the measurements, cut out and use glue to stick them to the agenda surface. Another option is to sew them, although it will take you longer and is more complicated.
7. Cell Phone Holder
In cell phone accessories shops, you can buy cell phone holders. However, why not reuse jeans and make one yourself? It is very easy and you can also create it with advanced cutouts after making bags or wallets.
Cut the jeans 1 or 2 cm more than the size of your mobile phone and then sew the ends, so that there is a space to thread the mobile phone. You can add decorations like colored cloth, buttons etc.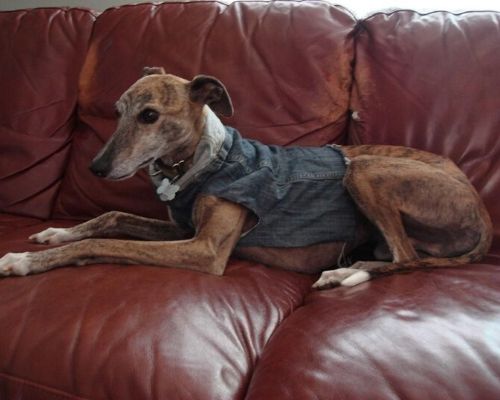 8. Clothes for your pets
Everyone loves putting clothes on their pets, be they cats or dogs. Why not create these clothes yourself? Test your creativity by using old jeans that you want to throw away. You can take inspiration from a dress you already have for your little friend or invent one yourself.
9. Make pillows to reuse jeans
If you want to change your old cushions or give it a very special style, reuse old jeans and use the fabric to cover new cushions, so that they are like new and have a special touch.
10. Hair bands
Do you have elasticated trousers and want to give them a new life? Make a hair band. Cut a piece of fabric and decorate it with beads, sequins or bows. To wear it, just make a knot on the nape of the neck, so that the headband fits perfectly on your head.
📌Check Also: Top 9 original ideas to recycle old socks & give them new life
11. Trivet or coaster
You can also recycle your old pair of jeans to make a trivet or coaster. Making them is very simple. All you need is a pair of scissors and some fabric glue. Cut the edges of the legs and roll them up by gluing them. You can then personalize them with beads or ribbons.
12. Magnet for the refrigerator
The pockets of a pair of jeans can be used as a fridge magnet. You will need the back pockets of a pair of jeans, hot glue and a magnet. Cut out the pockets and stick, on the back, using a little hot glue, the magnet. Embellish the pockets with a thread of lace or with a colored ribbon and finally stick them on your fridge.
13. Toys for your dog
What better fabric than jeans to make a strong chew toy for your faithful four-legged friend? Just cut out the lower part of one of the legs of an old pair of denim and cut it still lengthwise on one side. At this point, roll up the fabric and tie a nice knot. Your dog will have a nice new toy to munch on.
Conclusion
Do you have a closet full of old jeans and don't want to throw them away? Focus on recycling and give new life to old-fashioned garments by creating original and unique accessories. Of course, we are also waiting for your ideas that you can post in the comments!
---
Related Articles
---
Loved our blog on How To Reuse Old Jeans? Do share it with your friends on Facebook, Twitter, and Instagram.
DISCLAIMER: Being a reader-supported blog, Khojdeal earns affiliate commission from purchases made using links on our blog.
Learn more