Wearing a mask can limit the spread of certain respiratory viral diseases, including COVID-19. According to the World Health Organization (WHO), non-medical masks are often homemade of breathable fabrics and can be commercially available as well. There are numerous designs for fabric masks, but they generally cover the nose and mouth, are secured with ties or elastic loops, include multiple layers of fabric, and can sometimes be washed and re-used.
Although their protective effectiveness to the wearer is unknown, non-medical masks may protect others if the wearer is a pre-symptomatic or asymptomatic carrier.
When to use a mask?
If you are healthy, you only need to wear a mask if you are taking care of a person with COVID-19.
Wear a mask if you are coughing or sneezing.
Masks are effective only when used in combination with frequent hand-cleaning with alcohol-based hand rub or soap and water.
If you wear a mask, then you must know how to use it and dispose of it properly.
How to put on and take off a face mask?
Before putting on a mask, clean hands with alcohol-based hand rub or soap and water.
Cover mouth and nose with mask and make sure there are no gaps between your face and the mask.
Avoid touching the mask while using it; if you do, clean your hands with alcohol-based hand rub or soap and water.
Replace the mask with a new one as soon as it is damp and do not re-use single-use masks.
To remove the mask: remove it from behind (do not touch the front of mask); discard immediately in a closed bin; clean hands with alcohol-based hand rub or soap and water.
What types of masks are used against the spread of COVID-19?
Medical masks (also known as surgical masks): They are made from a minimum of three layers of synthetic nonwoven materials, and configured to have filtration layers sandwiched in the middle. These medical masks reduce the transfer of saliva or respiratory droplets from the wearer to others and to the environment. They also decrease the likelihood of potentially infectious droplets from others reaching the mouth and nose of the mask wearer.
Respirators (also known as filtering facepiece respirators –FFR): These masks are available at different performance levels such as FFP2, FFP3, N95, N99. They are specifically designed for healthcare workers who provide care to COVID-19 patients in settings and areas where special medical procedures are undertaken.
How to make a face mask at home?
The CDC recommends wearing cloth face masks in public settings where other social distancing measures are difficult to maintain (e.g., grocery stores and pharmacies). These masks can be fashioned from household items or made at home from common materials at low cost. However, it is important to note that homemade face masks are not surgical masks or N-95 respirators. 
Sewn face mask
Materials needed
Two 10-by-6-inch rectangles of cotton fabric
Two 6-inch pieces of elastic (or rubber bands, string, cloth strips, or hair ties)
Needle and thread (or bobby pin)
Scissors
Sewing machine
Instructions
1. Cut out two 10-by-6-inch rectangles of cotton fabric. Use tightly woven cotton, such as quilting fabric or cotton sheets. T-shirt fabric will work in a pinch. Stack the two rectangles; you will sew the mask as if it was a single piece of fabric.
2. Fold over the long sides ¼ inch and hem. Then fold the double layer of fabric over ½ inch along the short sides and stitch down.
3. Run a 6-inch length of 1/8-inch wide elastic through the wider hem on each side of the mask. These will be the ear loops. Use a large needle or a bobby pin to thread it through. Tie the ends tight. You can also use hair ties or elastic head bands. If you only have string, you can make the ties longer and tie the mask behind your head.
4. Gently pull on the elastic so that the knots are tucked inside the hem. Gather the sides of the mask on the elastic and adjust so the mask fits your face. Then securely stitch the elastic in place to keep it from slipping.
No sew face mask
Materials needed
An old clean t-shirt or other material
Scissors
A ruler or tape measure
Instructions
1. Measure 7-8 inches from the bottom of the t-shirt and cut across.
2. Measure about 6-7 inches in from the side of the fabric rectangle and cut out the material, leaving about a half inch of material at the top and bottom. These are the strings to tie the mask behind your head.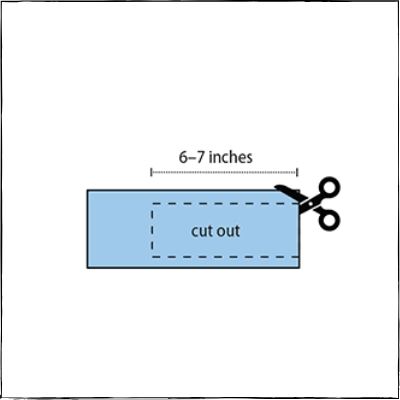 3. Cut the fabric string in half.
4. Tie the strings around your neck and then around the top of your head.
How to make a cloth face mask with filter at home?
There are some simple methods that you can use at home to make your own cloth face mask with a filter. Keep reading to learn how to make a homemade mask and filter.
Material needed
Tightly woven cotton fabric (quilting fabric, T-shirt fabric, or high thread-count fabric from pillowcases or sheets)
Elastic material (or rubber bands, hair ties, string or shoelaces)
A filter (a coffee filter or part of a HEPA vacuum bag or air conditioning filter without fiberglass)
Scissors
Sewing machine
Needle and thread
A ruler or tape measure
Instructions
1. Cut the fabric into two 10-by-6-inch rectangles. Carefully stack the two rectangles on top of each other.
2. Fold the top of the fabric down a quarter of an inch and stitch all the way across.
3. Fold the bottom of the fabric up a quarter of an inch and stitch inward about an inch on each side. This will create a simple pocket that you can slip your filter into.
4. Fold both short sides over about a half of an inch and stitch down, creating a hem. Don't stitch too close to the hem because you will need some space to thread your elastic through to make the ear loops.
5. Thread 6-inches of elastic through both the hems you've just created. If you're using a string, longer strands need to be used.
6. Tie the ends to the elastic tightly, carefully tucking the knots into the hems at the sides of the mask.
7. Place the mask onto your face and adjust it so that it has a good fit, covering your nose and mouth snugly without slipping.
8. Once you've adjusted your mask, stitch over the elastic in order to secure it in place.
9. Cut the filter so that it can fit inside the pocket of your new mask. Carefully slip it inside the pocket.
Conclusion
One of the main benefits of wearing a cloth face mask is that it helps protect others. Remember that people who are asymptomatic or pre-symptomatic can still transmit certain respiratory viral diseases, including COVID-19 to others when they talk, cough, or sneeze.
Wearing a facial covering helps to contain potentially infectious respiratory droplets. That way, you can prevent unknowingly transmitting the virus to others. Understand that a homemade face mask isn't as effective as other types of masks. But a homemade mask is better than none at all.
---
Related Articles
---
Loved our blog on How To Make A Face Mask At Home? Do share it with your friends on Facebook, Twitter, and Instagram.
DISCLAIMER: Being a reader-supported blog, Khojdeal earns affiliate commission from purchases made using links on our blog.
Learn more