Find out in this step-by-step guide how to do manicure at home by following all the steps and using the right tools to keep your hands always tidy and well-groomed!
To always have perfect hands, we can turn to a professional beautician and entrust our well-being to her, or we can do a manicure at home by following all the fundamental steps.
The essential accessories for manicure
The first step in getting a perfect DIY manicure is to get the right accessories. For a truly effective do-it-yourself manicure, tools and accessories are essential to help you treat every part of your hands and nails in the right way.
Nail polish remover: If you already have another nail polish, the first thing to do will be to remove it.

Bath salts: If you really don't have them, you can always use a perfumed and moisturizing shower gel.

Nail file: Take into consideration your nail type to choose between a glass, wood, emery board or metal nail file.

Scissors or nail clippers: Choose the one you are most comfortable with. Scissors are preferable because they are more precise and allow you to cut the nails more safely, avoiding too deep and irregular cuts.

Orange wood stick: You will need it to push back the cuticles.

Exfoliating scrub: Exfoliation removes dead skin cells to make room for healthy, younger cells. Plus, it softens skin, can reduce the appearance of wrinkles and pores, detoxifies and improves the overall tone of skin.

Hand mask: It is moisturizing, hydrating & nourishing and can be used to take care of dry, rough or tanned hands.

Moisturizing cream: It's useful for protecting, moisturizing and softening hands and nails. You can also use a body cream if you want.

Cuticle oil: Strengthening and vitamin-rich vegetable oils such as castor oil and jojoba oil can be used to which essential oils can be added according to needs.

Base coat: A base protects the nail from any nail polish that will be applied later, especially if it's a colored one.

Nail polish: Indulge yourself. If you love the simple, opt for the transparent, otherwise go with a colored one.

Top coat: The top coat is the last layer applied in the manicure process. It is mainly used to increase the duration of the manicure.
How to do manicure at home?
Our step-by-step guide will help you take care of your hands in a natural way, using suitable tools and healing cosmetic products.
Step 1: Remove the nail polish and soften
The first thing you need to do, if you already have a nail polish applied, is to use acetone and remove it. Starting with a blank canvas is the first rule to follow.
Then fill a bowl with lukewarm water, add a teaspoon of bath salt or bubble bath and dip your hands for about ten minutes. This will soften the nail cuticles and it will be much easier to continue with the other steps.
Step 2: Remove the cuticles and moisturize
After softening your nails and cuticles, it's time to hydrate them. Massage your hands with moisturizer and put a drop of cuticle oil on the cuticles of each nail. Let it absorb for a couple of minutes. This step is very important because after the bath, your hands will need to be re-hydrated. After the two minutes, take the orange wood stick and gently push the cuticles back.
Step 3: Exfoliate your hands
Exfoliate hands, wrists, and forearms with a scrub that eliminates dead skin cells and replenishes moisture. Grab your orange stick again to gently clean any grime from under nails. Wash hands afterward and dry them thoroughly.
Mix together ½ a cup of sugar and 1 tablespoon of olive oil and gently massage it into your hands for 5 minutes. Rinse with lukewarm water.
You can also make a powdered almond and honey scrub. Almond acts as an excellent exfoliator and Honey is a natural emollient that relieves dryness and improves skin texture. Grind a handful of almonds to a fine powder and mix with ½ a teaspoon of honey and enough milk to make a smooth paste. Gently massage it into your hands for 5 minutes and rinse with lukewarm water.
Step 4: Make and apply a hand mask
This step is optional, but recommended especially if you have rough and dry hands. You can make an exfoliating mask to smooth the skin, or a nourishing one for a renewing and soothing action. Apply the mask to both the hands and leave it for about 20 minutes. Rinse it off with lukewarm water.
To make a nourishing potato hand mask, boil and mash 1 small potato and mix it with 1 tablespoon (15ml) of olive oil. For a brightening lemon hand mask, take a bowl and mix together 2 teaspoons (10ml) of lemon juice, 2 teaspoons (14g) of honey and 2 teaspoons (10g) of baking soda.
A moisturizing avocado hand mask can be made by mixing ½ avocado, 1 egg white, 2 tablespoon (11 g) oats and 1 tablespoon (15 ml) lemon juice.
Step 5: Cut and file the nails
The next thing to do is to shape your nails. If they are very long, cut them with scissors or a nail clipper, otherwise go directly to the file. You can choose whether to give it a rounded or square shape, but only if your nails are long enough. Otherwise, you should follow the shape of your nails to gently file them. The way you file your nails is also important. File them from top to bottom and not vice versa, let alone laterally. In this way the nail will not weaken and you will not risk breaking it.
Step 6: Apply the base coat
Applying the base coat will protect the nails from the polish you apply. It doesn't matter if it's a clear or colored nail polish. Don't worry about being precise when applying a base coat. Being transparent, any imperfections will not be visible. Let it dry well before applying the nail polish.
Step 7: Apply the nail polish
Whether you have chosen a transparent or a colored nail paint, start from the base of the nail and cover it by making three strips with the brush: a central one and then the two lateral ones. If the color seems a little opaque, let it dry and apply a second coat. Let it dry well before continuing.
Step 8: Protect with the top coat
The last step is to apply the top coat. This is a rather easy operation; the only advice we give you is not to go over the same point several times to avoid the top coat taking away part of the color of the enamel underneath.
Step 9: Clean up rough the edges and let your nails dry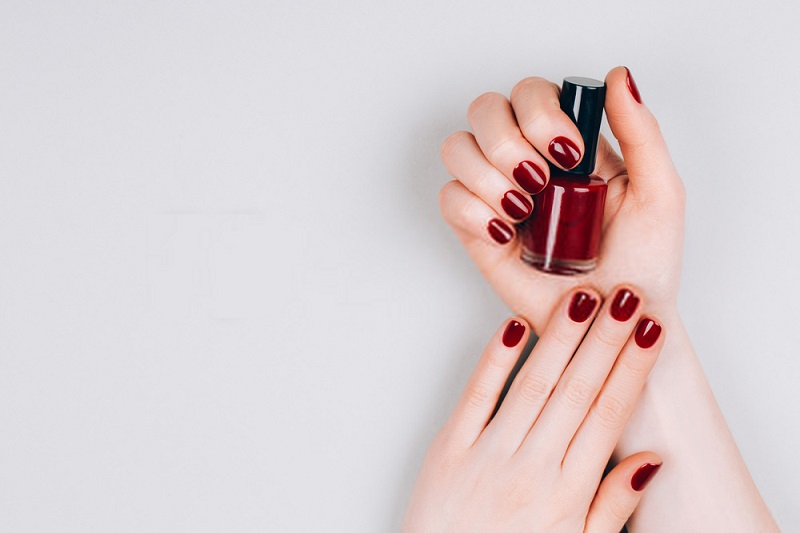 Tidy up any mistakes by wrapping a piece of cotton ball soaked in nail polish remover around the end of your cuticle stick and carefully trace around your nails. Then let your nails dry an additional 5 minutes.
Benefits of a Manicure
Manicuring regularly means taking care of our hands and nails to ensure a state of health and well-being for a long time. Having flawless hands is indicative of people who are attentive to their beauty, who want to enjoy communicating their personality.
Clean and tidy hands
A manicure will allow you to have clean and tidy hands and nails. This will also preserve your state of health: in particular, the hands. They are more subjected to the risk of contracting infections or being damaged due to contact with aggressive objects or substances.
Furthermore, cold, air or the use of aggressive chemical agents can lead to chapping, irritation, small cuts and grazes. Manicuring regularly means preserving the health of the hands and having a pleasant appearance.
Care and beauty
A regular manicure will also allow you to improve the beauty of the hands and nails which will appear nourished and hydrated, without any imperfections. You can use specific products to combat premature skin aging, or to prevent redness and other small imperfections.
Conclusion
This easy step-by-step guide on how to do manicure at home will help you create that Instagram-worthy manicure all by yourself. Start with priming your nails and finish with the perfect nail polish, plus some easy nail art if you're feeling ambitious.
---
Related Articles
---
Loved our blog on how to do manicure at home? Do share it with your friends on Facebook, Twitter, and Instagram.
DISCLAIMER: Being a reader-supported blog, Khojdeal earns affiliate commission from purchases made using links on our blog.
Learn more