Connecting a Bluetooth speaker to your PC or laptop can prove extremely useful. If you do not own speakers, connecting a portable one to your computer can bring your movie nights alive. Well will be looking into how to connect Bluetooth Speaker to PC.
We all know laptop speakers are terrible. Music and movies just do not have the same touch if you are using the in-built speakers. On a desktop, speakers are essential since you otherwise do not have a way to listen to the output without any in-built speaker system.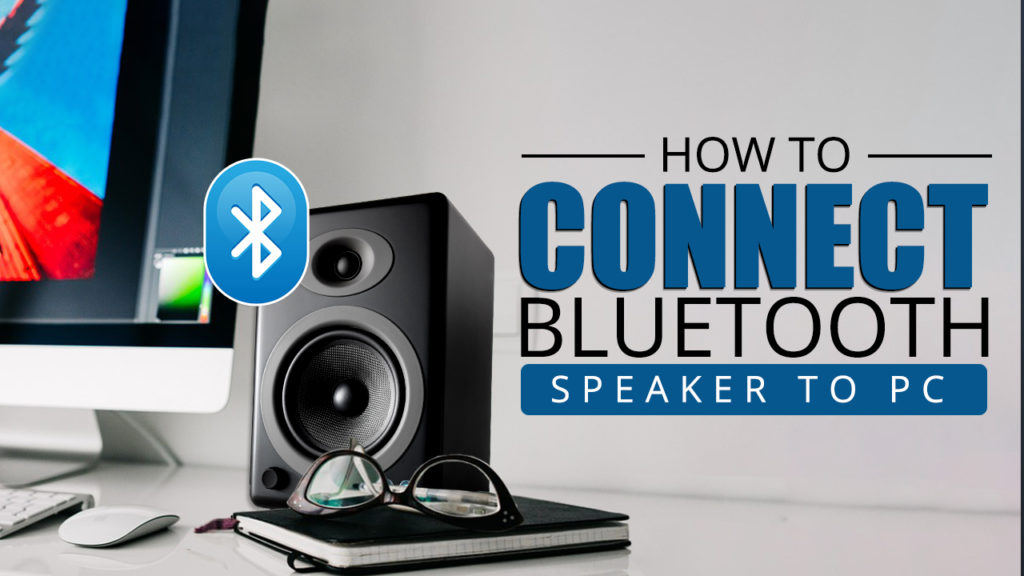 So, how to connect Bluetooth speaker to PC or laptop?
Okay, one more thing. Most desktops do not have an in-built Bluetooth either. Laptops on the other hand are made for portability and ease of use, therefore, have an in-built Bluetooth for you to take advantage of.
How to Connect Bluetooth Speaker To PC?
Connecting a Bluetooth speaker to your system is an easy task. Let us get into how you can achieve that.
Firstly, you need to make sure your computer has Bluetooth, and it is enabled. The quickest way is to go select Start > Settings > Devices > Bluetooth & other devices. If you have Bluetooth, the window will show a button using which you can activate and deactivate Bluetooth.
Given you have Bluetooth,
Make sure the Bluetooth is enabled on your PC.
Switch on the Bluetooth device and make sure it is ready to be paired.
Make sure you shut Bluetooth down on all devices already paired with your portable speaker so that no other device can connect to it.
In the same Bluetooth & other devices window, choose the device you want to pair with your PC.
Follow the instructions.
That is all!
This is How to Connect Bluetooth Speaker To PC.
To pair your Bluetooth speaker to your laptop, follow the same instructions. Once you have connected the portable speaker to your PC, whatever you play on your computer, the audio output will be on your speaker. A great way to listen to music on your speaker while you sit outside or enjoy a bath.
📌 Looking to buy a new speaker for yourself? You might like these articles these articles then:

– Best speaker brands in India
– Best JBL bluetooth speakers
– Best tower speakers under 10000
– Best bluetooth speakers under 5000
– Best bluetooth speakers under 4000
– Best bluetooth speakers under 2000
– Best bluetooth speakers under 3000
– Best bluetooth speakers under 1000
– Best bluetooth speakers in India
How to install Bluetooth on your Desktop?
If you do not have Bluetooth on your PC, you can very easily buy a standard Bluetooth adapter available for cheap at any online store. Cheaper Bluetooth adapters can get disconnected momentarily, so choose your pick carefully. You can also check for user reviews to see if the Bluetooth adapter is worth buying.
Bluetooth adapters are of two types. A chip format that is installed inside your cabinet, on your motherboard, and a flash drive format that works as plug-n-play. Obviously, the flash drive format is much easier to use and can be connected and disconnected with ease. The other format has more or less faded from use.
While building your PC, you could also opt for a relatively newer model of motherboard with Bluetooth already available on it. This makes things slightly easier and does not require you to get a Bluetooth adapter on the side.
To install a Bluetooth adapter on your PC,
Purchase a Bluetooth adapter.
Plug the adapter into an empty USB slot on your PC.
Depending on the adapter, you might need to install its adjacent software. Most Bluetooth adapters today are plug-n-play and do not require a software.
Once the software is ready, you can find Bluetooth in your computer settings.
Search for Bluetooth in your settings and set it up if needed.
Pair the device to your computer the same way as mentioned above.
Use as much as you want.
Conclusion
Well, that is all you need to do to connect your computer to a Bluetooth speaker. If you do not know that your computer has Bluetooth or not, check your settings first in case you do and do not end up buying an adapter that proves useless. Bluetooth devices are incredibly cheap and can be easily purchase online. Connecting them to your PC is also not difficult at all once you know what you are looking for. Hopefully this answered your question about How To Connect Bluetooth Speaker To PC. Best of luck!
---