Thanks to their delicious aromas and cosmetic properties, essential oils are incredible allies in beauty treatments. Would you like to know which are the most effective and indicated essential oils for the skin to give it a young and healthy look? Then, read on this article to know about essential oil benefits.
What are essential oils?
Essential oils are completely natural products with numerous balsamic, relaxing, stimulating, antiseptic and anti-infectious properties.
They are obtained by distillation from flowers, leaves, wood, bark, roots, seeds or peel of plants like Cassia, Cinnamon, Chamomile, Clove, Jasmine, Lavender, Basil, Lemon, etc.
They have a liquid appearance with an oily consistency of varying density and are accompanied by an intense aroma. Being hydrophobic compounds, they can be diluted or used pure.
Essential oils are often used for aromatherapy, a form of alternative medicine that's useful to induce relaxation. They are also used in perfumes, cosmetics, soaps & other products and for adding scents to incense and household cleaning products.
Essential oil benefits – Why use essential oils?
Essential oils have multiple properties: for this reason, they are used in the cosmetics sector. They are useful for treating acne, cellulite, wrinkles and contracted muscles.
Unlike the creams and lotions found on the market, essential oils do not contain chemicals that risk damaging the skin.
In addition, essential oils for the skin moisturize and nourish it, treat skin disorders and stimulate the skin's natural defenses. The oils are used in wellness and beauty centers, but you can also use them at home.
The most used essential oils
The essential oils that are used most frequently are those extracted from flowers. They are usually applied both on the body and on the face:
Lavender Oil: Promotes cell regeneration processes and performs a decongestant action on redness and small skin lesions such as burns;

Neroli Oil: With a very intense citrus aroma, it enhances skin elasticity, helping to keep the skin soft and silky;

Jasmine Oil: It is a product with marked soothing properties against irritation and is an effective anti-wrinkle;

Roman Chamomile Oil: It is a substance that minimizes redness and discoloration of the skin, ensuring an excellent toning action;

Rose Oil: It is an essence particularly used for cleansing the deepest layers of the skin, in which it also acts as an effective anti-wrinkle and against age-related skin blemishes.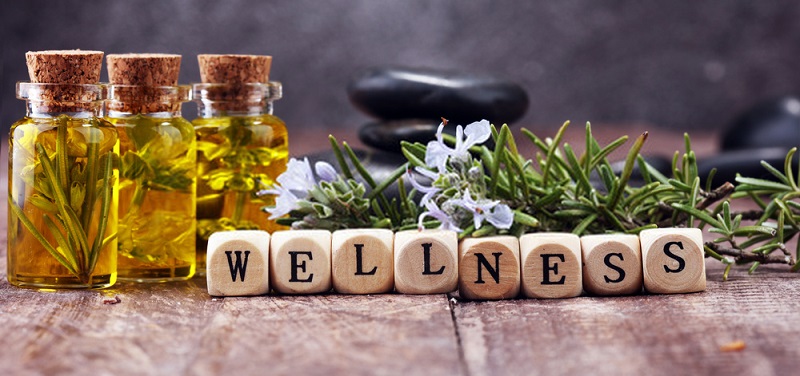 How to choose an essential oil?
To choose the essential oil targeted to your needs, you must take into account the type of skin you have and its characteristics. These products can also be mixed with a neutral cream to be applied regularly in the morning and evening before bedtime.
Dry skin: Its dehydrated composition requires jasmine, sandalwood or geranium oil.

Oily or acne-prone skin: To purify it, lavender or lemon oil is recommended. It is very effective for eliminating excess sebum.

Mature skin: Mature skin requires the essential oils of geranium, wheat germ, lavender or ylang-ylang, particularly fragrant.

Nourished skin: Nourished skin must be treated with a few drops of nutritious oils like palmarosa, fennel, rose or lavender.
Essential oil benefits – The best essential oils for the beauty of the skin
Whether the goal is to reduce wrinkles, to have a relaxing massage or to hydrate the skin, essential oils can help you show off a younger, brighter and more beautiful skin. Here are the most suitable essential oils for the beauty of the skin.
Lavender essential oil
Lavender essential oil is one of the best known and used not only in the aesthetic field, but also in the medical field, for its multiple properties and applications.
It can be applied directly on the skin (no need to dilute it) and when used in combination with other components, it enhances their effect. Lavender essential oil regenerates the skin, therefore it is useful in case of acne, wrinkles, burns or wounds.
Lemon essential oil
Lemon essential oil is rich in vitamin C, which is a very powerful antioxidant present in all citrus fruits. It protects against aging of the skin by hindering the effect of free radicals that break the skin cells.
Rose essential oil
One of the essential oils for the skin is that of roses. It is a true ally for the beauty of the skin and body. It has a very pleasant fragrance and repairing properties. Rose essential oil treats eczema and dry skin, stops premature aging and is suitable for any type of skin.
Moreover, thanks to its astringent properties, it restores damaged capillaries, reduces the signs of acne or scars and generally improves the appearance of the skin.
Rosehip essential oil
Originally from Europe, this plant is not only rich in Omega 3 and Omega 6 polyunsaturated fatty acids, but also in antioxidant vitamins A, C and E. The essential oil is extracted from the seeds of the rose and has many properties.
It stimulates collagen production. It reduces wrinkles and expression lines. It improves the appearance of scars, stretch marks and blemishes. It is useful to apply this oil after sun exposure, because it moisturizes the skin.
Tea tree essential oil
It is another oil that cannot be missed for your beauty treatments. You can apply it directly to the skin to treat any skin problem, such as acne (dries out pimples), herpes or open wounds (cuts).
Sage essential oil
It helps to have softer and firmer skin, as well as improving the appearance of enlarged pores. Sage oil exhibits a cooling property that soothes skin afflicted with inflammation. It calms rashes, balances the production of natural oil and sebum, and strengthens the skin and muscles.
Rosemary essential oil
It is a very important ally in the aesthetic field and for health in general. It reduces dandruff and improves the circulation of the scalp. You can apply it directly on the hair roots or mix it with shampoo or conditioner. It is used to treat dermatitis, eczema, acne and facial swelling.
Argan essential oil
It is extracted from a tree that grows only in Morocco, also known as the tree of life. Its fruits contain 3 times more vitamin E than olive oil, essential fatty acids and beta-carotene. It has the ability to repair, nourish and restore softness and brightness to the hair.
Furthermore, you can use Argan oil to counteract premature skin aging, fight wrinkles, blemishes, loose skin, improve the appearance of stretch marks and signs of acne and chickenpox.
Argan oil also regenerates the skin after sunburn, improves its elasticity and strengthens the nails.
Chamomile essential oil
It is another oil that can be applied directly to the skin, without mixing it with others or diluting it, because it does not cause irritation. It has anti-inflammatory properties; therefore, it is recommended for those with dermatitis problems.
Geranium essential oil
Geranium essential oil is widely used in beauty treatments and natural cosmetics. It is used to prevent and treat cellulite.
Before proceeding with the application, it is advisable to mix it with another oil, such as almond oil. It promotes the healing of wounds and scars, eliminates bad body odor and moreover, treats oily skin by reducing the appearance of acne.
Essential oil Safety and side effects
When applying essential oils topically, always use a carrier oil to dilute them.

Improper use of essential oils may cause harm including allergic reactions and skin irritation.

Essential oils should be rubbed on your face, arms and legs. Don't put inside your mouth, nose, eyes, or private parts.

Look for a trusted producer that makes pure oils without anything added.

Before applying the oil, always test a little bit on a small area and see how your skin responds. Do stop use if your skin reacts.

In general, don't keep essential oils for more than 3 years.

If you see a big change in the way an oil looks, feels, or smells, you should throw it out.

Don't put edible oils on your skin and non-edible oils in your food.

If you're pregnant or have any medical conditions like diabetes, hypertension, cancer, etc. consult your doctor before using any essential oils.

Young children and the elderly may be more sensitive to essential oils. So, you may need to dilute them more.

Don't use essential oils on a baby unless your pediatrician says it's okay.

Don't overdo it. Even when diluted, an essential oil can cause a bad reaction if you use too much or use it too often.
Conclusion
While there's still a good deal of research that needs to be done to fully back and support essential oils as a way to treat various health issues, there are still a number of beauty benefits worth exploring.
From promoting cell regeneration processes to minimizing discoloration of the skin, essential oils offer a wide range of potential benefits.
---
Related Articles
---
Loved our blog on Essential Oil Benefits? Do share it with your friends on Facebook, Twitter, and Instagram.
DISCLAIMER: Being a reader-supported blog, Khojdeal earns affiliate commission from purchases made using links on our blog.
Learn more