With the festival of lights, Diwali, just around the corner, people across India are gearing up for the festivities and preparing to welcome Goddess Lakshmi, the Goddess of wealth and prosperity into their homes. Apart from going on an intense cleaning spree and sprucing up their homes, people also look for innovative and unique ideas to decorate their abode.
While cleaning the rooms, painting the walls, changing the drapes and rearranging the furniture, takes care of half of the decorations, beautiful diyas, candles, lanterns, rangolis and torans are essential to jazz up your home and add that festive touch to it.  
How to decorate the house for Diwali?
To obtain an optimal result, start with the choice of colors and then kick off your creativity, choosing how to decorate the different environments, including the doors, windows, cushions, etc. Everything must be well thought out to set up the perfect Diwali home. Here are some ideas for decorating the house for Diwali to make the atmosphere unique and festive.
The colors to choose
To give your home the magic of Diwali, choose colors and styles that suit your decor. For a classic style, traditional Diwali colors will do – red, yellow, green, gold, and pink. The red and yellow combination will give a more elegant effect, while gold and red together will recreate the typical Diwali atmosphere. A glamorous combination is instead gold and pink, especially if the accessories are full of sequins, glitter, or mirrored walls.
You can then combine opposite colors, but in soft shades, such as silver and baby blue, to create a particular and relaxing atmosphere. If, on the other hand, you want to decorate your home for Diwali following the trends of 2021, then opt for shades of pink for a refined and romantic effect.
Decorate the doors to welcome guests
If you want to fully experience the Diwali atmosphere, then you will have to start decorating the front door. The Diwali outing that welcomes your guests is fundamental: garlands are certainly the most popular and there are some for all tastes. Start from the classic green base, to be enriched with red balls, flowers, and typical Diwali elements, personalizing it as you like.
Decorations to make the windows of the house magical
For the windows, on the other hand, decorate them with themed glass stencils, or you can use candles and lanterns to create magical light points, or place music boxes on the windowsill. Another idea is to hang bottles at different heights with lights inside, which will look beautiful when viewed from a distance.
A very simple window decoration, on the other hand, consists in hanging satin ribbons of different lengths at the upper end of the shutter, choosing colors to match the rest of the decorations, and then hanging the marigold flowers at the bottom. Final effect will be that of truly original Diwali curtains.
Diwali-themed fabrics and cushions
Once inside the house, you will need themed fabrics and cushions to make the climate warmer and more welcoming. Cover the armchairs and sofas with Diwali inspired furnishings in solid colors like red, gold, green or silver, according to the color of your sofa. The cushions also have their importance and can become a Diwali design object. For those of the sofa use fabrics with warm shades. The chairs, on the other hand, should not be upholstered, but you can decorate them with fabric bows, applying some Diwali decorations in the center.
Diwali Decoration Ideas
To ensure that you don't fall short of ideas this season, we have enlisted a few ideas for decorating your homes this Diwali:
Lanterns
Diyas & Tea-Lights
Rangoli
Diwali Decoration Lights
Candles
Floral decoration
Torans
Paper Lanterns
Mason Jar Lights
Fairies in a jar
Paper garland
Bottle Lights
Winding Lights On Trees
Light curtains
1. Lanterns
Decorating your homes with lanterns is one of the brightest and easiest ways to elevate its ambience and bring a festive aura to it. There are a variety of traditional and contemporary designs to choose from.
Alternatively, you can also create your own lantern at home. Detailed instructions to make creative and unique lanterns are available online. All you need is some cardboard, decorative paper, glue, a pair of scissors, stapler, ribbons and streamers.
2. Diyas & Tea-Lights
No Diwali decoration is complete without bright and colourful Diyas and Tea-Lights. The light of the diya epitomizes knowledge, truth, hope and the victory of good over evil. Illuminate every nook and corner of your home with Diyas and Tea-Lights.
Those in the mood for some DIY fun can also make their own diyas. Get creative with acrylic paint and glitter and design artistic diyas.
3. Rangoli
Rangolis usually grace the entrance of homes and are drawn on all auspicious occasions and festivals like Diwali. It is created to not only welcome guests that visit, but also Goddess Lakshmi herself. Generally made from coloured chalk, rice flour and powdered colour, Rangolis can also be made from acrylic colours and flowers. However, if you are not much of an artist, you can purchase Rangoli stickers. A variety of patterns and designs are available online.
4. Diwali Decoration Lights
The festival of Diwali is synonymous with lights. So, adorn your balconies and windows with pretty strings of lights, and don't be restricted by the oh-so-regular lights either. There are plenty of options to choose from like tiny fairy lights, sea shell lights, lights shaped like leaves, animals and fruits and even diya shaped lights.
To decorate the rooms in your house, you can use string light lamps available in different shapes, sizes and colours. For the empty spaces in your home like a large arch opening or a blank wall, hang string lights like a curtain to make it look festive.
5. Candles
Candles lend a lovely aura to the surroundings with their light. Moreover, they are extremely versatile objects that go with everything and are available in a variety of sizes, shapes, material and aroma. To give a distinctive touch to your décor, you can even opt for floating candles.
No products found.
6. Floral decoration
Flowers have the power to lend an elegant touch to any decoration. While a wide assortment of flowers are available in the market, Marigold flowers are considered to be the most auspicious. Their vibrant shades of orange and yellow represent new beginnings and are associated with fire and life.

You can use flowers to make rangolis and torans and adorn doors, windows, staircases and other empty spaces. They make great centre pieces too and can also be used to create attractive designs on tables, shelves and the corners of the rooms.
7. Torans
Also known as bandhanwars, Torans are used to decorate the entrance door of homes to welcome guests and Goddess Lakshmi. While fresh flower torans made from mango leaves and marigold flowers are traditionally used for Diwali, beautiful artificial torans are also available in the market.
Alternately, you can also create eye-catching torans yourself. All you need are a few art and craft supplies and a little bit of creativity. Implement these decoration ideas to beautify your homes this Diwali and let Goddess Lakshmi shower you with wealth, positivity and happiness.
8. Paper Lanterns
Paper lanterns can add a festive feel to almost any event. You can choose the colors according to the occasion or the party. Hang them up when you have a party or put them on the table so you can admire them. Here's how you can make a pretty decorative paper lantern.
Fold a sheet of paper in half lengthwise. It can be any size and weight you want. A sheet of printer paper works fine, but you can also use card stock or origami paper. The thinner it is, the more the lantern risks sagging under its own weight. You can use plain paper or decorative origami paper to make a prettier lantern.

Make incisions perpendicular to the fold, stopping before you reach the other side of the paper. Make it all along the sheet. The longer these incisions are, the lighter the lantern will let through and the less rigid it will be. You can make them any length you want. It is also up to you to choose the spacing of the incisions. The number of incisions will have a big effect on the appearance of the lantern. A spacing of around 3 cm is quite common.

Roll up the paper to form a cylinder. Tie the two edges that join together with glue or duct tape. Be sure to glue these two edges from end to end. Apply the tape to the inside of the paper so that it does not show on the outside of the lantern. You can also attach both edges of the paper with a stapler.

Cut a strip of paper to make the handle. If you used an A4 sheet, cut a strip of about 15 x 3 cm. If you are going to hang the lantern, you don't necessarily need a handle. You can simply hang it with a ribbon or string.

Attach the handle to the inside of the top of the lantern with glue or tape. If the lantern is too straight, bend it a bit to give it the shape you want. The thicker the paper, the more force it will take to make it take the right shape. You can put a candle inside, hang it from the ceiling, or use it as a table decoration.
9. Mason Jar Lights
You can't create a vintage decor without putting glass jars here and there. Lights in glass jars are becoming more and more trendy in restaurants, bars, and homes, they are also easier to make and go well with any room. In addition, since you can find jars everywhere, this is a project that is not going to cost you dearly.
Choose the jars according to the desired light. You can find vintage jars in antique stores, kitchen stores, and even on the Internet. In some places, you might even buy boxes of ten or more. There are also jars of various sizes, including 250ml, 500ml or liter. The bigger the jar, the bigger the bulb you can put in it, the brighter the light will be. For a standard bulb (60 watts), a 350 ml jar should suffice.

Find something to hang it on. There are kits you can buy at DIY stores that are usually used to hang paper lanterns or other lights. Ikea for example offers this kind of kits to make your own lights, but it is also possible to find them in other stores. You can hang it from a hook, rope along a ceiling or wall, or plug it into an electrical outlet.

Buy pretty light bulbs suitable for your project. Ask about the wattage required. Each socket you buy should indicate the number of watts required. Then, as long as the bulb fits in, you can use any design or style you want.

Next, you can also spray paint on the lid if you want a more elegant light. For example, try a paint in copper, silver or gold.

Unscrew the connector at the end of the kit. It's a big round piece that keeps the light in place. Take it out, leaving for the moment only the cylindrical bush at the end of the kit.

Trace the end of the kit on the jar. Take the end of the kit (the socket, where you screw the bulb) and trace the outlines on the lid of the jar. You will have to drill at this level to pass the socket. Make sure to use the two parts of the light, the round flat part and the socket that you screw the bulb into.

Use a hammer and a small nail. Drill a hole in the cover on the line you drew. These are the easiest type of tools to use, but you can also use a drill if you have one.

Continue to drill holes all around. You will end up with the location for the socket. Use your hammer and nail to continue drilling holes along the line you drew until the piece of cover in the middle falls off. If you have small wire cutters or sturdy scissors, you can try using them to speed up the process.

Pass the socket through the hole. Screw the connector back on. Make sure the wires come out of the jar and the socket is pointing in their direction. If necessary, you can use the back of your hammer to bend the sharp edges on the jar. However, the connector should help keep the socket in place in the cover. If the hole is too small, you can push the socket a bit to get it through and keep a tight seal between the cover and the socket.

Alternatively, you can use sculpting clay or glue to close the spaces between the socket and the cover. Although few people will notice jagged edges around the socket, you can make the joint tighter by applying a strong adhesive that dries quickly. While this won't really affect the quality of the light, this method will prevent the bulb from moving if the hole is too large.

Screw the bulb into the socket. Then put the lid on the jar. Turn it on to make sure it's working fine and voila!

Call an electrician to install the lights. If you want the lamps to hang directly from an opening in the ceiling, you shouldn't try to do it yourself, unless you have good electrical experience. Alternatively, you can route the cable through the ceiling or wall along the drywall to plug it further into an electrical outlet.
Also Read: 21 Most Useful Diwali Gifts To Buy This Year
10. Fairies in a jar
Have you always wanted to capture fairies? There are many ways to make your own fairy jar using materials that, with a little imagination, will look like tiny fairies!
Find a suitable jar. You can use any size jar you want, but remember that the smaller it is, the brighter it will be. A larger jar will be less bright and will require more fluorescent sticks. You can also use an ampoule-shaped jar with a cork stopper. Consider using a tinted jar. You can also tint it yourself by mixing glitter glue with a few drops of food coloring to cover the jar.

Buy fluorescent sticks. Any kind of fluorescent stick will do, but those that are around six inches will perform better than those you use as necklaces or bracelets that don't glow for very long. The size of the jar will also determine how many sticks you should purchase. The bigger it is, the more you will need. You will need two to three sticks depending on the size of the jar. For example, for a 500 ml jar, you will need two to three sticks 15 cm long.

Consider purchasing sticks in multiple colors. Most of the time, you will be able to buy some with basic colors like red, pink, orange, yellow, green, blue, purple, and white. You can also create fun new colors by mixing existing colors. For example, if you mix blue and green, you get turquoise.

Activate the sticks. Hold them in place with both hands and fold them in half until you hear them "snap". This will break the glass tube inside and release the chemicals that make them glow.

Hold them above the jar and cut off one end. You can use a small knife or a pair of scissors. They are generally not toxic, but they do contain chemicals that can burn and irritate the skin. Protect yourself by wearing rubber gloves.

Pour the contents into the jar. Hold the stick and pour the liquid into the jar. You may have to shake it a little bit to get the liquid out. If there are large pieces of glass in the jar, you can remove them using a fork or plastic spoon. Throw away the fork or spoon after use, especially do not use it for eating.

Sprinkle some glitter. You can use whatever type of glitter you want, but iridescent glitter will give you better results because it will let in the light. The amount of glitter you are going to put on depends on the size of the jar and your personal preferences. For example, if you have a 500ml jar, you can add about a quarter cup (30g) of superfine sprinkles. You could also use sequins with a particular shape, for example in the shape of a flower, a heart, or a star. Consider mixing extra fine glitter and larger glitter of different colors to achieve an interesting effect.

Close the jar well and stir. You need to make sure that the liquid from the sticks and the glitter cover the inner surface of the glass.

Decorate the container. You can make a unique container by painting the lid or covering it with sequins or fabrics. And you're done. Place them wherever you want.
11. Paper garland
Paper garlands make it possible to permanently embellish a room, to decorate a space for the end of the year celebrations or to create a slightly more festive environment for important events. The seamless version is simple and ideal for children while the disc version has a professional look perfect for birthdays or hen parties. Why not spend a creative afternoon making a homemade garland to add a pretty touch to your interior space?
Cut two leaves into 3 x 25 cm strips. Take at least two sheets of card stock of different colors. Use sharp scissors to cut them lengthwise, making strips at least 2-3 cm wide. You can adjust the dimensions slightly to your preference. If you increase the width of the bands, the curls of the garland will be wider. If you increase their length, the curls will be larger.

Glue the two ends of a strip together. Take one of the strips of paper and bring its two ends together to form a circle. The ends should overlap by about 1 cm. Glue them together with a glue stick. Hold them together for about a minute, while the glue sets. If you don't have a glue stick, you can use clear tape or a stapler.

Take a second strip of paper and slip it into the first ring you formed. Then bring its ends together to form a second circle attached to the first. Glue them together with the glue stick and hold them together for about a minute while waiting for the product to set. If you want to alternate between different colors, make sure that the second strip is not the same color as the first.

Add loops until you run out of paper strip. Continue to pass a strip through the loop formed by the previous one and connect its ends to form a new ring. Glue the ends together with the glue stick so that the loops stay closed. If you want the garland to be longer, simply cut out more strips and make more circles until you are comfortable with the length.

Hang the garland. Use nails or tacks. You can drape it over a tree, a terrace, a column, or a piece of furniture. If you want to hang it on the wall, hang the links on sturdy nails or tacks driven into the surface.
12. Bottle Lights
The LED garland in a bottle invites the imagination at home. The warmth of its soft light surrounds the living space. The magic of the LED light garland is presented in an original way to offer a clever decorative accessory. Easy to make yourself, the decorative object allows you to recycle the glass bottle and enhance its LED garland without installing it permanently.
The bottle with LED garland can be placed everywhere. On the floor next to the sofa, it becomes a luminaire in its own right. On a shelf, it lights up the corner of the decorations or makes you want to read a book quietly. On the table, as living room lighting, it invites people to gather around its warm light.
13. Winding Lights On Trees
Those who have tall enough plants in their garden can afford the wonders of garland lighting, simply by wrapping them around the tree trunks. It's also perfect when hung from hedge to hedge, as if extending a line of soft, shimmering light effects.
Do you like to contemplate the vibrant colors of your flower beds? By installing an LED garden garland, you will prolong the fun even after dark. In this case, we advise you to choose a neutral white, which will guarantee perfectly faithful color rendering.
14. Light curtains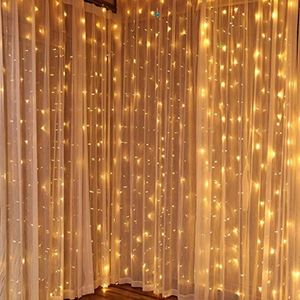 The LED string lights can effectively illuminate a window. Arranged around its frame or on its edge, it gives it an authentic style. If you have a bay window, opt for a large light curtain. Thus, you enjoy a nice decoration and gain privacy. Hanging a light garland on the window also creates a peaceful atmosphere. You can associate it with a light sheer curtain to enjoy a zen space away from curious eyes.
LED lighting curtains or light curtains are essential for bringing full and dazzling light indoors. Hanging on the wall or along the stairs, they are particularly popular for festive events. Well appointed, they offer an impressive look and exceptional brightness. You can also cover large outdoor spaces with these light curtains with ease.
Best Designer Cushion Covers For Diwali
With Diwali just a few months away, chances are that you're planning to spruce up your space. And changing up your cushion covers is a quick, easy and relatively inexpensive way to do just that. They can have a huge impact at very little expense, instantly changing and updating a living space by injecting bold patterns or a hint of on-trend colour. They amplify the aesthetic appeal of your home.

Available in a wide array of shapes, colours, materials, sizes and patterns, cushion covers are an ideal way to inject pops of personality and energy into your home. Bright and vibrant cushion covers with striking patterns and designs catch instant attention. Add a sprinkle of joy and colour to your rooms, with these wonderful cushion covers.
📌Must Read: 9 Rules For Making Your Home Look Better
Best Decorative Lamps To Brighten Your Home This Diwali
Decorative Lamps are a great way to enhance your decor without making a big commitment. They can add balance to a sofa or bring style, colour and overall interest to an otherwise neutral palette. Tiffany lamps and those with gold or glass bases are often more traditional, while sleek metal or uniquely shaped lamps are often more trendy and contemporary. If you're looking for a cheap fix, try swapping out the lampshade for a bright, patterned alternative.
Decorative Home Accents To Jazz Up Your Home For Diwali
Diwali is the time to spruce up your home and decorate it as nicely as possible to give it a splendid, festive look. Home accents have a big job to do: make a house feel like a home. You can have interesting furniture, but its the little touches that give a home its personality. Whether you're into candles and coffee table books, or pouffes and home fragrances, these decorative touches are a reflection of you. So choose wisely, but have fun, these small decor pieces are easy to move and replace.
No products found.
Diwali Decorations: Best carpets for living room
A carpet serves many purposes — it adds comfort to a rough floor, helps define the spatial layout, and brings in touches of colour, personality and texture. Because it's one of the largest decorative pieces in your space, it should accurately reflect your style. For those with traditional tastes, Persian carpets and floral patterns are go-to options, while chevron patterns, zebra skin and bright colours are trendier and more contemporary.
Decorative Chandeliers for the living room
To make a room more warm and pleasant to live in, furniture and small decorative accessories are not the only elements to think about! Lighting is an important factor in decorating, and it can really transform the atmosphere of a room.
The lighting of a room must be chosen according to the size of the room, but also according to the use you intend to make of it: a dining room does not have the same needs as a kitchen, a reading corner, or a bedroom! Chandeliers certainly allow lighting, but they also have an important decorative function, which is why it is advisable to choose the best designer chandelier that will meet both functional and aesthetic needs.
No products found.
Frequently Asked Questions
1. How do you decorate for Diwali?
To decorate your home for Diwali you can use LED lights, rangolis, torans, lanterns, diyas & tea-lights, candles, floral decorations, colorful cushion covers, and decorative lamps.
2. When should Diwali decorations be put up?
The festival of Diwali is a 4-day long festival that starts with Dhanteras and ends with Bhai Dooj. So, ideally, Diwali decorations should be put up one day before the start of the festivities i.e., the day before Dhanteras.
3. What is placed at the front door during Diwali?
Torans also known as Bandanwaars are placed at the front door during Diwali. The front porch of the house is also embellished with rangolis. Rangolis are a traditional decoration made with sand or rice and usually depict beautiful symmetrical flowers, such as lotuses or daisies. You can also draw or paint your rangolis on paper or wood or even buy them ready-made.
4. Where do you put diyas for Diwali?
The diyas are small oil lamps shaped cup, equipped with cotton wicks, such as candles. To welcome the goddess Lakshmi into your home, the custom is to light 4-6 diyas in rows, near the front door, usually next to the rangolis. Alternatively, you could use small tea lights.
Conclusion
Implement these decoration ideas to beautify your homes this Diwali and let Goddess Lakshmi shower you with wealth, positivity and happiness.
---
Loved our blog on Diwali Decoration Ideas For Home? Do share it with your friends on Facebook, Twitter, and Instagram.
DISCLAIMER: Being a reader-supported blog, Khojdeal earns affiliate commission from purchases made using links on our blog.
Learn more