Scouting for the cast iron cookware for home use? We've made your task easy by creating a list of the top 10 cast iron cookware in India keeping features, cost and utility in mind. We promise you that if you choose from among these models, you will not be disappointed with your purchase.
Conscious and sustainable cooking has led to the search for new, healthier, lighter and non-toxic cooking methods. In this regard, cast iron cookware is back in fashion. Made of ferrous alloy with a good percentage of carbon, more than 2.11%, they allow you to cook all foods uniformly and perfectly.
Particularly suitable for domestic use, they perform very well with various cooking methods: induction, on a gas stove, in the oven or on the barbecue.
Best Cast Iron Cookware in India 2022
No matter what your budget, below you'll find the best cast iron cookware in India to fit your price range. For more background information on cast iron cookware, see our FAQs and buying advice below.
📌 Handpicked related articles:

– How to prevent cast iron from rusting
– How to clean cast iron cookware
– How to store cast iron cookware
– What not to cook in cast iron
Top 10 Best Cast Iron Cookware Brands In India
1. Lodge
Lodge, a company that has been around since 1896 and is still family owned, makes cast iron cooking products. The company offers a wide range of products from basic skillets, Dutch ovens, and griddles to specialty cookware like bread makers, double broilers and more.
Its cast iron cookware is a great investment for anyone interested in cooking and food preparation. The brand offers many different sizes, shapes, and styles of their cast iron pots and pans so that there are always options available to suit all kinds of cooking needs.
Lodge's products are also easy to use and clean, which makes them great for beginners and advanced chefs alike. The mass of the iron helps retain heat while cooking, making it ideal for frying, searing and more. Cast iron is also known for its durability and Lodge's cookware is no different. It can last for decades if properly taken care of, giving you an investment that will last a lifetime.
2. Meyer
Meyer Corporation is a US based cookware distributor. The company was founded in Hong Kong in 1951 as an aluminum goods manufacturing company. It started manufacturing cookware in 1971 with the promotion of Stanley K. Cheng as CEO and chief inventor.
The company's products are made from a combination of cast iron and stainless steel, for a durable finish that will not chip or peel over time. In addition to its signature cast iron cookware, Meyer offers other types of kitchen accessories such as utensils, bake ware, seasoning blends, and more.
Meyer cast iron cookware is made of high-quality materials that are durable and long-lasting. It has a stylish, elegant design which is perfect for any kitchen. The cookware has a porcelain enamel lining that makes it easier to clean and maintain. The product is also oven-safe up to 500 degrees Fahrenheit which means you can use it in the oven for cooking or baking your favorite dishes.
3. Bharath Agencies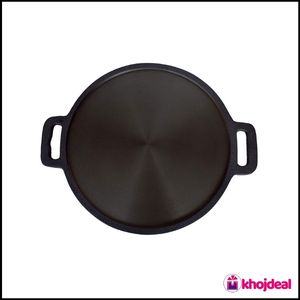 Bharath Agencies is one of the leading manufacturers and suppliers of cast iron cookware. The company has been in this business for quite some time now and they have a vast range of products. One can find products like tawa, kadai, pan, and many more.
The brand's cast iron cookware is made from high-quality materials that make it durable and long lasting. It is also rust proof which means that it will not lose its quality after being used for some time. They are also easy to clean which makes them perfect for people who are always on the go.
Bharath Agencies cast iron cookware is a new and innovative way of cooking that is both healthy and eco-friendly. It uses the best quality of raw materials which make it free from any harmful chemicals or toxins. The food cooked in it has a natural flavor, texture, and aroma which makes it the best choice for people who want to eat healthier.
4. Rock Tawa
Rock Tawa cast iron cookware is one of the best cookware brands in India. It is located in Coimbatore in Tamil Nadu. They offer a wide range of products for all kinds of cooking needs. Some of their products include Dutch ovens, woks, and grill pans.
The Rock Tawa products can be used on gas, electric, induction or ceramic stovetops, as well as in the oven or over the campfire – providing versatility for cooking needs. They can be used to prepare a large variety of food including stir-fries, deep-frying, sautéing, boiling, grilling or slow cooking.
Rock Tawa cast iron cookware is known for its quality and durability. This is because they use the best quality raw materials that are available in the market. They have a beautiful black matte surface that not only adds a stylish touch to the kitchen but also makes cleaning easier. The producer provides a high-quality product at a budget price, therefore it's possible to buy a set of the cookware at a really affordable price.
5. Wonderchef
Wonderchef is a global leader in kitchenware and appliances. They make it easy for people to prepare delicious, healthy meals. The brand is known for its German quality standards, Italian designs and constant innovation.
One of their best products is the cast iron cookware. It is made out of 100% cast iron and coated with porcelain enamel on the inside. Wonderchef offers a variety of sizes for their cast-iron cookware, so you can find the perfect size for your needs.
The Wonderchef cast iron cookware has many benefits that are worth mentioning. First, it's durable and can last for years without any problems, so you don't have to worry about replacing it in a few months or years. Secondly, it's versatile and can be used for any type of cooking, whether it's frying, baking, braising or even searing. Thirdly, it's easy to clean which means you don't have to put in much effort when you're done cooking.
6. Vinod
Vinod's products have been designed and built with an in-depth understanding of Indian kitchens and premium quality stainless steel. The brand draw on decades of expertise in creating kitchenware that is durable yet elegant. Its products are made from the finest stainless steel and represent its dedication to excellence.
Vinod is a famous brand in cast iron cookware, and it has an impressive range of products to suit every budget. From frying pans to square griddles, the brand is quite popular amongst Indian homes. They are known for their heavy-duty cast iron cookware that lasts a lifetime, with proper care and maintenance.
The Vinod cast iron cookware is made from quality materials and the design is based on the traditional methods of cooking in India. It has a natural non-stick surface that does not require any coating or seasoning, which makes it easier to clean as well as maintain. These products are known for their durability, versatility, and aesthetic appeal.
7. The Indus Valley
Indus Valley began selling natural cookware products in 2016 It is India's first healthy cookware company. The good thing about this brand is that it is 100% pure. There are no traces of Cadmium, Lead and Chromium – all which can be hazardous to your health – in these utensils.
The Indus Valley cast iron cookware is a perfect cooking utensil for those who love to cook and experiment with different recipes. It is a traditional and authentic cooking tool that has been used for centuries. The cookware can be used on any type of stove top, including induction stoves.
The material this cookware is made of makes it durable and long lasting. It also makes it easy to clean and maintain the seasoning of the pan. The best part about these pans is that they can be used at any temperature, so you don't have to worry about burning your food or undercooking it. Cooking is a lot healthier with the Indus Valley cast iron cookware as it absorbs very less amount of oil and moisture.
8. HighKind
Highkind cast iron cookware is famous for its quality and durability. It is a perfect choice for those who want to cook with a traditional cooking method. The material of the pots and pans is heavy, and they are not easy to scratch. They are also easy to clean and maintain.
The Highkind pans are versatile and can be used on any type of stovetop including induction stoves. They can also be used in ovens without any issues as well as on outdoor grills. They are extremely durable and can last for a lifetime.
They are made of 100% cast iron and have a porcelain enamel coating. This makes them resistant to rust and corrosion, as well as heat-resistant up to 500 degrees Fahrenheit. They also have a natural nonstick coating that helps keep food from sticking to the pan, which is perfect for those who want to eat healthier. The interior of the pans is smooth and flat for easy cooking.
9. Le Creuset
Le Creuset, a French premium cookware manufacturer, was founded in 1925. The company is most well-known for its cast-iron cookware that has been sprayed with colorful enamel. It also produces a variety of bakeware and cookware, including fondue-sets and tagines.
The brand uses standard sand-casting techniques to make their cast-iron cookware. Items are then sprayed with at most two coats of enamel after hand finishing. Regular use of enamel makes it resistant to damage. All Le Creuset cast-iron cookware are manufactured at the foundry in Fresnoy-le-Grand.
Le Creuset cast iron cookware is a favorite among professional chefs. The brand has a wide range of products that are suitable for different types of cooking methods. They have a variety of sizes, shapes, and colors to suit the needs of any kitchen. There are many benefits of using Le Creuset cast iron cookware such as: even heating, great heat retention, easy to maintain, long-lasting, and dishwasher safe.
10. Bergner
Bergner Group has made a lot of progress since 1999 when it began as a kitchenware business. The brand has evolved over the years to become the most trusted homeware company for consumers all around the globe. It combines cutting-edge technology with functional design and uncompromising quality to create products that will improve your home experience.
The brand is synonymous with innovation, quality, and value. Its commitment to quality starts with the design process. The design team spends many hours working with engineers to ensure that their product will be able to stand up to rigorous cooking conditions.
The Bergner cast iron cookware is a popular choice for many chefs. It has a good balance between weight and durability. The cookware is also very versatile and can be used on gas, electric, and induction stove tops. It also has an excellent heat retention, so you won't have to worry about burning your food or having uneven cooking temperatures. The surface of the cookware will not react with the food you are cooking, so it won't change the taste or flavor of what you are making.
Cast Iron Cookware Buying Guide
1. Enameled or Uncoated
The enameling increases the resistance to temperature enormously and makes the cookware non-stick, thus preventing the food from burning and sticking to the bottom. In addition, this extra layer created with a vitrification process also gives a touch of design to the pot, because it makes it more pleasant from an aesthetic point of view.
Enameled cast iron cookware has other advantages too. First of all, it does not absorb humidity, liquids or odors. Consequently, it does not stain and above all does not contaminate the taste of food with the aromas of previously cooked food.
Furthermore, it facilitates cleaning operations, which instead turn out to be more complicated in cookware that is uncoated.
Uncoated cast iron cookware can either be pre-seasoned or not. Pre-seasoned cookware is ready for use straight out of the box. On the other hand, cookware that's not pre-seasoned needs to be seasoned before usage.
The one shortcoming of uncoated cast iron is that cast iron is a reactive metal, and the seasoning can be damaged if you cook acidic foods in it for long periods of time. The food can then take on a metallic taste.
2. Dimension and capacity
It is important to always evaluate the size of the cast iron cookware you are about to buy, just to understand if it is suitable for your needs. If you intend to use it for cooking generous portions, for the whole family, then you will have to opt for a larger product with a high liter capacity. Consider that to prepare a meal for 5 people you need a saucepan of at least 30 centimeters in diameter and with a capacity of about 9-10 liters. On the other hand, if you need to cook for just 2 people, a capacity of 4 or 5 liters should be enough.
3. Overall Size and Weight
One of the downsides to cast iron is that it is much heavier than cookware of a similar size that's made from other materials. Therefore, it's wise to keep the weight and overall size in mind so you don't buy something that you can't lift after you've filled it with food. The weight might also affect your storage options, since shelves need to be strong enough.
4. Lid or no lid
The lid of a cast iron cookware is very useful, since it is designed to ensure an airtight closure, effectively transforming it into a sort of steam cooker. In fact, the steam generates condensation, which forms under the lid, and then the droplets fall on the food from there, hydrating it and restoring its original aroma. It is advisable to always choose a pot, pan or wok with this feature, so as to trap steam to ensure the maintenance of a perfect level of moisture.
5. Thickness
The thicker the cast iron cookware, the more evenly it will heat. It will also retain the heat for a longer time as compared to thinner ones. However, more thickness also translates to more weight which might make it difficult to handle and clean. So, if you're looking for a cast iron cookware that cooks perfectly and evenly, go for a model that's thicker.
6. Handles
Since cast iron is heavy and it retains heat, the handle configuration is important. The handles need to be sturdy, and they need to be large enough to make them easy to hold onto when using oven mitts or potholders. And if they are equipped with a cool touch feature, its even better.
7. Type
Cast iron cookware is great for specific purposes, which is why you won't see entire cookware sets made from cast iron. Consider what you're going to cook and then find the pan, pot, wok or griddle that fits the purpose.
Characteristics of Cast Iron Cookware
Cast iron is a material made of iron and carbon (the latter present at high percentages, i.e. higher than 2%) which has the characteristic of perfectly radiating heat. In fact, cast iron pans slowly diffuse the heat and distribute it to the foods evenly, allowing you to perfectly cook meat, fish, and vegetables.
A few cast-iron cookware pieces are coated with an enameled layer which makes them very beautiful to the eye, but above all, if the enamel is of quality, it provides resistance to temperature changes and allows you to cook even at high temperatures.
Cast iron is also an insulating material, so these pans can be used to store food in the refrigerator. Lately, some models are coated with non-stick material inside, to allow cooking without added fats and without the danger of food sticking to the bottom, as well as to facilitate cleaning operations.
Advantages of Cast Iron Cookware
The cast iron cookware has the main advantage of being used on different cooking hobs and being an iron alloy also on induction ones. Being very versatile they can be used for
Baking
Grilling
Roasting
Caramelizing
Making soups and gravies
Stewing and braising
In fact, they are particularly suitable for those foods that require long cooking and low heat; therefore, they are ideal for roasts, stews, braised meats etc. However, cast iron cookware are not only used for these types of cooking, in fact they are also perfect for grilling since, like iron cookware, they favor the Maillard reaction, that is the "crust" that is formed due to the caramelization of sugars, which takes place on the outside of the flesh with blood.
Cast iron cookware and pans have the main advantage of cooking food evenly and release heat even when the fire is out. Furthermore, thanks to their insulating power, they retain the cold well, so they can also be used in the refrigerator to store previously cooked food in the same pan, without having to transfer them.
All these properties make them ideal for guaranteeing a healthier and less fatty cooking, particularly suitable for all those who follow a low-calorie diet. The lightness of the dishes does not compromise the taste in any way.
Disadvantages of Cast Iron Cookware
The main disadvantage of cast iron cookware is its weight. Cast iron is a very heavy material and therefore the pans will also be heavy. This entails a difficulty in moving and handling especially those of a certain size.
In recent times this cookware has been equipped with insulating handles, which also facilitate the movement and use of the utensils, as they too are very heavy and resistant, even if they make the weight of the cookware higher overall.
Another disadvantage of cast iron is due to its porosity which leads it to absorb odors, especially when cooking fish or something very spicy. Finally, another negative point is the difficulty in maintenance and cleaning. In fact, the cast iron cookware must be completely cold before being washed, to avoid the thermal shock that could ruin them.
Furthermore, very small quantities of detergents must be used without using scouring pads or sponges which can ruin the coating. To facilitate cleaning, some are coated with non-stick material, easier to clean, but just as delicate as it could be ruined if metal or abrasive objects are used.
Frequently Asked Questions (FAQs)
1. Are cast iron cookware safe?
Cast iron cookware is incredibly useful in the kitchen. They are quite heavy though, and can store a lot of heat. Obviously, while cooking you would have to be careful to make sure you do not hurt yourself. Also, they leach iron overtime. If you are at risk of iron overload, you should potentially learn more about cast iron safety.
2. Are cast iron cookware better?
Depends on what you are cooking. Since, iron cookware conducts heat very efficiently, but takes time to, cook food that you want to make at low heat over a period of time. If you want a cook snack, cast iron might not prove very efficient. That said, omelets, seared meat, and sautéed vegetables are perfect to cook with cast iron.
3. Is cast iron cookware good for health
Well, no, not really. Given your size and composition, it would be impossible to see any visible benefits of the mineral intake with food cooked on a cast iron skillet. The utensil can impart that rust color onto food though, so it would prove perfect to get the perfect sear on that piece of meat you have been wanting to cook.
4. Is cast iron cookware non stick?
Cast iron cookware is naturally non-stick. Cast iron cookware is generally seasoned, and if done well, food will not stick to its surface. If you are looking to fry food in it, make sure you pre-heat it first to avoid any chunks to stick to its sides; can be a nightmare to clean.
5. Are cast iron skillets oven safe?
Cast iron skillets are totally oven-safe. They are made completely of metal and will not melt in whatever heat you put it in. Obviously, they are not meant for microwave ovens, but perfect for any convection type oven.
6. Can cast iron cookware be used on induction cooktop?
Yes, you can use your cast iron cookware on any induction stove. They heat up rather slower than most other utensils, so it will take time to cook food on induction stoves.
7. Do cast iron skillets rust?
Yes, generally speaking, all iron skillets rust. However, if you simply take care of them and clean them the right way, they might not. There is a protective layer of carbonized oil on cast iron skillets called seasoning. On a really good product, this seasoning is perfect and provides much needed protection to the skillet. Leaving your pot in the sink to soak can still cause the skillet to rust, no matter the quality.
Conclusion
With its versatility and plentiful benefits, cast iron cookware should have a place in your kitchen. Whether you're looking at purchasing a cast iron cookware for the first time or simply want to add to your existing arsenal, we've rounded up the best cast iron cookware in India that will elevate your meals.
If you're looking for an economical and versatile model, go for the Amazon Brand – Solimo Cast Iron Fry Pan. It is made from super premium cast iron that is 100% food grade. The enamel coating prevents rusting of cast iron and helps the product last longer.
For those willing to spend a fortune can purchase Le Creuset Cast Iron Wok with Glass Lid. With a lifetime warranty, this cast iron cookware will last for generations.
---
Loved our blog on best cast iron cookware in India? Do share it with your friends on Facebook, Twitter, and Instagram.
DISCLAIMER: Being a reader-supported blog, Khojdeal earns affiliate commission from purchases made using links on our blog.
Learn more