Yoga poses require a lot of flexibility and stretch-ability. To ensure that you're comfortable while doing these poses, you need to invest in the best yoga pants for women in India. Apart from being perfect for yoga, the best yoga pants listed below are extremely versatile and suitable for other athletic activities too. Some can even take you way beyond a workout and be worn for running errands, travelling and lounging.
When it comes to finding the best yoga pants for women in India, there are a few factors to consider. You need leggings that won't roll down your waist, aren't too sheer, won't split down the seams and don't squeeze you uncomfortably. Plus, you also need moisture-wicking materials to keep the sweat at bay and stretch fibers to keep you comfortable as you transition from one pose to another.
It is also important to consider their purpose in your life. If you plan on wearing them for athletic activities, look for pants made with performance-ready fabrics that'll keep you cool during the sweatiest workouts. Or if you looking for something that you can travel or lounge in, opt for cotton yoga pants that are soft and comfortable enough for daily wear.
Top Yoga Pants for Women in India 2021
To help you sift through the seemingly endless options of the most flattering yoga pants, we've compiled a list of 10 of our favorite pairs below. Look no further than the best yoga pants for women in India listed here. Strike your best warrior pose in any of these top 10 pairs.
Also Read: Best Jockey Track Pants in India
Best Yoga Pants for Women in India – Review
FITG18 Gym Wear Ankle Length Leggings
U.S. CROWN Polyester Yoga Pants
MSCREATION Ankle Length Stretchable High Waist Fitness Pants
HELISHA Ankle-Length Gym Legging
Shri Hub Gym Wear Ankle Length Leggings
BLINKIN Mesh Polyester Yoga Leggings
TRASA Ultra Soft Cotton Stretchable Yoga Pant
Naughty Little Ankle Length Yoga Leggings
Puma Always On Solid Tights
Jockey Leggings
1. FITG18 Gym Wear Ankle Length Yoga Leggings
Why we liked these yoga pants?
Step into your training schedule and maximize the power of your mind, body, and energy with these black tights from Fitg18. This showstopper combines fashion, performance, and comfort like no other. Stay focused, go further, be invincible and achieve balance in these leggings made from 85% Polyester & 15% spandex.
These tights are designed with Drytech+, Anti Statix & Stretch-X technology for women with ambitious fitness goals to enhance their workout. The power stretch cotton spandex fabric ensures a restriction free training session. The ribbed bottom keeps the pant close to your body even during an intense workout. Overall, these pants are good quality and great value for money.
Key specifications of these yoga pants
Free size
High waist
Crafted from polyester lycra
Item length: Ankle length (38 inches)
Material Composition: 90% Polyester 10% Spandex
Drytech+ technology
Anti Statix technology
Stretch-X technology
Tights with sweat wicking
Quick dry polyester fabric
Lightweight & breathable
Color: Black with stripes
Flatlock sewing
Wide waistband
Versatile
2. U.S. CROWN Polyester Yoga Pants
Why we liked these yoga pants?
U.S. CROWN Yoga pants are flexible, form-fitting pants designed for the practice of yoga as well as other physical activities that involve a lot of movement, bending and stretching. This moisture absorbing yoga pants are 94% polyester and 6% spandex blend ensures – a combination of comfortable fabric that feels great against the skin.
They have an intricately alluring design to flatter your figure and provide the ideal amount of stretch for an ergonomic fit. This allows these pants to conform to the natural shapes of your legs, butt, and thighs. Although the leggings are a tighter fit, they still provide the optimal amount of direct compression throughout the legs.
Key specifications of these yoga pants
Material composition: 57% Nylon; 35% Polyester; 8% Spandex
Waist: 28 Inch to 32 Inch
Length: 35 Inch
High quality
Stretchable
Flexible
Form-fitting
Soft & smooth
Polished and silky finish
Moisture absorbing
Wide waist band
Extremely comfortable
Lightweight
Weave construction promotes air circulation
Versatile
3. MSCREATION Ankle Length Stretchable High Waist Fitness Pants
Why we liked these yoga pants?
MSCREATION yoga pants for women are made of high-quality moisture-wicking fabrics with 4-way stretch technology. Just like the second-layer skin, these workout leggings for women provide you with maximum comfort, support, and coverage. Stretchable fabrics with shape retention give you an unparalleled supportive sensation without any see-through worries.
These yoga pants can also perfectly work as shapewear are designed with high waist for tummy control, perfectly contouring your curves and streamlining your shape. Besides, interlock seams and gusseted crotch of these high waisted leggings for women are designed to reduce irritation and eliminate chafing. You can move easily, squat, stretch or do any pose you want when workout.
Key specifications of these yoga pants
Material: Polyester
Sweat wicking
Quick-dry polyester fabric
Lightweight and breathable
Item length: Ankle length (27 inches)
Material composition: 90% polyester; 10% spandex
No see though stitching
Total freedom of movement
Versatile
Drytech+ technology
Anti Static technology
Stretch-X technology
Free size
4. HELISHA Ankle-Length Gym Legging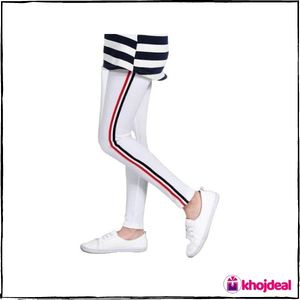 Why we liked these yoga pants?
Made from 4-way stretchy soft fabrics with shape retention, these workout leggings for women are very comfortable and supportive, offering for compression sensation as well as maximum flexibility during your exercise. The leggings incorporate style and comfort that hug your body and contour your shape.
Thanks to the moisture-wicking material, these athletic leggings help to remove moisture from your body, and make you always feel cool when you sweat a lot, offering long-lasting comfortable performance. Plus, a wide waistband holds them in place all the time no matter what poses you are doing. These leggings have just the right amount of firmness and stretch. Whether you're heading to the gym, the shops or to meet your girls for brunch, these leggings are your best ally.
Key specifications of these yoga pants
Free size
Material: 100% Hosiery Cotton
Elastic waist band
Versatile
Stretchable
High waist
Ankle length
Comfortable
5. Shri Hub Gym Wear Ankle Length Leggings
Why we liked these yoga pants?
Shri Hub leggings are ultra-soft and come in a slim style with a perfect combination of white and red stripes on the side that makes it stand out. It is of ankle length and can be worn as yoga pants, due to the high waist. It is comfy to wear all day long and a versatile casual wear.
Manufactured with premium breathable fabrics with gusseted crotch design, these high waisted leggings are the best workout leggings that will help to remove moisture from your body and dry quickly for a comfortable dressing experience, no matter what kind of workout you put them through. It is designed to contour perfectly to your body, giving you a streamlined look.
Key specifications of these yoga pants
Ankle length
Free size
Stretchable
High waist
Elastic waist band
Lightweight
Comfortable
Versatile
Material: 90% cotton; 10% polyester
Anti-odor technology
Ultra soft feel material
Fleece lined for warmth & comfort
Also Read: Best Yoga Mats in India
6. BLINKIN Mesh Polyester Yoga Leggings (Cool Yoga Tights)
Why we liked these yoga pants?
BLINKIN women's leggings are made from the highest quality opaque fabrics with special sewing craft to make them thick enough to cover everything, but of course not too hot. In addition, these 4-way stretch sports leggings provide great freedom of movement you could want during workout.
Designed with a widened higher waist waistband for better tummy control, these yoga pants offer all the support and compression for your tummy and butt to get back in its original shape. Both sides of these yoga leggings have pockets to hold your cards, phone, ID, and keys. So, you can go wallet-free, and focus on your exercise not on your essentials.
Key specifications of these yoga pants
Material: Polyester
Sweat wicking
Quick dry polyester fabric
Lightweight & breathable
Item Length: Ankle Length (38 inches)
Material Composition: 90% Polyester; 10% Spandex
No see though high quality stitching
Total freedom of movement
Versatile
Drytech+ technology
Anti Static technology
Stretch-X technology
Flatlock sewing
7. TRASA Ultra Soft Cotton Stretchable Yoga Pant
Why we liked these yoga pants?
TRASA's women's yoga pants wrap your body in soft, stretchy fabric. Featuring a super soft, four-way stretch material, these workout leggings are very comfy and promote both compression and support. In addition, they come with a gusset crotch to maximize free movement and interlock seams to minimize rubbing and chafing. The wide elastic waistband provides optimal coverage and support, flat your stomach.
Thanks to the moisture-wicking material, these yoga leggings (no see-through) help to remove moisture from your body, and make you always feel cool when you sweat a lot, offering long-lasting comfortable performance. This makes them a good choice for gym, fitness, running, outdoor workout or any type of exercise.
Key specifications of these yoga pants
High quality fabric
Material: 95% Cotton; 5% Lycra
Soft fabric
Stretchable
Bio-washed (organic washed) material
Free of harsh chemicals
Longer fabric life
Elastic waist band
Versatile
8. Naughty Little Ankle Length Yoga Leggings
Why we liked these yoga pants?
Engineered to feel like next to nothing sensation and keep you confident while exercising, these yoga pants just deliver you the must-have technical performance qualities. Soft and curve hugging, these leggings can go anywhere you go. From the yoga studio or a run on the beach, you can hop in your car or on your bike and go run errands without having to change.
Fabricated to be buttery soft, these grey yoga pants are the perfect blend of spandex and nylon giving you the stretch you need to accommodate all of your intricate yoga poses. Fitting flush against your skin, these pants move with you without bunching, pinching, or pulling for a yoga workout immersed in comfort.
Key specifications of these yoga pants
Free size
Elasticated waist
Material: 95% Polycotton; 5% Lycra
Ankle length
Stretchable
Thick spandex rib cotton fabric
Versatile
9. Puma Always On Solid Tights
Why we liked these yoga pants?
These pants from Puma are designed for many different types of activities, including yoga. They yoga pants offer you a comfort fit that is versatile and flexible ensuring a productive yoga class. From your ankle to just above your navel, these high waisted yoga pants provide complete and comfortable coverage of your lower half.
Fabricated to be ultra-soft with enough spandex to conform to your form, these yoga tights give you the barely there feel that is balanced with a completely opaque visual appearance that protects your modesty. The seamless waistband combined with the flatlock stitching ensures a fit that is total bliss while you take your meditative journey through your yoga practice.
Key specifications of these yoga pants
Color: Puma black
Shell: 89% Polyester; 11% Elastane
Inner waistband: 82% Nylon; 18% Elastane
Pocket bag: 100% Polyester
Finish: Bio-based wicking finish
Elasticated waistband
Versatile
Flat lock seams to prevent chafing
Lightweight construction
10. Jockey Leggings (High End Yoga Pants)
Why we liked these yoga pants?
The style of these pants is appreciated by many people, who feel they are in line with the flow of movement for yoga. No matter which way you bend, stretch, or twist, these tights stretch with you from full splits to backbends. Stretch or run comfortably in these full-length tights that feature a high waist which offers gentle tummy control that is absolutely comfortable with every move you make.
With a lightweight and opaque non-see-through fabric, these Jockey leggings provide ultimate comfort for any free movement like bending, squatting, lifting, or running, and any occasion like yoga, biking, jogging. They are made of new generation antibacterial material that destroys or inhibits the growth of microorganisms, and especially pathogenic microorganisms.
Key specifications of these yoga pants
Colour: Black Marl
Material: 92% Cotton; 8% Spandex
Machine wash
Stretch fabric
Slim fit
Soft elasticized waistband with flat drawstring
Label free for all day comfort
Authentic Jockey contrast
Treated with Stay fresh technology
Anti microbial properties
Yoga pants buying guide – What to look for in yoga pants?
Like any sportswear, yoga pants must meet several criteria such as comfort, support, sturdiness, value for money and finally: style!
It is indeed essential to feel comfortable during the execution of postures (asanas) which do not include badly stretching, bending and other movements. There is no question of ending up with pants on the ankles in full sun salutation (otherwise it is your neighbor who will greet your moon!), We therefore require a certain support at the waist, without feeling suffocated.
Another factor, sweating, which can be very present in some yoga classes (yes yes, try Hiit Yoga). It is therefore imperative to take into account the quality of the fabric of manufacture.
1. The preferred materials
You can find yoga pants made in different materials, ranging from 100% natural cotton to synthetic materials such as elastane or jersey.
Cotton yoga clothes, especially organic cotton, are popular for their quality. Indeed, it is well known that cotton has absorbent and insulating powers which allow you to remain comfortable despite perspiration. In addition, cotton refreshes despite high temperatures.
If cotton is renowned for the comfort it brings, the elastane fabric is appreciated for its significant elasticity which offers a certain resistance. The garment quickly returns to its original shape after stretching. In addition, the elastane fabric dries very quickly, which makes it suitable for sports.
We can therefore opt for fabrics that combine these two materials, such as fabrics with humidity regulating technology so that they offer both elasticity and comfort.
2. The style – Practicality and taste
With the multitude of brands available, you are spoiled for choice when it comes to finding your yoga pants. But since it is a question of practicing a sporting activity, it must be chosen according to the type of yoga that you want to practice.
In general, models close to the body are preferred for a practical matter. Indeed, this makes it possible to check whether the posture is correct or not. The yoga pants are available in several lengths, such as the ¾ leggings which offer great freedom of movement while leaving the ankles bare, or the 7/8 leggings which completely cover the legs.
For style and fit, the choice depends entirely on individual taste and preferences. Some brands indeed offer fabric models with patterns, or models with different stimulating colors.
3. The price: Combining quality and competitive price
The price is also a significant choice criterion. It is advisable to choose your yoga clothes based on the fact that they will be used quite often. And that for that it is necessary to privilege the quality, that is to say, the clothes made with resistant material, comfortable and easy to maintain.
You should know that non-quality is expensive. Suppose you bought yoga pants, the fabric of which is so thin that it might tear at the slightest stretch or show the color of your underwear. Good value for money is one of the criteria for choosing the ideal yoga pants.
4. Length
For yoga pants you can find three different lengths: short, long, capri. Depending on the yoga exercises to be carried out, a pant of one length may be more suitable than another.
During the summer season, for example, it will be preferable to use short yoga pants. The same preference can be made by those who practice Bikram Yoga or Hot Yoga where yoga is practiced at temperatures of 40 ° C and for more than an hour. It would therefore be unthinkable to do it with long pants in a similar heat.
The Capri Yoga Pants instead they are those pants whose length reaches mid-calf and are suitable for carrying out any exercise where there is a hot temperature. Being aesthetically pleasing and giving a certain style to the wearer, capri style yoga pants are often used to go out for a walk, go to the shops to do the shopping, etc.
Finally, we have long yoga pants, which reach the ankles or even lower. These pants are suitable for practicing Yoga exercises at any time of the year and are also suitable for other sports activities in the gym. They are great for walks, to go to the shops, etc.
5. Pocket
A pair of yoga pants cannot have too many pockets to put things in or they would be uncomfortable. However, a small pocket in the waist belt to insert the keys, a credit card, a very small object that can always be useful. Some people who practice yoga specifically look for these pants with the pocket, while others find this pocket useless, so whether or not they have it for them makes no difference as they will never use it.
6. Waist
To choose the best yoga pants you will also need to consider the height of the waist. Do you prefer a high, medium, or low waist? As with the classic jeans, even with the yoga pants you can choose the height of the waist. Only in this case we must not only consider the aesthetic aspect but also the functionality of the trousers.
A pair of yoga pants with a too low waist can emphasize the abs and flat stomach, as well as the shapes of the lower back, but depending on the yoga position to be done, you could risk showing the underwear or worse the butt.
Pants with medium or high waist, on the other hand, do not allow you to create "scandals" during yoga sessions, as even if you take extreme yoga positions everything will always remain covered. It must be said, however, that the high-waisted Yoga pants could create problems for the wearer to lean forward as one could feel stuck, with a sense of limited freedom.
So, pay attention to the exercises that you will have to do. If you do not want to make mistakes you can choose the best mid-rise yoga pants that are the middle ground between a low and high waist.
7. Quality of seams
All trousers require seams to be able to be constructed, but these must be made with a quality that gives resistance to the trousers even in the most extreme positions, preventing them from fraying or tearing. Usually, the seams in the best yoga pants are made precisely so as not to tear easily, but at the same time without disturbing the movements or creating redness due to rubbing on the skin.
Frequently Asked Questions About Yoga Pants
1. What are the best women's yoga pants?
There are a lot of positive points for all the pants we have reviewed, but the best choice for yoga pants are those from Jockey. Although many users have needed to take a size larger than usual, most people find these pants very comfortable and ideal for Yoga. The high waist adds comfort to the wearability, and people say it doesn't roll up during training. When you consider the overall mix of design quality, comfort and value for money, these yoga pants are top notch!
2. Are yoga pants comfortable?
Yes, yoga pants are generally so comfortable that they tend to be worn even on rest days when no workout is planned. When it comes to choosing the best yoga pants, the key word is comfort, since you will sweat during your session. So, prefer materials that breathe and do not retain perspiration, so we forget 100% cotton.
3. Are yoga pants and leggings the same thing?
For athletic purposes, the terms yoga pants and leggings can be used interchangeably. However, not all leggings are designed to be worn for athletic activities. So, before buying leggings for fitness purposes, ensure that they are not too thin and have moisture-wicking properties.
4. Are yoga pants good for hiking?
Yes, you can absolutely wear yoga pants while hiking but only for short- and casual-day trips. Moisture-wicking pants made from synthetic materials like spandex or nylon will do the trick.
5. Can yoga pants be used for running?
If your yoga leggings are compressive and have moisture-wicking properties, you can comfortably run in them.
6. Should yoga pants be tight or loose?
Yoga pants should be tight-fitting and not loose. For yoga postures to be performed correctly, your outfit must allow the yoga master to correct your postures, and he must be able to check if your limbs are in alignment with your spine, etc. It is for these reasons that close-fitting clothing is preferred. Wearing loose clothing while doing yoga can also hinder movement. They must stretch and move with the body, instead of being restrictive.
Related articles :
Conclusion
One of the biggest struggles with working out is finding comfortable and functional active wear. With thousands of options available, it can be hard to determine which pair is right for you.
That's why, we've done all the hard work and tried to provide you with an in-depth guide on choosing the best yoga pants for women in India to suit your own preferences and requirements. If you have any comments or inputs about the best yoga pants for women in India we've listed here, we'd love to hear from you.
---
Loved our blog on Best Yoga Pants for Women in India? Do share it with your friends on Facebook, Twitter, and Instagram.