Tower fans are extremely quiet and very popular in every household. The best tower fans are small, take up little space and ensure pleasant freshness at home in hot months. However, you must note that air circulation is different for each device. The tower fan is a special variant of the conventional fan.
The fan has a tower-like appearance and has the advantage that only a small footprint is required. The device does not have a propeller either. Instead, the fan draws air through an opening on the back. The air is then blown out to the front. Due to this functional principle, tower fans are also very efficient. Various column fan tests have shown that the wind machines are also very suitable for larger rooms. After all, the devices also have a modern look and can be integrated into any living style.
With modern tower fans, you can have a positive impact on your room climate. Positioned correctly, such devices ventilate the entire room and are even quite space-saving. For the warm summer months, a tower fan is definitely a real asset.
Which tower fans are really recommended and what should you pay attention to if you want to commit yourself to such a device? In such a case, you can read through Khojdeal's Tower Fan buying guide, which also includes a recommendation of the best tower fans.
Best Tower Fans In India 2023 With Price
While people always worry about heating bills, cooling appliances can be costly and pricey no matter what time of the year you are buying it. The fact that it's all about cooling your space, there are a plethora of options. Hence, for a cost savings and space savings option, a tower fan is the best choice for you. One of the most popular reasons why people choose this option is because it is stylish and Eco-friendly.
Hence, here are some of the best tower fans in India that would help you to go on this summer.
| | | |
| --- | --- | --- |
| S. No. | Best Tower Fans In India | Price |
| 1. | Butterfly Wind Tower Fan | Rs. 3,500 |
| 2. | Russell Hobbs RTF-4800 Tower Fan | Rs. 8,450 |
| 3. | Hans Lighting Air Tower Fan | Rs. 4,101 |
| 4. | iBELL DELUXE Tower Fan | Rs. 2,849 |
| 5. | Bajaj Tempesta Tower Fan | Rs. 9,500 |
| 6. | Impex TWISTER PLUS Tower Fan | Rs. 2,990 |
| 7. | Deco Elegant Tower Fan | Rs. 7,549 |
| 8. | Orient Electric Monroe Tower Fan | Rs. 4,758 |
| 9. | Honeywell HYF290B Tower Fan | Rs. 16,576 |
| 10. | Blueberry Tower Fan | Rs. 2,792 |
📌 Handpicked related articles:

– How much electricity does a fan use in India
– Best pedestal fan in India
– Best wall fan in India
– Best ceiling fans in India
Top 10 Tower Fans in India For 2023
1. Kelvinator KTF-131 4 Blade Tower Fan
Why should you purchase this tower fan?
Kelvinator tower fans can provide the user with efficient cooling when you need it. Instead of using high power consumption fans you should use this eco-friendly Kelvinator KTF-131 4 Blade Tower Fan. The brand provides the user with a durable and a slim design due to which you can fit it in compact spaces and rooms.
Moreover, this is the type of fan which tends to meet anywhere in any area. You can use it anywhere, either in your workplace, while working in the kitchen or your bedroom. It is a plethora of convenient features for users. It includes wheels at its bottom to make it more mobile and speed control. It has speed controllers that consist of noiseless functions.
Top Features
Material: Plastic
Color : Blue and White
Motor Speed: 5000 RPM
Power Consumption: 60 W
Number of Speed Settings: 4
Warranty: 1 year manufacturer warranty
Weight: 7 kg
Power Requirement: AC 220-240 V, 50 Hz
Remote: No
Pros
Durable
High motor speed
4 speed settings for convenience
Compact design
Uses less electricity
Cons
Not as appealing design wise
2. Bajaj Snowvent Tower Fan Blue-Turquoise
Why should you purchase this tower fan?
Durable Design: The product is made up of durable thermoplastic adhesive that is corrosion resistant. This makes the product durable and long-lasting. Not only this, but it also makes it Eco-friendly.
Control Panel: The Tower Fan consists of remote access that helps the user to control the speed along with the air spins. Designed for the users, it allows them to control swings too.
Design: Bajaj Fans has something for every home, office and commercial space. The comprehensive offering includes ceiling, pedestal, wall, table, exhaust and industrial fans. They also have a premium, economy and energy-efficient ranges that offer world-class performance and look stunning.
Top Features
High Air Delivery: 2500 m3/hr
Sturdy Indigenous design: Stabilized thermoplastic for aesthetic and corrosion-resistant life
Ergonomic Control Panel: speed and swing controls designed for ease of use
Tough Blower: to ensure optimum air throw efficiency, with 3-speed selection
Light: weight and Portable
Warranty: 2 years
Power: 150 watts
Includes: 1 Tower Fan
Weight: 4 kg
Length: 35.50 cm
Breath: 32.5 cm
Height: 85.5 cm
Pros
High power
High air delivery
Lightweight at just 4kgs
3 speed settings
Ergonomic control panel
3. Castor Cool Breeze Tower Fan with 25 Feet Air Delivery
Why should you purchase this tower fan?
One of the main reason to buy these tower fans has to be because of their stylish and compact. They would go with your home decor, just like the way you want it. Yes! It is space-saving design, and therefore it helps the user to maintain their furniture just the way they want. Not only this, but this Tower Fan provides with high air throw, which is about 25 feet.
The brand offers the users with a 4 Way Swing in the Tower Fan, and it has an anti-rust body, which makes it more durable and lost lasting. The company presents its customers with a 1-year warranty on the Tower Fan. Thus, this makes it even more desirable than any other tower fan in the market.
Top Features
Type: Tower Fan
Motor Speed: 2250 RPM
Power Consumption: 140 W
Number of Speed Settings: 3
Number of Blades: 18
Pack of: 1
Warranty: Standard 1 year warranty + 6 months additional warranty on free registration
Pros
3 speed settings
High motor speed
18 fans for high air delivery
Affordable
4. Butterfly Windi Tower Fan
Why should you purchase this tower fan?
Butterfly Windi Tower Fan grants the user with a superior amount of airflow in an amazingly compact unit. This type of fan circulates air at a 90-degree angle, swaying on a stationary base. This blend of design produces an astonishingly, efficient and robust product.
The design of the tower is the most recognizable and plus point in terms of the attribute. The shape of this tower fan enables to slide into spaces that would otherwise be inadequate to house a fan unit. Most models allow air ionization, providing the area a clean, fresh feeling.
Top Features
Power: 50 watts
Size: Standard
Water Capacity: No
Remote Control: No
Design: Virgin Plastic Body
Power Motor: 140 Watts Powerful Motor
3 Speed Air Delivery
Swing: Swing On / Off Safety 3 Pin Plug
Pros
Uses lesser electricity
3 speed settings
Swing capable
High power motor
5. Russell Hobbs Tower Fan 48 Inch
Why should you purchase Russell Hobbs tower fan?
Russell Hobbs presents its user with one in its kind Tower Fans; it comes with a 60-watt fan that has remote control access. The slim and sleek design of the product makes it stand out among the other fans that are in the market.
Russell Hobbs grants the user with designs that are easy to handle. Adjustable temperature, 8-hour timer, and two heat settings are some of the functions that are offered by this product.
The tower fan consumes 50-watt power which is pretty decent. This only means that it is energy efficient and consumes a voltage of 230 V. Moreover, the user would have a full LED display screen which would display the settings. This product comes along three modes that the user can adjust according to their needs.
Top Features
Power Consumption: 50 Watt, 230v, 50Hz
Timer: 12 Hours Timer, ABS Housing
Control: Three Speed with Remote Control
Fan Mode: 3 Fan Mode (Normal / Natural / Sleep)
Display: Full Function LED with Temperature Display
Function: Ironic Function
Oscillation: 65 Degree
Pros
Low power, less electricity consumption
Temperature display
LED light for convenience
Swing enabled
Timer functionality
Super thin and compact
Highly durable
6. Hans Lighting Air Tower Fan 48 inch 45W Powerful Motor 3 Speed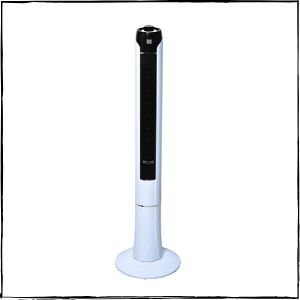 Why should you purchase this tower fan?
Hans, as a brand, has been offering its user with quality products from the time it has introduced it to them. Hans Lighting air tower fan is one of those products which provides the user with three-speed and wind level oscillation. It has a sleek and beautiful design that helps the customer with space-saving and is easily fitted in the home area.
The power consumption of this tower fan is 45 watt that has a voltage of 220. Thus, these are the products in one of its kind. The best part about this product is that it is simulating, natural slumberous, and grants the user with the substantial wind.
Top Features
Air distribution: There are 3 speed level, 3 wind modes, simulating, natural, slumberous, normal wind
Oscillation: Oscillation function brings air flow direction
Design: Sleek and attractive design for high air delivery, the fan sport a space-saving design
Voltage: 100% copper motor for longer life 45 Watts, voltage AC: 220 – 240 V 50 HZ.
Color: Black & White
Pros
Super thin and compact
3 speed settings
Swing enabled
Highly durable components
Cons
No remote
Not very powerful air delivery
7. Surya Classi-c Tower Fan White
Why should you purchase this tower fan?
There are situations where a ceiling fan is not necessary. Here is when a tower fan comes to the rescue. These products are convenient and extremely functional, along with being efficient when it comes to circulating air in the room. Established in the year 2001, Surya electrical has made a name for themselves in the top list of suppliers that construct and presents fans to its customers.
The tower fans which are created by this company are incredibly noise-free and grants the user with peaceful interiors. The user can find energy-saving options in these tower fans as they are efficient and Eco-friendly. The product is portable, and its mobility is one of the reasons why it becomes one of the most successful outcomes.
Not only this but these tower fans are safe to use because of the vertical fan option in it. These fans are cheap and durable too.
Top Features
Size: Standard
Brand: Surya
Color: White and Blue
Power: 180 watt
Sweep: 1000 mm
Remote Control: No
Speed (RPM): 1000
Pros
High power
High air delivery
Durable quality
Noise-free
Energy saving
Cons
Basic design
Bulky and takes up space
8. iBELL DELUXE Tower Fan
Why should you purchase this tower fan?
Add a signature touch to your home with this stylish fan that has got a sleek contour. The all powerful motor and the well engineered blowers ensure higher air delivery to a distance of even 25 feet. The well orchestrated swing function ensures air delivery almost near to 90 degree. Though it's a power-packed beast, it's so modest and stingy when it comes to power consumption.
Top Features
Size: Standard
Brand: iBell
Color: White and Black
Power: 140 watt
Air Delivery: 2250m3/hr
Pros
High power
High air delivery
Durable
Noise-free
90 degree swing
9. Lasko Oscillating High Velocity Tower Fan
Why should you purchase this tower fan?
The new 4-speed High-Velocity Tower Fan from Lasko. The fan is powerful like a blower fan but this space-saving design offers additional low speed to be used in bedroom or living room. The Electronic Louver grill creates a motion pattern for the air so it can reach all angles. This sleek design comes with widespread oscillation, remote control, and up to 7 hour timer. High Velocity fans are designed to be used in multiple ways and in all locations. With four Performance speed you can use on High for maximum air flow, or low while doing other tasks. The high velocity blowers have a small footprint, but maximum air flow. The best of both worlds.
Top Features
4 Speeds – Extra Low Speed plus 3 Powerhouse Speed gives this tower fan the power of a high velocity blower fan in a streamlined tower fan body. Low, medium, and high speeds provide a cooling breeze around the home or home office.
Widespread Oscillation and Directional Louvers – allows you to direct airflow where you need. Turn on oscillation and the fan will gently direct air side to side, allowing the air to distribute and cool the room. Direct air up or down by using the directional louvers.
Remote Control and LED Display – are two great features that make this fan easy to control. The remote allows you adjust the fan speed, timer, or oscillation from a distance. While the fan's LED display lets you know which settings are selected.
Fully Assembled
Pros
4-speed
High power
High air delivery
Great oscillation for a better air flow
Noise-free
Remote controlled
Looks great
10. Bajaj Tempesta Tower Fan – 251259
Why should you purchase this tower fan?
Bajaj Tempesta Tower Fan is designed for customers in pursuit of lifestyle products with high aesthetical value and technological edge. It is to foray in to the Lifestyle Personal Fans category. Bajaj Tempesta Tower Fan has aesthetically appealing wooden finish, Room Temperature Display, Aroma Box, Touch Panel, Remote Control with Timer and Double Sided Washable Filter. It has a strong air flow of 14 m /s and increased rate of evaporative cooling that provides instant comfort. The Double Sided Washable Filter takes out targeted contaminants from the air and makes the air cleaner with easy maintenance.
Bajaj Tempesta Tower Fan is designed with 24H Pre Set Timer that provides better control over start / stop timings and makes operation hassle free. It comes with remote control that makes the usage convenient and comfortable wireless control. It's touch panel control takes up lesser space than buttons and improves accessibility thus making the operation easy.
Top Features
High Air Delivery of 300 CMH with 4 speed levels
Designed with Silent Free Operation and 70-degree Oscillation
It comes with remote control operation and 24H Pre-set timer
Provides cleaner air due to Double Sided Washable Filter that takes out targeted contaminants from the air
Instant comfort due to increase rate of evaporative cooling and strong air flow of 14m/s with a size of 268 L x 220 W x 1022 H MM
Power: 80 watt
Pros
Low power, low electricity expenditure
Remote controlled operation
Instant comfort
Great design
Sleek and easily portable
In-built air filter
📌Also Read: Best air cooler in India
What is a Tower Fan?
A cooling tower fan is a tall, tower-shaped fan which consists of a rotating base. It comprises of inlets that are on the side to pull air. These fans blow air at a 90-degree angle which enables them to cover a more extensive area. There are tower fans that consist of the primary dust filter. Tower fans are compact in design because of the simple mechanism which it has.
Inside each tower fan, there is a so-called tube fan, which uses a lamellar impeller to suck up and whirl up the room air. This effectively cools the air and then distributes it back into the room. Due to the special design, the air flow of a tower fan runs from the floor to the top of the device. To achieve optimal ventilation, it is best to place your tower fan in the corner of the room.
Note that these devices are easy to maintain considering their weight and portability. The Tower Fans with remotes are much more efficient than the other ones. It easily fits in the corner, taking very little space.
Types of Tower Fans
Although there are no different types of tower fans, there are some additional functions that make the available devices differ from one another. We would like to explain this in more detail in the following section. These include:
With timer
With swivel function
With wind function
With water tank or aroma diffuser
1. Tower fans with timer
Many tower fans have an individually adjustable timer, which enables you to set a specific operating time. As soon as this is reached, the fan switches off automatically. This can be useful, for example, if a warm breeze helps you fall asleep in the hot summer months, but you also don't want to lie in the breeze all night. An integrated timer can also come in handy if you occasionally forget to turn off your fan. This not only makes it easier for you to sleep but also saves you some electricity.
2. Tower fans with swivel function
Most tower fans are equipped with an adjustable swivel function. This allows you to define a specific area in which the fan should distribute the air in the room – usually between 60 and 360 degrees. If you place a tower fan with a 360-degree swivel function in the middle of the room, you can have a positive influence on the air circulation even in very large rooms.
3. Tower fans with wind function
The wind function usually denotes an adjustable draft. The goal is to imitate a natural breeze. Most of the time, tower fans with wind function have three different levels, with which you can choose between a light breeze or a noticeable wind. If it is important to you that you can adjust the ventilation of your new column fan individually, the investment in a device with a wind function can definitely pay off.
4. Tower fans with water tank or aroma diffuser
Models with a water tank or aroma diffuser each serve a different purpose but use a similar function. In both types, a tank is installed, which enables a liquid to be distributed evenly throughout the room. Tower fans with a water tank ensure higher air humidity and a more pleasant room climate. Models with an aroma diffuser allow you to distribute a pleasantly fragrant aroma in the room. Using essential oils can help you relax more easily after a long day at work.
Benefits of Using Tower Fans
Space Saving – Cooling fans have evolved into more efficient and Eco-friendly designs, and, i.e. Tower Fans. Taking up less space in the room and doing the desired work – well, yes that a good catch isn't it? Tower fans are great inventions when it comes to working with a limited amount of space. These types of fans can conveniently be tucked between couches, placed next to your study table or even in needed condition: next to the bathroom. These fans are compact and portable.
Styling – Tower Fans are not only compact and space savers, but they are stylish and elegant too. They tend to enhance the balance for your room without actually disrupting the decor and Feng Shui. Built specifically for space-saving while circulating and cooling the air, the tower fan reaches wide and far. Yes! They aren't bulky or unpleasing to the eyes. They are those things which tend to blend in the room and your personal space. Designed for quiet and efficient purpose in your home environment or workplace, you would barely know that it is there in the place. Excellent for medium-sized areas, this fan helps you save 60 per cent of energy.
Proficient – The entire purpose of using a tower fan is that it does the cooling job which you are purchasing it for, and that is what precisely the fan does. Providing cooling relief without any disturbance or noise: This is what you want right? Not only do they fit in and blend entirely, but they are also sturdy and efficient too. Timers, breeze settings, control over remote and much more are some of the most common features of a tower fan, making them even more attractive in a room.
Buying Guide – How To Choose Best Tower Fan?
We want the best product that we buy. We want it perfect, and the one which lasts long. Therefore, before you buy any item or product, you have to check out some important points so that you get the best ones in your vanity. Some of the essential critical notes that you should consider before making buying any Tower fans would be:
Power Consumption
The output of tower fans is usually between 50 and 200 watts. How much power you actually need depends primarily on the size of the rooms to be ventilated. Low-performance fans have very little effect on air circulation in very large rooms. On the other hand, devices that are too strong can quickly be perceived as unpleasant in small rooms. It is therefore important to find a good compromise here. Also, take into account that a tower fan with a lot of power also consumes more electricity. If you usually operate your fan for several hours a day, it may be useful to use a less powerful device in order to reduce power consumption.
Noise
One of the critical factors that you should always keep in mind before buying your desired fan would require the working of the product. A tower fan is supposed to be noise-free and tranquil. Ensure that the choice which you make have this factor.
The volume of modern devices is usually in a range between 45 and 70 decibels. In any case, this value should be as low as possible for a good night's sleep. However, the actual volume always depends on the level at which you operate your fan. Pick the one that produces no noise or does not have any irritating sound.
Easy Set-Up
Tower fans are supposed to be compact and space-friendly, not only this, but they should be set easily anywhere in the room or your work space. They are required to be set up at most ease and have a smooth assembly.
Oscillation
The user who is thinking of buying this product should consider this as one of the factors that would depend on the coolness of your room. Go for the fan based on its oscillation feature so that the air can be circulated better and the efficiency of the fan is not compromised at the same time.
The speed and the modes
A room temperature keeps on increasing and decreasing as the temperature outside is affected. Therefore, the requirement of the cooling should be adapted by the device. Hence, opt of the one that comes with multiple fan-based modes and speed. This would help the room to cool according to the temperature, and also the requirement of the body.
Additional features
If you don't have to pay too much attention to your budget, you can also purchase a column fan with practical additional functions. Various speed levels have proven particularly useful, with which you can easily adapt your fan to the current conditions. There are also devices with an integrated display, temperature display or automatic overheating protection. Additional remote control can significantly simplify the operation of your new tower fan. Since such additional functions are not absolutely necessary, you should consider them as optional features.
How to Clean a Tower Fan?
The longer you use your tower fan, the more dust will accumulate in the sensitive device. To ensure uninterrupted functionality in the long term, you should always clean your fan at regular intervals. The best way to do this is as follows:
First set a regular time at which you want to clean the device. Depending on the use, it is sufficient to thoroughly clean the column fan from dust accumulations once or twice a month.
First, wipe the easily accessible areas with a soft microfiber cloth that leaves no scratches on the device.
For stubborn dirt, you can dampen the cloth slightly. However, this should never be really wet.
Make sure that no liquid gets inside the fan through the grille or control panel. Otherwise, you could permanently damage the device.
To remove dust from hard-to-reach areas, a hand brush or a large brush is recommended.
Note: Even if you do not operate your tower fan in the cold season, you should clean the device regularly. In the long run, so much dust can accumulate in it that the functionality could be significantly impaired. Alternatively, store the fan well protected from dust and other dirt.
Frequently Asked Questions About Tower Fans (FAQs):
1. What is the use of tower fan?
Providing cooling relief with minimum noise, disturbance, and space consumption is what tower fans are for. They work effectively to circulate airflow for the comfort of people in the room. Not only do these fans fit perfectly in any corner of the house, but they are steady and less likely to tip-off.
2. Are tower fans good for bedroom?
It is definite, yes! For those people who are looking for a cooling device for their apartment, rooms, or workspace, tower fans are the thing for you. The compact size of the tower fan allows the user to maximize the space consumption and reduce the hazards.
3. How do you dust a tower fan?
You can dust away from your tower fan with these simple steps:
Step 1: Turn the fan off and then unplug it. Prevent the blades of the fan from moving while you are working on it.
Step 2: Now utilize the vacuum brush attachment or dust the brush to clean the grill of the tower fan.
Step 3: Now, you have to blow the compressed air into the vent to dislodge the dust.
Step 4: Next, you can turn on the fan again, and check if it is working well or not.
4. Do tower fans use a lot of electricity?
The working of a tower fan includes pushing up of the air outwards, without actually cooling it. Therefore, it is obvious that they use less electricity and energy than any other device. In fact an average tower fan or normal fan uses 2.4 kWh in 24 hours, much more less than AC or coolers.
5. Are blade less fans better?
The answer to this question would be yes; they are much better than any other fan, as they are compelling and efficient. The reason why it is so strong is that it multiplies the airflow coming out, thus, offering much better cooling. A bladeless fan has many advantages over a conventional fan. Since it is devoid of external blades, these fans are safe and secure to use. The plus point is that there is no fear of cutting your hand with the blades.
6. How does a Tower Fan work/operate?
The air flow in the tower fan is narrow and focused. It is built to push and pull air in a wider space. The impeller blades in the tower fan (in the cylinder housing) move through the column and out of the vents. The air impeller in the air blower moves through the vertical shaft.
7. Is it cheaper to run a tower fan or a box fan?
Running a fan is always cheaper as compared to the appliances which you use in daily life. But when we have to compare it between tower fan or a box fan, tower fan has to be the one which takes up less voltage. A normal tower fan takes up to 2.4 kWh voltage at a time, thus making it a really reliable source to use.
8. Is it better for a fan to oscillate?
Yes, it is always better that a fan oscillates. The reason: large tower fan provides coverage over wide areas in a room. Which means that it would result in better cooling because they would rotate, and the air is spread in all corners of room. Therefore, these type of fans allow better flow around the room.
Conclusion
As with almost all devices that you have to buy for everyday life, it is also recommended for tower fans that you consider your individual usage behavior and the rooms to be cooled individually and then evaluate the product selection. After all, you want to ensure a pleasant living environment, for which optimally designed fans are best. Devices that are too oversized or significantly underpowered never provide the desired effect.
If you also attach great importance to convenient functions that can be operated individually, please check the availability of a remote control if you want to commit yourself to a good tower fan.
If you have any doubts related to this topic or need any guidance for the same, you can leave a comment below. Our experts would try their level best to solve it.
---
Loved our blog on best Tower Fans in India? Do share it with your friends on Facebook, Twitter, and WhatsApp.