The pen is mightier than the sword and who better to fulfill this phrase other than the best stationery brand in India. For students, office folk, artists, and stationery enthusiasts alike, a good stationery brand is something people tend to stick to. As we know, if something works for you, you do not have to change it up, and this stands true for stationery than any other thing. If you are someone who likes to have good notebooks, smooth pens, and smear-less pencils, there are so many good brands out there to choose from.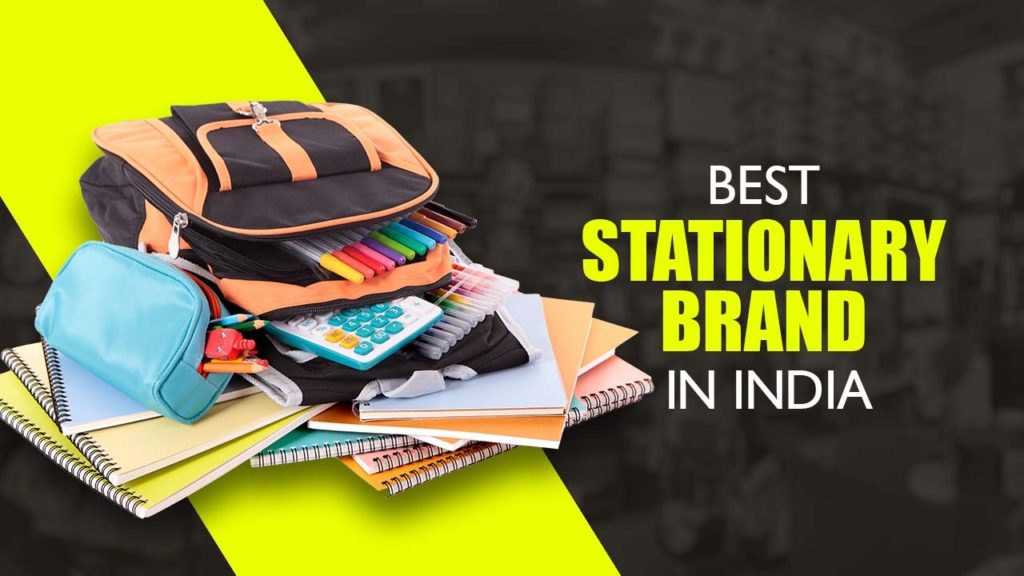 From Indian-made brands, to brands that have been around for a hundred years, you have a lot to choose from and adopt in your daily lifestyle. The best stationery brand in India has been listed below. Take a look and find out which one works best for you.
---
List of the Best Stationery Brand in India – Reviewed 2022
| | |
| --- | --- |
| S. No. | Stationery Brands |
| 1. | Classmate |
| 2. | Navneet Youva |
| 3. | Faber-Castell |
| 4. | Parker |
| 5. | Camlin Kokuyo |
| 6. | Hindustan Pencils |
| 7. | Reynolds |
| 8. | Pilot |
| 10. | Paperkraft |
1. Classmate
Classmate is an Indian brand that manufactures student stationery products. ITC Limited launched Classmate in 2003 with just notebooks, and subsequently added pens, pencils, geometry boxes and more to its portfolio. Classmate is one of the biggest and also one of the best stationery brand in India. For students, Classmate remains one of those brands that walked the fine lines of designer notebooks and affordable stationery.
The company is also part of plenty of initiatives that include Classmate Ideas for India Challenge, spelling bees, young authors contests, art academies, and more. With a great deal of products aimed at students, Classmate easily and rightfully makes this list for the best stationery brands in India.
Pros
Stationery looks great
Great quality
Affordable
Good designs
Smooth finish
Durable stitching
Cons
Little more expensive than the rest
2. Navneet Youva
Navneet Education Limited is an Indian company that focuses on stationery, book publishing, scholastics, and more. Operating within three different segments, publishing, stationery, and others, Navneets products include Navneet, Vikas, Gala, and YOUVA. Founded in 1959 in Mumbai, Navneet has recently acquired Britannica India's curriculum business for Rs. 88 crore.
Navneet produces various titles in the children and general book category, which include topics in everything from children activity, board, story, health, cooking, mehendi, and embroidery books. Navneet has more than 5000 titles in English, Hindi, Marathi, Gujarati and other languages.
Pros
Affordable
High quality
Good quality stitching
Great notebooks
3. Faber-Castell
Faber-Castell is one of the largest and oldest manufacturers of stationery, art and office supplies. They are also known for their high-end writing instruments and luxury leather goods. The company is headquartered in Stein, Germany and operates 14 factories and 20 sales units around the world. The House of Faber-Castell is the family which built and continues to lead the organization since its inception. They manufacture over 2 billion pencils in more than 120 different colors every year.
Their stationery is unparalleled and remains a favorite brand amongst stationery enthusiasts. They exude quality while maintaining a perfect level of aesthetic appeal.
Pros
Probably the best stationery brand in India, and the world
Brilliant quality
High-grade materials
Long-lasting
Writing stationery is clean and clear
Tons of products to choose from
4. Parker
The Parker Pen Company, or Parker for short, is an American manufacturer of luxury pens founded in 1888 by George Safford Parker in Janesville, Wisconsin, USA. The founder had previously worked with another pen company, called the John Holland Gold Pen Company. He patented his first fountain pen related patent in 1889 which claimed to draw excess ink back into the pen barrel when not in use. From the 1920's till the 1960's, Parker remained either number 1 or number 2 in worldwide writing instrument sales, before the development of the ballpoint pen.
📌Must Read: Easy Music Instruments You Can Learn Right Now
Since its inception, Parker remains a desk staple for students, to CEO's alike. It is easily one of the biggest, and one of the best stationery brand in India.
Pros
Affordable for the quality they provide
Incredible aesthetics
Outstanding quality
Long lasting
Can be used by anyone
Their fountain pens are the best
They work great as gifts for stationery enthusiasts
Cons
Some models can be really expensive
5. Camlin Kokuyo
Indian millennials might remember Camel ink from when they were growing up. The same brand now appears in the market as Camlin, or even Kokuyo Camlin. Camlin Ltd. is an Indian multinational stationery manufacturing company based in Mumbai, India. Kukoyo of Japan holds 51% stake in the company since they bought it in the year 2012. They sell a wide range of products like art supplies, stationery, writing implements, office goods, and more.
Camlin has always been a favorite amongst students. Their crayon collection was one of the most desired products for millennials growing up. Even now Camlin continues to be one of the biggest and best stationery brand in India.
Pros
High quality
Good materials
Long list of products to choose from
Long-lasting
Affordable
Cons
Much better for students than adults
6. Hindustan Pencils
You might not recognize Hindustan Pencils by the name of it, but they are the largest pencil manufacturer in India. The company makes stationery under the brands Nataraj and Apsara and remains one of the biggest and best stationery brand in India since its inception. Established in 1958 in Mumbai, Hindustan Pencils has stayed relevant with its high-quality and easily affordable line of stationery and writing implements.
If you have ever been a student, you have probably used a Nataraj or an Apsara pencil in your life. The red and black stripe design from the common Nataraj pencil is more recognizable than any other stationery brand in India.
Pros
Highly affordable
Well trusted brand
Commonly available
High quality materials
Cons
No premium goods available
7. Reynolds
Reynolds Pens is one of the biggest names in the stationery business in India. The formerly American manufacturing company which is now an Indian brand, readily manufactures writing instruments. Their line of ballpoint, gel, rollerball, fountain, and mechanical pens are some of the most widely used stationery brands in India.
Reynolds came into existence in the year 1945 by a Chicago Businessman Milton Reynolds when he came across the first commercial ballpoint pen, the Biro pen. Reynolds Rocket was the first pen introduced by the company after Milton reverse engineered the Biro. Since then, Reynolds has become a mainstay for every college and school student in India. It is easily one of the biggest and the best stationery brand in India, especially for students.
Pros
Affordable
Quality products
Their pens are really popular
Smooth writing
8. Pilot
Pilot corporation is a Japanese pen manufacturer based in Tokyo, Japan. The company has been around since 1916 when Ryōsuke Namiki, a professor from Tokyo Nautical College, expanded his product line into full fledged manufacturers of writing instruments. Since then, Pilot has moved into various forms of stationery and even into jewelry. The largest pen manufacturer in Japan, Pilot is easily one of the best stationery brand in India as well.
Pros
Affordable
Long lasting
High quality
Great rubber grip
Writes smooth
Comfortable to hold
9. Paperkraft
A brand from ITC Corporation, Paperkraft manufactures some of the best notebooks and stationery the market has to offer. If you are the creative kind, their vibrantly colored PU covers and 80 GSM no-show-through papers would prove highly remarkable for your use. Paperkraft's notebooks are sure to turn some heads, while providing you with proper quality paper best used to write some sweet poetry in.
Their designer pens are also some of the better ones we have seen in the market with a durable build, and stylish looks. Once you buy one Paperkraft notebook, you would totally have to buy a bookshelf to incorporate your collection.
Pros
Stylish looks
Great designs
High functionality
Durable and long lasting
Cons
A bit on the expensive side
---
Frequently Asked Questions (FAQs) about Stationery Brands
Which is India's no. 1 notebook brand?
When it comes to notebooks, we feel Classmate and Paperkraft have the best of the best notebooks. Durable, thick no-see through paper, and high quality binding makes sure their notebooks last you a long time and provide you with a lot of pages to write your thoughts on.
What is the Best Stationery Brand in India?
We have made a list of the best stationery brand in India. It incorporates most commonly used stationery brands, as well as some premium brands as well. If you are a student and do not wish to spend a lot on good hardware, Classmate is the way to go. If you love being organized, Paperkraft would prove very useful to your cause. Faber-Castell is an all rounder and is perfect for everyone to use.
---
Conclusion
When it comes to stationery, the enthusiasts tend to spend a good amount of money on a premium product. While that is viable, for students, that is not really possible. For that purpose, the best way is to get something affordable and worthwhile. We have listed some of the top and best stationery brands in India above. They range from luxury Parker pens, to our old friend Nataraj and Apsara pencils.
Buying from a huge list of the available products might not be easy, but we hope our blog helped you find the best against your requirements.
---
DISCLAIMER: Being a reader-supported blog, Khojdeal earns affiliate commission from purchases made using links on our blog.
Learn more