Whether you are a baker or are tired of kneading dough by hand, finding the best stand mixer in India will change your life. Stand-mixers are an excellent machine for households across India. If you own one of these handy gadgets, you will be able to cook your food speedily. If you're looking for the perfect model for your kitchen, read the blog below so you can find all you need to know before purchasing the best stand mixer for your home in Nov 2022.
The stand mixer is one of several household gadgets that have emerged as a result of technological advancements that make housework easier. Even though there are numerous models and brands available, there are a few factors to consider before selecting the best stand mixer for your kitchen. For this reason, we have compiled a list of the top 10 best stand mixer in India, along with a buying guide to help you make the right choice.
Best Stand Mixer In India – Top 10 List
📌 You might also like these articles:

– Top 10 food processors in India
– Best electric hand blender in India
– Best electric beaters in India
Best Stand Mixer In India – Reviews
1. INALSA Stand Mixer Professional Mix Master- Heavy Duty
Having a versatile stand mixer can come in handy in every household. For this reason, the INALSA Stand Mixer Professional Mix Master is an excellent addition our list of the best stand mixer in India. It can perform a variety of tasks, thanks to the multiple hook-types provided. You can knead dough, toss salads and whisk cake batters. Every mix is consistent, thereby giving you well-kneaded dough, well-tossed salads and well-mixed batter!
RATING: Considering the longevity, powerful motor and multiple attachments with varying speed settings, and cost we rate this model a 4/5.
Key Features
1200 Watts Power
Plastic body; 5.5L Metal bowls and hooks
Safety functions such as auto-shut included
2 Year warranty
6.6 Kilograms
Anti-slip suction on the base to prevent slipping when used
Eight speed and pulse functions
✔Pros
High-powered 1200 Watt motor
Dust-proof splash guard
2 year warranty
Multiple steal hooks for various purposes
Anti-slip base
Sturdy, long lasting design
2. INALSA Stand Mixer Professional Esperto
INALSA's Stand Mixer Professional Esperto is a stand mixer with 6 litre capacity combined with a 1400W power motor. There are multiple hooks provided which can help you expand your culinary skills further or support your daily cooking tasks such as kneading dough for Indian breads. The device has multiple safety functions and a 2 year warranty.
RATING: Considering the longevity, powerful motor and multiple attachments with varying speed settings, and cost we rate this model a 4/5.
Key Features
1400W Motor
6 litre stainless bowl capacity
Multiple speed functions
Safety lock, splash-guard, dust-proof body, and overheat safety protection
1 Whisking cone, 1 Dough hook, 1 Mixing beater and 1 Splash guard included
2 – Year warranty offered
✔Pros
Variety of hooks provided
Metallic 6 litre bowl
Powerful 1400W motor
Can easily prepare dough for 6 plus members
Quieter than the average stand mixer
3. INALSA Stand Mixer Kratos
Another great stand mixer from INALSA is the Stand Mixer Kratos model, which comes with a 2 year warranty. Stainless steel dough hook, whisking cone and mixing beater are provided which can be used for all kinds of purposes including making cream, pizza dough or beating eggs. A 5 litre stainless steel bowl is provided as well for you to carry out your mixing tasks. The mixer offers 8 speed settings, anti-skid surface and multiple safety features.
RATING: Considering the longevity, powerful motor and multiple attachments with varying speed settings, and cost we rate this model a 4/5.
Key Features
1000 Watt motor
5 litre stainless steel bowl
8 speed settings
Safety functions including anti-skid surface, lock protection
Overheat protection
1 whisking cone, 1 mixing beater and 1 dough hook
3.3Kg weight
✔Pros
Compact and easy to hold
Stainless steel paraphernalia for longevity
Aesthetically pleasing colours provided
Multiple speed settings
4. INALSA Hand Mixer with Stand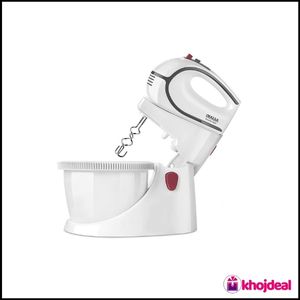 The most affordable INALSA model in our list of the best stand mixer in India, the Hand Mixer with Stand has a 500W motor and 2.5L stainless steel bowl. Multiple speed functions are provided along with a dough hook and a beater hook. The mixer has 5 speed settings for you to utilize as per your needs. There is also a 2 year warranty provided.
RATING: Considering the longevity, powerful motor and multiple attachments with varying speed settings, and cost we rate this model a 3.5/5.
Key Features
500W motor
2.5L stainless steel bowl
2 year warranty
One dough hook, one beater hook
5 speed settings
Overheating prevention technology
Anti-skid base
Safety lock
✔Pros
Affordable
Excellent for small families
2 year warranty
Safety precautions provided
5. Wonderchef Crimson Edge Die-Cast Metal
Wonderchef is a well-loved brand for many cooks and baking fans. The Wonderchef Stand Mixer has a 4.5L bowl, 5-speed settings, and three attachments. A two-year warranty is offered to customers as well. The product itself is a beautiful red color that is sure to brighten up any kitchen. Wonderchef's stand mixer is affordable while providing multiple valueable functions to users. For this reason, it is one of the best stand mixer in India.
RATING: Considering the longevity, powerful motor and multiple attachments with varying speed settings, and cost we rate this model a 3/5.
Key Features
300W Motor
Two dough hooks, two beaters, and one spatula
4.5-liter stainless steel bowl
5-speed settings
2-year warranty
Excellent customer service
✔Pros
Affordable
Aesthetically pleasing
Stainless steel bowl for longevity
Multiple hooks provided
6. Wonderchef Crimson Edge
The second model by Wonderchef to make it to our list of best stand mixer in India is the Wonderchef Crimson Edge Die-Cast Metal Stand Mixer. This mixer is offered in two different colours and has three attachments for mixing, beating, and whisking needs. There are six-speed settings offered, along with a 5-liter stainless steel bowl. This stand mixer also comes with an anti-skid base to prevent any slipping while in use.
RATING: Considering the longevity, powerful motor and multiple attachments with varying speed settings, and cost we rate this model a 4/5.
Key Features
Die-cast metal in body to enhance strength and stability
5 litre stainles steel bowl
6 speed settings
3 attachments; Beater, Whisk and Dough Hook
1000W power
Skid-resistant base
✔Pros
Sturdy body
Beautiful design
Six settings and 3 attachments
Powerful 1000W motor
Lifelong Stand Mixer
Lifelong's 1000W stand mixer is another excellent addition to our list. It has a powerful motor with eight speed settings so you can utilize the three attachments provided as per your needs. A spatula and splash guard are also provided. The stand mixer comes with a 5 litre stainless steel bowl, one whisk attachment, one mizing beater, one dough hook and a splash guard. The company also offers one year warranty and an excellent customer service. An excellent plus is that the model is affordable while also being aesthetically pleasing, so it can fit into your kitchen beautifully.
RATING: Considering the longevity, powerful motor and multiple attachments with varying speed settings, and cost we rate this model a 4.5/5.
Key Features
Three attachments; one whisker, one dough hook and one mixing beater
5 litre stainless steel bowl
8 speed settings
Anti-skid silicone base
Multiple safety functions such as overheat protection, lock protection and dust-proof splash guard
One year warranty
Affordable with multiple features
✔Pros
Pocket-friendly
Eight speed settings
Anti-skid base
Sturdy design
❌Cons
Might have issues with the lock mechanism
---
Best Stand Mixer In India – Buying Guide
Metal or plastic materials are commonly used to construct mixers. In general, as long as the part that comes into touch with the food is stainless steel and not any other metal, it is better (the beater feet or the blades, for example). Although there are gadgets with these plastic elements, you must always confirm that they are food-safe plastics if this is the case. Stainless steel is a more durable material that is less likely to spoil and easier to clean.
Power: Mixers range in power from 200 watts to over 1000 watts. It all depends on how you intend to use it. If you just use it sometimes, a stand mixer with a power of 200 to 400 watts can be beneficial; however, if you use it frequently and want to prepare numerous recipes as well as use it for multiple functions, the finest blenders have power above 600 watts.
Weight: Its weight is critical, especially in hand mixers and mixers. The fact that they are light (as long as they create a sense of security) will make it easier for you to handle them, so consider this before purchasing one.
Type and length of cable: This is an important consideration because a short cord will limit your mobility when utilizing this item. A longer, spiral-shaped wire, on the other hand, gives the user a sense of autonomy and safety in the best blenders.
Cleaning: The fact that the attachments and materials can be washed in the dishwasher is a significant plus. The mixers frequently keep the remnants of the masses or combinations that they prepare themselves in the most remote locations, so you'll enjoy it if the dishwasher cleans them for you.
Functions: Of course, before purchasing a mixer, make certain that it suits your needs and that it can perform all of the duties you require.
Best Stand Mixer In India – Basic Recipes
Still unsure about whether a stand-mixer is the right option for you? The recipes below are a good example of how the mixer can be used in your daily life or for when you're in the mood to bake, and is therefore a good addition to your kitchen.
Dough for Roti
Ingredients:
500g bread flour
250g of water
20g ajwain or caraway seeds
Preparation:
In a stand mixer combine the flour and ajwain seeds at low speed.
Gradually add the water until all of the ingredients are fully incorporated and a dough texture is achieved. Gradually add the water to adjust the flour's absorption power. You need a dough that isn't overly wet.
Continue kneading in the mixer, and if it clings, use a little oil to spread it out. We are going to knead for 5 minutes. Once you get the desired consistency, stop the mixer.
Roll the dough into a ball and let it rest on the counter for 25 minutes.
Afterward, remove portions and roll them into balls weighing around 50 grams.
Sponge Cake
The inability to locate particular items, or just finding the pantry half-empty, can push us to use our ingenuity in the kitchen. As a result, we attempt to make the most of the materials we have on hand and strive to create exceptional dishes with minimal resources. This cake, which has only three ingredients, falls under this category.
Ingredients:
Four eggs
120g wheat flour
120g Sugar
Preparation:
In two separate containers, separate the egg whites from the yolks. Whisk the egg whites on low speed in your stand mixer. Gradually add half of the sugar once they begin to foam, without stopping the mixer. Continue to beat at high speed for another six to eight minutes until we have a firm meringue.
Next, beat the yolks with the rest of the sugar without washing the rods. The color will alter, and they will become pale; in addition, the air integrated will cause them to expand in volume. When the rods leave a trace on the yolks, switch off the mixer.
Toss the sifted flour and beaten egg whites into the container with the yolks. Do it in three phases, alternating between flour and egg whites and incorporating them with gentle enveloping movements. Don't go to the following step until the batter is thoroughly mixed.
Cover the base and high walls of an 18 cm diameter mold with a disc of parchment paper. Fill the cavity with dough and smooth the top. In an oven warmed to 160o C, cook the batter for 35-40 minutes, or until you observe that it is well cooked.
The cooking time will vary depending on the oven used and the temperature, which might vary by 10 degrees Celsius. Allow the cake to cool completely before removing it from the mold. Optionally, icing sugar can be sprinkled on top at the time of serving.
These are only two of the recipes that you can make using a stand mixer. There are hundreds of other cuisines, especially desserts that benefit from owning a stand mixer. You can look into the same and therefore invest in the best stand mixer in India.
Best Stand Mixer In India – Types of Mixers And Why To Choose A Stand Mixer
Rod Mixer
This mixer is made specifically for home baking since it is used to prepare a variety of dessert dishes but not at a professional level. This whisk can be used to beat, combine, and whip cream or cream; it is a must-have for everyone who enjoys sweets and handmade delicacies. You can carry out various functions depending on the type of accessories you have, however, most basic beaters are flat beaters and dough hooks. Models with a balloon-type whisk and a shaking mixer are also available. These attachments are dishwasher-safe as the accessories are easily removable from the mixer's body.
Stand Mixer
A pedestal mixer is another name for this mixer. It performs the same function as rod mixers, but on a more advanced or professional level since it is used in bakeries and pastry shops to produce a variety of sweets. The difference between the two is that a mixer does the mixing, kneading, and beating tasks automatically, making it easier to prepare a variety of recipes. They are particularly beneficial to bakers. Using a stand mixer, you can whip up cake batter, bread dough, cookie batter, pizza base.
There are different types of stand mixers which you should consider before investing in the best stand mixer In India. These include:
1. Tilt-Head Stand Mixer:
This type of stand mixer allows the user to simply add additional ingredients to the mixer's bowl without having to lower the bowl to make room. You have to stop the mixer while using a tilt-head so that your ingredients do not pour all over the place, but tilting the head back allows you to conveniently add components like butter, flour, or other flavorings. This option is not available on all stand mixers, but if you frequently cook or bake dishes that require several steps and ingredients to be added at a later time during the mixing process, this is a feature you should consider.
2. Retro-style Mixer
While modern and updated kitchens are becoming increasingly popular, some individuals enjoy the retro style. Buying a retro-style mixer and leaving it out on your counter is one way to make your kitchen look more retro while still ensuring that it is fully functioning. These mixers will perform just as well as more modern mixers, however, they may not have all of the attachments or speed settings that you have come to expect. When buying a retro mixer, make sure the wiring is securely connected so you don't have to worry about the mixer shorting out while you're using it.
3. Handle Stand Mixer
When you've been mixing, it's fairly usual for your bowl to get incredibly heavy due to the dough or batter within. A bowl with a handle is a good option if you want to make lifting it as simple as possible. Unlike bowls without handles, this feature makes it much easier to remove your bowl from the mixer and transport it to another location in your kitchen. This is particularly useful if you're combining very cold components and don't want the heat from your hand to harm the final product.
4. Pouring Shield Mixer
A stand mixer with a pouring cover is one technique to avoid kitchen messes and the potential of spills. This cover attaches effortlessly to the top of the bowl, allowing you to gently pour in your dry ingredients without having to worry about them spilling all over your counter. When looking for a stand mixer with a pouring shield, make sure it has a wide enough shoot to allow you to add large amounts of ingredients at once. This will ensure that all of the components are equally combined, and you won't have to add items like flour a little at a time.
5. Soft Start Mixer
Some mixers have a soft start feature that allows you to add your ingredients without having to worry about making a huge mess when you turn on the mixer. You may start with a full bowl of ingredients and not have to worry about spillage if you use this option. The gentle start feature gradually increases the speed of your mixer, allowing your ingredients to thoroughly combine before being beaten in. This guarantees that nothing sticks to the bottom or edges of the bowl, reducing the possibility of a mess.
Immersion Blender
An immersion blender is also known as an arm or hand mixer, but it's more common to see it referred to as an immersion mixer. You can mix, grind, crush, chop, thicken, and assemble using this type of mixer. This device does not require a separate container to mix food; due to its small size and extended form, it can be placed in any container, making it incredibly useful and adaptable. It's great for making sauces, soups, creams, mayonnaise, milkshakes, whipping egg whites or yolks, baby puree, and even crushing ice with some versions.
Why choose a stand mixer?
A stand mixer is the best alternative for home bakers, as long as you have the requisite room. For some tasks, hand mixers can be equally as effective as stand mixers, with the added benefit of being easy to store in a drawer rather than taking up valuable counter space. Immersion blenders are the most portable, easy-to-clean, and noise-free of the three. When the power of a stand mixer is too excessive for a quick lunch (for example, making sauces), a hand mixer can be beneficial. Immersion blenders are great when making soups or for recipes that require pastes and occasionally whipping batter. However, they lack the precision needed to make many baking recipes.
Passionate cooks are likely to have all three in their arsenal of kitchen tools, whether it is the best stand mixer In India, or the best blender in India. In general, stand mixers are best for people who cook regularly and require a lot of power, whereas hand mixers are a decent choice for those on a budget or who don't have a lot of space, and immersion blenders are best for people who only require basic tasks such as blending, crushing, etc. more than kneading or whipping.
Best Stand Mixer In India – FAQs
What is the difference between a stand mixer and a food processor?
A stand mixer, unlike a food processor, is not a cutting tool. It doesn't even have a blade. A "paddle," which is usually a flat, heavy, inflexible piece of metal; a "beater," which is a large balloon beater; and a dough hook, which is usually a hook-like device that helps knead the dough.
Which parts of a stand mixer are dishwasher safe?
The attachments that are provided along with a stand mixer (such as the whisk, beater etc) are generally dishwasher-safe. However, it is best if you check the instruction booklet of the mixer you buy as specifications vary from brand to brand.
What should the wattage of a stand mixer be?
The wattage you choose depends entirely on frequency of use and what you use the mixer for. If you intend on using your stand mixer occasionally you can opt for the more affordable, low wattage mixers. However, if you intend to use it regularly, to make or to knead dough, it is best to invest in a stand mixer of higher wattage.
Conclusion
A quality stand mixer is a vital piece of kitchen equipment, whether you're an ambitious hobby baker or kneading pizza dough by hand has become tedious. With a variety of attachments available for many models, you may find yourself using them to prepare a variety of foods. These fantastic gadgets will help you save time and effort while also expanding your culinary horizons. Even better, many of them will look fantastic on your counter. If you are looking to add latest gadgets to your kitchen, read our blog about the best bullet blender In India, so you can add more efficient gadgets to your kitchen!
Like any other gadget, you must conduct thorough research before investing in a stand mixer. These devices are extremely handy, and will become part of your daily life once you own one. For this reason picking the best stand mixer in India for your home is essential. To aid you in the same, a buying guide and a top 10s list is provided above so you can make an informed decision and be happy with your purchase. Happy Shopping!
DISCLAIMER: Being a reader-supported blog, Khojdeal earns affiliate commission from purchases made using links on our blog.
Learn more