If you are in the market for a new smartwatch, but don't want to break the bank, then you will want to read on. In this blog post, we will be taking a look at some of the best smartwatches under 7000 in India. So, whether you are looking for a fitness-oriented watch or something that can help you stay connected, we have got you covered. Keep reading to find out more!
The best smart watch under 7000 in India is the Amazfit Bip U Pro Smartwatch. The watch has a long battery life of up to 45 days on a single charge. It also has a built-in heart rate monitor and GPS so you can track your workouts and runs. Plus, the watch is also IP68 water-resistant so you can wear it while swimming.
With the advent of newer, better and smaller technology, watches have been transformed into mini-computers. With GPS, activity tracking and digital displays, smartwatches can be really helpful throughout your daily routine.
We keep rechecking our articles every now and then. So, if there are any changes in prices or a new better product is available in the market, We also update our list.
Best Smartwatch Under 7000 in India 2022
The best Smartwatch under 7000 in India have been listed here by Khojdeal Tech Experts. Much like generic watches, smartwatches too need to be durable and functional to be worthy of your purchase.
We list here, after careful inspection and usage, the best smartwatch under 7000 in India. Budget smartwatches can be expected to come with all basic features of a smartwatch, with additional features always welcomed.
| | | |
| --- | --- | --- |
| S. No. | Best Smartwatch Under 7000 | Price |
| 1. | Amazfit Bip U Pro Smartwatch | Rs. 4,999 |
| 2. | Noise ColorFit Pro 3 Smartwatch | Rs. 4,499 |
| 3. | Pebble Pace Smartwatch | Rs. 2,999 |
| 4. | TAGG Verve Smartwatch | Rs. 3,099 |
| 5. | AQFIT W15 Smartwatch | Rs. 3,699 |
| 6. | GOQii Smart Vital Smartwatch | Rs. 4,499 |
| 7. | Fire-Boltt Ring Smartwatch | Rs. 4,499 |
| 8. | boAt Flash Edition Smartwatch | Rs. 2,499 |
| 9. | Zebronics ZEB-FIT7220CH Smartwatch | Rs. 4,549 |
| 10. | Crossbeats Orbit Smartwatch | Rs. 3,999 |
📌 Handpicked related articles:

– Best fitness band under 5000
– Best Mi fitness band
– Top smartwatches in India
Top 10 Smartwatch Under 7000 In India
1. Amazfit Bip U Pro Smartwatch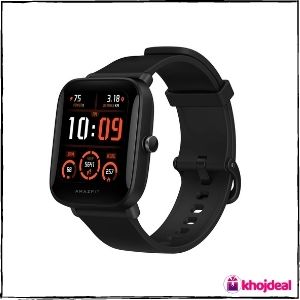 Key features & specifications
Heart rate and SpO2 monitoring
Super light weight
1.43″ large color touch screen
60+ Sports Modes
5 ATM water resistance
Smart notifications
Strong 9-day battery life
High-precision GPS
Geomagnetic sensor (electronic compass)
Built-in Alexa
Sleep and stress monitor
50 watch faces
Body material: Polycarbonate
Strap material: Silicon rubber
Strap length: 118 mm (long version), 76 mm (short version)
Strap width: 20mm
Touch screen: 2.5D glass + anti-fingerprint coating
What we liked about this Smartwatch?
The BioTrackerTM 2 is a new biological optical tracking sensor that measures blood-oxygen saturation. It's now available on this smart watch. You can instantly measure your blood-oxygen saturation to assess your health and determine your current state. The 320×302 pixels resolution makes it easy to see all messages, calls, and reminders. To help you exercise at a higher level, the Bip U tracks your exercise data. It allows you to monitor your walking distance, speed and heart rate, as well as calories burned.
The Bip U is capable of continuous 24-hour monitoring of your heart rate. Its Huami-proprietary BioTrackerTM2 PPG biological optical sensor provides accurate heart rate measurements. The watch monitors all stages of sleep including deep, light, REM, awake, and afternoon naps. It interprets these characteristics to give you a score and insight for improving your sleep quality. You can use the Amazfit BipU to track your periods and notify you when they arrive, so you can prepare for them and avoid any disruptions.
✔Pros
Continuous 24-hour heart rate monitoring and elevated heart rate warnings
Accurately monitors different sleep stages
Supports stress monitoring and can provide breathing training
50 watch faces are available to suit your mood and outfit
Delivers a water resistance level of up to 50 meters
❌Cons
The interface could have been more modern looking
2. Noise ColorFit Pro 3 Smartwatch
Key features & specifications
Sleep tracking
5 ATM waterproof design
TruView display
1.55″ touchscreen HD display with 320×360 pixels
Up to 10-day battery life
Charging time: 2 hours
Customizable & cloud-based watch faces
24/7 heart rate monitor
Blood oxygen monitor
Stress monitor with guided breathing sessions
Auto walking/running detection
14 sports modes
Smart notification
Wake gesture
Remote music control
Sedentary reminder
Hand wash reminder
Hydration reminder
Find my phone feature
Weather forecast
Watch case material: Polycarbonate
Strap size & material: 22mm & Silicone
What we liked about this Smartwatch?
The new ColorFit Pro 3 combines great looks with cutting-edge technology. The TruView TM Display features a 1.55 HD touch screen, customized and cloud-based watch faces, and other health-oriented features. The watch monitors your heartbeat and alerts you when it goes over or below a certain limit. The NoiseFit app tracks your progress and keeps you on top of your fitness. Your daily workouts will be more enjoyable with easy-to-follow videos and activity challenges. The smartwatch supports Bluetooth v5.0 and is compatible with both iOS and Android operating systems.
The active smartwatch is designed to keep you on your toes. It features auto running/walk detection, 14 sports modes, and 5ATM resistance. Smart notifications and reminders make this deal even more appealing. This watch can monitor your deep/light and REM sleep cycles, allowing you to keep track of your sleeping patterns. It can also measure oxygen levels, which will help you push yourself and make more of your workouts. It responds quickly to touch and is very smooth in its animations. It is also easy to use.
✔Pros
Good battery life even with heavy-duty usage
Polycarbonate case is quite sturdy and won't get damaged easily
Industry-leading TruView touchscreen displays visuals in vivid colors
14 dedicated sports modes track your activities to keep you proactive
Outdoor and activity-friendly 5ATM waterproof feature
3. Pebble Pace Smartwatch
Key features & specifications
Monitors heart rate, blood pressure, oxygen level in blood & sleep
Comes with 100+ watch faces
Dynamic Display with full touch control
Inbuilt Speed pedometer
Multiple Workout modes
Up to 14 days battery backup
IPX67 rated
Battery: 7 days
Standup Time: 14 days & above
Connectivity: Bluetooth 5.0, iOS 8, android 5 & above
Strap Material: Silicon
Screen Type: TFT
Screen Size: 1.4"
Menstruation alerts
Remote Camera Control
Sedentary and Hydration alerts
Weather updates
What we liked about this Smartwatch?
The Pebble Pace Smartwatch is equipped with many attractive features that make it a must-have for tech lovers. You can monitor your heart rate, blood pressure, as well as blood oxygen levels. You can also track your health throughout the day. There are over 100 watch faces that you can choose from to personalize the display to suit your mood. The vibrant display offers a premium experience for users. The 150 mAh battery of the Pebble Pace smartwatch can last up to 7 days in active use, and up to 15 days when fully charged. The watch can be connected to your smartphone to control the camera remotely and share your most treasured moments with family and friends.
This Smartwatch's sensors can help you live a healthier lifestyle. With the precise pedometer, users can track how many steps they have taken. You can also choose from multiple workout options to ensure you're on the right track with your fitness goals. The IPX67 rating of this smartwatch by Pebble makes it waterproof and resistant to sweat droplets. Its toughened glass and alloy body make it very durable. This smartwatch is a fitness tracker that will ensure you never miss any important calls or messages during meetings and workouts. The high-fidelity microphone, Bluetooth handsfree calling and one-key answer feature allow for seamless communication.
✔Pros
Gives a comprehensive analysis of sleep quality to help you analyze your sleeping patterns
Supporting multi sports modes tracking to help you stay active and maintain a healthy lifestyle
Automatically detects and tracks your sleep and provides data about sleep quality
Strong and durable 2.5D glass makes the smartwatch scratch-resistant
With waterproof standard, you can wear it when washing hands, running in the rain and swimming
❌Cons
Can only receive notifications of incoming calls on the watch; to cancel the call or to pick it up, you would have to use your phone only
4. TAGG Verve Smartwatch
Key features & specifications
Sleep monitor
Heart rate monitor
Blood oxygen monitor
Calorie count
Pedometer
Multi-sports mode
1.4" display
Full touch control
93% screen ratio
Ultra-narrow bezel
Motion sensor
IP68 waterproof
Battery average life: 10 days
Product material: Zinc alloy metal
Sedentary reminder
Remote camera control
Supports IOS 9.0+, Android 5.0 and Bluetooth 5.0
Phone tracking option
What we liked about this Smartwatch?
BeyondTime is the name of this smartwatch. It performs many other functions than simply providing information about time. This smartwatch can be used as a heart rate monitor, pedometer, sleep monitor, music player, and has many other functions. It is made of zinc alloy and has a large display that can be controlled. TAGG will help you stay ahead of the game and always be at the fore. Multiple watch-faces are available for the smartwatch to enhance your enjoyment of it. You can change the watch-face to suit your mood and style. The watch can be used in analog or digital modes.
This smartwatch has a 1.4″ display and a 93% screen to body ratio. The smartwatch is easy to use thanks to its vivid visual effects and narrow bezels. Smart power consumption gives you more energy to keep going day after day with TAGG Verve. You will have more time to go #BeyondTime with a 10-day battery life. TAGG Verve has an IP68 rating. It is not susceptible to water splashes and can be easily damaged. The smartwatch is durable enough to withstand dirt, dust, and sand, and can withstand submersion to 1.5m underwater for 30 minutes.
✔Pros
IP68 rating makes it safe from not just dust and splashes of water but even during rain pours
Multiple watch faces make using the smartwatch as aesthetically appealing experience
Sedentary reminder feature senses the lack of movement and sends a reminder to help you stay active
Battery lasts for 10 days with normal usage
Metal casing gives the watch a premium feel
❌Cons
Should have "always on" display
5. AQFIT W15 Smartwatch
Key features & specifications
1.33 inches HD IPS, full touch color display
Resolution: 240*240
IP68 waterproof
15 different sports modes
Heart rate monitoring
Blood Oxygen (SPO2) Monitor
Sleep monitor
Drink water reminder
Pedometer
Calories burnt
Zinc-Magnesium Alloy body
Comfortable food-grade silicone strap
Carbon fiber back case
Unibody design
Weather forecast
Remote camera control
What we liked about this Smartwatch?
It has a 1.33 inch HD IPS round, full-touch color display with a resolution 240*240. This makes it easy to scroll, view messages, notifications, track your health, and do other things on your watch. You will enjoy different visual experiences. The AQFIT W15 smartwatch is waterproof to 5ATM and can monitor swimming data including heart rate, SWOLF distance, calories burned, speed, heart rate, heart rate, heart beat, and heart rate even underwater. The SpO2 monitor measures oxygen saturation levels within your bloodstream to help you gauge how your body adapts during exercise or at high altitudes.
The AQFIT W15 smartwatch allows you to access many commonly used features of your smartphone, such as setting the alarm, controlling the weather app and starting the stopwatch. All this without ever touching your phone. The watch can monitor your heart rate throughout the day. It vibrates to notify you if it senses an abnormal heartbeat. The 'Breath" exercise feature is also available, which can be very useful especially for long work hours. The vibration pattern that is generated by the feature can be irritating for some users and may not be helpful in calming them down.
✔Pros
1.3 inches HD IPS display offers sharp and bright images
Comes with 15 different sports modes to help achieve your fitness goals with ease
IP68 waterproof construction makes the watch usable during swimming and rains
Battery life is more than enough, especially standby life is beyond expectation
Unmatched price and quality
6. GOQii Smart Vital Smartwatch
Key features & specifications
Certified under 3 grades by ISO
Registered medical tracker (CDSCO)
Monitors body temperature & blood oxygen (SpO2) levels
24×7 heart monitoring and Auto Sleep tracking
1.3 inches color display with full touch screen
Multiple customizable watch faces
Find my phone
Inactivity alerts
IP68 Water/Dust resistant
Smart notification
Up to 7 days of battery life under normal usage
18 exercise modes
TPU strap
What we liked about this Smartwatch?
The GOQii Smart Vital smart watch is superior to all other smart watches. It is an activity tracker and fitness band that measures your vital body parameters. The watch also features a pulse oximeter that measures your blood oxygen (SpO2) levels. It also has a built-in body temperature monitor and continuously records your heart rate and steps. Auto sleep tracking allows you to measure your sleep quality each night. You can set yourself up to smash records and reach your health goals with the 18 exercise modes available and real-time data display. Accurate step counting algorithms track every movement and count steps.
The device is IP68 dust and water resistant. It also features music control, smart notifications, music controls, multiple watch faces, find my smartphone, stopwatch, timer and raise to wake alarms. Under normal use, the battery lasts up to seven days. You can also sign up for the GOQii Care Plan, which provides a personal coach as well as a doctor for a period of three months. You can choose your nutritionist and personal trainer to support you on your journey to well-being. You can also get preventive consultations via email and phone from a board-certified general physician.
✔Pros
Intelligently monitors your blood oxygen levels
Cutting edge heart rate monitor that uses AI-driven algorithms for high-precision readings
1.3" large color touchscreen with a high resolution displays vivid and life-like visuals
Built in tracking technology to find your phone, just in case it is out of sight
18 exercise modes let you achieve your health goals
7. Fire-Boltt Ring Smartwatch
Key features & specifications
1.7-inch HD display
Capacitive HD full touch color screen
Customizable watch faces
270mAh
Charging time: 2 hours
Magnetic charging
Up to 8 days battery life without Bluetooth calling
24 hours battery life with Bluetooth calling
Bluetooth Version 5.0 and above
SpO2 monitoring & heart rate tracking
Optical heart rate
Capacitive sensor
Sleep tracker
IP67 Water Resistant
Dimension: 4.4 x 3.8 x 1.4 cm
Watch case material: Polycarbonate
24/7 dynamic monitoring & manual monitoring
Step tracker
Calories burned
Distance travelled
Activity history
Sleep monitor
Sports mode
Tracking & reminder
Speaker with volume up to 150dB
Microphone
Find my phone feature
Low battery reminder
1 year warranty
What we liked about this Smartwatch?
Introducing the Fire-Boltt Ring Smartwatch – the perfect blend of style and function. With its stunning HD display, you'll be able to enjoy clear, vivid images and videos with stunning detail. This innovative wearable uses proprietary technology to estimate your SpO2 levels, or the amount of oxygen in your bloodstream. Because this oxygen saturation is directly linked to physical performance, you can use Fire-Boltt Beast to push your routine to the next level. With built-in oxygen measurement, you can breathe easier and get more out of every workout.
Fire-Boltt Ring allows you to make and take calls from your watch using the built-in microphone and speaker. The smartwatch has a dial pad and the ability to view recent calls. It also syncs your contacts with your phone. This smartwatch has an integrated speaker that allows you to play your favorite songs on the watch without needing to use your phone. Smart controls include weather forecast, alarm, and remote-control camera. It also comes with multiple watch faces, and a 1-year guarantee from Fire-Boltt.
✔Pros
1.7-inch HD screen makes the display clear and true-to-life, with vivid colors
Uses proprietary technology to estimate your SpO2 levels
An optical heart rate sensor monitors heart rate in real time
One-click control mode and honeycomb menu helps you quickly navigate
Clearly displays all your health data in the DA FIT phone app
❌Cons
Touch response could have been better
8. boAt Flash Edition Smartwatch
Key features & specifications
33mm LCD Display
Perfectly round dial
Metallic finish
10 active sports modes
Activity tracker
6 watch faces
Live weather forecast
7-day long battery
Music and camera control
IP68
Heart rate
Oxygen level SpO2
Guided breathing
200mAh battery
Battery: up to 7 days
Charging time: 2 hours
Magnetic attachable charger cable
15-20 days standby time
1 year warranty
Sleep Monitor
What we liked about this Smartwatch?
Looking for a new way to stay active and healthy? Check out the boAt Flash Edition Smartwatch! This smartwatch not only helps you track your heart rate and blood oxygen levels, but also records your daily steps taken, calories burnt, and distances covered. Plus, it comes with 10 active sports modes to help you stay motivated, including running, walking, cycling, climbing, yoga, basketball, football, badminton, skipping & swimming. The boAt Flash Edition is a smartwatch that helps you stay calm and relaxed in all situations. It has a guided meditative breathing feature, as well as a DND mode to shush the outside world while you rejuvenate.
The boAt Flash Edition Smartwatch is perfect for people who want to stay connected without having to constantly check their phone. This watch features a 1.3-inch LCD display with a round dial, complete capacitive and responsive touch interface, and 6 different watch faces to choose from. You can also customize your watch's settings to receive notifications for calls, texts, social media, and more. With up to 20 days of battery life on standby mode, the boAt Flash Edition Smartwatch is a great choice for anyone who wants a versatile and stylish smartwatch.
✔Pros
Keeping a track of your heart rate and oxygen level SpO2
Guided breathing to help in meditation
Daily activity tracker with 10 sports mode
DND to shush the outside world while you rejuvenate
IP68 dust, splash & sweat resistance
❌Cons
Battery indicator is inaccurate
9. Zebronics ZEB-FIT7220CH Smartwatch
Key features & specifications
Metal Body & Strap
Full Touch 4.4cm (1.75″) Display
Large Square 2.5D Curved Glass
7-Day Storage
Beautiful Dual Menu UI
Track: Sleep, steps, calories, distance & 7 sports mode
Monitor: Blood pressure, Heart rate, Spo2 oxygen saturation
Meditative breathing
Rating: IP67 waterproof
100+ Customizable Watch Faces
Caller ID
Call Reject
Alarm Clock
Sedentary Reminder
Controls Music Play/Pause/Prev/Next & Remote Camera Shutter
Works with Android & iOS Phone
Dedicated ZEB FIT20 series App
What we liked about this Smartwatch?
This stylish and functional watch is perfect for everyday wear. With a large square display, you can easily read information on the watch face. The 2.5D curved glass gives the watch a sleek look. The IP67 waterproof rating makes this watch sweat proof and water resistant. The metal body and dual UI menu make this watch both stylish and durable. With over 100 custom watch faces, you can style the watch to match your personal preference. Plus, this stylish watch lets you make and take calls directly from your wrist, so you'll never miss an important call again.
The Zebronics ZEB-FIT7220CH Smartwatch is perfect for busy, active people who need to stay connected on the go. This stylish watch lets you make and take calls directly from your wrist, so you'll never miss an important call again. Plus, with the built-in speaker and microphone, you can easily carry-on conversations even when you're on the move. And if you need to check your recent call history, the Zebronics ZEB-FIT7220CH makes it easy to do just that. This watch can store up to last 7 days of data, so you can keep track of your health readings easily. Plus, it syncs with the Zeb-Fit20 App, so you can access previous day's data too.
✔Pros
Elegant square-shaped design in a metal body
IP67 waterproof and resistant to spills and splashes
Measures precise heart rate at regular intervals
Can store up to last 7 days of data
Mic and speaker are very good
10. Crossbeats Orbit Smartwatch
Key features & specifications
1.3″ IPS HD touch display
Bluetooth voice calling
Full metal round case
In-built speaker & mic
Customizable watch faces
10 multisport modes
Smart features enabled
IP67
Heart rate monitor
Accelerometer
SpO2 monitor
Sleep monitor
Touch sensor
Light sensor
Call reminder
Low battery
Sedentary reminder
Gesture control: Lift to wake screen
Blood pressure monitoring
What we liked about this Smartwatch?
The Crossbeats Orbit Smartwatch is perfect for people who are looking for a versatile and comprehensive health and fitness monitor. It has a wide range of features, including a HR tracker, BP monitor, SpO2 level check, women's health tracking, and sleep monitor. The Multisport Mode feature also allows you to track 10 different sports activities. With its IP67 water resistant rating, you can stay worry free when the Orbit gets wet. The nano sealing technology around the bezel and casing ensures that there is no water seepage whatsoever.
This sleek timepiece comes equipped with a 1.3-inch HD IPS display, ensuring rich colors and crisp fonts. It also features Bluetooth voice calling, so you can make and answer calls directly from your watch. Plus, with a built-in mic and speaker, you'll be able to carry on conversations even when you're on the go. Whether you're using it to stay connected or track your fitness goals, the Crossbeats Orbit Smartwatch is sure to become your new favorite accessory. It is a stylish and secure smartwatch that is perfect for any adventure.
✔Pros
5H wear-resistant tempered glass with about 240×240 pixels ensures sharp picture quality
Dual-tone leather strap with a silicon touch fits like it was tailor-made
Compatible with 3rd party fitness applications
Backed by IP67 water resistant rating
Helps you keep a constant check on your health vitals with in-built health monitors
Things to Consider Before Buying a Smartwatch
Buying a smartwatch ain't easy you guys. It takes a lot of understanding beyond what mere advertisements can confer upon us. Fear not! Khojdeal experts understand consumers and the products in the market. With this knowledge, we bring to you an extensive buying guide for best selling smartwatches
Keep in Mind
Compatibility: When buying a smartwatch, make sure that it works with your smartphone for ease of use and extended features.
Relevant Features: If you are a fitness freak, make sure the watch has relevant features for you. Similarly, if you are an avid swimmer, invest in a waterproof design.
Battery Life: Battery in a smartwatch is pretty variable. Depending on the use and applications installed, your smartwatch can last anywhere from 3-4 hours to days and weeks on end.
Build: Durability is essential in a smartwatch, especially if you are quite the sportsperson.
App Availability: Not as important as the others on this list, but more applications always mean more features.
Features to Take Note of
Operating System: Smartwatches essentially act as an extension to your smartphone. Making sure the two devices are compatible would make a world of a difference. Some watches, like the Samsung Gear 3, can work with either Android or iOS, but using it with an Android phone would prove to be a much fulfilling experience.
Display and Interface: Smartwatches with better, brighter displays have the disadvantage of shorter battery life. Most watches are either AMOLED or LCD. Watches that go to sleep when not in use essentially preserve battery. Make sure you know what you're getting yourself into when buying a watch with a premium display.
Design: Your smartwatch should definitely be stylish and durable while at the same time offering functional features. The strap is also something to keep in mind. Most smartwatches offer a band, but you can also opt for something with a more old school, steel link vibe too.
Calling and Notifications: The ability to answer, or cancel phone calls is a nifty feature. With the addition of notification alerts, your smartwatch can be even more functional, providing a good hands-free experience.
FAQs about Smartwatches
1. Which is the best smartwatch under 7000 in India?
The Noise ColorFit Pro 3 Smartwatch is the best smartwatch under 7000 in India for a number of reasons. Firstly, it has a large 1.54-inch TFT LCD touch screen which is perfect for those who want a larger display to view their stats and notifications. Secondly, it is water resistant up to 50 meters, so you can take it with you for a swim or run in the rain without worry. Finally, it comes equipped with a heart rate monitor, activity tracker, and sleep monitor – making it the perfect all-in-one fitness companion.
2. Are smartwatches worth buying?
There is no one-size-fits-all answer to this question, as the value of a smartwatch will depend on the individual's needs and preferences. Some people may find that a smartwatch is useful for staying connected to their email, calendar, and social media accounts, while others may prefer to use a smartphone for those tasks. Some people find that using a watch instead of reaching for their phone in their pocket or bag every time they want to check the time is more convenient, and others appreciate the health and fitness tracking features offered by some smartwatches. Ultimately, whether or not a smartwatch is worth buying depends on how it will be used and what features are most important to the individual.
3. Can you text on a smartwatch?
There are a couple of ways you can text on a smartwatch. You can use voice commands to send texts, or you can use the watch's touchscreen to type out messages. Some people find it difficult to text on a small touchscreen, but with practice it becomes easier. And with the advent of voice-to-text features, it's getting easier and easier to send texts from your wrist.
4. How far can you be away from your phone with a smart watch?
A smart watch can generally be used within about 30 feet of your phone. Beyond that distance, the watch will usually lose its connection to the phone and be unable to perform many of its functions.
5. What's the difference between a Fitbit and a smart watch?
A Fitbit is a fitness tracker that measures steps, distance, and calories burned. It also monitors your sleep and can notify you of calls, texts, and calendar alerts. A smartwatch does all of that plus it has built-in apps, such as heart rate monitors, music playback, email and texting capabilities, and more.
Conclusion
Smartwatch industry is growing rapidly in India. There are many good options available in the market for people who are looking to buy a smartwatch under 7000 rupees. We have tried to include a variety of watches from different brands so that you can choose the one that suits your needs the best. Do let us know if you have any questions or suggestions about this list. We would love to hear from you.
---
Loved our blog on Best Smartwatch Under 7000 in India? Do share it with your friends on Facebook, Twitter, and Whatsapp.
DISCLAIMER: Being a reader-supported blog, Khojdeal earns affiliate commission from purchases made using links on our blog.
Learn more