Badminton is one of the popular sports in India. This is because the necessary equipment is relatively cheap and this sport can be practiced in all seasons and doesn't require much space.
But one thing that any badminton lover need is the quality of the equipment be it racket or shuttlecock. The right selection of badminton and best shuttlecock can have a huge impact on the game. Hence, you should not compromise on the quality of these equipment.
For all the badminton lovers, Khojdeal Sport Experts have listed the best shuttlecock in India from popular brands like Yonex, Li-Ning Victor and more. We shared 2 separate tables for best feather shuttlecocks and best nylon shuttlecocks. We've also shared our review after comparing 10 shuttlecock models with each other from different price ranges.
In addition, we've also shared a shuttlecock buying guide that will help you choose the best shuttlecock for your badminton game.
Best Feather Shuttlecocks In India 2023
A feather shuttlecock consists of goose feathers set in a cork base. Feather shuttlecock have a softer, lighter cork which enables a slower game pace. The shuttlecocks are very sensitive to damage to the individual springs and even small damage can change the flight characteristics of the shuttlecock. The consumption is therefore very high.
During a competitive game (by professionals) about 6-12 shuttlecocks are usually used in a double game and 3-6 shuttlecocks in a single game. Feather shuttlecocks are produced in accordance with the standard in white colour.
Best Nylon Shuttlecocks In India 2023
Nylon shuttlecocks are made of a synthetic material and the base is made of cork. The shuttlecocks are mostly produced in two colors (yellow and white).
Nylon shuttlecocks are more resilient and durable, but still fully meet the requirements of badminton. Nylon shuttlecocks are especially known for their durability and can last easily for over 10-15 games of badminton.
They are very popular in amateur badminton and many tournaments and championships for unregistered players are played with these shuttlecocks.
📌 For a good game of badminton, apart from shuttlecocks, badminton rackets are also indispensable equipment. In the choice of rackets, in addition to the material and weight of the racket, the string tension is also an important factor. Considering all these factors, we have reviewed the best badminton racket in India. Read more about them.
Best Shuttlecock In India 2023
1. Steller Shuttlecock : Feather – Gold Series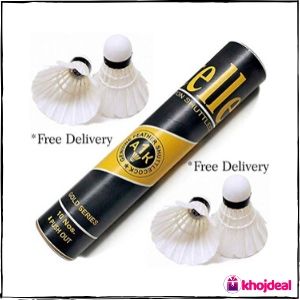 Superfine White Round Feather Shuttlecock
Strong EVA based Cork
Excellent flight & balance
Box Contents : 1 Box Of 10 Shuttlecocks
2. Li-Ning Shuttlecock : Nylon – Smash
Material: Nylon
Speed – slow for warm training conditions
Synthetic cork head for the most accurate flight time
Best suited for training sessions.
Designed for warmer playing conditions, the skirts are more brittle and aids in the best game-play
Engineering grade nylon for extreme durability
In-Box Contents: 6 x Shuttlecocks
3. Li-Ning Shuttlecock : Feather – Champ
Speed: 76
Made from duck feather
Shuttlecocks made from high quality feather
Perfect for intermediate to advance level of play
4. Li-Ning Shuttlecock : Feather – A+62 XD
Material: duck feather
Type: Feather Shuttlecock
Grade: Training
Head: composite cork
In-box Contents: 15 Shuttle
5. Silver's Shuttlecock : Feather – Ascot
Feather
Made with fine quality round hen feather
Comfortable in use
included components: 10 Piece Silver's Ascot shuttlecock
6. Yonex Shuttlecock : Nylon – Mavis 350
Material: Nylon
When smashed, a Mavis shuttlecock recovers in only 0.02 seconds, this performance is just 0.005 seconds slower than a Yonex feather shuttlecock and 0.008 seconds faster than the recovery of an ordinary shuttlecock
Pack of 6 shuttles
Green cap – Slow speed – 22°C to 33°C
7. Flink Shuttlecock : Nylon – F1
Flight of feather and Durability of the nylon engineered together to provide best performance.
100% Natural Portuguese cork with a protective leather lining gives a great feeling when striking the cork.
5x more durable
Faster recovery time
Pack of 6 slow speed Flink Shuttlecocks
Shuttlecock Buying Guide
The aim of Khojdeal.com is to provide transparent and independent advice to help you choose the right badminton shuttlecock. Therefore, in addition to the shuttlecock reviews, we are also sharing this small shuttlecock buying guide with you.
Not all shuttlecocks are the same and if you want to find the right shuttlecock, you should consider some information. This buying guide gives you important information about badminton shuttlecocks.
1. Shuttlecock Type & Material
The right selection of shuttlecocks can have a huge impact on the game. All badminton shuttlecocks from our comparison are either Feather or Nylon. There is also a difference in the composition of the head material. The best badminton shuttlecocks have a head made of particularly durable natural cork. But there are also shuttlecocks with a very robust carbon fiber head.
2. Shuttlecock Speed
After selecting the type of shuttlecock you want to go for, now is the time to check the speed ratings of the shuttlecock. Shuttlecock speed ranges from 75 to 80, where, 75 being the slowest and 80 being the quickest. But, shuttlecock speed also depends under different conditions. To check the speed of the shuttles, you need to check the round sticker on the bottom of the shuttlecock tube.
Conclusion
If you are a hobby player or if you want to teach your children to play badminton, you should choose slow shuttlecocks. However, if you regularly play in a club and in tournament matches, then fast badminton shuttlecocks are suitable for you.
Whether you are a professional or hobby player – choose the best shuttlecock for your next badminton game. The best-known popular brands include Yonex, Li-Ning and Victor badminton shuttlecocks.
---
Frequently Asked Questions About Shuttlecocks
1. What is the best shuttlecock brand?
Yonex is one of the best shuttlecock brands in India that offers high-quality shuttles manufactured using advanced technology. Other popular brands include Li-Ning, STRAUSS, Kawasaki and Cosco.
2. What is shuttlecock made of?
The two types of badminton shuttlecock that exist are: feather and plastic. Plastic shuttlecock is suitable for beginners because it is more resistant but it flies less well than a feather shuttlecock.
Feather shuttlecocks are made of feather and are mainly used in competitions. These shuttlecocks are rather fragile and difficult to catch. When launched, they fly vertically and when they have no more speed, they fall vertically. Also, they are made from duck or goose feather and are handcrafted.
3. Which shuttlecock is best?
The best quality badminton shuttlecocks are those made from goose feathers. The others (duck feathers or mixed feathers) will have a less parabolic flight path and will tend to break more quickly.