For all the Badminton lovers, Khojdeal Sport Experts list The Best Shuttlecock in India. Badminton is a fun racket sport played throughout the world. A casual outdoor sport cum intensely competitive federation, Badminton has captivated all people from all walks of life. The whole concept is to hit a shuttlecock over a net using a racket. A fairly simple game, it can be played in singles, 1v1, doubles, 2v2 and even with multiple people on the court.
Best Shuttlecock in India – Reviewed : Updated 2020
Popular brands like Yonex, RSL and Carlton have been continuously enhancing shuttlecocks. The three kinds widely used and available in the market are plastic, nylon and feather. Plastic shuttlecocks have a harder cork and games played with plastic ones can be really fast. Feather shuttlecocks have a softer, lighter cork which enables a slower game pace. Nylon shuttlecocks are especially known for their durability and can last easily for over 10-15 games of badminton. The Best Shuttlecock in India have been listed by Khojdeal, no matter the material and brand.
1. Steller Shuttlecock : Feather – Gold Series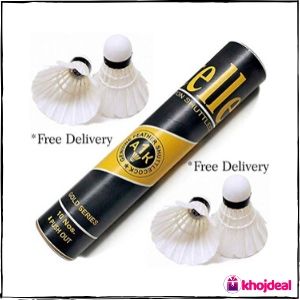 Superfine White Round Feather Shuttlecock
Strong EVA based Cork
Excellent flight & balance
Box Contents : 1 Box Of 10 Shuttlecocks
2. Li-Ning Shuttlecock : Nylon – Smash
Material: Nylon
Speed – slow for warm training conditions
Synthetic cork head for the most accurate flight time
Best suited for training sessions.
Designed for warmer playing conditions, the skirts are more brittle and aids in the best game-play
Engineering grade nylon for extreme durability
In-Box Contents: 6 x Shuttlecocks
3. Li-Ning Shuttlecock : Feather – Champ
Speed: 76
Made from duck feather
Shuttlecocks made from high quality feather
Perfect for intermediate to advance level of play
4. Li-Ning Shuttlecock : Feather – A+62 XD
Material: duck feather
Type: Feather Shuttlecock
Grade: Training
Head: composite cork
In-box Contents: 15 Shuttle
5. Silver's Shuttlecock : Feather – Ascot
Feather
Made with fine quality round hen feather
Comfortable in use
included components: 10 Piece Silver's Ascot shuttlecock
6. Yonex Shuttlecock : Nylon – Mavis 350
Material: Nylon
When smashed, a Mavis shuttlecock recovers in only 0.02 seconds, this performance is just 0.005 seconds slower than a Yonex feather shuttlecock and 0.008 seconds faster than the recovery of an ordinary shuttlecock
Pack of 6 shuttles
Green cap – Slow speed – 22°C to 33°C
7. Flink Shuttlecock : Nylon – F1
Flight of feather and Durability of the nylon engineered together to provide best performance.
100% Natural Portuguese cork with a protective leather lining gives a great feeling when striking the cork.
5x more durable
Faster recovery time
Pack of 6 slow speed Flink Shuttlecocks
---
---
Conclusion
Being played since the 19th century, Badminton has been an epic pass time for everybody from children to adults. A good from of exercise too, Badminton has also gained international notoriety as a physically tiring game. I love playing badminton at home out in the yard. The amount of times I have lost my shuttlecock, or damaged it somehow, are plenty. With this in mind, Khojdeal brings to you The Best Shuttlecock in India, so that you don't buy a sub-par product that splinters after the first hit.
---
Related Articles
---
Loved our blog on Best Shuttlecock In India? Do share it with your friends on Facebook, Twitter, and Instagram.