In this article, we'll tell you about the best shaving cream for men in India, along the way, we'll also discuss the benefits, pros & cons, some frequently asked questions and things to keep in mind when purchasing the men's shaving cream.
To get that close and smooth shave, you need just two tools – a razor and a shaving cream. A perfect shave goes a long way in augmenting your overall look. This makes it a must have tool to have in your grooming arsenal.
Whether you shave your whole face or just detail around your beard, a quality shaving cream can make all the difference between a perfect or pathetic shave.
Apart from facilitating a smooth shave, shaving creams also soften hair shafts, protect nicks, cuts & razor burns from infection, cleanse, nourish & revitalize skin tissues and moisturize and protect skin to keep it soft.
Read on to know more about the out list of top 10 shaving cream in India.
Best Shaving Cream In India 2022 With Price
Listed below are the top men's shaving cream in India shortlisted by our experts after reviewing over 15 different brands. Things like skin type, shaving cream type, ingredients, benefits and customer reviews have been taken into consideration while shortlisting them.
Best Shaving Cream For Men In India Review
1. Axe shaving cream
Key features & ingredients of this shaving cream
Quantity: 78g
Shaving cream with moisturizer
Spicy, rich, masculine scent with bursts of fresh citrus
Rich, creamy lather tames the toughest stubble
Gives you a smooth shave
Day long effect
Safe on skin
Ingredients: Water, Palmitic Acid, Lauric Acid, Stearic Acid, Glycerin, Potassium Hydroxide, Polyethylene Glycol, Laureth-23, Perfume, Sodium Laureth Sulfate, Cetyl Alcohol, Titanium Dioxide, Sodium Hydroxide, Menthol, CI 1914, Disodium Edta, BHT, Methyl Paraben, Propyl Paraben
Why we recommend this shaving cream?
For the man who doesn't have to try too hard, the one who likes to play it smooth. The rugged man who likes to look his debonair best, Axe Denim Shaving Cream is made just for you. Crafted for a rich creamy lather, this shaving cream produces the kind of moisturizing foam which makes it easier for you to shave that rough patch of stubble from your skin. The spicy, rich, masculine scent with bursts of fresh citrus leaves your skin soft and moisturized, making it irresistible to the touch. Enjoy this unique experience to feel fresh all day, every day.
2. Gillette shaving cream
Key features & ingredients of this shaving cream
Quantity: 195g
Lightly scented
Helps achieve a smooth and comfortable shave
Softens the hair shafts so that the razor can glide easily
Triple protection formulation to protect against nicks, redness and tightness
Ingredients: Vitamin E, Organic Aloe Vera, Natural Glycerin and Silica
Why we recommend this shaving cream?
Gillette Sensitive Skin Tube Shave Gel is perfect for men with sensitive skin as its triple protection formula contains three lubricants that enhance your razor glide. This shave gel is lightly scented and contains organic aloe vera, natural glycerin and silica that protects your skin from razor cuts, redness or tightness during and post shave. The ultra-moisturizing formula softens hair shafts so your razor easily glides over them without causing any soreness. You get an incredibly comfortable feeling after shave from the aloe vera extracts that soothe and heal skin.
3. Godrej shaving cream
Key features & ingredients of this shaving cream
Quantity: 78g
Cool smooth shave with cool menthol
Rich creamy lather shaving formula
Enriched with Aloe Vera extracts
Provide essential moisture to the skin
Leaves an invigorating scent of tingling cool menthol
Makes skin feel refreshed
Ingredients: Water, Stearic Acid, Glycerol, Potassium Hydroxide and Lauric Acid
Why we recommend this shaving cream?
Godrej Cool Menthol Shaving Cream 78g has a soothing impact on the skin. The harsh drag of the razor blade is neutralized by the cream's constituents.The cream forms foam easily with water. The rich lather is neutral and harmless for facial skin. It doesn't stick to the brush either. It is easy to use and to clean as well.Its ingredients nourish the skin and also provide moisture, leaving you with a soft and smooth shave. For each shave, you just need a little cream making it economical too.
4. Dettol shaving cream
Key features & ingredients of this shaving cream
Quantity: 78g
Trusted Dettol Protection
10 X better versus ordinary shaving products
Formulated to provide a refreshingly comfortable shave
Creates a smooth creamy lather for smooth shave
Prevents nicks, cuts and razor burns from infection
Recommended by the Indian Medical Association
Moisturizing Formula
Maximum shelf life: 25 months
Why we recommend this shaving cream?
Dettol Shaving Cream is designed with a rich and creamy formula that leaves the skin feeling clean and smooth. The trusted Dettol protection prevents any infection from nicks or cuts. Dettol Shaving Cream also nourishes and moisturizes the skin. Also recommended by the Indian Medical Association, Dettol shaving cream is 10 times better than the regular shaving creams and creams available in the market.
5. Old Spice shaving cream
Key features & ingredients of this shaving cream
Quantity: 70g
Formulated to provide a close and comfortable shave
Protects nicks, cuts and razor burns from infection
Creates a smooth creamy lather for comfortable shave
An intense, masculine fragrance
Gives you 24 hours odor protection
Ingredients: D.M. Water, Stearic Acid, Potassium Hydroxide, Propylene Glycol, Lauric Acid, Myristic Acid, Glycerin, Boric Acid, Perfume, Sodium Silicate Soln., Hydroxypropyl Methylcellulose, Disodium EDTA
Why we recommend this shaving cream?
An Old Spice Deodorant that envelopes you in a clean, manly scent that has served mankind for decades,it gives you that just had a shower-in-the-Niagara-falls feeling. This iconic fragrance culminates both vision and tradition with distinctively masculine scents that invigorate and refresh you all day long. Old Spice Fresh Deodorant Body Spray is classic and modern, vibrant and engaging. Old Spice is mild on your skin and can be used daily.
6. Park Avenue shaving cream
Key features & ingredients of this shaving cream
Experience a close & effortless shave
Moisturize and revitalize your skin
Packed with naturally-sourced ingredients
Soft and gentle on your skin
Naturally protects your skin, making it supple & healthy
Free from sulfates, alcohol & animal cruelty
Suitable for all skin types
This is a Vegetarian product
Ingredients: Ginseng, Lemongrass, Glycerin, Menthol
Why we recommend this shaving cream?
Park Avenue presents the luxuriously crafted Shaving Creme infused with a combination of naturally sourced ingredients which are soft and gentle on your skin. It is enriched with Ginseng, whose natural antioxidants revitalize and protect your skin from damage, and Lemongrass that maintains skin's oil balance, helping it heal naturally. Also packed with Glycerin & Menthol that moisturize and refresh your skin while giving you a close and effortless shave.
7. Vi John shaving cream
Key features & ingredients of this shaving cream
Quantity: 400 gm
Variant: Lemon Lime
Frees the skin from post shave razor bumps
Luxurious shaving experience
Velvet like lather
Suitable for all skin type
Ingredients: Tea Tree Oil, Stearic Acid, Menthol, Propane, Orange & Musk Extract
Why we recommend this shaving cream?
VI-JOHN Shaving Foam turns your daily shave into a luxurious experience. It creates a velvety lather that not only makes the razor glide like a dream on your skin but also softens your future beard growth. Enriched with anti-bacterial tea tree oil that nourishes & protects the skin. It soothes the skin from any skin irritation and removes blemishes for a healthy looking and supple feeling skin.
8. Nivea shaving Foam for men
Key features & ingredients of this shaving cream
Quantity: 250ml
Softens the stubble for a close and comfortable shave
Dermatologically approved by men with sensitive skin
Protects the skin from irritations
0% alcohol
Causes no burning on irritated skin
Improves skin's condition over time
Ingredients: Water, Stearic Acid, Isobutane, Triethanolamine, Laureth-23, Glycerin, Hamamelis Virginiana (Witch Hazel) Bark/Leaf Extract , Chamomilla Recutita (Matricaria) Flower Extract , Tocopheryl Acetate, Propane, Coco-Caprylate/Caprate, Butane, Hydroxypropyl Methylcellulose, PEG-7M, Maltodextrin, Caprylic/Capric Triglyceride, Potassium Hydroxide, Piroctone Olamine, Fragrance
Why we recommend this shaving cream?
Nivea men sensitive shaving cream protects your skin from irritation while shaving. The shaving foam contains 0% alcohol and does not burn. The extra gentle formula is fragrance-neutral and enriched with Chamomile and Hamamelis to care for the skin before you shave. Vitamin E oil has an amazing anti-aging effect on the skin and acts as an antioxidant, preventing the formation of free radicals on your skin cells. This Sensitive Shaving Foam reduces razor bumps by providing an ultra glide technology for the first time. The unique composition of this Sensitive Shave Foam keeps your skin healthy and conditions it, protecting your skin against cuts and irritation.
9. Patanjali shaving gel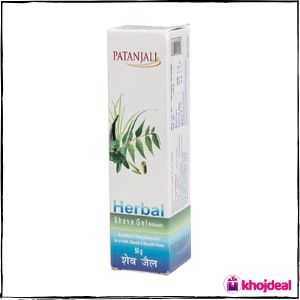 Key features & ingredients of this shaving cream
Quantity: 50g
Cleanse, nourish and revitalize skin tissues
Make complexion fresh, smooth and beautiful
Protects from germs
Moisturizes and protects skin to keep it soft
Ingredients: Ghrit kumari, Pudina, Neem, Tulsi, Haldi, Aqua, Cream soap base, Diazolidinyl urea & ipbc, Borax purified, Sugandhit dravya, Permitted colour
Why we recommend this shaving cream?
Patanjali Herbal Shaving Cream, made from the natural extracts of ghritkumari (aloe vera) and pudhina mixed in a soap base, moisturizes, nourishes and revitalizes skin tissue to make complexion fresh, smooth and attractive. The disinfectant and insecticide properties of neem, tulsi and haldi (turmeric) make every shave a smooth affair. The healing properties of Aloe vera moisturize and protect skin to keep it soft. The herbal formulation is rich in restorative properties of the skin to keep it velvety and smooth.
10. Palmolive shaving cream
Key features & ingredients of this shaving cream
Quantity: 100ml
Gives a superbly smooth shaving experience
Enriched with hydrating palm fruit extract
Mild formula helps to gently nourish skin
Guards against irritations from shaving
Ingredients: Aqua, Stearic Acid, Glycerin, Potassium Hydroxide, Coconut Acid, Cocos Nucifera Oil, Sodium Hydroxide, Parfum, Potassium Chloride, Sodium Silicate, Cocos Nucifera Extract, Hydroxyisohexyl, 3-cyclohexene, Carboxaldehyde, Limonene, Cosmetic colorants – CI 15985, CI 42051, CI 45350, CI 47005
Why we recommend this shaving cream?
Palmolive For Men Classic shave cream has been specially formulated to be kind to your skin. Enriched with soothing palm fruit extract – well known for its hydrating properties – this mild and lightly fragranced rich cream nourishes skin and helps guard against irritations caused by your razor during shaving. Less irritation means less uncomfortable stinging, redness, and fewer nicks and cuts. This lightly fragranced formula leaves skin feeling superbly soft, touchable and looking its best: simply wet your face before working the cream into a lather for a really comfortable shave.
Benefits of Using Shaving Cream/Foam or Gel:
There are many reasons why shaving cream has been in use for centuries. At some point in life, almost every man comes close to shaving cream. Its popularity can be attributed to the many advantages it offers, although it takes a little practice to do it well.
1. Offers a close-fitting and gentle shave
The shaving cream is thick and consistent and tends to stick to the skin better than the foam.
2. Decreases cuts
When the cream is applied on the face, it moisturizes the skin and has an emollient effect on it. This way, you don't need to use too much pressure to get a clean shave. Using less pressure reduces the chances of cuts.
3. Reduces irritation from razor
Shaving dry skin increases the risk of cutting the top layer of skin, not deep enough to cause bleeding, but enough to abrade the layers of the skin and cause irritation. The shaving cream acts as a thin barrier that prevents the razor from cutting the top layer of the skin reducing irritation.
4. Increase your safety
The right shaving cream protects you from minor injuries while shaving, allowing you to perform every operation with maximum safety.
5. It does not roll up the hair
The hairs are raised as the cream is applied in the opposite direction. This makes it easy to get a clean shave compared to when the beard is pressed against the skin
6. Nourishes the skin
During application, the product also nourishes the skin and hair follicles. All creams contain nutrients that infuse health and impart vitality to the skin. The cream further hydrates the face to give you beautiful and fresh skin after shaving.
7. It smells good
Shaving creams are available in various fragrances that make you feel good after each shave. In addition to looking good, you will sense a good fragrance. This means that after shaving, you can simply wipe your face and go out. If you have particularly sensitive skin, you can also choose a type without any smell.
Buying Guide – How to choose shaving cream based on skin type?
There are some important aspects that guide the decision-making process during the purchase and that only concern this type of product and not the foams and shaving gels. They range from ease of application to the level of protection. Let's see together, point by point, what it is.
1. Ease of application
You have to consider the ease of working the cream and apply it on your face. Before buying a shaving cream, you may need to set up some rules for your shaving routine. The hardness of the water affects the quality and performance of the shaving cream. Even the same product used in different ways, can give rise to a completely different hydration.
2. What protection does it offer?
Once spread, the cream offers protection to your face. The ideal is that it is compact but not too frothy, to prevent it from drying out quickly. Depending on the type of shaving cream, the foam can vary from rich and thick to just a very thin layer on your face.
3. Blade sliding
This is probably the most important criterion to consider before buying a shaving cream. Even if it does not create foam, it is important that it allows a smooth touch on the face. In addition to protecting your face, smoothness is the main reason why the razor glides without getting stuck on the skin.
4. The importance of the ingredients
What makes a shaving cream qualitatively better is written on the back of the label. The advice is to prefer an anti-irritation shaving cream that contains only natural ingredients. If you've already used several traditional shaving creams, you may have noticed that some ingredients are quite common: water, coconut oil, stearic acid, glycerin, jojoba oil and many more. In the vegetable shaving cream, products such as jojoba oil or coconut oil are perfect for both hair care and skin care applications thanks to the softening of facial hair and moisturizing properties.
5. Avoid artificial products
On the contrary, avoid products containing artificial colors, petrochemical by-products, synthetic perfumes and alcohol. Most of these ingredients could irritate and/or dry out the skin, cause irritation problems, clog pores or even compromise the natural pH balance. The ingredients that derive from alcohol can cause problems for men with sensitive skin.
6. Which fragrance is right for me?
When you use a shaving cream, it is quite inevitable to smell it. This is why perfume is not something you need to overlook. Many of the creams are scented with essential oils, which are extracts of plants and fruits. A very common combination of perfume is based on menthol and eucalyptus, mainly for the sensation of freshness it gives to your shave. The fragrance with sandalwood and bergamot is also very popular. And if you are looking for something in the name of well-being, try the aloe and allantoin shaving cream.
7. With or without a brush?
Traditional application requires the use of a shaving brush, to be soaped in a bowl or directly on the wet face. Some creams without foam can be applied directly on the face without a brush and even if you try to form the foam in a shaving bowl, you will not succeed. These are the type of shaving creams that do not have a rich foam and their main characteristic is to favor smoothness rather than cushioning.
Frequently Asked Questions About Shaving Cream (FAQs):
1. How to use shaving cream?
To start, you need to prepare the brush. You must, therefore, fill a bowl with very hot water and leave the brush to soak for a period of time between 3 and 5 minutes.
The water must be warm, but not boiling, in order not to ruin the bristles of the brush. While the brush is soaking, you can take the shaving cream and drop a few drops into the water.
Once the necessary time has passed, you can take the brush and squeeze it to remove excess water, so that it is moist, but does not drip.
At this point you can rub the brush over the shaving cream until the foam starts to mount. The time required varies according to the type of brush and soap but, generally, 2 or 3 wipes of 10 or 15 seconds are enough.
When the desired amount of foam has been obtained, it is possible to transfer the foam obtained into the bowl, add a few drops of water and start to turn the brush again. The purpose of this type of operation is to make the foam more compact and creamier.
The last step is to apply shaving cream on the face with the brush. Once this is done, you can take the safety razor or freehand and start shaving.
2. How to Use Your Hands to Apply Shaving Cream
Okay, so using a brush and bowl is great but sometimes you're traveling or just in a hurry and don't have the time to go through all that. It's not the end of the world.
Many shaving creams work just fine without the extra rigmarole. Just rub the cream in your hands, gradually adding water to get the right consistency and smooth on your shaving area.
3. Can I use a normal bar of soap instead of shaving cream?
In theory you could also use a normal bar of soap, but the problem is that most of those on the market today are not made up of vegetable or animal fats, but from a series of chemical products. Instead of hydrating, these dry the skin and do not help prevent irritation.
Even if packed in a classic soap form and made up of fats, those made specifically for the beard have a better formulation for their purpose and a greater moisturizing power.
4. Using shaving cream irritates my skin, what can I do?
In this case it is good to choose a product indicated for sensitive skin and pay attention and to another fundamental detail: the brush.
Often, in fact, irritation is not necessarily caused by the cream, but the real problem may be a low-quality brush. This is especially true for products made of synthetic bristles.
5. When to use shaving cream?
For either shaving method, the best time to shave is after a warm shower when your skin is relaxed from the steam and your beard hair is softened.
An alternative is the hot towel technique used at barbershops where the barber presses a warm, damp towel against your face. You can do the latter at home but it never seems to be quite as relaxing and blissful as at the barber.
Conclusion
After reviewing the the list of 10 best shaving cream, we think Nivea shaving Foam for men is the best one for all skin types. It not only softens the stubble for a close and comfortable shave, but is also alcohol free.
If you require any further assistance to select the best shaving cream for men in India, please comment below and we will get back to you with the best possible solution.
---
Loved our blog on best shaving cream for men in India? Do share it with your friends on Facebook, Twitter, and Instagram.
DISCLAIMER: Being a reader-supported blog, Khojdeal earns affiliate commission from purchases made using links on our blog.
Learn more