When it comes to online shopping, the trend has been steadily growing worldwide. The convenience online shopping offers simply cannot be compared to physically going to stores and looking for items. While COVID-19 posed a different threat to shopping altogether. Due to the lockdown going into effect, shoppers found themselves with no other way to shop other than going online.
The best online selling products in India majorly include apparels, electronics, beauty products, and home furnishings. In 2021, the online market in India is estimated to see a 23% rise in sales. When it comes to trending products in India, a lot of customers have even moved to online platforms for daily food supplies and health supplements as well.
Best Products Selling Online in India
1. Apparels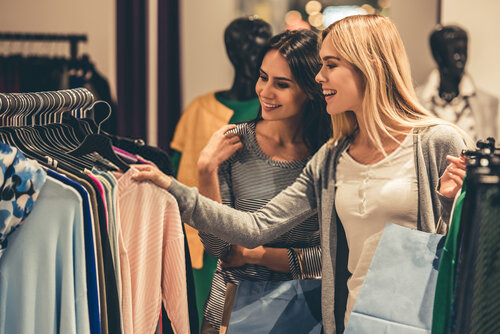 When it comes to shopping online, clothing and apparel make for most of the revenue generated through online sales. From traditional and modern clothing for women, to men's apparel and children's clothes, there are so many options available on online platforms, they easily trump physical shopping by a huge margin. Where you would have to walk to different stores and find something you would like, online markets allow you to simplify your searches using a comprehensive, category-based system.
Simply put, you can find a whole lot of options, even from different designers and brands all in the same place. All that and you would not even have to get up from your couch. According to statistics, Flipkart and Amazon list apparels as the best selling products.
2. Electronics
Electronics make for one of the most popular items you can find on ecommerce websites. From multiple brands, online portals hold a huge inventory of items ready to be purchased by an interested party. There has definitely been some argument on products being delivered either broken, non-functional, or having manufactural defects. However, online portals actively try to make sure the products are delivered within time and without any dents. If in any case, they are defected, a return policy can be taken advantage of to allow for reimbursement or exchange.
Cameras, appliances and other consumer electronics are available online at much lower costs than physical stores as well. You can even use some online shopping hacks to reduce your cart value.
Electronics are such a popular product and one of the most sold products online due to a huge number of discounts available you would not otherwise find in physical retail stores. Electronics include home appliances, speaker units, televisions, gaming consoles and such. If you wish to purchase say a washing machine, it is a good idea to check the prices on online shopping platforms before you make a decision. Chances are the same washing machine you selected in a physical store might cost less on Amazon and such.
3. Mobile Phones
Mobile phones are easily one of the most sold products online in India. The number of brands and models readily available overpowers any physical store you could potentially go to. Not only that, but the offers available online are much better too. There are also some models that exclusively go on sale on online platforms. Essentially, you could not purchase this exclusive model from anywhere but the online retail stores.
There are also a few benefits of buying mobile phones from online stores. You get to compare different models to see which works best for you. Plus, you get the added benefit of comparing prices through multiple websites to get the best deal available on a particular model.
4. Books and Stationery
Buying books from an open market can be quite time consuming. Online shopping websites allow you to view a huge multitude of books in a single place, saving you time and of course, money. When it comes to stationery, online retailers often provide much more options than generally available at a physical store. From educational titles to fictional and reference books, a major chunk of the sales on online platforms are often from books and related items.
The best part of buying books from online platforms is that you can easily get books from Indian as well as overseas publishers. Since there is no customs charge on books, you can easily order any book from an overseas publisher without worrying about extra costs and fees. Premium stationery is also readily available online, whereas you would have to look for them in physical stores, again, spending too much time to do so.
Customizable printed media is also hugely available online in multiple formats, where you get to choose the quality and quantity without any hassle. Needless to mention, books and stationery make for the best online selling products in India.
5. Footwear
If you want a ton of varieties to choose from when it comes to footwear, an online marketplace will serve you better than any other type of store. From all kinds of footwear, sometimes available at a hugely discounted price, the choices are simply unlimited. Leading brands from all over the world and their products are readily available on the best online stores. Footwear are easily one of the most trending products in India.
6. Jewelry
Jewelry can be a real chore to purchase. The choices in a single store maybe limited which only has you finding other stores, looking at more jewelry and choosing the one that you like. However, online stores make this much easier. Simply using the search bar to look for you want could drastically reduce the options to simplify your purchase and save you a ton of time browsing through endless pieces. This by the way, is another obvious advantage of using online platforms to shop for jewelry. Since there are simply so many options to choose from, you could easily browse through a few pages to shortlist the ones that could work for you.
There is one shortcoming here though, like footwear, you cannot try them on to see if they suit you. However, the return policy can make a mistaken purchase exchanged for something that might actually suit you.
7. Beauty Products
Now, here is when online platforms become incredibly profitable. One of most selling products in India include skin care and beauty products. From all kinds of creams, moisturizers, shampoos, and make up products, the beauty market has been growing heavily.
The advantage of buying beauty products online entails a similar purpose as does most other items, a lower price. With huge brands readily available online at a much lower cost, buying beauty products online might prove to be a much better idea.
8. Computer Hardware, Peripherals, and Accessories
Computer accessories, peripherals, and components are arguably much easier bought online than otherwise. With multiple websites providing the same computer part, your chances of getting a discount on one of them drastically rises. Plus, you get all the options you could possibly have in the same place. From fully assembled desktops, laptops, storage devices, graphics card, power units, peripherals, and even software can be easily purchase through an online portal. Products from leading brands are generally available at a much lower cost than in physical retail stores.
9. Fashion Accessories
You bought your apparel from online stores, you also bought footwear, and jewelry, the only thing missing is a cool handbag to go with your trendy chic look. Online platforms allow you to sift through a ton of different handbags to purses and wallets in order for you to make the most relevant purchase. Some of the top selling products online are actually fashion accessories. The sheer number of options available and the discounts provided make shopping online for fashion accessories a truly pleasurable experience.
10. Video Games
If you are an avid video gamer, chances are you already buy your games from online platforms. Now, there are obviously two different kinds of online platforms you could potentially make the purchase from. Either go to an online retail store and buy the disc. However, this adds another step to the process of installing the game once you have the disc. A better way is to check gaming platforms, like steam and origin, that allow you to take the purchase and forever own a digital copy of the game, no disc required. The game virtually stays bound within your ID and you can install it whenever and wherever you wish to.
Video games might not be within the confines of the best online selling product in India, but the global market trumps most other things by a huge margin.
11. Toys, Games, and Sport Equipment
Toys and games, which include card games, board games, Jenga, even TT tables, badminton equipment, and the rest can easily be bought online. Toys especially are some of the best selling products. Again, you get a huge number of options and choices to sift through. You can even find some great toys from overseas manufacturers as well. E-stores offer any toy you wish to purchase.
12. Home Decor and Furniture
If you have ever been to a furniture store, you already know how incredibly expensive a mere table can be. For home décor items, you would otherwise need to visit a ton of different stores to find something that goes with the existing décor. Online shopping allows you to not only find the best thing for your living space, keeping in mind style, preference, color, and the rest, but also allows you to save a ton of money. Online stores also readily offer self-assembly furniture as well. They are effectively much cheaper than solid, pre-assembled furniture, without compromising on quality and allowing for customizations.
Drapes, bedsheets, covers, flower vases, rugs, coasters, wall-hangings, and antiques also one of the most sold products worldwide in the e-store landscape and the best online selling products in India.
13. Kitchenware
If you are looking for utensils and cutlery, online marketplaces are easily some of the best places to indulge. The number of options you get, coupled with cheap prices and availability of branded products, make for super easy purchases. Coffee makers, waffle makers, pressure cookers, pasta rollers, and such also make for a sizable chunk of the total ecommerce sales.
You could even buy kitchen products in bulk, especially utensils, like ladles, spoons, and such. This also helps you save more money and have spare products lying around in case you need them.
14. Baby Care Products
Most folks who have babies do not get much time when it comes to shopping. Products like baby powder, soaps, creams, and diapers are heavily bought from online stores. Since there are simply so many options available and parents tend to get the best for their kid, baby products are one of the most sold items online.
There are different brands you could choose from and buying online allows you to view the entire ingredient table, plus user comments and reviews to check for any irregularities. You would not purchase anything that would jeopardize your kid's growth.
15. Food and Groceries
After the lockdown going into effect, online marketplaces started putting out food and daily supplies on their virtual shelves as well. This provided a way for the general consumer to get everything they need directly to their homes. Allowing them to save time and avail offers that save them money as well. A totally win-win situation, food supplies are now readily available over multiple online platforms, including Amazon Pantry and the Flipkart Superstore.
From tea, coffee, grains, health supplements, and other daily grocery needs, an online portal is waiting for you to make your purchase. They also work on a subscription model, essentially set the frequency of a grocery item to be delivered to you whenever you want, say on a monthly basis.
Frequently Asked Questions
1. What are the top selling items on Amazon?
Amazon sells a whole variety of products and the incredible sales it hosts makes for some really enticing deals for customers. The top selling items of Amazon include, electronics, toys, computer peripherals, and books.
2. What do people buy the most online?
People tend to buy most things online. Since the lockdown went into effect, customers have realized the true potential of online marketplaces and have started ordering daily groceries from them as well. The best online selling products in India include apparel, computer components and peripherals, beauty products, books, home décor, footwear, and jewelry.
3. What is the most sold item on Flipkart?
According to data and statistics, the most sold items on Flipkart include apparel, electronics, and beauty and personal care products. Their supermart also has a great deal of items at discounted prices. You could definitely use some tips to order groceries from Flipkart.
Conclusion
There are a lot of products being sold online in India. From food supplies to computer parts and diapers, there is almost everything available crammed into a single platform ready for customers to flock to. When it comes to the best online selling products in India, footwear, clothes, and electronics are the major players, whereas beauty products, books, accessories, and groceries are also heavily rising. Toys and home décor are also trending products in India and are being bought majorly from online portals instead of physical stores.
There are obviously multiple benefits of using online platforms, primarily its money-saving potential. The options you get to choose from also allows for a more refined purchase. Plus, you could easily refer to first-hand user reviews to see if the product is worth it or not.