The camera itself is a great innovation to the world, the first camera was invented in 1816 by Nicéphore NiépceIf. After so many years we reached a point of time where technology evolving at a very fast pace and they're various types of photography cameras available, one of the most unique types is a "Mirrorless Camera" yeah the one without a mirror.
If you are an avid photographer, you probably already know what these cameras are. In this guide, you'll some of the best mirrorless cameras that you might consider to take your photography game to the next level.
Retaining the potential of the widely used and appreciated DSLRs, while proving highly adaptive and easier to use, this type of camera can be your step forward into the photography industry.
List of the Best Mirrorless Camera In India – Reviewed 2023
📌 Handpicked related articles:

– Best instant photo camera in India
– Best DSLR camera under 35000
– Best DSLR camera under 40000
– Best Canon DSLR camera
– Best Nikon DSLR camera
1. Fujifilm X-T200 Mirrorless Camera
Sensor – Large APS-C CMOS image sensor
Resolution – Quality 4K, Full HD video recording modes and NEW HDR movie mode
Viewing – X-T200 is equipped with a vari-angle 3.5-inch/ 16:9 Aspect Ratio widescreen LCD touch-screen that can be opened and closed between 0 to 180 degrees and rotated between -90 to +180 degrees
Lens – Approx. 24.2 megapixels
Additional Features – Hybrid phase and contrast detection auto focus. Highly Accurate Face and Eye Detection Algorithm
Achieve focus in dimly lit environments up to -2.0EV and get great image quality with low noise because of the advanced image processing provided by the camera's copper wire processor.
Fujifilm's legacy in color science has given it legendary status among image-makers across the world.
What we liked about this Mirrorless Camera
X-T200 is equipped with a vari-angle 3.5-inch/ 16:9 Aspect Ratio widescreen LCD touch-screen that can be opened and closed between 0 to 180 degrees and rotated between -90 to +180 degrees. It also provides an intuitive and responsive control over the camera's features and functionality and can be used to adjust a variety of settings, like brightness, background blur, Film Simulation effects, and image aspect ratios. An updated Face / Eye Detection AF makes focusing on individuals or groups of people quick and easy.
This is even possible when the camera's LCD monitor is flipped out and it is used to make a selfie. Additionally, automated functions will allow the camera to be set to recognize and track the subject within the frame.
Pros
Joystick control
3.5mm audio jack
Lightweight
Brilliant design
HDR movie mode
Long feature list
Cons
Supports only 15 minutes video at 4K resolution
2. Fujifilm X-T4 Mirrorless Camera
Sensor – 26.1MP 4th generation APS-C X-Trans CMOS 4 Sensor and X-Processor 4 Engine
Resolution – 4K/60P & Full HD/240P Videos
Additional Features – The X-T4 features a new Film Simulation mode, "ETERNA Bleach Bypass," to give both film and stills a more artistic look, with images having reduced saturation and increased contrast. The new AF algorithm on the X-T4 gives an AF speed of up to 0.02 second; which is the fastest AF speed among mirrorless cameras with an APS-C size sensor.
5-Axis In-Body Image Stabilization (IBIS)
The Face / Eye AF performance has been updated and is now around twice as good at tracking people's face and eye while shooting in burst mode.
The AF system in the X-T4 works down to -6.0EV, which is almost complete darkness. The phase detection AF system is fast and accurate even in these low light conditions.
The X-T4 has 63 weather sealed points which gives it the advanced level of dust- and moisture resistance.
What we liked about this Mirrorless Camera
Chase your creativity as far as it wants to go with Fujifilm X-T4. This powerful image-making tool offers professional photo and video functionality that can be quickly and easily accessed at the flick of a switch. X-T4 offers five-axis In-Body Image Stabilization, autofocus sensitivity down to -6EV, and Full HD/240p super slow-motion video recording. It also provides improved AF tracking performance and enhanced battery life compared to X-T3, along with a new mechanical shutter that is capable of making images at 15 frames per second and 300,000 actuations.
High-resolution movie footage can be made at DCI 4K/60p in 10-bit color, while the addition of a newly designed optional Vertical Battery Grip uses two extra batteries to provide nearly 2,000 still frames before needing to recharge. X-T4 is the ultimate camera for hybrid image makers who want the versatility to make the most of their creativity.
Pros
Great build quality
Powerful camera
Great design
Long feature list
Metal lens
3. Fujifilm X-S10 Mirrorless Camera
Sensor – 26.1 MP X-Trans CMOS 4 Sensor and X-Processor 4
Resolution –
Viewing – 4K/30P and Full-HD 240P Video Recording
Additional Features – 18 Film Simulation modes, including ETERNA Bleach Bypass. 6-Stop, Five-Axis In body Image Stabilisation (IBIS).
Face/Eye AF, Tracking AF
What we liked about this Mirrorless Camera
Within its compact body, X-S10 is equipped with a high-performance, five-axis In-Body Image Stabilization (IBIS) unit, which provides vibration reduction for those times you need it most. This high-performance gyroscope and accelerometer help to steady camera shake, allowing for sharper images. This means you can hand-hold the camera at shutter speeds up to six times slower than normal for still images or use it to help create smooth footage in video.
Additionally, X-S10's IBIS also synchronizes with Optical Image Stabilization (OIS) system lenses to deliver powerful and reliable image stabilization performance.X-S10 is unique because its footage is oversampled from an original 6K signal. Using this rich data, the camera can deliver high-resolution footage with relatively low noise. It also supports filming in DCI format with a 17:9 aspect, allowing for a truly high-quality cinematic look. When creating movies, you can use any of X-S10's 18 different Film Simulations to add your own distinctive look to footage, including ETERNA, the motion picture film stock used in many movie masterpieces.
Pros
Great for personal use
Compact and sturdy
Great autofocus
Easy to use
Great picture quality
Cons
Short battery life
Would have to buy a Fujifilm lens, which are not very affordable
4. Fujifilm X-A7 Mirrorless
Sensor – New 24.2MP APS-C CMOS Image Sensor uses Copper wiring construction to achieve premium image quality and advanced AF performance
Viewing – Large 3.5" 16: 9 wide Touchscreen LCD
Compact and lightweight design weighing only 455G with the kit lens
Advanced video performance and functions that cater to the growing demands for movie shooting
Diverse shooting modes that help produce photography with a creative flair
What we liked about this Mirrorless Camera
Advance your photography and make an impression with the X-A7. Simple, familiar controls at your fingertips let you create stunning results that tell your unique story. With a customizable touchscreen and simple tap-and-swipe operation on the 3.5 inch Vari-angle LCD screen, the X-A7 offers one-touch settings that let you make the most of the camera without all the photographic schooling. Give your photos the look you want using Fujifilm's unique "Film Simulation" mode. You can select your favorite color on LCD while checking the differences using the live view. This camera truly is one of the more stylish and the best mirrorless camera in India.
Pros
Lightweight and compact
Great video quality
3.5″ touchscreen
Simple to use for beginners
Adept enough for professionals
Looks great
Cons
Does not feel very sturdy
5. Panasonic LUMIX G7 4K Mirrorless Camera
Sensor – 16 megapixel Micro Four Thirds sensor with no low pass filter to confidently capture sharp images with a high dynamic range and artifact free performance; WiFi enabled
Resolution – 4K Video Capture: 4K QHD video recording (3840 x 2160) with three 4K Ultra HD capture at 25p and Full HD ( 1920 * 1080 ) at 50p. 4K Photo Mode : 8MP PHOTO BURST MODE at 30 fps, extracts individual high resolution images from 4K Ultra HD video filmed at 30 frames per second to capture split second moments
Viewing – High resolution viewfinder and lcd display: High resolution (2,360K dot) OLED Live View Finder and rear touch enabled 3 inch tilt/swivel LCD display (1,040 dot) are clear even in bright sunlight
Additional Features – Easily control aperture and shutter settings with the front and rear dials while making white balance and ISO adjustments on the fly; Assign favorite settings to any of the six function buttons (six on body, five on menu)
Connectivity and ports: 3.5mm external mic port, 2.5mm remote port, USB 2.0 and micro HDMI Type D; Compatible with newer UHS I/UHS II SDXC/SDHC SD cards capable of storing high resolution 4K videos
What we liked about this Mirrorless Camera
Special moments you want to remember can occur at any time and should be captured in the best resolution possible . Now Panasonic's 4K technology is available for everyone. With the introduction of new DMC-G7, you will be able to record video in 4K (upto QFHD: 3840*2160 pixels, 25fps, 100Mbits/s).
Whether you are watching movie or editing a videos, 4K delivers far more intense viewing experience than you have seen before. Its native resolution 3840*2160, pixels is four time larger than Full HD . Resulting in a much higher level of detail. Even if you export your footage filmed in 4K to a full HD TV, The videos will have even better definition and crisper details.
Pros
Great design
Sturdy design
4K support
Easy connectivity features
Easy to use
6. Panasonic Lumix G100 4K Mirrorless Camera
Sensor – Tripod Grip, Built-in Mic & 12-32mm Lens, Micro Four Thirds Sensor, Flip Screen, 5-Axis is, 4K 24p 30p Video (DC-G100VGW-K)
Resolution – 20.3 High Resolution MFT Sensor with 4K 30p Video – Shot in 4K or Full HD on the go, with a variety of frame rate options, you can keep your story telling fresh.
Viewing – 3″ Free-angle LCD – Perfect for vlogging, allowing you to see exactly what you are capturing. With the selected Recording frame indicator and the frame markers, you can ensure that your subject is in frame whether shooting vertically or horizontally.
Additional Features – Innovative OZO Audio with 3 built-in Microphones – Picks up sounds clearly, even without an external microphone and our new audio tracking mode detects faces to ensure it records your subject and not background noise.
What we liked about this Mirrorless Camera
A vlogging camera with superior performance and portability, designed especially for content creators. Shoot, transfer, edit, and upload in superb-quality 4K/30p and FHD/60p video. Next-level vlogging is here! The Lumix G100 brings you everything you need to create a high-quality vlog, with the superior performance and portability you have come to expect from LUMIX.
Advanced image stabilization, OZO audio tracking and tons of features designed especially for vloggers. DMW-SHGR1 tripod* is compact and lightweight for shooting on the go. Incorporates record, stop, shutter, and sleep controls. For people who like to record videos, this is the best mirrorless camera in India.
Pros
Perfect for shooting videos
Tripod grip for added comfort
3 built-in microphones
High resolution 4k video
Choose a variety of frame rates
Cons
Not very good for clicking photographs
7. Nikon Z50 Mirrorless Camera
Sensor – DX.CMOS. Body with Z DX 16-50mm f/3.5-6.3 VR Lens
Resolution – Effective pixels: 20.9million
Viewing – Automatically switches between monitor and viewfinder displays
Additional Features – Image Dust Off reference data (requires Capture NX-D)
What we liked about this Mirrorless Camera
Introducing the Z 50, a compact, lightweight, and powerful mirrorless camera. Inheriting the proud DNA of the Z series, this camera features a large inner diameter of 55mm and a short flange focal distance of 16mm – delivering incredibly vibrant images and three-dimensionality without the little imperfections. Capture spontaneous life moments with the intuitively-designed and comfortable camera body that feels like an extension of your hand.
It is almost as nimble and compact in size as your passport – though not as thin! Perfect for adventurers, wanderers, foodies and café-dwellers, slip the Z 50 into your bag the next time you go exploring and share your experiences with the world. For those aesthetic photographers, this Nikon camera is easily one of the best mirrorless cameras in India.
Pros
Perfect picture quality
Great design
Affordable for the features you get
Compact and lightweight
Easy to use
8. Canon EOS M50 Mirrorless Camera
Sensor – APS-C CMOS sensor with 24.1 MP. EF-M 15-45 is STM Lens. ISO: 100-25600 sensitivity range (critical for obtaining grain-free pictures, especially in low light). Image Processor: DIGIC 8 with 143 autofocus points (important for speed and accuracy of autofocus and burst photography)
Resolution – Video Resolution: 4K video with fully manual control and selectable frame rates (excellent for precision and high-quality video work)
Viewing –
Additional Features – WiFi, NFC and Bluetooth built-in (useful for remotely controlling your camera and transferring pictures wirelessly as you shoot)
Lens Mount: Canon EF-M mount
What we liked about this Mirrorless Camera
The EOS M50 with a large 24.1 MP APS-C CMOS Sensor along with Canon DIGIC 8 Image processor captures fine details and creates beautiful artistic impressions with excellent background blur/bokeh effects. It can create high detail low noise image even in dimly lit situation as it offers normal ISO range capability of ISO100 – 25600. In addition, it allows you to shoot approx. 7.4fps high speed continuous shooting with Servo AF to capture your subject with high precision and accuracy.
Just like Canon's DSLRs, their mirrorless cameras also are worthy enough to make the list of the best mirrorless camera in India.
Pros
Easy to use
Perfect for beginners
Perfect for professionals as well
Great design
Multiple features to allow you better handling
Cons
Shooting in 4k crops the frame
Expensive
9. Sony Alpha ILCE-7M3K Mirrorless Camera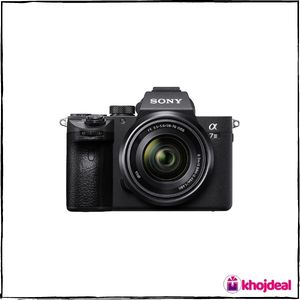 Sensor – Digital SLR Camera with 28-70mm Zoom Lens Full-Frame. Standard ISO range from 100 to 51200.
Resolution – 4K HDR with high resolution, wide dynamic range, and a wide color gamut approaches reality
Viewing – 4D Focus – Wide, Fast, Steadfast, AF performance inherited from α9. Tenacious AF/AE tracking during continuous shooting at up to 10 fps and up to 8fps in live view mode with mechanical or silent shutter
Additional Features – Outstanding reliability and features for smooth, confident shooting in a compact body. Fast AF/AE tracking for continuous shooting at up to 10 FPS
15-stop dynamic range at low-sensitivity settings. Aspect Ratio : 3:2
14-bit RAW output for natural gradations. 5-axis optical in-body image stabilization
2 Year standard warranty + 1 year extended warranty on registration on alpha community
Full pixel readout without binning for high-resolution 4K movies
What we liked about this Mirrorless Camera
A new version of the 24.2 megapixel Exmor R CMOS sensor combined with the latest BIONZ X image processing engine. Elevate your photography with imaging edge desktop applications. Use "remote" to control and monitor shooting live on your PC screen, viewer to quickly preview, rate and select photos from large image libraries. Register up to 30 frequently used items on the new My Menu for instant recall. You can create and customize an optimal menu for your own convenience.
Pros
Lightweight camera
Manual focus is easily one of the best available
Easy to use
Easy to handle and clean
Brilliant features
Cons
The app is not that well built
10. Sony Alpha ILCE-7SM3 Mirrorless Camera
Sensor – Newly developed 12.1-megapixel2 back-illuminated Exmor RTM CMOS image sensor. Newly developed BIONZ XR image processing engine with up to 8x the processing performance.
Resolution – 4K 120P, 4:2:2 10 bit, ISO 40-409600, high Dynamic Range, Videographers and Content Creators. Movie-making with 4K 120p 28, 10-bit 4:2:2 recording capability.
Additional Features – Fast Hybrid AF with 759 phase-detection AF points and enhanced Real-time Eye AF
Full-Frame
2 Year standard warranty + 1 year extended warranty on registration on alpha community
What we liked about this Mirrorless Camera
The newly developed back-illuminated full-frame Exmor RTM CMOS sensor, with 12.1 effective megapixels, boasts a readout speed up to twice as fast as that of the alpha 7S II, along with high sensitivity and wide dynamic range. Full-frame 4K recording at 120 fps16 with autofocus is possible thanks to the high-speed readout capabilities of the new image sensor working in tandem with the newly developed, powerful BIONZ XR processor.
This high image-quality 4K, with full-pixel readout without binning, allows for clear post-produced slow motion (up to 5x slower than real time), as well as bokeh effects typical of full-frame cameras, all with smooth, high-precision autofocus. If you have a good idea about photography, this would prove to be the best mirrorless camera in India for you.
Pros
Great design
Super easy to use
4K recording is also neat
High precision autofocus
Sturdy and lightweight
Cons
Has fewer features
Expensive
Everything About Mirrorless Cameras – Buying Guide
With Mirrorless Cameras hitting the market, professionals and beginners alike are vying to step up their photography game with this relatively new technology. Mirrorless cameras are much like DSLRs, but with a few advancements and advantages over the much loved and used DSLRs. Mirrorless cameras can be a little more compact, lightweight, have better prices, and are also quite easy to use.
If you wish to purchase the best mirrorless camera in India, we bring to you a proper buying guide to help you in your ordeal.
What are Mirrorless Cameras?
Mirrorless cameras, or Mirrorless Interchangeable-Lens Camera (MILC), also known as Digital Single-Lens Mirrorless (DSLM), are a newer form of cameras that feature a single removable lens with a digital display. The primary difference between a DSLR and a Mirrorless Camera is that DSLM's do not have a reflex mirror, or an optical viewfinder. Some mirrorless cameras might retain a mechanical shutter, and like any DSLR, DSLMs accept any lens compatible with its own lens mount.
What are the differences between Mirrorless Cameras and DSLRs?
DSLRs and DSLMs are both interchangeable lens cameras and are primarily used for more advanced photography. Both cameras have quite the big sensors for more light to be captured than standard digital cameras.
The key difference between the two lies in the way the image previews are displayed. DSLR cameras have a reflex mirror inside which bounces light into the optical viewfinder. In mirrorless cameras, the light goes directly inside the image sensor.
This allows DLSMs to be much more compact, lightweight, more affordable, while retaining all its abilities to capture brilliant and quality photos. The preview is displayed on the LCD screen like most modern digital cameras.
Pros and Cons of DSLRs and DSLMs
Pros of DSLRs
They come with an optical viewfinder, which reduces the delay
Faster autofocus and ability to track moving objects
A huge variety of lenses available to use
They have a long battery life
Cons of DSLRs
Can be bulky and heavy
Slower continuous shooting speeds
Difficult to clean and maintain
Pros of DSLMs
They are generally compact and lightweight
Fast continuous shooting potential
Much better video quality, 4K is available in most entry-level cameras as well
Their automatic settings are totally viable
Cons of DSLMs
Some models do not have an optical viewfinder
Electronic viewfinders come with a delay
Smaller collection of lenses
Shorter battery life
Frequently Asked Questions (FAQs)
DSLR vs Mirrorless cameras – Which are better?
Both DSLRs and Mirrorless cameras are viable. You may be a professional or a beginner, both cameras would prove equally useful to your cause. Mirrorless cameras are just lighter and more compact in size with a few other advantages over DSLRs.
What are the differences between DSLRs and mirrorless cameras?
The primary difference between DSLRs and Mirrorless cameras is that Mirrorless cameras do not come with a reflex mirror that makes them lighter and more compact. For videos, you would find mirrorless cameras much more usable, however, if you are already used to DSLRs and like the form factor, you can continue using them. The best mirrorless cameras in India are listed above.
Are mirrorless cameras good for beginners?
Yes, totally. Mirrorless cameras provide entry-level photographers quite the easy path into professional photography. Since good DSLRs can be expensive, mirrorless cameras are becoming all the rage amongst amateur photographers for its easy functionality and affordable prices. Some of the best mirrorless camera in India are listed above.
How much should I spend on a camera?
If you are an entry-level photographer, spending a good Rs. 50,000 is a viable choice. Also, if you do not know, camera lenses can be bought separately as well. So if you are running low on cash, you can simply buy a good camera body now and invest in those expensive lenses later on. Our advice to you is – always invest in a good and durable camera body since the lenses can be replaced anytime.
Conclusion
When it comes to cameras, we all know DSLRs to be the best ones around. However, mirrorless cameras are gaining popularity day by day and show no signs of stopping. There are some truly incredible mirrorless cameras in the market today. However, purchasing them is no easy feat. They are a relatively new technology that consumers have little to no idea about, especially ones who are just stepping into photography.
Our photography experts at Khojdeal have listed the best mirrorless camera in India. Read our buying guide to understand all about mirrorless cameras and what exactly to look for during purchasing.