For us who love to stay in their man cave or game room – maybe you love to travel and go on picnics – or just need a couple of sodas during a drive. We bring you the most innovative product – The Mini Fridge.
A mini fridge can be very useful to avoid the incessant movement between office and kitchen, to avoid having to go down to the floor where the fridge is located or even in the car to have drinks always fresh!
It is however sometimes difficult to find your way among the manufacturers' offers, there are indeed several types of a mini fridge, some are intended to be transported by car, others are not, some go down very low in temperature but are somewhat noisy, others descend less low but are completely silent.
We therefore offer you on this page a selection of the best small fridges, explaining each time their use, their strengths and weaknesses. At the end of the page you will also find a guide to buying mini-fridges, taking point by point all the criteria we used for our selection.
Best Mini Fridge in India Reviewed: Updated 2021
The market has to offer a lot of mini fridges. The question is which one is the best to choose from. We have listed the best mini refrigerators in India so you don't have to look further.
| | | |
| --- | --- | --- |
| Mini Refrigerator | Capacity | Price |
| Haier 3 Star Direct Cool Single Door Refrigerator (HR-62VS, Silver) | 52 liter | Rs. 8,400 |
| LG 1 Star Direct Cool Single Door Desktop Fridge (GL-B051RSWB, Super White) | 45 liter | Rs. 6,780 |
| Whirlpool 3 Star Mini Refrigerator (65 W-ATOM PRM 3S, Steel) | 46 liter | Rs. 8,490 |
| Godrej Qube Personal Cooling Solution | 30 liter | Rs. 6,352 |
| Mitashi 2 Star Direct Cool Single Door Refrigerator (MiRFSDM2S052v120, Silver) | 52 liter | Rs. 7,793 |
| Koryo by Big Bazaar Direct Cool Single Door Refrigerator (KMR45SV, Silver) | 45 liter | Rs. 7,499 |
| Leonard-USA Stainless Steel Door Mini Refrigerator | 60 liter | Rs. 9,990 |
| Lifelong Direct Cool Single Door Refrigerator (LLMB50, Silver) | 50 liter | Rs. 7,290 |
| Kelvinator 1 Star Single Door Refrigerator (KRC-A060SGP, Silver Grey) | 45 liter | Rs. 8,290 |
| Croma 2 Star Direct Cool Single Door Refrigerator (CRAR0218, Grey) | 50 liter | Rs. 7,990 |
1. Haier Mini Fridge: HR- 62VS
Capacity : 52 L
Direct Cool and Single Door
Dimensions : 48 X 49 X 45 cm
Warranty: 1 year on product, 5 years on compressor
Energy Rating: 3 Star
Shelf Type: Wired Shelves
Freezer capacity : 6 L
Ideal for small room, mini bar and small offices.
Compressor based fridge.
2. Godrej Mini Fridge: Qube
Capacity : 30 L
Advanced Solid state electronic cooling technology.
No Defrosting required.
Warranty: 1 year on product
Whisper Silent operation.
Runs on home inverter
Ideal for small room, bedroom, mini bar.
Energy consumption : 208 Kilowatt Hours / annually
Advanced thermoelectric cooling technology
Dimensions : 47 x 44 x 46 Centimeters
3. LG Mini Fridge: GL – 051SSW
Capacity : 45 L
Warranty: 1 year warranty on product ; 5 years warranty on compressor.
Special features: Steel material, door lock control options, powerful cooling and ice tray.
Annual Energy Consumption : 270 Kilowatt Hours
Separate Freezer Compartment with temperature regulator.
Dimensions : 45 x 44.3 x 50.1 Centimeters
Compressor technology
4. Mitashi Mini Fridge: MSD052RF200
Capacity : 52 L
Energy rating : 2 stars
Annual Energy Consumption : 225 Kilowatt Hours
Warranty: 1 year on product, 5 years on compressor.
Shelf Type : Wired Shelves
Freezer Capacity : 4 Liters
Dimensions : 48 x 45.5 x 51 Centimeters
Direct Cool Technology
Special Features – Manual defrost Button, Mechanical temperature control system, Ice Tray and Adjustable leg.
It uses the R600A refrigerant that give higher performance in faster cooling, excellent thermodynamic performance, causes lower environmental impacts and 0% ozone depletion potential.
Compressor based cooling
5. Whirlpool Mini Fridge:
65 W-ATOM PRM 3S
Capacity : 46 L
Energy Rating : 3 star
Dimensions : 47.4 x 44.7 x 49.6 (cm)
Warranty: 1 year on product, 10 years on compressor
Annual Energy Consumption : 152 Kilowatt Hours
Compressor based cooling
Wired shelf
Chocolate Tray : Comes with a compact, easy access & removable tray which can used to store chocolates, butter, cheese etc.
Available with 7 adjustable modes
6. Plentaude Mini Fridge: Dual-Use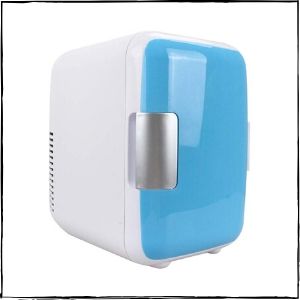 Capacity : 4 L
An integrated top handle.
This beautiful glossing finish fits perfectly on any vanity or in any home.
Great for personal spaces, Travel, offices, dorms, road trips, boating, camping, tailgating, commuting, and more!
Incredibly portable.
When switched to the cool setting, the food or drink being stored in the fridge must already be cold for the item to stay cool.
Rated Power : 48 – 60W
Size : 24 x 18 x 25cm
7. Chefman Mini Fridge
Capacity : 4 L
Interior capacity : 5 x 5 x 7.5
Dual Mode : With the flip of a switch, set the fridge to either cool or warm to store your food and drinks.
The eraser door is great for writing notes.
100% Freon-Free and Eco Friendly
1 – year hassle free warranty
Voltage : 120 Volts
Thermoelectric cooling technology
8. Tropicool Mini Fridge: PC – 05W
Capacity: 5 liters
Dimensions : 21 x 25.5 x 26.5 cm
Input: 12/24 V DC OR 230V AC (built-in DC to AC converter)
Solar Power : Yes
Temperature Range: 5 degree Celsius to 60-degree Celsius
Single Thermoelectric cooling technology
Ideal to store your cold beverages at work, medicine or insulin carrier, fresh fruits, dairy products, and baby food.
Pre-Cooling : This product when pre-cooled for an hour before use will maintain your food, drinks, medicines for a long time without spoiling.
Warranty: 1 year
Modes: Hot & Cold Switch
9. Godrej Mini Fridge: RD CHAMP 114
Capacity : 99 L
Energy Rating : 1 star
Direct Cool and Single Door
The voltage range is 140-260 volts.
Warranty: 1 year on product and 10 years on compressor
Annual Electricity Consumption : 305 KWH
Shelf Type: Wired Shelves
Dimensions : 56.7 x 48.7 x 85.1 Centimeters
Compressor based cooling.
10. BLACK+DECKER Mini Fridge: BCRK25V
Capacity : 2.5 cubic feet
Adjustable Thermostat Control and Leveling Legs offer ultimate versatility.
Full Width Freezer Compartment with Ice Cube Tray
Reversible Door and Space Saving Flat Back Design
1 Year Warranty and 2 Year Warranty on compressor
Energy Star Certified
Dimensions : 17.5″ x 18.5″ x 26.6″
Dispenser Storage for Cans
Compressor based cooling.
11. Koryo Mini Fridge: KMR45SV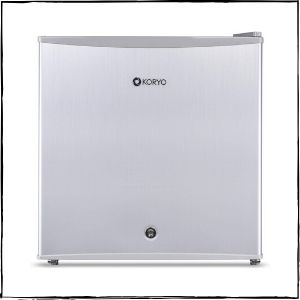 Capacity : 45 L
Energy Rating : 4 star
Direct Cool and single Door Refrigerator
Toughened Glass Shelves, Ice and Egg tray and Drip tray
R600a Eco Friendly Refrigerant
Stabilizer free operation
Warranty: 5 Years on Compressor and 1 year on Product
Annual Energy Consumption : 75 Kilowatt Hours
Freezer Capacity : 5 Liters
Dimensions : 48.26 x 45.72 x 48.26 Centimeters
Compressor based cooling.
---
Everything About Mini Fridge in India – Buying Guide
The best mini refrigerators in India are a little tricky to sort out – more than buying a normal kitchen refrigerator. Most common uses for a mini fridge are in dorm rooms, offices, in smaller rooms or while travelling. For each purpose, the fridge to be used will have different specifications. For example, given you need to put only drinks or sodas in your mini fridge – you might go for only drink storage. While travelling you might need to keep a few things preserved for a while – the consequential fridge you purchase will have those features. The all purpose mini fridge is quite a feat to figure out, but most of it is personal preference and terms of use.
Types of Mini Fridges
Based on technologies used by the appliance to perform the cooling functions.
Thermoelectric Mini Fridges
Perfect for short-term use – usually for outdoor parties or to store movie time snacks. This kind has a warming function too as it transfers heat from one side to another using a pump. A built in fan is the only source of noise from the fridge as no liquid is used in the cooling process.
Compressor Mini Fridges
The most common kind of fridge available as larger kitchen refrigerators. They use a vaporized liquid and a fan to blow air through coils from the refrigeration compartment. They make a soft humming sound that can be bothersome if used in a bedroom.
Absorption Mini Fridges
Mostly found in hotel rooms, they make very little to no sound at all. Perfect for bedrooms and long term uses. Work similarly as a thermoelectric, using a source of heat passing throughout the fridge.
Based on size and apparent uses of the fridge.
Portable Mini Fridges
As the name suggests portability is the primary selling point of this kind of fridge. A majority of portable mini fridges use thermoelectric technology to cool and heat the contents inside. The heat is sucked out from inside the fridge and can be put to use as opposite functionality – to heat the contents as well. Best used in dorm rooms, small office spaces and of course while travelling.
Cube Mini Fridges
Taking more space than a portable mini fridge and more energy consumption. a cube mini fridge is way less portable. They work similarly to a normal sized fridge, as in they use a compressor or absorption technology to cool its contents. However, no frozen items should be placed inside. The compressor type is more noisy than the ones that use absorption technology. They can be used in a dorm room or office spaces. In addition to that the ones that work on absorption could be helpful in a picnic or travelling purposes as well.
Mid-Size Mini Fridges
They are larger than either of the earlier mentioned refrigerators, consuming more electricity. They work on compression technology and comes with a number of shelves and a freezer. You can store your frozen food inside – mid-size mini fridges work well in a bedroom or a home-bar type situation.
Under the Counter Mini Fridges
The go to appliance for people who have an in house bar. They are mainly used to store beverages and are generally used as dedicated wine coolers. With a high capacity, they are best used in mini-bars or an RV/caravan.
A Few Feature Points of Interest
Glass shelves are better than wire racks : They help contain spills and are easier to clean.
Buy the model that fits where you want it to : Look at the amount of space you are allocating to your new fridge and buy accordingly.
Check the technology used that performs the cooling functions : Mini fridges must not be used to store frozen or perishable foods. Though some that come with a compressor might be able to help with your desired needs.
Consider a two-door fridge : If you plan to store frozen foods, opt for a two-door version. Sacrificing some space – you might still keep your frozen food frozen.
Electricity consumption : Though mini-fridges are quite energy compliant, purchase one that delivers your needs with the least amount of energy used.
Remember what you need the mini-fridge for : Mostly used in dorm rooms, home bars or as travelling beverage/food containers, look for the fridge that best suits your needs.
Warranty : Consider the repair and return policy in case of a defective model. Warranty guarantees you get the best value from any product with ample support.
How to Take Care of your Mini Fridge
Keep it upright : Technicalities in a fridge require it to stay upright. Keep it that way.
Clean it often : To avoid bacterial and mold growth, make a note to clean your fridge once a week. Inspect the contents and wipe shelves often.
Defrost : If you plan to go out and leave the fridge at home, remember to defrost it. Empty the contents inside and defrost overnight.
Overloading : Remember not to overload your fridge, as a result cooling might slow down or come to a halt entirely.
Organize : Always keep in mind to organize contents to ensure proper air flow.
Here is a detailed guide that helps you cleaning a refrigerator.
---
Frequently Asked Questions (FAQs) About Mini Fridges in India
What is the smallest refrigerator available?
Mini refrigerators are quite small than their full sized kitchen counterparts. They require less space and electricity. Most mini fridges are about 1.7 cubic feet up to 4.5 cubic feet.
How long do mini fridges last?
Given your appliance is well maintained and cared for, a mini fridge can easily last upwards of 5-8 years. Read our buying guide to see how to maintain and take care of your fridge.
What's the best mini fridge for college?
Mini fridges are somewhat made for small rooms, dorms and such. A mid–size fridge to store snacks and beverages will assure a chilled soda in the middle of a hectic study session. A portable fridge is especially good to use in a dorm room scenario.
Do mini fridges leak water?
In case of an overload, condensation build up is pretty common in all refrigerators. Which results in water leaking out. Make sure the contents in the appliance is enough for it to handle. Air inside needs space to move around and perform the cooling functions.
What can I put in my mini fridge?
Anything from beverages to quick snacks can be stored in a mini fridge. Make note of what kind of fridge you have, since some of them – mainly the two-door kind is pretty efficient at preserving frozen foods as well. Others are not. If your need is to store beverages only, look for a dedicated beverage storing unit.
Do mini fridges have a freezer?
Smaller mini fridges have no space or the capacity of a freezer. Slightly bigger models and especially two-door models are effective at preserving frozen food. Models that work on compressor format perform better freezing functions.
Can you put a mini fridge on carpet?
It is not advised to keep a fridge on carpet. Best option is to place it on a solid surface – wooden board, plastic mat, vinyl flooring and such. It avoids dents created by the fridge's stand and won't wet your carpet in case if some condensation occurs.
Can you keep food in a mini fridge?
It is possible to do that, but avoid placing perishable foods in a mini fridge for long. Eggs and milk will spoil easier since cooling functions are not as strong as a generic normal sized refrigerator. Meat must not be stored in a mini fridge unless it has a dedicated freezer or strong cooling capabilities.
How long does a mini fridge take to get cold?
From the time it is plugged in, it is advised to wait a whole 24 hours for the fridge to cool down to usable temperature.
What is the best mini fridge to buy?
Depending on capacity, build type, technology used for cooling – a lot of options open up. Keep in mind where you would use the mini fridge. For travelling and picnic excursions, a portable fridge is the best. For dorm rooms and office spaces – a mid size mini fridge would give you enough space and cooling. A two-door or a under the counter kind is best for a home bar setting. The best mini refrigerators in India are mentioned below.
What should I keep in a mini fridge?
Easily perishable food items are not suggested to be stored in a mini fridge. Cheese, snacks, pizza leftovers, booze, water and fruits are commonly stored items. Keep a collection of these so you wouldn't go hungry during a picnic or during midnight study sessions in your dorm room.
---
Conclusion
The popular kitchen appliance is now incredibly portable. Excursions and dorm rooms need a mini fridge. Keeping your food and drinks preserved in a smaller more compact space is the way to go if you are a bachelor. Going out for picnics is now way more fun with a portable refrigerator. The best mini refrigerators in India have been listed by our experts.
Khojdeal brings to you the best in the market. We constantly review products and deals to keep you informed and supplied.
---
Related Articles
Loved our blog on Best Mini Fridge In India? Do share it with your friends on Facebook, Twitter, and Whatsapp.