Scouting for the best mattress brands in India? Our experts at Khojdeal have reviewed the top 10 best mattress brands in India keeping comfort, budget, structure, material and size in mind.
A good night's sleep is the perfect end to a productive day. A perfect day should end with proper sleep on a cozy mattress. As we researched your needs regarding mattresses, it became obvious that for consumers, comfort is the priority.
We have sought and found the most comfortable mattresses in India with great deals. Read through to know about the best mattress brands in India so you never have to compromise with your sleep again. If you are looking to bring in some extra protection for your valuable mattress, we have even listed the best waterproof mattress protector in India.
List of The Best Mattress Brands In India 2023
Buying the perfect mattress is a matter of daily indulgence. Looking for the best mattress brands in India is as much a personal preferences as it is unimaginably painstaking. We cherry picked the best mattress brands in India so you can find which one is the best for you.
| | | | |
| --- | --- | --- | --- |
| S. No. | Best Mattress Brands In India | Type | Price |
| 1. | The Sleep Company | SmartGRID | Rs. 12,695 |
| 2. | Wakefit Orthopaedic Single Bed Mattress | Memory Foam | Rs. 6,396 |
| 3. | Sleepwell Starlite Mega Extra Firm King Size Mattress | Bonded Foam | Rs. 6,669 |
| 4. | Sleepyhead 3 Layered Orthopedic Single Bed Mattress | Memory Foam | Rs. 7,999 |
| 5. | SleepX Dual Double Bed Mattress | High Density Hard Foam | Rs. 6,197 |
| 6. | SleepyCat Orthopedic Double Bed Mattress | Gel Memory Foam | Rs. 10,023 |
| 7. | Duroflex Back Magic Orthopaedic Single Bed Mattress | Coir | Rs. 6,646 |
| 8. | Amore International Medico Eurotop Mattress | Bonnell Spring | Rs. 5,370 |
| 9. | Extra Sleep Orthopaedic Single Bed Mattress | Coir | Rs. 4,906 |
| 10. | Springtek Ortho Pocket Spring Single Bed Mattress | Pocket coils & Foam | Rs. 9,299 |
Top 10 Best Mattress Brands In India – Review
The Sleep Company
Sleepwell
Wakefit
SleepyCat
Dreamzee
Sleepyhead
Wakefit
Springtek
Peps
Flo Ergo
📌Must Read: 10 Best Bed Frames In India
1. The Sleep Company
The Sleep Company is India's leading comfort innovation company and the creator of the revolutionary SmartGRID mattress. Founded in 2019, the company aims to offer customers the best sleeping experience with Patented Japanese SmartGRID technology that offers both ultimate comfort and optimal support for the body. The company has been single-handedly responsible for bringing India's comfort technology ecosystem to the 21st century with its Patented Japanese SmartGRID technology. Today, with a wide range of products, it is revolutionizing the way people sleep and sit.
SmartGRID mattress features advanced patented Japanese SmartGRID Technology that intelligently adapts to all body shapes, and provides relief at all pressure points.
The only mattress that provides the perfect balance of luxury comfort and firm back support that keeps your spine aligned and relieves pressure points. Firmness Score – Medium Firm (7.5/10)
Scientifically approved and recommended by Experts, Doctors, and Scientists at the All India Health Association (AIHA)
The mattress comes rolled in a bag – easy to install in less than 20 mins. Enjoy 100-night free trial, easy returns, No-cost EMI, and a 10-year warranty.
Features
Dimension: 72 inches in length, 30 inches in width, and 5 inches in height
Patented Japanese SmartGRID Technology: advanced sleep technology that adapts to the body's shape
AIHA Certified Orthopedic Mattress: scientifically approved and recommended by experts for back pain relief
2500+ air channels for improved airflow and cooler sleep
Ortho Relief Foam for enhanced orthopedic support and pain-free sleep experience
Pros
Zero motion transfer
Best quality
Reduces back pain
Comes with 100 Days trial
Extremely soft and comfortable
2. Sleepwell Starlite Discover, Foam Mattress (Double Bed / King / Queen / Single)
Sleepwell is a household name in India for sleeping solutions. Made of high density hard foam with an air mesh fabric providing air circulation improving quality of sleep. Sleepwell provides a year worth of warranty and comes with soft PU foam quilting for better comfort.
Features
Product Dimensions: Length (198.12 cm), Width (121.92 cm), Height (10.16 cm)
Primary Material: Foam
Bed Size: Double
No Assembly Required: The product is delivered in a pre-assembled state
Warranty: 1 year on product
Better comfort-Soft PU foam quilting
Improved air circulation – Air-mesh fabric
Pros
Great quality
Durable and long-lasting
Comfortable PU foam
Comes with 1-year warranty
Lightweight
Cons
Fabric not very good
Heating issues
3. Wakefit Orthopedic, Memory Foam Mattress (Single Bed)
Wakefit Mattresses delivers throughout India, offers a 10 year warranty and a 100 night trial offer. Orthopedic mattresses are designed to support back, joints and the overall body. If you have back problems, orthopedic mattress can greatly help with relieving pain and letting you enjoy a good night's sleep.
Features
Length (72 Inches), Width (36 Inches), Height (5 Inches)
Color : White , Mattress Feel : Medium Firm.
Warranty : 10 Years Manufacturer warranty.
Wakefit's Memory Foam mattress made from high quality memory foam with the latest technological innovations provide excellent back support.
Factory delivery.
Pros
Comes with a high-quality GSM spun knitted fabric cover.
Encased in a removable zipper cover
3 layered mattress
Certified raw materials used
Utmost comfort and support provided
Best for backache and spine alignment
Customization available
4. SleepyCat Orthopedic Gel, Memory Foam Mattress (King Size)
SleepyCat mattress comes with high density foam for support and durability. An anti-skid base that keeps the mattress from shifting. SleepyCat also offers 10 years warranty, 30 night trial and free shipping for you to sleep peacefully without compromise.
Features
Luxury 6 inch Mattress with 1-inch of Gel memory foam & 5 inches of high density Base support foam.
Premium quality designer zipper cover with Breezy inner cover.
Zero partner disturbance. Zero harmful chemicals used.
10-Year Warranty.
Factory delivery
Pros
Affordable mattresses
Size is nearly perfect (Length X Breadth)
Movement in one side of the mattress does not disturb person on the other side. (This is best part I liked)
Comfortable and come with mattress cover. (Never tested it is water proof or not)
Mostly as advertised.
5. Dreamzee Ortho-Care, Memory Foam Mattress – Soft Comfort (Single Bed)
Dreamzee mattress are manufactured wholly in India. They offer free delivery directly from their factory. With the ability to redistribute weight evenly over the mattress, Dreamzee provides you with total comfort and helps with back and joint aches. It comes with pressure relieving technology and offers a wide variety in mattress from natural to spring and ortho-care mattresses.
Features
Soft at the top and medium firm at the bottom. It's a reversible mattress having " Dual Comfort " feature that can be used both sides as per comfort needed.
Cushioning Layer – A deluxe cushioning of 1" Cool Memory Foam and 1″ Soft Foam. This foam takes the shape of your body and also helps in regulating temperature to ease pressure points for a restful sleep.
Support Layer – The High-Resilience foam at the bottom provides good support from head-to-toe which enhances the sleeping quality.
Fabric – Newly introduced High GSM Quilted Knitted Breathable Fabric with Hexagon design for elegant looks.
Warranty & Certificate – 5 years manufacturer's warranty being certified with ISO for using Pure Foam in our mattresses.
Pros
Perfect shape and size.
Well stitched.
Fabric used is very soft and comfortable.
No heating issues, great temperature control

Natural latex so antibacterial

Durable
Good for pain relief
6. Sleepyhead 3 Layered Orthopedic, Memory Foam Mattress (King Size)
Sleepyhead 3 layered mattress is available in three categories – hard, soft and springy. Avail their 100 nights trial to find which one suits you the best. With a 10 year warranty and a removable and washable outer cover has you covered. Sleepyhead saves you money by cutting out retail stores from the equation and delivering mattresses straight from their factory.
Features
Primary Dimensions: Length (198.1 cm) , Width (182.8 cm) , Height (15.2 cm)
Primary Material: Foam
Colour: White
Warranty: 10 Year Warranty
Layers: Comfort Foam for that cocoon- like feeling, Pressure Relieving Memory Foam for even weight distribution, High-Density HR Foam for Orthopedic Support, High GSM Breathable Fabric
Features: 100 Nights Trial, Free Home Delivery, Removable and Washable Outer Fabric.
100% Manufactured in India
Pros
Really comfortable
Thick foam layer
No heating issues
Easy cleaning
Durable
Soft fabric
Cons
Customer service not very good
📌Must Read: Top 10 Best Study Tables for Students In India
7. Wakefit Dual Comfort Mattress, Hard & Soft (Queen Bed)
Usable on both sides, Wakefit Dual Comfort mattress is the perfect solution for people who like to switch their sleeping styles on the go. The grey side is medium-firm for support sleep and the white medium-soft side helps with comfort. A breathable fabric regulates heat and results in a peaceful sleep. The firm side of the blanket can be used during the winters, while the softer white side is perfect for the summers providing balanced sleep all year round.
Features
Length (78 Inches), Width (60 Inches), Height (5 Inches)
Color : White , Mattress Feel : Medium Firm & Medium Soft on Different Sides
Warranty : 3 Years Manufacturer warranty.
Wakefit's Memory Foam mattress made from high quality memory foam with the latest technological innovations provide excellent back support.
Direct from Factory
Pros
Comes with a high-quality GSM spun knitted fabric cover.
Encased in a removable zipper cover
3 layered mattress
Certified raw materials used
Utmost comfort and support provided
Best for backache and spine alignment
Customization available
8. Springtek Dual Comfort, Foam Mattress (Single Size)
Springtek are one of the most reviewed mattresses in India. Built on precision engineered springs with high quality foam and air flow fabric, for comfort and temperature control during sleep. Springtek offers 11 year of warranty with a 30 night trial so you never go wrong with their product. The mattress is reversible and can be used on either sides for preferred comfort.
Features
Product Dimensions: Length (182.88 Cm), Width (91.44 Cm), Height (10.16 Cm)
Material Type : High density foam & cover : Premium quality cotton breathable fabric for improved air circulation.
Reversible – Reversed side features a high-performance Pu foam that offers extra firm surface. It is apt for people who prefer a hard sleeping surface.
Affordable Price.
Breathable Fabric & Tension Free Sleep.
4 Year Warranty Against Manufacturing Defects.
Pros
Zero motion transfer
Comfortable on the back
Medium firmness
Long warranty period
Material is very good
Durable and long-lasting
Affordable mattresses
9. Peps Spring Koil, Bonnell Spring Mattress (6 Inch / Single Bed)
Using the traditional Bonnell spring mattress, the Bonnell coil having the shape of an hourglass – wider at the top and bottom than the middle, Peps Spring Koil mattress is strong and durable. Peps offers 4 years of warranty on their rigid yet comfortable design which is also lighter on the budget.
Features
Primary Material: PU Foam
Bed Size: Single
No Assembly Required: The product is delivered in a pre-assembled state
Warranty: 5 years on product.
PU (Polyurethane) foam and Woven fabric – Provides sufficient comfort and woven fabric is rigid yet thick for a long life.
Reversible – It has made to use both the sides and gives the same comfort as new, for an years
Pros
Highly comfortable
Long 5 year warranty
Reversible
Rigid design
Affordable
Cons
Material and build quality not up to the mark
10. Flo Ergo Gel, Memory Foam + Proprietary Responsive Foam Mattress
Flo Ergo supports the natural posture of the body while sleeping, not only reacting to your weight but also body temperature for a cozy sleep. A 100 night trial with a 10 year warranty, Flo Ergo mattress conforms to your body shape and the high quality foam compresses more under heavier parts of the body providing excellent back support. The cover is Aloe Vera infused on either sides making the mattress reversible with a touch of skin care on the side.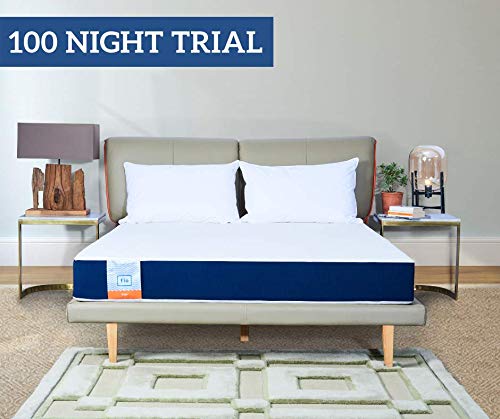 Features
Back Support : The Ergo is recommended for those who prefer softer ergonomic support. Our proprietary responsive poly foam forms the foundation of this mattress and ensures that no part of your body sinks into the mattress more than it should.
100 nights trial.
Zero partner disturbance.
Sleep cooler: Our foams are infused with white gel micro-capsules that absorb heat from your body when it is warm outside. This warmth then travels to the periphery of the mattress where it is released away from your body via our 3D air flow fabric.
Aloe Vera gel infused zipper cover: Our mattress comes with a unique Aloe Vera Gel infused zippered cover, which not only protects your mattress but also keeps your skin looking relaxed and youthful
10 year warranty.
Pros
Allows 100 nights trial period
Super long 10-year warranty
Ergonomic with great back support
Breathable
Highly comfortable
Durable and long-lasting
---
Mattresses Buying Guide – How To Choose The Best Mattress In India?
There are certain know hows that can help you with the purchase of the best and most comfortable mattress available. Here are some things to look out for.
Structure: A matter of personal preference is often at work while looking for a mattress. People with back pain mostly go for memory foam mattresses, since the alignment of the spine is finest on memory foam.
Size and Material: Do not forget to check dimensions while purchasing a mattress, as well as the material it is made from. Memory foam, cotton and coir made are the most commonly bought.
Delivery times: Often shopping online means waiting for your product for days. A good night's sleep must not be far away. Look for availability in your location before buying.
Ability to conform to the sleeper: For comfort to be absolute, mattresses should match up to the body of the sleeper. Memory foam, since it adapts to the body, provides the most comfort with less stress on the spine.
Temperature control: As people love warmth, temperature control in a mattress is crucial. Foam and latex mattresses have a solid core and trap more heat, while cotton mattresses breathe better and spring mattresses help with airflow within the mattress.
Price: An expensive mattress almost certainly means a better product. With technological innovations now in our bedrooms, memory foam mattresses or water beds are often never under budget. Search through our picks below to find the perfect match.
Durability: Mattresses are naturally extensively used, a good find could be a worthy investment. Coir mattresses are cheaper and last for not more than a couple of years, cotton lasts longer than coir but foam mattresses are the most durable, lasting upwards of 8-10 years.
Exchange: A newer mattress could be availed if your previous one has not been too damaged. Terms and conditions are often listed with the product.
Trials: Currently, sellers let their customers choose their perfect product by first letting them use it. Schedule a trial and find one that suits you the most.
Personal preferences: Choice over mattresses are quite personal. Depending on needs, such as temperature control, being Eco-friendly and lacking synthetic materials or versatility can affect your choice to buy your perfect mattress. Foam mattresses are quite versatile in that regard and conform to more preferences than the others.
Warranty: Mattress, since used extensively, are built to last. Unsparing warranty is often provided. Usual wear and tear is not covered.
Spending more often guarantees a better product, but preferences as per person cannot be ignored. People with cervical pain or back issues need to sleep in an agreeable posture. Keep reading to find the best and most durable mattress in India that helps you sleep at night.
Types of Mattresses in India
Coir Mattress: Made of coconut husks. Cheap and traps heat.
Foam Mattress: Rely on air trapped within aerated substances to offer support.
Spring Mattress: Made of individual springs. Good airflow but bad for back pains.
Latex Mattress: Latex combined with springs and natural fillings.
Memory Foam Mattress: Uses body heat and weight to mold to your shape.
Repose Mattress / Airbed: Inflatable mattresses. Can be used for camping.
Waterbed: Filled with water. Intended for medical therapies.
Everything To Know About Mattresses In India
What to look for in a mattress?
Buying a mattress is a matter of preference. Looking for the best one depends on what you want. If back and joint aches are common for you, getting a softer, memory foam mattress would do wonders.
People who prefer support and a tougher surface to sleep on would go for coir or spring mattress. Cotton mattresses are for individuals who like breath-ability and air flow in their mattresses.
For camping and recreational purposes, an inflatable airbed would be a great purchase.
Pros and cons of different styles of mattresses
With a few options to choose from, mattresses can provide different levels of comfort and benefits.
Coir mattresses are made of coconut husks combined with some latex. They are cheap and easy to find but are not durable and trap quite a lot of heat.
Spring mattresses are commonly found and offer support to the sleeper and good airflow. Its tougher surface might lead to back aches and its springs often degrade with continuous use.
Cotton mattresses regulate airflow and are stay cool. They are often saturated with chemicals and might be harmful if not handled properly.
Foam mattresses have similar benefits as of memory foam mattresses, only that memory foam has a lesser reverse pressure from that of oil based foam mattresses. Memory foam helps with blood circulation and joint aches as the bedding sinks in with respect to the sleeper.
Mattress Sizes in India
Mattress in India are generally described by 4 sizes. Single, double, queen and king, As suggested, single beds are relevant for single sleepers, double size might feel cramped for two adults, queen would easily fit two adults and king size is perfect for a family of three.
How does a good mattress affect your sleep?
A good mattress can really help you get some proper sleep. There are a lot of options out there and each person has their own preferences. For example, some mattresses are made specifically for people with back aches which provide adequate comfort allowing for a restful sleep.
So, how does a mattress allow you to sleep better? Here are a few ways.
Restful sleep removes stress and anxiety – A good night's sleep will fill you up with positive energy the next day. An old and uncomfortable mattress can have serious repercussions and cause you to be drowsy all day long. If not fixed up soon, lack of good sleep can even cause serious psychological issues.
A mattress can relives aches – As mentioned, some mattresses are made specially for people with back aches. If you are one of those, a good orthopedic mattress can really prove helpful to your cause.
Old mattresses can cause allergies – Old mattresses can contribute heavily to allergies. Dust mites and such get lodged inside the mattress and it can get really difficult to get rid of them, even after a vigorous cleaning procedure. Changing to a new mattress can really help you out in this regard.
---
Frequently Asked Questions About Mattresses (FAQs):
Where to buy mattresses?
With the benefits of online shopping, mattresses can be delivered right to your doorstep. Trials can be availed either physically in store or even with shopping online.
What mattress sizes are available?
Generally, beds are made to fit either a king size (78″ x 72″), queen size (78″ x 60″) , full size (75″ x 54″) and a single bed (75″ x 36″) mattress.
Which is the best mattress for overweight people?
According to overweight people, memory foam mattresses are the best and most comfortable beds out there.
When should I replace my mattress?
Fortunately – or unfortunately – mattresses don't have a label indicating their expiration date. Yet in a certain sense they too expire: the materials wear out with use and over time. According to some experts "if your mattress is over ten years old, you don't have a mattress".
The duration of a mattress depends on several factors such as the quality, the care received and how it is used. Not all types of mattresses have the same duration. Latex mattresses usually last longer than spring mattresses, for example. In any case, the average duration for changing a mattress is between eight and ten years.
Which is better – Latex mattress vs memory foam?
Latex and memory foam mattresses are proven to help posture and in pain relief. Both are resilient to dust mites and have hypoallergenic properties. Though memory foam mattresses often outperform latex mattresses in comfort and blood circulation.
Which is the best mattress for couples?
Couples could experiment with mattress sizes. Depending on personal preferences, king or queen size mattresses are considered the best due to sufficient space.
Which type of mattress is good for health?
If you are looking for the best mattress that provides good health benefits, the latex foam mattresses are highly viable. Since they are natural and long-lasting, the latex foam mattress proves excellent for eco-friendly people.
Is memory foam mattress good for side sleepers?
If you are a side sleeper, a memory foam mattress might prove really helpful. However, you must make sure that the mattress you get is a firm high-density blend that provides comfort and support.
Is orthopedic mattress good for back pain?
If you suffer from back pain, a good natural latex memory foam mattress proves incredibly useful. It is ergonomically designed for a comfortable and relief filled sleep.
Click here to pair the best mattress brands in India with the best blankets in India.
Conclusion
A peaceful night is never complete without a comfortable mattress. We handpicked the best mattress brands in India for you, so that you didn't have to scour through the internet to find the right one. There is something for everybody. For more options head on to the Amazon marketplace for extensive collections and deals.
---
Loved our blog on best mattress brands in India? Do share it with your friends on Facebook, Twitter, and WhatsApp.