In this article we'll cover the best lip balm in India that are available on the market. The list of the top lip balm in India is based on their popularity, quality, price, ingredients, user opinions and more.
Lip Balm is a must-have beauty product for both men and women, especially in the winter season. The cold chills and dry weather in the winters often make the lips dry and chapped. The easiest way to repair the cracked lips and prevent further damage is to use a nourishing lip balm.
We have compiled a list of top 25 best lip balm that will not only moisturize your lips but also protect them from the harsh sun rays, dry wind, and air pollutants all day long. A lip balm rejuvenates and enriches the skin of your lips and gives you flawlessly lustrous lips with a perfectly smooth texture.
Regular use of a high-rated lip balm makes you enjoy winters without worrying about the cracked, painful, and bleeding lips.
Top Lip Balms In India 2021 with Prices
With the easy availability of a large variety of lip balms in India, it can surely be confusing and truly overwhelming for you to choose the best one from the huge array. We are here to help you compare the features of the best lip balm in India and find your perfect lip balm based on your needs and usage.
Best Lip Balm in India 2021 – Review
Nivea Lip Balm
Himalaya Lip Balm
Maybelline Lip Balm
Biotique Lip Balm
Burt's Bees Lip Balm
Lakme Lip Balm
Forest Essentials Lip Balm
Khadi Lip Balm
1. Nivea Lip Balm
Features
Quantity: 4.8gm
Prevents moisture loss
Effectively protects lips from drying out
The moisturising formula leaves your lips soft and smooth
Weightless texture with no colour
12 Hour Moisturization
Enriched with natural shea butter and Hydra IQ for long lasting moisture
For all weather conditions
Skin compatibility dermatologically approved
Skin Type: Normal skin
Why Should You Purchase This Lip Balm?
Get sensationally soft lips with the rich care of Nivea Original Care Lip Balm. Enriched with Shea Butter and Panthenol, this Nivea Lip Balm effectively protects your lips from drying out for a 12-hour period thus leaving you with soft and smooth lips in all weather conditions.
2. Himalaya Lip Balm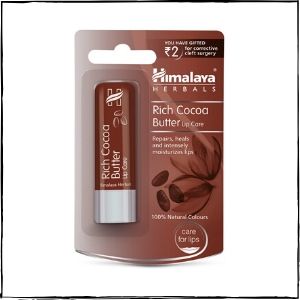 Features
Quantity: 4.5gm
Makes lips soft and supple
Enriched with 100 percentage natural colour, vitamin E, antioxidants and rich cocoa butter
Free from preservatives, petroleum jelly, mineral oil and silicone
Dermatologically tested, noncomedogenic and hypoallergenic
Contains Cocoa butter and Castor Oil
Skin Type: All Skin Types
Why Should You Purchase This Lip Balm?
Indulge your lips with Himalaya herbals' intensely moisturizing rich cocoa butter lip care. This luxurious Himalaya Lip Balm moisturizes your lips to keep them soft and supple.
Its moisture retention formula with skin soothers makes your lips naturally glossy while the antioxidants and natural actives care for your lips by protecting them from environmental damage.
Enriched with 100% natural colour, vitamin E and antioxidants, Himalaya rich cocoa butter lip care is free from preservatives, petroleum jelly, mineral oil and silicone.
3. Maybelline Lip Balm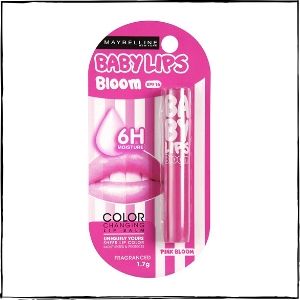 Features
Jojoba and pro vitamin E formula keeps lips hydrated all day
SPF 16 for sun protection
Colour bloom technology with tone revealing pigments that react with your lips to give them the perfect flush of colour
6 Hours of moisture
Colour: Pink Bloom
Quantity: 1.7gm
Why Should You Purchase This Lip Balm?
Designed to keep lips protected and moisturized, this Maybelline Lip Balm hydrates and renews lips, giving you soft, moist lips, throughout the day. Enriched with Jojoba oil and Vitamin E, it nourishes and protects your lips.
This lip balm comes with a unique colour bloom technology that reacts with your lips to give them a sensationally sheer pink colour. It also comes an SPF of 16 for sun protection.
4. Biotique Lip Balm
Features
Quantity: 12gm
This de-pigmentation balm visibly lightens lips for a fairer skin tone
Ingredients: Angur, Vach, Mulethi, Badam, Surajmukhi, Kusumbhi, Til, Erandi, Madam bass Q.S.
Flavour for Refiner: Fruity
Mulethi extract can help to soften your lips
Vach helps to re-establish blood circulation and aids in maintaining the youthful look
Angur consists of plant emollients which can prevent dryness, moisture loss and cell damage caused because of using other chemical products
Surajmukhi is rich in Vitamin E and helps to retain the natural moisture of your lips
Badam is also enriched with Vitamin E, which can reduce the inflammation of chapped lips, and enhances natural glow
Erandi is another ingredient which can add soft shine to your lips
Why Should You Purchase This Lip Balm?
Get flawless and lustrous lips by regularly applying this Biotique Bio Fruit Whitening Lip Balm. It is a safe and secure solution for those who want to get rid of darkened lips.
Made from ingredients like Angur, Mulethi, Badam, Kusumbhi and Til, this Biotique Lip Balm can lighten your lips and give them an even-tone.
While the herbal constituents help with de-pigmentation, the fruit contents in Biotique Bio Fruit Whitening Lip Balm can revitalise your lips and give it a natural glow. The essential vitamins in the lip balm can smoothen the texture of your lips and make sure you have a flawless pout.
5. Burt's Bees Lip Balm
Features
Softens and nourishes dry lips
With Responsibly Sourced Beeswax
Made with Peppermint Oil for a refreshing tingle
Infused with Beeswax, a natural skin conditioner and Vitamin E to moisturize
Formulated without Parabens, Phthalates, Petrolatum or SLS
Ingredients: Beeswax, coconut oil, sunflower seed oil, peppermint oil, lanolin, comfrey root extract, rosemary leaf oil, soybean oil, canola oil, limonene.
Quantity: 0.15 oz
Why Should You Purchase This Lip Balm?
This natural lip balm moisturizes lips with ingredients like ultra-emollient lanolin coconut oil and sunflower oil and seals in hydration with beeswax. A final hint of Peppermint Oil provides that one-of-a-kind refreshing tingle.
Apply this Burt's Bees Lip Balm liberally to your lips as often as needed, particularly in dry, cold or windy conditions.
6. Lakme Lip Balm
Features
Quantity: 4.5 gm
Colour: Cherry
Lip balm for soft lips
22 hrs moisturisation for your Lips
SPF 15 that protects your lips from sun
Touch of colour for your lips
Long lasting care
New vibrant pack & super moisturizing formula
Why Should You Purchase This Lip Balm?
Get soft lips all day with this all-new Lakme Lip Balm. It's new super moisturizing formula gives you 22-hours of intense moisture so you can say goodbye to dry lips.
It has SPF 15 that helps protect your lips from the harmful rays of the sun. One quick swipe and you can seal in the moisture to get soft lips all day.
7. Forest Essentials Lip Balm
Features
Quantity: 4.54gm
Replenishes and softens dry, chapped lips
Gently heals and hydrates the lips
Moisturises and soothes dry lips
Contains fresh rose petals soaked in honey
Other ingredients include Kokum Butter, Organic Beeswax and Cocoa Seed Butter
Ayurvedic formulation
Handmade using traditional methods
Contains organic, cold-pressed oils
Contains rare plant extracts
Why Should You Purchase This Lip Balm?
The Sugared Rose Petal Forest Essentials Lip Balm is uniquely designed to replenish and soften dry, chapped lips. Due to its extraordinary moisturizing and hydrating properties, it seals in moisture and soothes dry lips leaving them soft and glossy.
This lip balm contains fresh rose petals soaked in honey to protect your lips. Other ingredients include Kokum Butter, Organic Beeswax and Cocoa Seed Butter. While Kokum Butter is easily absorbed into the skin and helps to regenerate and nourish skin cells, Organic Beeswax deeply nourishes, rejuvenates and firms the skin.
Cocoa Seed Butter is a rich, superfatted butter which nourishes skin, makes it supple and restores elasticity to it.
8. Khadi Lip Balm
Features
Moisturizes lips, keeps lips hydrated
Heals chapped lips
Quantity: 5gm
Ingredients : Shea butter, Beeswax, Cocoa Butter, Kokum Butter, Sunflower Oil, Almond Oil, Jojoba Oil, Honey, Carrotseed Oil, Licorice, Peach Extract, Wheatgerm Oil, Aloe Vera Extract, Grape Seed Oil, Apricot Oil, Avocado Oil, Mulberry Extract, Turmeric
Why Should You Purchase This Lip Balm?
Peach lip balm is enriched with natural conditioning oils, moisturizing shea butter and antioxidant vitamins which nourishes for immediately softer, more beautiful lips.
Its natural long-lasting moisture results in instant smooth & velvety lips. Since what we apply over the lips can easily get ingested, this peach lip balm is organic in nature and is made using natural herbs that are safe and gentle on your lips.
Lip Balm Buying Guide – How to choose the best lip balm?
1. Organic
Always check the lip balm ingredient list to confirm if the lip balm that you are eyeing on is 100% natural or not. If the ingredient list mentions chemicals, petroleum products, or artificial additives like manufactured waxes, petrochemicals, alcohol, silicon dioxide, etc, then that lip balm is not herbal. Natural ingredients of lip balm include beeswax, cocoa butter, shea butter, Aloe Vera, Jojoba oil, etc.
2. Sun Protection
Although not absolutely necessary, choosing lip balms that have SPF and offer protection from the UVA and UVB sun rays are a great buy as they help prevent the lip skin from sun tan and hyper-pigmentation.
3. Tinted
Some lip balms are colourless and only add a slight shimmer to your lips. However, there are many tinted lip balms that are available in a variety of colours and you can choose from shades of pinks, oranges, reds, etc.
4. Flavour
Flavoured lip balms taste amazing and there are multiple options with a lip balm for every taste, mood, and preference, literally! You can choose from a wide range of flavours namely Strawberry, Cherry, Papaya, Pineapple, Coconut, Orange, Lemon, etc.
5. Scented
Most lip balms are unscented but options are available to choose from herbal or fruity scented lip balms as well!
6. Additives
Choosing natural fruit and floral extracts for flavour, colour, and fragrance is way better than using artificial colours and other synthetic additives. There are a large number of lip balms that have no additives and are prepared from extracts of mint, rosemary, eucalyptus, and thyme.
7. Dermatologically Tested
If you have sensitive skin, you must choose products that have been dermatologically tested. Also, make sure to do a patch test on a small area of your lip skin before using a generous coat of the lip balm on your lips.
8. Packaging
Lip balms are primarily available in two packaging types – solid form where the lip balm is packed in a tube or a twisted container and can be applied directly or a creamy consistency lip balm that is packed in a small container and has to be applied with the fingers.
9. Water Resistant
There are some brands that manufacture water-resistant lip balms that stay on the lips even after contact with water. Although a bit costlier than the usual, the extra feature of being water resistant makes them totally worth the additional money.
10. Cruelty-free Production
Most renowned brands have adapted to cruelty-free production of lip balms. Their products are never tested on animals and no animals are harmed during their manufacturing process. If this is something important to you, make sure you check the manufacturing details before making a purchase!
Benefits of Using a Lip Balm – How does lip balm help your lips?
1. Moisturizes the lips:
As the skin of the lips is thinner than the skin of the face and the body, it chaps and peels off much easily. It is thus vital for you to take care of the delicate lip skin and use a lip balm to keep your lips moisturized and hydrated all throughout the day.
2. Quickly heals the lips:
Dry and chapped lips can be quite embarrassing. Even one application of a lip balm is sure to soothe your lips and smoothen their texture. Regular usage will ensure healthy looking lips in just a few days!
3. Protects from UV rays:
If you buy a lip balm that has SPF, it will not only moisturize your lips but also protect them from the harmful UV rays of the Sun. Lip balms with SPF are mostly available in two variants – SPF 15 and SPF 40.
4. Removes pigmentation:
If you have uneven lip skin tone or hyperpigmentation on your lips, everyday use of a lip balm can help you achieve visibly lighter lips and make you look pretty!
5. Makes them appear suppler:
A lip balm can help you get rid of the dry and cracked lips. You can easily achieve plump, moisturized, and youthful lips for the movie star pout with just a few applications of your choicest lip balm.
6. Offers the desired sheen:
Lip balms offer just the desired amount of sheen that is apt for an everyday look. If you are not wearing any make-up, even a single coat of your favourite lip balm can instantly make you look dolled up.
7. Helps retain moisture:
Daily use of lip balms helps prevent moisture loss and protects your lips from drying out frequently. Lip balms offer essential lip care for the super soft, smooth, and glowing lips.
Homemade Lip Balm – How To Make It?
You will need
Beeswax
Honey
Sweet almond oil
The essential oil in any flavour you like
Beet juice
Vitamin E gel casts
Step 1:
Melt equal parts beeswax, honey and almond oil in a microwave-safe container. Try two tablespoons of each to start. This mixture burns easily so keep an eye on it by taking it out at 10-second intervals.
Step 2:
Mix the melted ingredients together and stir in 1/2 of a teaspoon of the essential oil of your choice. For an extra nourishing balm open a couple of Vitamin E gel caps and squeeze the liquid into your balm base.
Step 3:
For a hint of colour, add a teaspoon of beet juice.
Step 4:
Pour the balm into lidded containers and let it cool before covering.
Frequently Asked Questions About Lip Balms:
1. What is a Lip Balm?
Lip balm or lip salve is a wax-like substance applied topically to the lips to moisturize and relieve chapped or dry lips. Lip balm often contains beeswax or carnauba wax, camphor, acetyl alcohol, lanolin, paraffin, and petrolatum, among other ingredients. Some varieties contain dyes, flavour, fragrance, phenol, salicylic acid, and sunscreens. The primary purpose of lip balm is to provide an occlusive layer on the lip surface to seal moisture in lips and protect them from external exposure.
2. When to use lip balm?
Always moisturize your lips at night to ensure you wake up with smooth, soft lips. Lip balm should be a regular part of your bedtime routine because during the night your skin temperature rises to flush out toxins and produce new skin cells. Applying lip balm at night will help keep these new skin cells smooth. During the daytime, instead of reapplying the balm every hour, limit yourself to one or two swipes.
3. How to make lip balm last longer?
Apply a nude colour lipstick or light colour lip gloss to your lips first and then apply a layer of the lip balm. This makeup trick will help to make your lip balm last longer on your lips.
4. What happens if you use expired lip balm?
Using an expired lip balm can cause breakouts, dry skin problems, and even rashes and infections, doing more harm than good to your skin.
5. What is SPF lip balm?
Just like our face, our lips are also sensitive to the harmful rays of the sun. Since the skin around your mouth is thinner, it is even more vulnerable to UV damage. SPF also known as sun protection factor is a relative measure of how long a cosmetic will protect you from UVA and UVB rays. SPF 15 blocks 93% of UVB rays, SPF 30 blocks 97% of UVB rays and SPF 50 blocks 98% of UVB rays. Dermatologists recommend using a SPF15 or SPF30 sunscreen.
6. How to get rid of dry lips without lip balm?
Use a toothbrush to buff your lips. This is good for exfoliation, good for circulation and effective in getting rid of the dead skin cells on your lips. Once you're done, use a warm cloth and wipe off your lips so that they are clean. Then apply nonpetroleum jelly on your lips.
Put a little bit of lip scrub over the lips and gently massage them. You will slowly feel it start to melt and then turning into oil. This will remove all the dead skin cells and make your lips healthy. If you don't have a lip scrub, make your own at home. All you need to do is mix one tablespoon of organic brown sugar in one teaspoon of coconut oil.
Natural ingredients like Aloe Vera gel, Coconut oil, Honey, Cucumber and Green tea are also effective in healing chapped lips.
7. Can You Get Addicted To Overusing Lip Balm?
Most people really can't overuse a lip balm. The problem will occur, though, if you develop an irritation, sensitivity or allergy to one of the ingredients of the lip balm.
Certain lip balms might have scents or fragrances, and these might lead to irritation because an inviting fragrance might make you more prone to licking your lips and then that act of licking and the saliva can cause some damage and irritation.
It is also recommended to avoid lip balms that have ingredients like peppermint oil or menthol.
8. How to Pick a Natural Lip Balm?
The best natural lip balms contain either beeswax or shea butter — something which is rich enough to sits on your lips and doesn't absorb too quickly and protects your lips from getting dried out later.
You do want to make sure that your natural lip balm doesn't contain too much essential oil. A lot of the balms do contain essential oil because it makes the lip balm smell better and more fun to use but essential oil can dry up the lips.
9. How can I lighten my dark lips naturally?
Natural ingredients like Lemon, Turmeric paste, Aloe Vera gel, Coconut oil, Rose water, Olive oil, Pomegranate extract, Cucumber juice, Strawberry, Almond oil, Honey, Sugar, Beets, and Mustard oil can naturally lighten dark lips.
10. What are the best ingredients for lip balm?
Any good and effective lip balm should contain the following ingredients Shea Butter, Cocoa Butter, Beeswax, Sweet Almond Oil, Macadamia Oil, Jojoba Oil, Vitamin E and Hyaluronic Acid.
11. What ingredients should not be in lip balm?
Avoid lip balms that have Parabens, petroleum jelly, mineral oil, butylated hydroxy anisole (BHA), butylated hydroxy toluene (BHT), Fragrance, Flavour, Phthalates, Chemical sunscreen (Oxybenzone, Octinoxate, Homosalate) and synthetic colours.
12. Which is the best lip balm for smokers?
1. Kiehl's Lip Balm
2. Vichy Aqualia Thermal Soothing and Repairing Balm
3. OMORFEE Lightening Salve Lip Balm
4. L'Occitane Shea Butter Lip Balm
5. Biotique Bio Almond Lip Balm
6. SOULTREE Lotus and Kokum Butter Lip Balm
13. Are lip balms vegan?
Yes, vegan lip balms are also available in the market. They can hydrate, protect and soften your lips without using animal products in their formula. Ingredients like sunflower oil, coconut oil and calendula flower extract are used to make vegan balms.
Lip balms using animal-derived ingredients like beeswax or lanolin are not vegan.
14. Do lip balms expire?
While lip balms do expire, there's no standard expiration date. It all depends on the ingredients the lip balm includes. Lip balms containing sunscreens and skin protectants should be tossed out after one year.
If your lip balm looks or smells funny, it could mean that bacteria or fungus has grown on it. Its better to toss it out rather than risk using it.
15. Do lip balms contain gluten?
If you're allergic to gluten or are following a gluten-free diet, it is vital to know that lip balms do contain gluten. While you don't eat your lip balm as such, it does come in contact with your mouth so naturally you ingest it indirectly. So, be sure to check whether the lip balm your using is gluten-free or not.
Lip balms from brands Aquaphor, Beauty by Earth, BeeNakedBalm, Blistex, Dr. Bronner's, Burt's Bees, Earth's Daughter, Eco Lips, eos, Hurraw, Kiss My Face, La Lune Naturals, Pangea Organics, Sky Organics and Sun Bum are gluten-free.
16. Which lip balm is best for winter?
The best lip balm for winter should include aloe vera, which has healing properties, and synthetics, like glycerine or dimethicone, which create protective barriers to lock in hydration.
Coupled with moisturizers like Shea butter, cocoa butter, and essential oils, these healing ingredients are helpful in repairing chapped lips.
Conclusion – Which lip balm is best?
Whether you are looking for a quick remedy for your chapped and dehydrated lips, or are in search of products for everyday lip care and moisturization, the above list of top 8 lip balms for winters in India is your go-to list for all product details and comparisons.
We have clearly outlined the most popular ones above and now it is your turn to choose the best lip balm as per your requirement and budget. If you go out in the sun too often, choose a lip balm that has SPF 40 and if you want your lip balm to add a tint of colour to your lips, select a coloured lip balm in the numerous available shades from various renowned brands as listed above.
Shop for your favourite lip balms from Amazon India online store and enjoy exclusive cashback with numerous discount deals!
Further reading…
---
Loved our blog on best lip balms in India? Do share it with your friends on Facebook, Twitter, and Instagram.