With people getting busier by the day and health concerns finally coming into the light, people are finding and moving towards easier solutions to keep healthy in these busy times. Fresh fruits are a huge source of nutrients, you can go out for juice – but can never be sure that juice is freshly squeezed and cost effective. The best juicers in India could help you in your quest to live a healthier lifestyle without needless spending.
A good juicer can help you in a lot of ways – you can be sure the juice you make in the morning is fresh and made of personalized ingredients. Go ahead – add vegetables to fruit and let your children enjoy healthy, fulfilling and tasty drinks every day – twice a day. Fresh juice after meals is a great way to hydrate yourself and get some extra nutrients in your body. Khojdeal experts are here to help you buy the best juicers in India. Read through to know all about juicers.
Best Juicers in India 2023
Reading through our buying guide would assure you to make an informed decision while buying from the best juicers in India.
| | | |
| --- | --- | --- |
| S. No. | Best Juicers in India | Price |
| 1. | Philips Viva Collection HR1863/20 Centrifugal Juicer | Rs. 8,722 |
| 2. | Prestige PCJ 7.0 Centrifugal Juicer | Rs. 3,258 |
| 3. | Kuvings EVO-Series Professional Cold Press Juicer | Rs. 26,900 |
| 4. | Hestia Appliances Nutri-Max Cold Press Juicer | Rs. 13,499 |
| 5. | AGARO Imperial Cold Press Juicer | Rs. 13,334 |
| 6. | Bajaj JEX 16 Centrifugal Juicer | Rs. 5,259 |
| 7. | Hurom HP Series Cold Press Juicer | Rs. 17,499 |
| 8. | Havells GHFCJBHW003 Citrus Press Juicer | Rs. 1,240 |
| 9. | Nutribullet NBJ-0801DG Centrifugal Juicer | Rs. 8,490 |
| 10. | Inalsa Maxim Centrifugal Juicer | Rs. 3,295 |
📌 You might also like these articles:

– Best juicer for carrot and beetroot
– Best food processor
– Best smoothie blenders in India
– Things every guy needs in his kitchen
Juicers Review 2023
1. Havells Juicer : Cold Press Juicer – Nutri Art
Havells India Limited is one of the largest electrical equipment companies in India. In business since 1958, the company has products ranging from home and kitchen appliances, lighting for domestic, commercial and industrial applications, LED lighting, fans, modular switches and wiring accessories, water heaters, industrial and domestic circuit protection switchgear, industrial and domestic cables and wires, induction motors, and capacitors among others.
Cold Press Juicer
An elegant slow juicer for your Kitchen
200 W powerful motor
Wider feeding chute enables to load whole ingredient loading a whole fruit makes juicing convenient
Pulp controller
Tough and durable ceramic auger
Warranty: 2 Years
2. Prestige Juicer : Centrifugal Juicer – PCJ 7.0
TTK Prestige Limited is an Indian company that manufactures kitchen appliances and cookware, under the Prestige brand. The company is best known for its pressure cookers.
Prestige centrifugal Juicer
Voltage: 230V; Wattage: 500W
Warranty: 1 year
Dual locking system for safety.
500 watts heavy duty motor.
Detachable power cord.
3. Hestia Juicer : Cold Press Juicer – Nutri-Max
A relatively new brand, founded in India in the year 2015 – Hestia is quickly gaining market attention with its affordable appliances with respect to its known competitors.
Cold Press Juicer.
Takes only 1 minutes to clean.
Large Feeding Tube : 75 mm.
Heaviest and tallest auger in the industry – standing at 16.34 cms.
60 RPM speed.
3 Strainers for Juices, Smoothies and Frozen fruit gelatos
240 W AC Induction motor
Warranty : Residential Use: 3 years on Electrical parts and 10 years on motor. Commercial Use: 1 year on the product and 1 year on motor.
Self Cleaning.
4. Sujata Juicer : Juicer Mixer Grinder – Powermatic Plus
Sujata is a pioneering name in India for Juicer Mixer Grinders. It has built a glorious reputation for itself over the last 38 years through products that are robust, efficient and timeless.
Juicer, Mixer, Grinder
1 Year Warranty
900 Watts motor.
Juicer with unique honeycomb filter mesh for finer juice with higher yield.
22000 rpm operation.
90 mins. continuous running- suitable for longer usage.
Transparent and unbreakable mixer jar.
Low maintenance, trouble free running
High strength stainless steel blade that cut finer and faster
Totally shock-proof and safe.
5. Philips Juicer : Centrifugal Juicer – Viva Collection HR1863/20
Philips has build quite the reputation over the years for putting out the best appliances in the market. Innovation and reliability has led Philips towards worldwide acclaim and has something for all household needs.
Centrifugal Juicer.
This product does not require installation.
Drip stop.
Clean within 1 minute , Cord length :1 m
Easy to use
Material: Aluminium
Jug Material: SAN jug and PS cover
Integrated cord storage, XL tube and 1 speed setting
1.2 liter pulp container and 800ml juice jug.
700 Watts.
2 years warranty.
6. Philips Juicer : Centrifugal Juicer – Viva Collection HR1832/00
The company, founded in Eindhoven in 1891 by Gerard Philips and his father Frederik, with their first products being light bulbs. It was once one of the largest electronic conglomerates in the world and currently employs around 74,000 people across 100 countries.
Centrifugal Juicer.
This product does not require installation.
Material pulp container and pusher.
Drip stop, compact design.
Quick-Clean technology, smooth and easy to clean.
Direct serve, Quick-Clean sieve and can see-through pulp container.
Capacity: 1.5 liters
500 watts
Includes: Juicer, Pulp Container (1 litre) and Juice Jug (500 milliliter)
7. Usha Juicer : Cold Press Juicer – Nutripress (362F)
Usha, the Indian brand highly known for its innovations with sewing machines and ceiling fans, has roots in the Indian consumer market for a long time. The company is trusted in the community for its reliability.
Cold Press Juicer.
Versatility : hard vegetables, green vegetables, nuts & grains, fruits, frozen desserts.
Warranty: 5 years on motor and 2 years on product
Free home demo available in selected cities post purchase. (Delhi/NCR, Bangalore, Mumbai, Pune, Hyderabad, Chennai).
Wattage: 240 Watts
Speed: 65 RPM
75mm Full mouth feeder tube.
3 Filters (Fine, Coarse, Dessert Filter)
2 Jars (Pulp Container, Juice Container)
8. Bajaj Juicer : Centrifugal Juicer – JEX 16
Bajaj Electricals Ltd is an Indian consumer electrical equipment manufacturing company based in Mumbai, Maharashtra. A part of the ₹380 billion (US$5.5 billion) Bajaj Group, it has diversified with interests in lighting, luminaries, appliances, fans, LPG based Generators, engineering and projects.
Centrifugal Juicer.
2 speed control and dual lock for enhanced safety.
Easily removable and washable strainer or cutter.
Juice Collector : 1 liter. Pulp container : 2 liters.
Feeding tube : 75 mm
Warranty: 2 years on product.
800 watts
Included Components: Juice extractor, Pulp container, Juice collector, Pusher,
9. Wonderchef Juicer : Juicer, Mixer, Grinder – Nutri-Blend
Wonderchef is a kitchenware providing organization that creates and supplies cookware and kitchen appliances. It was founded in the year 2009 by Ravi Saxena and Sanjeev Kapoor.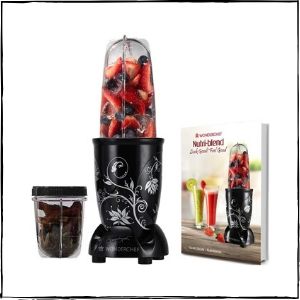 Juicer, Mixer, Grinder.
Compact and consumes less space as compared to the bulky food processors and mixers
Super-fast motor with 21000 RPM speed.
230V ~ 50Hz
Two inter-changeable jars (500ml and 300ml) with lid and seasoning cap
2 sets of stainless steel blades for one for blending, other for grinding
Non-skid rubber footing. Warranty: 2 year on product
Loading Capacity : 80ml (Short Jar) & 250ml (Long Jar)
Types of Juicers
There are available in the market, juicers that use different methods to squeeze and release the nutrient rich extract from fruits and vegetables. They cater to distinct demographics as they essentially differ in their method used, time taken and quality of the extract.
1. Centrifugal Force Juicer
The most popular and the easiest juicer on the market, uses a feed tube that opens up directly onto a fast spinning blade that shreds produce and uses centrifugal force of the spinning basket to throw the juice towards the side and into a container.
Traits :
The fastest among other juicers, extracts juice quickly and can take a huge amount of produce at once – given the feed chute is big enough.
A fewer number of parts makes it easier to clean and assemble.
Takes up less space in your kitchen due to fewer parts.
Handles softer fruits better.
Since the speed of the blade is high (around 12,000 RMP) the quality of the juice produced is diluted.
Amount of oxidation is high which makes the juice foamy.
Does not fare well against leafy green vegetables.
Juice contains high amounts of pulp.
Pretty noisy.
2. Masticating Juicer
Also known as the slow juicers – this kind uses a slower moving gear to crush produce against a stainless steel mesh or a plastic screen rather than shredding it with blades.
Traits :
Slow juicing results in a higher juice yield.
Oxidation is lesser than the centrifugal juicer.
Can be used on frozen fruits as well.
Leafy greens can be easily juiced.
More expensive than the centrifugal juicer.
The smaller feed chute requires more prep work with produce.
Slow juicing takes time for your health drink to be ready for consumption.
Takes up more counter space.
3. Twin Gear Juicer / Triturating Juicers
This kind of juicer uses two gears instead of one and separates juice in two parts – first the produce is crushed and then the juice is pressed out, resulting in a much higher juice yield.
Traits :
Produces more juice than either of the two juicers mentioned above.
They are pretty quiet as compared to the others.
Richer and much more nutrient rich juice.
Much more expensive than its cheaper counterparts.
Takes up a lot of space.
Intricate machinery takes a long time to clean.
Slow to use.
4. Cold Press Juicer / Juice Press
The hydraulic press juicer is one of the best in the business. Also referred to a two-stage juicer – the produce is first ground into a pulp, then the juice is extracted slowly by pressing the pulp under huge amounts of pressure. The press used to juice produce gave the device its common name, the cold press juicer.
Traits :
Extracts the most amount of nutrients from produce.
Minimal oxidation causes no foam to build up in the final product.
Leafy vegetables and other hard to juice produce can be easily converted to fresh juice.
Achieves the highest amount of pure juice with 99% liquid and less than 1% solid or pulp.
Can be used to make oils from nuts.
Extremely expensive.
Requires one time use or reusable bags to collect pulp.
Juicers Buying Guide
Curious about buying a juicer? Go on read ahead to know what you need to know before buying from the best juicers in India. A few pointers will help you determine what you would eventually need from a juicer.
What is a Juicer
A juicer is a kitchen device that crushes and squeezes the good stuff out of vegetables and fruits so you can enjoy hydration with a kick from all the nutrients you flushed down your throat.
How do Juicers work
Juicers, depending on the type you buy – explained earlier – use a variety of methods to extract maximum nutrients from produce. From using centrifugal force to a cold press – the end product differs from the method used.
Size and Storage
Depending on how much kitchen space you have or have allotted to a new juicer you are looking to purchase, it is necessary to check how big the device may be. Juicers can be bulky and might require a lot of counter space to fit.
Speed and Noise
Speed of a juicer determines the final yield. Faster juicers may not deliver a lot of juice by the end and mostly slower juicers end up producing a lot more. Noise can be a factor while buying a juicer too. Obviously, faster juicers tend to make more noise than their slower counter parts.
Ease of Use and Cleanup
A huge concern for working individuals is the amount of cleaning a juicer needs after use. Bulky and intricate machines take a long time and a bit of know how to clean the device properly, while the centrifugal juicer – since its an easy device to get a hang it – takes a lot less time and effort to clean. Bigger and more complex juicers are a task to clean and take time to get used to.
Price
Finally, the price of the product is essential in buying the device that fulfills your requirements. Press juicers and gear juicers are quite expensive than its centrifugal counterpart – which is essentially made to make juicing easy and cheap.
Psst.. hey.. I know you're trying to be healthy, but check these electric tandoors out to make amazing chicken tikka at home. Click now.
Frequently Asked Questions About Juicers – FAQs
Is juicing really better for you?
Juicing does give you most of the nutrients in produce, but not more than eating the produce itself. Juicing drains the nutrients so the remaining pulp mostly fiber is left out. Fibers are good for your colon and helps against cholesterol. The upside being you can use different kinds of produce to make a mix fruit and vegetable juice which could help save time and deliver more nutrients.
Which is the best juicer in India?
Depends on how and why you need to buy a juicer. For working individuals looking to grab a quick nutrient rick drink in the morning, the fast and easy to use centrifugal kind might help out. A homemaker in need to give their child a healthier drink option, a cold press or a triturating juicer would help with all your needs. More on the best juicers in India below.
What is the price of juicer?
Heavy duty juicers are generally quite expensive – given their intricate machinery and functionality. The more reasonably made centrifugal juicer was made for consumers to easily get fresh juice at home at much lower cost – with effectiveness affected no doubt.
Which juicer keeps the most nutrients?
A cold press juicer uses an effective technique to extract the most nutrients from fresh produce. Crushing down produce into a pulp then subjecting it under immense pressure makes sure you are delivered a nutrient rich drink.
Which juicer is best for carrot juice?
A cold press juicer works best on harder fruits and vegetables. The produce is easily crushed and juiced by a cold press – making it the best to shove carrots into. Enjoy your healthy drinks.
How do I choose a juicer?
Check out Khojdeal's buying guide. Right above. Go now – scroll up – check it out. Everything you need to know is there.
Is juicing better than blending?
Juicing essentially brings out all the nutrients – stored in the liquid part of the produce – these concentrated nutrients are easily absorbed. With blending, on the other hand, you get it all – the pulp and fiber that generally contains antioxidants. All comes down to preference – if you want easy digestion of nutrients, juicing it is – if can stomach through the pulp and fiber (which a lot of people cannot) blending smoothies could be for you.
Is slow juicing the same as cold pressed?
Cold press juicing is a sort of slow juicing technique. Slow juicing retains more nutrients and brings out a better output always as opposed to fast juicing.
Are juicers hard to clean?
Yes, yes they can be. A lot of heavy duty juicers are quite intricate and take a while to clean inside and out. The centrifugal juicer is easy to clean on the other hand given the low amount of machinery.
Is juicing a waste of food?
Juicing is not any healthier than eating whole fruits or vegetables. Most nutrients in produce is extracted during juicing, but the fibers are all left behind. This liquid form of nutrients are easy to absorb and digest. Until you lack time and generally mix a few fruits and vegetables, eating the produce whole will guarantee more of the good stuff entering your body.
Can juicing make you gain weight?
Juicing alone cannot make you gain weight, not until you drink the resulting product in the first hand – okay, sorry. Not all fruit juice, but most of them have sugars in them. Excess consumption can most definitely result in weight gain. Carrot and cucumber juice is the lowest in sugars and contain a tonne of the good stuff.
Conclusion
It is not easy buying a juicer – if you are a hardcore juicer, investing money on a worthy cold press juicer is not a bad idea. Go for it – get the best for your needs. For families too – a good juicer is very much required. The best juicers in India are all listed above – with the right kind of guidance to make an informed purchase. Khojdeal has got your back. Get the juicer you require – mix some green apples, lemons and spinach. If your health benefits because of us – it would be our privilege.
---
Loved our blog on Best Juicers In India? Do share it with your friends on Facebook, Twitter, and Instagram.