Fruit juice, vegetable juice, juice with nuts in it, smoothies, detox drinks, and so on and so forth. The advantages of a good juicer needs to be advertised more than it is being right now. If you are specifically looking to juice some carrots and beetroots though, a good decision might I add, you would need to buy a juicer that is more useful in crushing down harder fruits.
For that, look at the RPM your juicer provides, the quality of the blade, and if it comes with a strainer or not. We built a list to find the best juicer for carrot and beetroot in India. Take a look and find the one that best suits your needs.
Happy healthy eating!
List of the Best Juicer for Carrot and Beetroot – Reviewed 2022
Juicers come in a variety of forms and types. From simple juicers, to juicer mixer grinder combos, centrifugal ones, cold press juicers, and more, there are a lot to choose from. The best juicer for carrot and beetroot would be the one that comes with a high motor capacity, and strong and durable blades.
📌 You might also like these articles:

– Best juicers in India
– Best professional food processor
– Best bullet blenders in India
– Bachelor kitchen essentials
1. Rico Electric Juicer for All Fruits and Vegetables
Japanese Technology
ISI Marked Juicer
2 Year Replacement Warranty
Fully Automatic
Quick juice extraction technology with direct serve to your glass
Compact design and durable body
Rico electric juicer is a high Class premium quality juicer best for extraction of juices
100% pure copper motor and lifetime rust free guarantee
What we liked about this Juicer
This juicer has Two Speed Control & Pulse Function. Use Speed 1 (12,000-15,000 RPM) for Orange, Watermelon, Wheat Grass, Spinach and Other Soft Fruits and Vegetables & go for Speed 2 for Apples, Carrots, Celery Sticks, Beets and other Hard Fruits and Vegetables. Put away all those bottles of aerated drinks and have healthier, more refreshing drinks made with this Rico juicer.
Experimenting and making different juices is now going to be something that you are going to love. Invest in this juicer and embrace a healthier lifestyle with Rico!
✔️Pros
Great for carrots and beetroot
Good build
Durable
250W motor
Lightweight for its size
Good materials used
Fully automatic
Rust free
❌Cons
Not very efficient with leafy vegeratbles
2. Kuvings B1700 Professional Cold Press Whole Slow Juicer
Super easy & convenient in everyday use
Patented Large Feeding Tube (76 mm) to load the whole ingredients (Whole Apple, Whole Orange, Whole Kiwi, etc)
Patented JMCS Technology for Guaranteed Maximum Yield. Atleast 10% more juice than any other Cold Press Juicer.
Unique Patented Cleaning Tool Kit with Round Rotary Brush to easily clean fibers from Strainer Pores.
iF Design, Red-Dot, Spark, IDEA, Good Design Award.
Capable of squeezing Fruits, Vegetables, Leafy Greens and also Nuts
3-in-1 versatile kit: B1700 is a 3-in-1 Multi Purpose Appliance (Make Delicious Exotic Fruit Sorbet or Smoothie, Smoothie and Ice-cream Maker Attachment are to be bought separately as optional accessories)
Powerful high torque motor: Best-in-Class High Quality Brush-less AC Motor (240 Watts)
Highest grade parts
Stainless Steel 304/316, 100 % Pure Copper Wound Motor
10 Years Warranty on Gear & Motor, 1 Year Warranty on Product
What we liked about this Juicer
Wide Whole Fruit Feeding Tube does not require cutting of the ingredients; greatly reduces preparation time and nutritional loss. The Patented Cleaning Tool specially made for juice strainer. Helps in quick and easy cleaning. Juice any Fruit (Apple, Grape, Orange, Pomegranate, Pineapple), Vegetable (Carrot, Beetroot, Cucumber) or Leafy Green (Wheatgrass, Celery, Parsley, Kale).
✔️Pros
Compact and easy to store
Good with most kinds of fruits and vegetables
3-in-1 tool, make ice cream, smoothie, and juice
240W high power motor
10 year warranty of certain parts
Highly durable
❌Cons
Takes time to juice properly
Expensive
3. Prestige PCJ 7.0 500-Watt Centrifugal Juicer
Voltage: 230V; Wattage: 500W
Warranty: 1 year
Dual locking system for safety
500 watts heavy duty motor
Slow juicer for Concentrated pulp
What we liked about this Juicer
This mixer grinder from Prestige comes with utilitarian stainless steel blades that ensure optimal competence as well as precision. Besides, these blades are razor-sharp and are resistant to corrosion and rust and are most suitable for regular use. These blades are competent enough to cut vegetables of all kind and spices without any difficulty. It comes with anti-skid or vacuum feet that prevent it from toppling over when in use. It can be placed on any kitchen counter without any hassle. It also comes with ergonomic knobs and switch that makes it easy to operate.
The maintenance and care of this citrus kitchen appliance from Prestige is very easy. The body of the juicer simply needs to be wiped clean with a piece of damp cloth. You can also use a little bit of a soapy solution and lukewarm water if the mess is sticky.
✔️Pros
Brilliant design features
Looks great in a kitchen
500W heavy duty motor
Works with all kinds of fruits and vegetables
Maximized yield
Dual locking system for added safety
Durable
4. Philips Viva Collection 2-Litre Juicer – HR1863/20
This product does not require installation. Please contact brand customer care for any product related queires
Squeeze every drop from your fruits and vegetables
Clean within 1 minute
Cord length: 1m
Easy to use
Material: Aluminium
Jug Material: SAN jug and PS cover
Integrated cord storage, XL tube and 1 speed setting
1.2 liter pulp container and 800ml
Power: 700 watt
What we liked about this Juicer
Pre-Clean Function Rinses Away the Unwanted Fibers. The Philips juicer is the 1st centrifugal juicer on the market with a pre-clean function. By pouring water in the pusher, you can create a water fountain in the appliance, which rinses away the unwanted fibers from the lid and makes the sieve easier to clean. The 75 mm extra large feeding tube allows you to juice even large fruits and vegetables like apples, carrots and beetroots without pre-cutting.
Thanks to the innovative juice extraction system with Quickclean technology, this juicer extracts up to 2 liters of juice in one go without the need to empty the pulp container.
✔️Pros
Good design
Highly compact and lightweight
Durable materials used
Easy to use
700W motor
Works with most vegetables and fruits
❌Cons
Feeder is small, which takes longer to juice large quantities
5. Inalsa Maxim 500-Watt Centrifugal Juicer
Healthy & effective – Get fit and healthy with inbuilt healthy fruit juicing technology while enriching and nourishing your body with healthy fruit and vegetable juices all round the year
Powerful juicer – Maxim juicer comes with powerful 500 watt motor
with 60mm Wide Mouth & 2 Speed & Pulse Fuction |Stainless Steel Mesh |Includes Juicer Jar (400ml) and Detachable Pulp Collector
Full round open feeding tube with detachable online pulp container – The 60ml tube allows you to juice moderate size fruits and vegetables like apples, carrots and bitter gourd without pre-cutting with the specially designed detachable 0.95 L pulp collector which ensures handy and easy to clean functionality
Juicer jug – 0.4 L
Dual speed technology with stainless steel mesh and cutter – The dual speed technology ensures maximum control with low speed setting
Safety mechanism – Unique safety lock has been provided to ensure no accidents take place during operation, overload protector present in the juicer protects against sudden overloads
2 year warranty: We sincerely provide 2 year product warranty with and genuine customer service
What we liked about this Juicer
The wide mouth design allows you to juice most whole fruits & vegetables with ease. This juicer has Two Speed Control & Pulse Function. Use Speed 1 (12,000-15,000 RPM) for Orange, Watermelon, Wheat Grass, Spinach and Other Soft Fruits and Vegetables & go for Speed 2 for Apples, Carrots, Celery Sticks, Beets and other Hard Fruits and Vegetables. Stainless Steel mesh extracts up to 26% more juice and 36% more vitamins and minerals than other juicers. Only A few seconds, you can drink a cup of juice with no pulp and no foam. Enjoy a true interactive juicing experience.
The juicer jar and the pulp container are transparent so you can see your fruits and vegetables being juiced. You can also directly see when the container is full which means it is time to empty it. With a capacity of Juicer Jar (400ml) & Pulp Collector (950ml), you get to have much longer juicing sessions.
✔️Pros
Good design
Lightweight for its size
Easy to use
2 year warranty
500W motor
Works with most vegetables and fruits
Added safety features
❌Cons
Does not work very well with harder produce like carrots
6. Maharaja Whiteline Odacio Plus 550-Watt Juicer Mixer Grinder
Powerful 550W motor: for faster grinding and juicing. Locking System : Normal Lock
30 mins continuous grinding & juicing. Large Feeder Tube : Full Apple Feeder Tube.Integrated Juice Carafe : Yes
100% Food grade safe
with 3 Jars
Versatile (3jars): 1.5l blender jar, 0.7l grinding jar, 0.4l chutney jar
Detachable anti-drip spout to prevent spillage of juice
Durable stainless steel juicer mesh
Pusher for effective juicing
Warranty: 2 year warranty provided by the manufacturer from the date of purchase
What we liked about this Juicer
The JMG is provided with 550W motor that efficiently works with both grinding and juicing and is efficient enough to offer perfect juicing, grinding, pureeing and mixing results. Equipped with stainless steel juicer mesh, this juicer mixer grinder ensures maximum extraction of juices even from the toughest of the fruits and veggies. Moreover, the stainless steel mesh ensures safe and healthy juicing. Be it a juice, paste or puree, the Odacio Plus prepares it all! Featured with multi-functional blade system, the juicer mixer grinder is powerful enough to prepare luscious juices and purees.
✔️Pros
Brilliant design
Great features
Anti drip spout maintains cleanliness
2 year warranty
Durable
Large feeder
Quick juicing
❌Cons
Smaller than you think
Noisy
7. Wonderchef V6 200W Cold Press Slow Juicer
Cold Press Juicing protects the ingredients since the juicer operates slowly at 43 RPM and extracts juice with a gentle, squeezing process
Normal juicers only extract a thin watery liquid as juice, while all essential fibre gets thrown out as residue
Lose weight and keep your body fit with healthiest pulpy juice from Cold Press Juicer
Cold Press Juicer gives higher juice yield – almost twice that of normal juicers
Powerful AC motor operates at low decibel noise
It has no sharp blades and is safe and easy to clean
Quick and easy to clean
Warranty: 5 years on product
Power: 200 watts
What we liked about this Juicer
If you are looking for a good cold press juicer, this could be it. The Wonderchef V6 has a strong motor at 200W which provides some of the best yields at a slower speed. Cold press feature allows for the ingredients to be juiced at a defined rate at 43RPM which allows the juice to remain in its purest form and not separate. This affordable and easy to use juicer is perfect if you want some fresh juice each morning, Easily one of the most compact and best juicer for carrot and beetroot in India.
✔️Pros
Compact design
200W motor
Easy to clean
Easy to use
Cold press maximized yield and flavor
Little to no noise
❌Cons
Small feeder and cold press feature takes longer to juice
Expensive
8. Wonderchef Nutri-Blend Mixer Grinder
Stainless Steel Blades: Super quality surgical stainless steel blades are able to grind everything and stay sharp despite working at high speeds. They extract every ounce of immunity enhancing anti-oxidants, pain relieving Omega 3s, proteins, vitamins & minerals from your foods
Specialised Functions: The Long Jar (500ml) comes with 4-wing blade for mixing-blending and the Short Jar (300ml) with 2-wing flat blade for grinding to make all kinds of chutneys, shakes, smoothies and masalas.
Two useful lids – for storing and sprinkling come with the product
Blender, SS Blades, 2 Unbreakable Jars
400 W-Black
Online Recipe Book by Chef Sanjeev Kapoor
Reliable Wonderchef warranty with the best after sales service in over 12,000 pin codes across India. Also buy Spares & Accessories here.
22000 RPM
What we liked about this Juicer
The compact yet powerful machine grinds the toughest of chutneys and masalas thanks to its incredibly high speed of 22,000RPM, which is almost twice that of normal mixer-grinders. Unbreakable Polycarbonate jars enable you to see inside, so you don't need to keep opening the lids to check the results.
Simple operation – no buttons – simply Place, Twist and Play to make all kinds of chutneys, shakes, smoothies, and masalas! For the most rich and creamy dips, tasty and tangy chutneys or healthy and delicious smoothies, make it all in Nutri-blend. If you are someone who prefers smoothies over juices, this product here could be it. Perfect for harder produce like carrots, this is the reason why we have added it to our list of the best juicer for carrot and beetroot in India.
✔️Pros
Highly compact
Lightweight
Durable
Good design
Works great on harder produce
Makes some of the best smoothies
❌Cons
Is only good for smoothies, not juicing
9. Antson Hand Juicer
The juicer is impact-resistant abs plastic that is bpa-free. All parts are detachable for thorough washing. Hand-wash and towel-dry suction base. Parts are top rack dishwasher-safe
The juicer is impact-resistant abs plastic that is bpa-free. All parts are detachable for thorough washing. Hand-wash and towel-dry suction base. Parts are top rack dishwasher-safe
Get healthy and stay healthy: Nothing can replace daily activity and an overall great diet, but with the manual healthy juicer you can finally start feeling amazing. Juicing vegetables and wheatgrass allows you to consume an optimal amount of vegetables in an efficient manner
Steel Handle Vacuum Locking System
Ergonomic design– Heavy duty alloy body and ergonomic handle. Your hands will never run out of effort when using our strong alloy handles. An easy press, you can be drinking lemonade in a just moments.
Compact: easy to store, pack and carry for outings and picnics, portable, manual and extremely easy to use and clean
What we liked about this Juicer
The anti-drip system inside the juicer is made up of high quality plastic. It supports in the squeezing of fruits and keeps it hygienic. The handy juicer comes with an anti-skid base which creates vacuum while in use and prevents it from moving back and forth during extraction of juice. The handle of the juicer is made of prime quality and pretty easy to operate.
If you wish to go manual with your approach, this Antson hand juicer could be your thing. They do not use any sort of electricity, but do require a lot of manual effort. This is actually one of the best juicer for carrot and beetroot we could find. Effective, eco-friendly, but slightly tedious to work with.
✔️Pros
Manual function requires no electricity
Durable design
Good yield
Perfect to keep as a travel juicer
Compact and easy to carry
❌Cons
Manual function is tiresome
10. Havells Stilus 500 Watt Juicer Mixer Grinder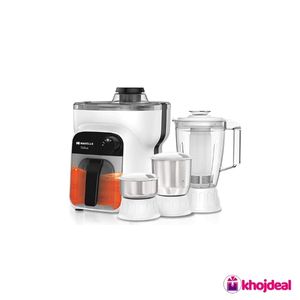 Fruit filter and sliding spout which provides smooth and lump free juice and sliding spout helps in serving
Break resistant polycarbonate transparent blending jar. Stabilising feature : Non-slip feet to prevent movement of grinder while it is running. Mincing : Yes
With 4 jars
Especially designed 304 stainless steel sieve to ensures cut fruits effectively
Bigger pulp container for hassle free juicing which contains upto 2 kg pulp in one go. Dry Grinding : Yes
This juicer mixer grinder comes with 2 year warranty
Warranty: 2 Year
Power: 500 watts; Operating Voltage: 230 volts. Frequency 50 Hz
What we liked about this Juicer
The feeder tube comes with the juicer which makes the juice-making procedure more convenient. It lets you enter the fruits and vegetables without cutting them. The speed controlling regulator of the mixer has three speed options with LED indicator. Regulate the speed according to your convenience. The pulse function lets you control the speed in a faster manner and hence helps in finer grinding and blending.
The body of the mixer and the chutney grinder and their blades are constructed with the durable stainless steel that make them food safe and durable as well. It also makes them easy to clean. The motor of this appliance is extremely powerful as it runs on 500-watt power. This makes the mixer-grinder efficient and fast.
✔️Pros
Great design aspects
2 year long warranty
Powerful 500W motor
Easy to use
Transparent blending jar makes it easier to keep an eye on the final product
Comes with 4 different jars
How to Buy the Best Juicer for Carrot and Beetroot?
When it comes to juicers, there are a lot of options to choose from. There are different types of juicers that serve different purposes all across the board. If you want smoothies, there is an option for that. If you like to juice leafy vegetables, there are blenders that allow you to do that. If you like a little carrot and beet juice in the morning, we suggest buying centrifugal or cold press juicers.
Since carrots and beets are a rather hard produce, it can be difficult to juice them with a simple, less-powerful juicer. However, once you buy a juicer that comes with a powerful motor, strong and durable blades, and the RPM to match, you can get some of the best and fresh morning juices of all time.
The best juicer for carrot and beetroot in India are listed above, they will provide enough potential to churn through entire carrots to give you some fresh juice any time you ask.
So, what should you look at while buying the best juicer for carrot and beetroot? Lets have a look.
Types of Juicers
There are mainly three kinds of juicers we are going to be talking about here. Keeping to simple explanations, this might explain to you which proves best for carrot and beet juice specifically. You can visit our blog on juicers to get a more in-depth analysis of juicers.
Here are the types of juicers that prove best for juicing carrots and beets.
Centrifugal Juicer – Centrifugal juicers use blades to churn through produce incredibly fast. This proves convenient, but does not preserve a lot of the nutrients in the final produce. Centrifugal juicers are actually best to juice carrots, beets, and other hard produce due to their power.
Masticating Juicer – Masticating juicers on the other hand, use a gear to slowly churn all the juice out of produce. It might be slower than centrifugal juicers, but they are excellent to retain all the nutrients, while also proving a little more difficult to clean.
Cold Press Juicers – The more novelty sibling of the other juicers, cold press juicers are actually perfect for making juice that not only tastes great, but also provides the highest levels of nutrients. They are quite expensive, convenient, easy to clean, and potentially some of the best juicers on the market.
(BONUS) Manual Juicers – Since we have added one manual juicer to our list of the best juicer for carrot and beetroot, we should mention that these juicers are the more forward appliances than backwards. Using no electricity whatsoever, and proving quite the exercise for your shoulders, manual juicers function great, once you figure them out.
What to look for while buying a Juicer?
There are only a few things to look at before buying your next juicer. First things first, do make sure you understand what juices would you like to make. If you like one kind more than the other, it is always a good idea to invest in something niche and specific to a particular fruit or vegetable.
Type – So, before you move on to anything else, you should first understand what your juicer would be used for. Once you have a good idea, choose the kind of juicer you need. You have a few options to choose from, and they all come with their advantages, disadvantages, and price tags.
Versatility – So, yes, you might enjoy a niche item that, for example, works best for carrots, but your juicer should also be a little more versatile to handle whatever you pit it against.
Affordability – Prices for juicers differ significantly. Where you can purchase a manual juicer for a few thousand bucks, cold press ones are not cheap by any margin. Find your budget and get the best one that meets your requirements.
Capacity – How much juice are you planning on making? If you live alone, consider buying a smaller juicer, saving money, saving counter space, all the while enjoying delicious juice every morning.
Safety – Safety features are always a good addition if you have children running around. If you are gifting one to your parents, might as well look for the few things that can help their experience be as safe as possible.
Operation – Ease of operation, time to juice, durability, make a note of these things and get something that is the best of all worlds.
Frequently Asked Questions (FAQs)
Juicer vs. Blender: Which one is better for carrot or beet juice?
When it comes to fresh carrot or beet juice, you can either do it in a blender, or a juicer. The thing is, if you like smoothies, you should get yourself a blender. However, if you want fine and fresh carrot juice, a juicer with a heavy duty motor can really help. Look for cold press juicers if you want.
What to look for when choosing a Juicer?
When you are buying a juicer, you should look for its motor power, size, durability, quality of materials used, and the kind of juicer it is. There are a few different kinds of juicers out there to choose from, and we think centrifugal and cold press juicers work best.
How to make carrot juice with a juicer?
Firstly, make sure your juicer can handle harder produce like carrots. Then, you only need to add peeled and chopped carrots into the feeder and let it juice. If you are looking for the best juicer for carrot and beetroot in India, we have listed some above.
Which juicer is best for carrots and beets?
The best juicer for carrot and beetroot in India are listed above. From our experience, cold press juicers and centrifugal juicers work the best for carrots and beets. Do make sure the juicer comes with a high power motor to shred the hard produce.
Conclusion
A glass of juice in the morning can be a life-saver. It is not just about the healthy aspect of it, but juices are a great way to get some natural sugars into your system right in the morning and start your day with plenty of hydration. Though boxed juices are readily available, they lack the better nutrients found in natural produce, plus they come with the addition of preservatives and more.
The best way to enjoy a glass of juice each morning, is to bring home your very own juicer, some fruits and vegetables, and get to juicing. We have listed the best juicer for carrot and beetroot in India right above, but they can actually be used with all sorts of produce. These juicers are top-notch and can provide you with all the tools you need to mix yourself a batch of some deliciously healthy juice in the morning. What are you waiting for? Get to juicing!
DISCLAIMER: Being a reader-supported blog, Khojdeal earns affiliate commission from purchases made using links on our blog.
Learn more