Are you looking for the best inverter for your home? Well, you are not alone. The power supply situation in India is bad, especially in the months of summer. Many cities face 2 to 4 hours of power cuts every day. To battle that, and ensure you keep working and keep watching your favorite movies, we bring to you a proper list of the best inverter for home in India.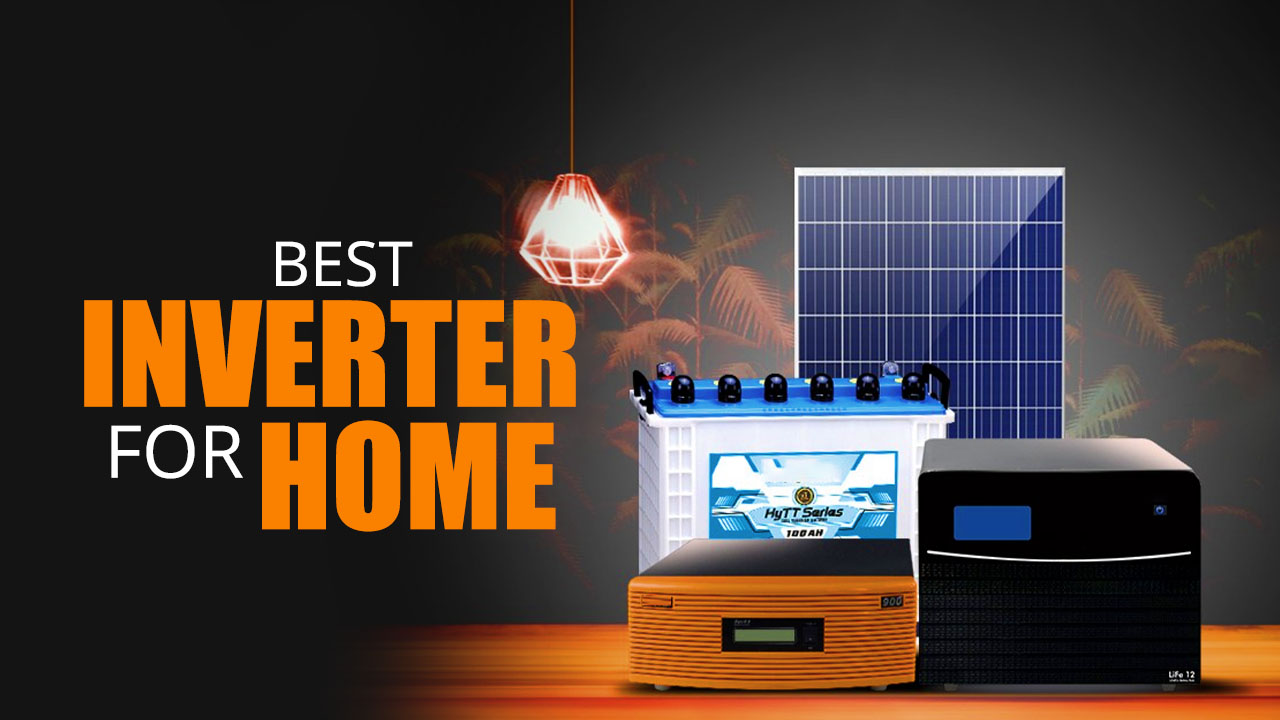 The condition in small towns and villages is even worse. The need for dependable power backup in such cases becomes inevitable. While diesel generators are ideal for powering larger establishments like offices, shopping malls, restaurants, hotels, etc, inverters are the preferred choice for home use in India.
Keeping that in mind, we've created this post of the top 10 Inverter available in the Indian market at reasonable cost.
Our Top Picks
Best Value for Money
Most Efficient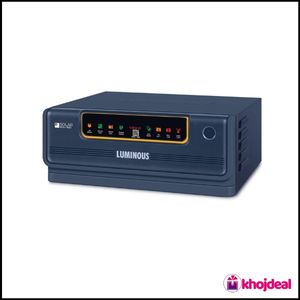 Best Overall
List of Top 10 Inverter In India 2023 With Price
Choosing the best home inverter from the list of top Inverter in India is one of the most difficult tasks. If you are facing a similar dilemma, then here is some relevant information including Inverter buying guide & FAQs that will help you in choosing the best Inverter for home in India for your needs and requirements.
Best Inverter For Home In India 2023
Luminous Zelio+ 1100 Pure Sinewave Inverter
Microtek UPS 24X7 HB Hybrid Sinewave Inverter
Exide Technologies Pure Sinewave Inverter
Amaron Pure Sinewave Inverter
V-Guard Smart Pro 1200 Sinewave Inverter
Luminous LNXG1100&150ATB Solar Hybrid Inverter
Livguard LG900 Square Wave Inverter
Genus Thunder 1050 Pure Sinewave Inverter
Luminous Zolt 1100 Sinewave Inverter
Microtek Inverter EB900 Pure Sinewave Digital Inverter
1. Luminous Zelio+ 1100 Pure Sinewave Inverter
Overload, deep discharge and short-circuit protection
Reverse polarity & Input mains protection through MCB
32-bit DSP Processor
Power Backup display time in Hours & Minutes
Battery Electrolyte Level Indicator
Running Load: 3 CFL, 3 Tube light, 3 Ceiling Fan, 1 Television, 1 Air Cooler
Battery System: Single battery / 12V
Capacity: 900 VA
Rated Power: 756W
Supports wide battery range, i.e. Flat Plate, Tubular & VRLA (SMF)
Battery is not included with this purchase
Safe for sensitive appliances with Sine wave output.
Why we liked this Inverter
Luminous Zelio is one of most intelligent & best UPS inverter in India with features such as power back-up/battery charging time display in hours & minutes, hassle-free battery water level maintenance, MCB protection and is equipped with a bypass switch which keeps supplying output from the grid even in case of Home UPS faults.
The low harmonic distortion makes this inverter practically noiseless and the pure sine wave output makes it highly efficient and helps save on electricity bills, no doubt, it's at the top on our list of best inverter for home.
✔Pros
Overload, deep discharge and short-circuit protection
Power backup display time in Hours & Minutes
Battery electrolyte level indicator
Supports wide battery range
Safe for sensitive appliances
❌Cons
Battery is not included with this purchase
2. Microtek UPS 24X7 HB Hybrid Sinewave Inverter
Capacity-950VA/12v
1 battery system (12 VDC)
Warranty: 2 years manufacturers' warranty
Hybrid technology for noiseless and better performance
IBGM technology increases battery life
PWM controlled multistage ATM (automatic trickle mode) charging
Bypass switch: In case of ups failure electricity will be bypassed
Intelli Power Saving Technology
Auto Restart
Why we liked this Inverter
Microtek Gen-Next range of UPS 24×7 are based on HYBRID technology, which is a perfect combination of Digital & Sinewave technologies which ensures noiseless performance, quick charging, more load, longer battery life and longer backups.
It is a premium product that comes with multiple features such as in-built bypass switch and IBGM (Intelli Battery Gravity Management) Technology. It has battery type selection switch for Tubular and Flat Plate Battery type and also voltage range selection switch. All Microtek UPS 24×7 Series Models are based on IPS Technology and save electricity so that every UPS 24×7 becomes free in 3 Years, this iverter is easily among the best inverter for home use in India.
✔Pros
Hybrid technology for noiseless and better performance
IBGM technology increases battery life
Bypass switch
Intelli power saving technology
Auto restart
3. Exide Technologies Pure Sinewave Inverter
High quality protection built up in the PCB
DSP (Digital Signal Processor) based Sine Wave Home UPS
LCD Display for displaying state of battery, voltage and charge
ASIC (Auto Sense Intelligent Control) Technology
Electrolyte Level Sensor indicator
Change over time Mains to UPS and vice versa: < 10 msec (at mains Low and High cut)
Maximum Load Capacity in Watts – 580 Watts
Smart In-built Protections – Overload, Short Circuit, AC Back Feed, Battery Low, Battery over Charge, Mains Overload through Resettable Switch, Over Temperature etc.
Soft Touch ON/OFF
Mode Selection
Charging Selection Switch
Why we liked this Inverter
Exide offers high-end DSP based Pure Sine Wave Home UPS with Grid Quality Power Output which guarantees 100% protection and long life for your electrical and electronic appliances. Exide's ASIC technology driven Home UPS ensures right battery charging for longer life and less topping up.
✔Pros
Built-in high quality protection
Electrolyte level sensor indicator
Auto sense intelligent control technology
Soft touch on/off
Battery display on LCD
4. Amaron Pure Sinewave Inverter
Sine-wave
Power Saving
Intelligent Microprocessor
Re-settable
Low Power Loss
880 VA
Overload alarm
Blown fuse alarm protection
Short circuit protection
Low battery signal
Why we liked this Inverter
Power cuts are a nuisance and interrupt day-to-day life. If you are looking for a utilitarian and stylish inverter for your home or office, take a look at this Amaron 880 VA Pure inverter. It is completely noiseless and as soon as it senses a power cut, it silently to battery mode. This way, you do not even know that there has been a power failure.
It has a capacity of 880VA and being a Sine Wave inverter, it offers brilliant power back-up for all your appliances. The inverter from Amaron runs on the Sinewave technology. The device has visual indicators as well as an overload alarm. Therefore, say goodbye to humid, gloomy and stagnant power cuts with this useful inverter.
Therefore, it consumes less energy as well. This is among the best inverter in India for home and also has a transformer that enhances the longevity of the inverter by reducing the power consumption.
📌Recommended For You: Best Inverter Battery for Home Use in India
✔Pros
Power Saving
Intelligent Micro-processor
Overload alarm
Short circuit protection
Low battery signal
❌Cons
Ineffective customer service
5. V-Guard Smart Pro 1200 Sinewave Inverter
Pure Sinewave Output that is ideal for the loads of sophisticated electronic equipment
Bluetooth connectivity to enable switching modes, controlling performance and monitoring operation
Battery water topping reminder to avoid last-minute hassles
User selectable inverter output & backup as per user need
Free company authorised installation
Emergency Charging Mode
Holiday Mode
30% faster charging
Why we liked this Inverter
V-Guard Smart Pro 1200 is equipped with Bluetooth connectivity, making it easy for you to customize its working as per your needs. It has multiple features such as the appliance mode that can run high loads up to 1000W (Electric Iron, Coffee maker, Toaster), Turbo Charge mode for super-speedy charging, mute/unmute the buzzer and select performance mode.
The Smart inverter series easily syncs with your smartphone. Once your device is registered on the V-Guard Smart app, you can control the power, check the backup time, switch through different modes according to your needs, review the power cuts and duration and charge up to 30% faster using Turbocharge.
✔Pros
Ideal for sophisticated electronic equipment
App-enabled smart inverter
Battery water topping reminder
Emergency charging & holiday mode
30% faster charging
❌Cons
Ineffective customer service
6. Luminous LNXG1100&150ATB Solar Hybrid Inverter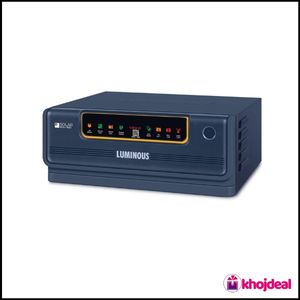 Material: Metal
Solar hybrid inverter with inbuilt PWM charge controller
Package Contents:1-Piece Solar
First of its kind home ups that delivers both ac and dc output
Running load: 5 lights, 5 ceiling fan, 1 television, 1 water cooler
Battery support: All brands and all types
Battery system double battery / 12v
Wave type: Pure sine wave
Rated capacity: 700 VA
Full battery recharge time: 10-12 hrs
Protection overload
Electricity savings of 3 to 5 units per day
Up to 1000-watt pv module solar panel compatibility
Intelligent fuzzy logic for maximum utilization of solar energy
Pure sine wave output provides better performance and safety to the connected load
Why we liked this Inverter
Luminous solar 1800 is a powerful hybrid inverter with 40-amp inbuilt charge controller. It is India's most intelligent solar system which gives priority to solar power use to save on electricity bills. The solar inverter charges the battery from grid and solar panel both.
If solar energy is available then it charges the battery from the solar panel and if solar is not available, then the inverter charges the battery from mains/grid. It can charge the battery and supply solar power to the connected load if solar generation is enough otherwise it gives priority to solar battery charging and then supply additional power to connected loads.
✔Pros
Delivers both AC and DC output
Electricity savings of 3 to 5 units per day
Solar panel compatibility
Overload protection
Better performance and safety
7. Livguard LG900 Square Wave Inverter
Audio alarms
Overloaded protection
Short circuit protection
Eco unregulated mode
Heavy duty charger for low voltage
Dc voltage 12v
Warranty 24 months
Capacity – 800 VA
Livguard inverters are compatible with Flat, Tubular, SMF and other local batteries
Why we liked this Inverter
Livguard inverters are designed to suit the needs of all your appliances. Equipped with artificial intelligent charging, our range of inverters can run heavy appliances with ease and have longer back-up time, there's no reason for them not be in our list of best inverter for home in India.
Other features include an in-built battery gravity builder and battery deep discharge protection. Livguard inverters are compatible with Flat, Tubular, SMF and other local batteries.
✔Pros
Audio alarms
Overload protection
Short circuit protection
Heavy duty charger for low voltage
Battery deep discharge protection
8. Genus Thunder 1050 Pure Sinewave Inverter
Boost Charging Mode
Compatible to household and business appliances
Suitable for all types of batteries (Normal, Tubular and Sealed Lead Acid Batteries)
Compact Design – Ideal for Modern Households
Energy Efficient and Reliable
Why we liked this Inverter
The Genus inverter with battery for home uses cutting-edge DSP technology and a modern design, to ensure that you do not need any separate power backup system. This is the best inverter for home and supplies clean, stable, and regulated power to safely run all kinds of appliances, including sensitive ones.
It has a long battery life, high energy-efficiency, and features a smart overload regulation. During power cuts, this inverter for home use switches to battery mode instantly, offering uninterrupted power supply. Also, you can use the Wide UPS mode to run fans, fridges and lights, while the UPS mode is ideal for computers and TVs. The inverter boasts of a user-friendly LED display too.
✔Pros
Suitable for all types of batteries
Well-built
Compact design
Reliable product
Easy functionality
9. Luminous Zolt 1100 Sinewave Inverter
Max Charging Current (in Amperes) : 15
Display: Digital LED display
Inverter Type: Pure Sine wave inverter
Inverter Capacity: 900VA
Max. Bulb Load: 756 watt
Warranty: 2 years on the inverter; Easy Returns
Processor: Intelligent 32 bit DSP Processor
Protection: Overload, deep discharge, short-circuit, Reverse polarity & Input mains protection through MCB
Running Load: 3 CFL, 3 Tube light, 3 Ceiling Fan, 1 Television, 1 air Cooler. Automatic temperature control via fan
Battery Compatibility: Single Battery/ 12 Volt; Supports wide battery range, i.e. Flat Plate, Tubular & VRLA (SMF)
Why we liked this Inverter
Designed for all types of power cut situations with high charge acceptance and low maintenance, coupled with a digital LED display for status of power back-up/battery charging time in hours and minute, the Luminous Zolt 1100 is easily one of the better, if not the best inverter for home use in India. Equipped with external MCB – An Inverter with MCB to protect your appliances against faults, short-circuits which may occur due to sudden power surges or improper use of the device.
It comes with the option of working in UPS or in eco mode. UPS output ensures safety of sensitive appliances such as computers, while keeping the voltage in range of 180V to 260V. In Eco mode, voltage range is extended thereby reducing battery usage.
✔Pros
Well built
Looks great
Easy to use
Overload protection
Short-circuit protection
10. Microtek Inverter EB900 Pure Sinewave Digital Inverter
Energy efficient
Digital display
Type: Square Wave Inverter
Voltage Range Selection Switch
Rated Capacity 800 VA
Output Power 672 Watts
Waveform Pure Sinewave. Battery State Monitoring
Input Voltage (Standard range) 100 V -300 V
Efficiency > 84%
Charging Current (Standard) 10 Amps
Why we liked this Inverter
Microtek Inverter EB900 is a great appliance to have in your home. This affordable inverter has a micro controller based design, and is also the largest selling series of extended battery backup UPS system. It comes with many user friendly features, and a Voltage Range Selection Switch and can be operated in Standard Voltage Range from 100V~300V and Narrow Voltage Range from 180V~260V. Very easy to use and long-lasting, the EB900 is easily one of the best home inverter in India. If you are looking for an affordable appliance, this could be it.
✔Pros
Simple to set up
Energy efficient
Digital display
Voltage Range Selection Switch for better control
Durable product
Easy customer service in select cities
📌Recommended For You: Best UPS for PC in India
Buying Guide – How to choose the best inverter for home use?
Before we get into the details of what an inverter really is, it is always a good idea to understand how an inverter actually works. If you are looking for the best inverter for home use in India, we have created a proper list above that can help you in your ordeal. That said, refer to the list once you have figured out the appliance, it will prove much easier for you as a consumer.
So, let us find out how an inverter works, and what to look for while purchasing one.
Home Inverter Working Mechanism
There are two types of electrical power in use – direct current or DC and alternating current or AC. DC is applied by batteries, solar panels, etc. and is mainly used by small digital goods with circuit boards, etc.
Alternating current or AC is supplied from the power sockets in your homes and this will typically be used to power larger appliances. Direct current flows directly in only one direction while alternating current travels back and forth.
Both these types of power have their uses and limitations, so we'll often need to convert between the two to maximize their use. An inverter is a device which is used to convert between direct current and alternating current. This is a very useful invention. You can also convert from AC to DC using a rectifier and it's common to find both of these in some devices.
So how do inverters work? Before proceeding to sine-wave production, let's see how a square wave alternating current is produced. In fact, the old type inverters used to produce simple square wave as their output.
For this, a circuit known as full-bridge inverter is used. It has four switches, one input voltage (DC) and an output load (AC). The switches are paired in such a manner that when switches 2 and 3 open, switches 1 and 4 close and vice versa. This will allow the inverter to force the current through the AC load in an alternating direction. However, this sudden switching will only result in a square wave.
The sharp corners of the square wave can be damaging to electrical equipment, so we need a way to smooth the corners out. The square wave output is a high approximation of sine wave output old inverters used to produce them. That's why you hear a humming noise when you run your electric fan or other appliances using square wave power. They also heat up electric equipment.
We all know that the frequency of the AC supply available in our homes is 60 Hertz. This means that we need to turn the switch on and off 120 times in a second, which is not possible whether manually or by using mechanical switches. For this purpose, semiconductor switches such as MOSFET are introduced. They can turn on and turn off thousands of times per second. With the help of control signals, we can turn transistors on or off very easily.
Modern inverters produce pure sinusoidal output, let's see how they achieve it. A technique called pulse width modulation is used for this purpose. The logic of pulse width modulation is simple. Generate the DC voltage in the form of pulses of different widths. In regions where you need higher amplitudes, it will generate pulses of larger width. You will be surprised to see that the shape of the averaged pulses looks very similar to the sine curve. The finer the pulse is used the better shape the sine curve will be.
Alternate Power Supply Solutions
Besides inverters, you can even invest in other power supply solutions as well. These can range from diesel generators, and even a basic UPS. First, you would have to figure out what your requirements are. If you do not have a lot of appliances to run, a UPS could work for you. Let us see the alternate forms of power supply solutions available to us.
Inverter – A very simple appliance, an inverter comes with a battery that stores power as it charges itself during normal hours. If suppose your house loses electricity due to any reason, this inverter-battery combo can really help you keep it on for a long period of time, given you are using it well enough. Inverters are the perfect backup for all big or small households. That said, do not connect all heavy appliances to the inverter and expect them to run. Only affix the ones that you would need if say you had an extended power cut.

UPS – A UPS is a simple appliance, but one that can provide a huge amount of convenience to you when in need. Consider it like a mini-inverter with the battery and processor encased in the same machine. A UPS might not be able to run your refrigerator or something larger, but can easily prove to be a great backup for your computer, TV, or other smaller appliances.

Diesel Generators – Now, this one is a little controversial. On one hand, DGs make a lot of pollution and are not really advised to be used on a general basis. However, if you live in areas that might see heavy snowfall, or similar environmental issues, and electricity becomes really rare, a DG can really help you out.

Solar Panels – Now, this is something we suggest everyone should totally get. Since solar power is a totally renewable energy source, you can essentially harvest it and use it to power your appliances with ease and without really paying any bills for it. Yes, solar panels can be pricey to purchase, but besides the initial price and the small repairing and maintenance you might have to indulge in, solar panels provide a money saving, and environment saving opportunity.
What to look for in an Inverter?
1. Types of inverters
Before buying an inverter, it is advisable to know how many types of inverters there are:
Square Wave Inverters: Such inverters are most appropriate for appliances with low sensitivity such as lighting and fans. While they are economical to buy, the noise produced by them is extremely high.

Modified sine wave inverters: Modified inverters are best suited for appliances with resistive loads that don't have any start-up surge. However, they produce a humming sound during operation.

Pure Sinewave Inverters: Apart from supporting appliances with low-sensitivity, pure sine wave inverters also support computers, laptops, televisions, coolers, microwaves and refrigerators. They are much more efficient than modified sine wave inverters and also the favoured choice for home use.
2. Analyse and calculate power requirement
First and foremost, it is important to analyse how much power backup you want and how many and which kind of appliances do you want to support. Once you have figured this out, you will be able to calculate how many watts of power you need.
Approximate power consumption of common appliances is as follows:
Fan – 80 watts
CFL – 20 watts
Tube light – 40 watts
LED bulb – 7 watts
Television – 120 watts
So, if you want to backup for 3 tube lights, 4 fans, 2 LED bulbs, 3 CFLs, and 1 television, your total power requirement is [(4*80) + (3*40) + (3*20) + (2*7) + (120*1)] which is equal to 634 watts. So, you need an inverter which can support a load of 634 watts or more.
3. Calculate inverter capacity
Once you have calculated the power requirement, you need to compute the inverter capacity. It is measured in VA or Volt Ampere and calculated by dividing total load to be supported by the power factor.
Households generally have a load factor of 0.8. Therefore, if your total load is 634 watts the required inverter capacity is (634/0.8) which is equal to 792 VA. It is suggested to buy an inverter that has more VA than that required.
4. Backup required in hours
Determining how many hours of backup you want your inverter to give is also important. It will help you in calculating the battery capacity.
5. Compute battery capacity/size
Battery capacity is expressed in Ampere Hour or Ah. The formula to estimate battery capacity/size is:
[(Total Load) * (Backup hours)]/Battery Voltage
Inverter batteries available in India generally have a voltage of 12V. So, if your total load is 634 watts and you require 6 hours of backup then you need an inverter battery with a capacity of 317 Ah or Ampere Hour.
6. Inverter Brand/Company
Instead of going for a local brand, it is important to choose an inverter from well-known brands. This will ensure that you get the desired warranty, quality, safety features and customer support.
7. Warranty
Buying an inverter with a good warranty period is important as it will help you to stay protected against all the major defects and damages. Therefore, you should look for the inverters which offer the maximum warranty.
8. Inverter Budget
If you haven't decided on the budget of your inverter, you will end up feeling confused with the selection. Hence, it's important to decide on the budget before you start looking for inverters. Also, this will save you from spending more money than required while buying the most suitable inverter.
9. After-sales services and support
After-sales services act like an assurance for buyers that they will continue getting the expected services against any problem with their selected inverter.
10. Addon features
Other features to look for in an inverter are mentioned below:
Digital display: Intuitive Display to easily understand the status of mains availability, battery status, battery charging time, voltage, etc.
Fast charging: Adaptive Battery charging control system technology (ABCC) ensures faster battery charging and enhances battery life by around 70%.
Low voltage charging: Battery charging commences even at input voltage as low as 95 Volt.
Easy UPS bypass: Bypass switch for supplying output directly from the grid in case of Home UPS fault.
MCB protection: MCB for protection from Input mains.
WiFi-enabled: Wi-Fi connectivity on Smartphone (Android & iOS) with remote app monitoring.
Solar Chargeable: Some inverters also come with a solar charging option.
FAQ's About Best Inverter In India:
1. What is an inverter?
Inverters convert DC power to AC power. They are also used in uninterruptible power supplies, control of electrical machines and active power filtering. The input, output, frequency, and overall power handling depend on the design of the specific device or circuitry. The inverter does not produce any power; the power is provided by the DC source.
2. What are the best inverter brands in India?
Most trusted home inverter brands in India are: Luminous, Microtek, Exide, Sukam, Amaron, V Guard, Genus and Livguard.
3. Which battery is best for home inverters?
Tubular batteries are the best choice for inverters. Although they cost slightly more than flat plate batteries, they are much more durable and will last longer.
4. What is the normal life of the inverter battery?
Among the three different types of inverter batteries available in the market, Tubular batteries last longest i.e. 5 to 6 years. Maintenance-free batteries last for approximately 3 to 4 years. Flat plate battery has the lowest battery life. They last for approximately 2 to 3 years. The inverter battery life also varies as per usage, power requirements and how well its maintained.
5. Is it safe to keep inverter in the bedroom?
No, as inverter batteries emit small amounts of hydrogen fumes and other gases, they should be kept in open areas such as the balcony or near windows with proper ventilation.
6. Can purified water be used in batteries?
No purified water should not be used in batteries. Purified water may be pure from the point of contamination from bacteria and other pathogens, but its not deionised, which is the requirement for battery water.
7. My inverter is beeping continuously, what is the reason for that?
One of the common reasons for inverter beeping continuously is that its running low on battery. In order to stop the beeping sound, you must provide power to your inverter. Another common cause for inverter beeping continuously is capacity overload. In order to stop the beeping sound, you must try removing some extra load.
8. What is a solar inverter?
A solar inverter is a type of electrical converter which converts the variable direct current (DC) output of a photovoltaic (PV) solar panel into alternating current (AC) so that it can be fed into a commercial electrical grid or used by a local, off-grid electrical network.
9. What is the difference between UPS and inverter?
Although the two terms are often used interchangeably, there is a difference between UPS and Inverter. The UPS is an electronic device which has a rectifier for providing backup power to a device when the mains supply fails whereas the inverter simply converts DC into AC. Another major difference between the UPS and inverter is that the switching of UPS from the main supply to the battery is immediate (taking only 3-5 milliseconds) whereas in an inverter the switching from mains supply to battery takes a little bit longer (100 milliseconds).
10. What size inverter do I need?
While buying an inverter, you first need to make sure that it can handle the appliances and devices in your home without giving in too quickly. To figure out what size inverter you need, follow this formula – Size of Inverter=Total Load+(1+Af) / Ie VA. For example, if the total load of your home is 475V, use the formula accordingly. Size of Inverter= 475+(1+20%) / 80% Size of Inverter= 712 VA.
11. Which Inverter is best for low voltage?
If you suffer from low voltage electricity in your area, you simply must invest in a good inverter. We have listed the best inverter for home use in India above, find one that best fits your needs. If voltage drops are really frequent, we suggest you invest in an inverter with a VA potential more than 1000VA.
Conclusion
The selection of the inverter for the home may vary based on various factors and needs. We hope our article gives you the relevant information required to make an informed buying decision. In case you are unable to find the best inverter in India here, head over to Amazon India to browse through the store's exhaustive collection.

In case, you require any further assistance to select the best home inverter, please comment below and we will get back to you with the best possible solution.
---
Loved our blog on Best Inverter for Home? Do share it with your friends on Facebook, Twitter, and Whatsapp.