There is no other night like movie night. Enjoying movies with family, music at a party or game night with your buds – a home theater is the answer to all your needs. Most people buy expensive 4K TVs and top of the line blu-ray players expecting an incredible in-house movie experience. However, that experience isn't complete without the right audio setup. A home theater comes in handy in such situations, providing excellent music quality to your already decent setup. The Best Home Theater System Under 20000 in India are listed by Khojdeal. Our buying guide keeps you well informed, making your purchase all the more accurate.
---
Everything About Home Theaters – Buying Guide
Purchasing a good Home Theater is not as easy as buying just basic speakers. Your home theater is going to be the main man when it comes to movie and music nights. Karaoke is quite fun on a home theater too you know. Making the most of your investment is crucial to Khojdeal. With this purpose in mind, your entertainment and your special movie nights, we bring to you a buying guide for the Best Home Theater System Under 20000 in India.
Factors to Keep in Mind
Before getting yourself to invest in a home theater, keep in mind these few prerequisites to make sure your movie nights are incredibly fun.
Your TV : Keeping in mind the TV you currently use is essential to make the most of your movie nights. A well built 4K HDR TV when coupled with the right home theater can keep you entertained for hours on end.
Room Size : The size of the room you intend to install the home theater in is crucial to its overall functioning. Since, home theaters come with multiple speakers in combination with one or more sub-woofers, you need to make sure, your room is big and acoustic friendly enough to handle multiple speakers. Similarly, a home-theater-in-a-box setup or fewer speakers are not nearly satisfying for use in a bigger room.
Video Source : Home theaters are quite handy and can handle most streaming services and set-top boxes. If movie nights are your primary use for this home theater, make sure you get a blu-ray player for a super HD movie experience.
Ease of Setup : If easy setting up is your thing, home theaters in-a-box might be the way to go. A singular device that makes up the entirety of the home theater makes it easier to setup with your TV. Moreover, make sure you understand smaller setups are not nearly as satisfying as bigger, better setups.
What to Look for in a Home Theater
Channels : Channels in a speakers refers to the amount of speakers actually releasing sound. For example and easy understanding, a 5.1 speaker means 5 speakers and 1 sub-woofer unit. Similarly, a 7.1 refers to 7 speakers and 1 sub-woofer. Systems that mention channels as, say 5.1.2 mean, 5 speakers, 1 sub-woofer and 2 upward firing Dolby Atmos speakers. Choose a higher setting if you have a big room or want to use your home theater primarily for music.
Size : The size of the home theater is crucial when you set up for that perfect family movie night. With multiple speakers, a home theater can prove to be quite bulky and space consuming. Make sure you keep in mind the size of the room in accordance to the size of your prospect home theater.
Connectivity : Connectivity in a home theater is crucial too. What is the point of getting a home theater that does not connect to either of your devices. Make an informed purchase and look for the correct connecting port on the home theater before purchase.
---
Looking for a DSLR Camera? The ones from Canon are quite the products. Find here the Best Canon DSLR Cameras in India.
Frequently Asked Questions (FAQs) about Home Theaters
Which Home Theater is best for home?
Depending on a few factors, your next home theater can be either a soundbar or a fully fledged 7 speaker plus 1 sub-woofer setup. Budget home theaters can also prove worthy for purchase. The best home theater according to Khojdeal experts is the JBL 5.1 K951455. The 4k UHD soundbar comes equipped with Dolby Digital DTS. The best Home Theater System Under 20000 in India is the Sony 5.1 HT-RT3.
Which is the best home theater under 20000?
Budget home theaters are quite difficult to choose from due to limited features, sound quality and design. Khojdeal experts reviewed hundreds of products and realized there are two best home theater system under 20000 in India. Namely the Song 5.1 HT-RT3 and JBL Bar 2.1.
Is 5.1 or 7.1 surround sound better?
With 7 speakers and 1 sub-woofer unit, a 7.1 channel speaker beats the 5 speaker, 1 woofer setup of a 5.1. More surround speakers amount to a better sound quality overall.
---
HP laptops are considered the most durable. Find here the Best HP Laptops in India.
Best Home Theater System Under 20000 in India – Reviewed : Updated 2020
Budget Home Theater systems can be tricky to purchase. Home theaters earlier were considered luxury items, but now have transitioned into the mainstream. With this drastic switch, home theaters are now widely available in all sizes, prices and design choices. The best home theater system under 20000 in India are mentioned below by Khojdeal.
1. JBL Home Theater System : 2.1 – JBLBAR21BLKEP
JBL Surround Sound
2.1 Speakers
Frequency Response: 40Hz to 20KHz
Wireless music streaming with Bluetooth
Rich and deep bass from a 6.5 inch (165mm) wireless subwoofer
Dolby Digital Embedded
Connect your devices with HDMI IN/ 1 HDMI out (ARC)
1 year manufacturer's warranty
2. JBL Home Theater System : 2.1 – Cinema SB130
110W power output
2.1 Speakers
Wired subwoofer for extra deep bass
Dolby Digital embeded for ultimate movie experience
Wireless music streaming via Bluetooth
One cable connection with HDMI ARC
1 year manufacturer's warranty
3. Boat Home Theater System : 2.1 – Aavante Bar
Sound with 120 Watt rms and subwoofer
2.1 Channel Surround Sound
Sleek Design
Signal To Noise Ratio:72 dB
Multiple Connectivity : USB, optic, aux and remote connection
High end equalizer technology
HDMI ARC
4. Sony Home Theater System : 5.1 – HT-RT3
5.1 channel real surround sound
Power output of 600W
Dolby Digital Soundbar
Easy Bluetooth connectivity, NFC one-touch wireless audio streaming, Bluetooth and USB audio playback
Great-sounding music in one step with ClearAudio+
Browse Music with the Songpal application
HDMI Connectivity
5. Sony Home Theater System : 5.1 – HT-S20R
5.1 channel surround sound
Dolby Digital Soundbar
Easy Bluetooth connectivity, NFC one-touch wireless audio streaming, Bluetooth and USB audio playback
Great-sounding music in one step with ClearAudio+
HDMI Connectivity and Micro USB
6. LG Home Theater System : 2.1 – SL6Y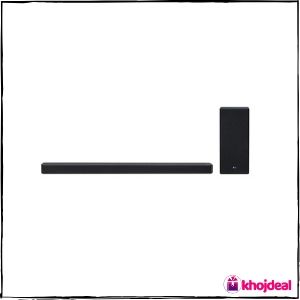 LG Sound Bar SL6Y with DTS Virtual:X technology
2.1 channel surround sound
High Resolution Audio delivers 96kHz sampling rates and 24bit depth
Inputs including HDMI, Optical and Bluetooth
Steam music via Bluetooth from your smartphone to LG Sound Bar SL6Y
Wall Mountable
7. Samsung Home Theater System : 2.1 – HW-R450
2.1 Channel Surround Sound
Power : 200W
Powerful Bass
Game Mode
Wireless TV Connection via Bluetooth
8. Yamaha Home Theater System : 2.1.1 – YAS-109
2.1.1 Channel
Built-in Alexa voice control for easy control of your sound bar, smart home devices, music and more.
Dual subwoofers built in for deep bass from an all-in-one sound bar.
Clear Voice for enhanced dialogue clarity.
DTS Virtual:X virtual 3D surround sound.
Bluetooth streaming for your music and podcasts.
Output Power – 120 W (Front L/R: 30 W × 2-ch, Built-in subwoofer: 60 W).
Dolby Audio, 4K, Bluetooth, Wi-Fi and Spotify enabled
9. Mi Home Theater System : 1.0 – MDZ-27-DI
1.0 Channel
Features 8 sound drivers
Connect your mobile devices effortlessly via the S/PDIF, Optical, Aux-in and Bluetooth connections
Hassle-free uncluttered setup that takes just 30 seconds
Connecting the Soundbar to your phone or laptop via Bluetooth 4.2 LE
Enhanced bass, with passive radiators to bring cinematic experience at home.
Wireless Soundbar
10. Philips Home Theater System : 2.1 – HTL2163B/12
2.1 Channel
Sound Enhancement: Virtual Surround Sound, Treble and Bass Control, Night Mode
Sound System: Dolby Digital
Loudspeaker integrated with main unit
Power consumption: 30 W, Power supply: 110-240V, 50/60 Hz, Standby power consumption: < 0.5 W
Connect your devices via 3.5mm audio-in or Bluetooth
Rear Connections: Digital coaxial in, Digital optical in, Subwoofer out, AUX in, HDMI 1.4 output (ARC)
1 year warranty
Virtual Surround Sound
Dolby Digital
---
Conclusion
Buying the best home theater system under 20000 in India was only a pipe dream until Khojdeal got down to business. Our experts use, review and research products in the market so that you don't have to. We do the hard work and you make off with the best products available. I see it as a win win situation. Home theaters are necessary if you are a movie or music buff. Investing in one is now easier than ever. From our reviewed products you might find the next appliance that sits in your living room. Let Khojdeal help with all your shopping needs. Cheers!
---
Related Articles
---
Loved our blog on Best Home Theater System Under 20000 In India? Do share it with your friends on Facebook, Twitter, and Instagram.
DISCLAIMER: Being a reader-supported blog, Khojdeal earns affiliate commission from purchases made using links on our blog.
Learn more