When it comes to guitars and guitar brands, there are a good number of options to choose from. If you are someone who is just starting out with music, guitar is quite the interesting instrument to pick up. The best guitar brands in India are listed here.
Knowing which brand to start with, or even which exact guitar to pick up could potentially make all the difference to your experience. Professionals understand that brands make a lot of difference when it comes to the style of music you play. Making the right decision during purchase can really help you enhance your skill in a better, more effective way.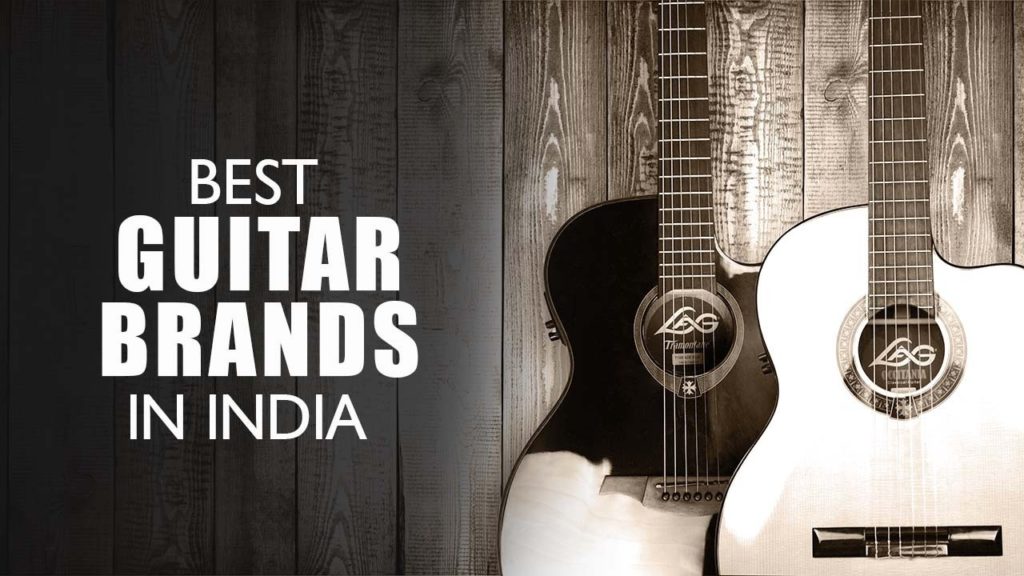 We reviewed some of the best guitar brands in India and brought you this comprehensive article with the top brands for both beginners and professionals alike. If you wish to start off with music, guitars prove to be a good gateway into deeper avenues while buying a rather easier instrument to start while being an incredibly difficult instrument to master.
List of the Best Guitar Brands in India – Reviewed 2022
This list includes a good blend of beginner and semi-professional guitars. There are a few other brands worth mentioning, like Gibson, Dean, Washburn, and ESP, but they can get rather expensive and are more targeted towards semi-professionals rather than beginners.
Did you know – The First Guitar was Created in Ancient Egypt
| | | |
| --- | --- | --- |
| S. No. | Brand | Price Margin |
| 1. | Juárez | ₹5000 – ₹8000 |
| 2. | Kadence | ₹5000 – ₹8000 |
| 3. | Yamaha | ₹7000 – ₹20,000 |
| 4. | Fender | ₹10,000 – ₹30,000 |
| 5. | Cort | ₹7000 – ₹30,000 |
| 6. | Epiphone | ₹15,000 – ₹80,000 |
| 7. | Pluto | ₹5000 – ₹12,000 |
| 8. | Hertz | ₹5000 – ₹10,000 |
| 9. | Ibanez | ₹10,000 – ₹50,000 |
| 10. | Schecter | ₹20,000 – ₹60,000 |
*Price margins listed here are on average. Electric guitars, or more quality guitars from these same brands can be more expensive.
1. Juárez
If you are a beginner, just starting out with music, Juârez would prove highly effective in your journey. Juârez guitars are sturdy and incredibly affordable. For semi-professionals too, Juârez proves great as a great spare or practice guitar. They feature great quality, impeccable style, and durability to match. The stylized look feels great and gives the products a lot of edge. Made from Linden wood, Juârez guitars make for wonderful first-time guitars.
For professionals, this guitar brand might not be something they look forward to playing, but for beginners, this is literally the best place to start. With affordable guitars, Juârez might not appeal to more professional players, but can surely find a home in any beginner's guitar collection.
Pros
Affordable
Great for beginners
Solid build
Good fret quality for its price
Cons
Not very durable
Faint sound
2. Kadence
The first choice from the house of Kadence comes from the Acoustica series. Kadence's semi acoustic-electric guitars are built to have great sound quality, high durability, and increased ease of use for both beginners as well as professionals. Made from zebra wood, their electro acoustic guitars come with a pickup, inbuilt tuner and bag. Everything you need to start playing. Their quality is great which allows your guitar to last a long time without showing signs of damage. You only need to take care of them.
Inlayed with a bone nut and saddle, balanced perfectly in place with a sturdy rosewood bridge for optimum transfer of string vibration to the body and the neck, Kadence guitars prove to be highly effective to learn and grow as a guitar player. If you are just starting out with music, Kadence is easily one of the best guitar brands in India.
Pros
Affordable
Good quality wood
Good sound
Lightweight
3. Yamaha
Quality and tone is the hallmark of Yamaha guitars. They pass a lots of quality checking process and strict quality tests. These works are leading to high durability and stability. These guitars share every bit of the passion that ignites their premium ranges and are the perfect instrument for student or seasoned player alike. Yamaha is easily one of the best guitar brands in India. Not only are they highly durable, but also have a high-grade, high-quality sound output, both electric and acoustics alike.
If you are looking for the best guitar brands in India, there is simply nothing better than Yamaha guitars. Great sound quality, durable, great build quality, and design.
Pros
Great quality
Great design
Brilliant sound quality
High-grade materials
Durable
Perfect for all kinds of players
4. Fender
Fender guitars are some of the best in the market. One of the biggest brands in the guitar industry, getting a Fender will make sure you will be playing the same guitar even decades after. They are highly durable guitars that produce a brilliant sound when played. Maintaining a Fender might not be easy with regular cleaning and string management necessary to make it last. However, if you can do all that, the product you get is literally one of the best. If you are looking for the best guitar brands in India, Fender is probably the best you can get at a reasonable price.
Fender also has a side brand called Squire. Squire guitars are much cheaper but come with almost the same features as a normal Fender guitar. If you are on a budget but still wish to buy a top quality guitar, a Squire might prove really helpful. The synchronized tremolo bridge was first released in 1954 on the original Fender Stratocaster. The main feature of a synchronized tremolo bridge is that players can increase or decrease the tension of their strings with the use of a special tremolo bar (included). Pushing or pulling on the bar simultaneously shifts the pitch of the strings, an effect known as vibrato used in genres such as blues, rock, etc.
Pros
Great mid range, and full sound quality
Brilliant design and build
Top notch wood used
Easily serviced
Lightweight
Used by some of the biggest musicians
Cons
Takes a bit of maintenance, but is totally worth it
Better guitars can be really expensive
5. Cort
Cort Guitars is a South Korean Guitar manufacturer, with its headquarters located in Seoul. The company makes some of the best guitars in the world, and is also one of the largest manufacturers too. Found in 1960, Cort remains a big name in the guitar market, given to their brilliant designs available at much affordable prices. One of the best guitar brands in India, and outside, Cort guitars make for perfect beginner guitars that you can play even after becoming a professional.
Cort guitars can be a little heavy sometimes, but their build quality is top notch and Cort does not compromise on quality either.
Pros
Decently priced
Good build quality
Good sound quality
Well designed
Best as a beginner guitar
6. Epiphone
Epiphone is an American musical instrument brand that was purchased by the giant Gibson in the year 1957. Epiphone guitars have become a staple for every musician due to their quality of design, sound, and build. Epiphone guitars are much more affordable then their Gibson counterpart, but feature almost the same features as well as design. Easily one of the best guitar brands in India, Epiphone is literally a semi-professional musician's top tool.
If you are someone who has been playing guitar for a while and require a good guitar to add to your ever-growing collection, Epiphone is the way to go. They are not only durable and well-made, but they also sound incredibly good and potent with their full sound with amazing mid tones. Today, Epiphone is still used as a brand for the Gibson company, both for budget models of other Gibson-branded products and for several Epiphone-exclusive models. Aside from guitars, Epiphone has also made double basses, banjos, and other string instruments, as well as amplifiers.
Pros
Great design
Epiphone by Fender
Brilliant quality
Long lasting and highly durable
Requires low maintenance
Cons
A bit on the heavier side
Not as good as Fender guitars
7. Pluto
If you are a music lover and a fan of acoustic guitars in particular, then this guitar from the house of Pluto is a must buy. Great quality and impeccable styling are just some of the features. Manufactured by a leading brand, this basic acoustic guitar is highly attractive to look at, courtesy its stylized looks. Pluto guitars are simply amazing. There is an unrelenting demand, because the guitar quality is amazing. Pluto guitars are well-made and designed. If you are looking for a good acoustic guitar that can be used by both professionals and beginners, Pluto is literally one of the best guitar brands out there.
Pros
Lightweight
Great sound
Great design
Low maintenance
Affordable
Perfect for all styles and all players
8. Hertz
Hertz Digitron came into existence in the year 2005. Even though the brand is relatively new, Hertz has become one of the prime brands for beginner guitars. They are also one of the first Indian company to manufacture and sell electric guitars through their own website. It has since developed a strong goodwill and trustworthy brand value among the ever growing customer base in India and abroad. Since its inception, Hertz has now begun to manufacture and sell products that include acoustic guitars, electric and classical guitars, ukuleles, amplifiers, percussion instruments, and more.
Under its increasing brand presence, constant growing customer support and continuous up-gradation of the products quality and availability, the result per se is extremely remarkable and commendable. The same has made the brand one of the most popular among its segment, especially in the vast range of acoustics all over India. If you are looking for a good beginner guitar, Hertz acoustics are easily one of the best ways to start playing.
Pros
Good quality
Good design
Low maintenance
Lightweight
Perfect for beginners
Cons
Not very good for professionals
9. Ibanez
Ibanez is a Japanese guitar company owned by Hoshino Gakki. Based in Nagoya, Aichi, Japan, it was one of the first Japanese musical instrument companies to gain a significant foothold in import guitar sales in the US and Europe. They were also the first brand to mass produce seven-string and eight-string guitars. Ibanez is easily one of the biggest and best guitar brands in India and abroad. As of 2017 they marketed nearly 165 models of bass guitar, 130 acoustic guitars, and more than 300 electric guitars. After Gibson and Fender, Ibanez is considered the third biggest guitar brand.
Not only do they look and play better than everything else in their price range, but their rigorous inspection, set-up and warranty is the same as Ibanez's more expensive models.
Pros
Brilliant design
Amazing sound quality
High quality build
Top-notch materials used
Can be used by any kind of player
Cons
Better models are expensive
10. Schecter
Schecter Guitar Research, commonly known as Schecter, is an American manufacturing company founded in 1976 by David Schecter. They originally produced only replacement parts for guitar manufacturers like Fender and Gibson. However, today the company mass-produces its own line of electric, acoustic, and bass guitars along with amplifiers and effect units, or processors.
Schecter electric guitars are some of the best in the market, and are loaded with the features that modern guitarists seek-like the beautifully figured, carved maple top on a basswood body with a comfortable double-cutaway that gives you full access to the fast maple neck fitted with a rosewood fingerboard with 24 extra-jumbo frets. A Floyd Rose Locking Tremolo system lets you dive-bomb without tuning fears. Dual Schecter Diamond Plus high-output alnico humbuckers provide an array of tones for every musical mood you need to express. The Schecter Omen FR Extreme's no-nonsense controls include a Master Volume and Tone control with push/pull coil-splitting, and a 3-way toggle switch.
Pros
Great quality
Used by some of the biggest musicians
Best used for heavier tunes like rock
Brilliant build quality
Highly durable and long lasting
Conclusion
Good guitars can be easily purchased if you know what to look for. Similarly, it is just that easy to purchase a guitar that does not display signs of quality. The difference between the two different guitars might not be very obvious to someone who does not know what to look for, and to notice the subtleties, you must know guitars inside and out. If you are a beginner, it becomes that much more difficult to get hold of a well-made guitar. For that purpose, we listed out the best guitar brands in India for you to choose from.
The brands listed here sell everything from acoustic guitars to electric ones, and some even sell bass guitars and accessories. If you are buying an electric guitar, make sure to purchase a good enough amplifier to go with as well.
Frequently Asked Questions (FAQs) about Guitar Brands
1. Are acoustic guitars better than electric guitars?
Not really, no. The thing is, both of them, acoustic and electric guitars come with their own set of styles you can play. Electric guitars are great for more louder tones like rock, while on acoustic you can play a lot more classical and lighter tones like jazz. If you are just starting out, the better option is to start on acoustic guitars rather than electric ones.
2. Are Gibson acoustic guitars worth the money?
Yes. Gibson guitars are some of the best guitars in the market. They might have a higher price tag, but they are well worth it given their build and durability.
3. Which are the best acoustic guitars?
If you are looking for the best acoustic guitars, there are a lot of brands to choose from. For beginners who are looking to learn guitar and continue it for a long time, a branded item like Fender will prove useful. If you just want a beginner's guitar to learn on and have plans to move to better instruments, Kadence and Cort have good products at a much more affordable prices. We have already listed the best guitar brands in India above. Do take a look.
4. What is an excellent acoustic guitar for beginners?
For beginners, we suggest you get Cort or Pluto. If you are looking to splurge right away, you can get yourself a good Fender guitar that can last you for ages if you take care of it.
DISCLAIMER: Being a reader-supported blog, Khojdeal earns affiliate commission from purchases made using links on our blog.
Learn more