Are you looking to add the healthy foods for glowing skin to your diet? Then, this article is just what you need. Enumerated here are the best healthy foods for glowing skin that you should include in your meals if you want a glowing and healthy-looking skin.
When the first rays of sun hit the horizon, those who are lucky enough to have a balcony or a garden can enjoy them. But it is good to keep in mind that even the spring sun can damage our skin. At home we have many foods and products useful to strengthen the skin and protect it. Just consume them regularly to improve brightness and elasticity.
Healthy foods for glowing skin – Eat your way to a healthy & radiant looking skin
Pollution, genetics, fatigue, stress, etc. many factors can influence the health of our skin. But did you know that certain foods have a beneficial impact on the latter? Here are the foods to eat to have healthy skin and prepare it for the sun.
1. Carrots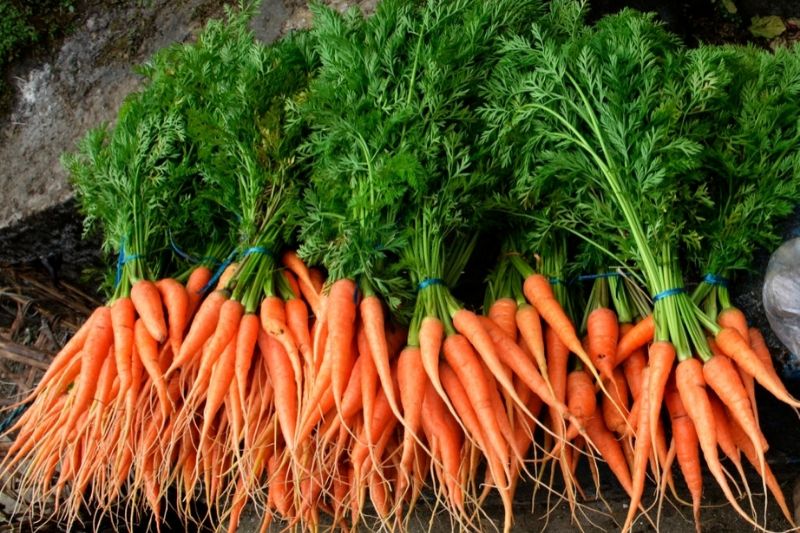 Among the most useful healthy foods for glowing skin, carrots are rich in carotenoids, essential antioxidants to prevent premature aging, and vitamin A, equally important for protecting the epidermis from damage by UV rays. They also stimulate the production of melatonin, which allows for a correct tan. The carotenoids also help combat degenerative diseases of cataract, and protect the heart, lungs and intestines.
A word of advice: try to eat them raw, to avoid diluting their properties. In addition to beta carotene and antioxidants, carrots are also an excellent source of vitamin K, vitamin B6, biotin, vitamin C, and mineral salts such as potassium, copper and manganese.
2. Potatoes
The potato is a source of mineral salts, fibers and vitamins (in particular C and B) and has an anti-inflammatory and soothing action on the reddened dermis. Just grate one and apply on the affected area to get some relief. It purifies the skin by eliminating blemishes such as acne and blackheads. The potatoes can heal and protect against the damaging effects of solar radiation because they are rich in beta-carotene, a precursor of vitamin A.
Potatoes also contain vitamin C which, in addition to helping the immune system, also acts as an antioxidant. To prepare the skin for the next sun, in particular, you can opt for American sweet potatoes, particularly rich in beta-carotene: 100 grams of sweet potatoes, in fact, bring so much beta-carotene that it covers the recommended daily dose of vitamin A.
3. Green tea
The green tea is an excellent food for healthy skin, even when it is exposed to the sun. Rich in antioxidants such as polyphenols, it is useful against ultraviolet radiation and prevents premature aging of the epidermis. The polyphenols contained in green tea, in fact, have a general antioxidant action, protecting the skin even in the event of smog, pollution, smoke, stress and chemicals.
Thanks to its antioxidant and astringent properties, green tea helps and purifies the dilated pores of the skin that tend to become infected; in this way it carries out an astringent action, leaving the skin smooth and radiant. To get a purifying mask, prepare the green tea infusion and let it cool, mix a couple of tablespoons with 2 tablespoons of clay to make a paste. Spread it on your face and let it dry completely. Cleanse and rinse your face with warm water.
If you're looking for the best Green Tea infused cosmetics shop now from Mamaearth. Make use of the latest Mamaearth coupon to earn additional discount.
4. Oat flakes
Oats contain avenanthramide, a group of antioxidant phenolic compounds that are very useful for the health of the skin and for improving its elasticity. In addition, in case of sunburn, oats can be used to prepare a soothing mask. Oats are very often included in bubble baths and body creams as they have the ability to protect and moisturize the skin.
Oat-based products are recommended for all skins, even the most sensitive, such as those of children and the elderly. Thanks to this powerful skin-protective property, oats are also perfect for facial skin that tends to get red, irritated or "tight". Experts recommend using oat cream in the morning and in the evening before bedtime. It is also ideal as a make-up base. In addition to protecting the skin, oats have important cleansing properties and are perfect for those who want smooth, soft and silky skin.
5. Strawberries
Thanks to the anthocyanins, the pigments responsible for their red color, strawberries are considered a real elixir for the health and beauty of the skin. Together with vitamin C, in fact, anthocyanins help maintain the elasticity of the epidermis and improve its luminosity. Strawberries also contain vitamins A, B1, B2, and K in addition to mineral salts including iron, potassium, magnesium and manganese.
In addition, strawberries are effective in improving the appearance of the skin from the outside because of their pulp nourishes and relaxes the skin of the face. To create an anti-wrinkle mask, simply remove the stalks of the strawberries and crush the fruit until you get a pulp, and then massage it on the face, leaving it on for 20 minutes before rinsing. Those suffering from couperose can prepare a refreshing compress with the leaves of strawberries to reduce the redness.
6. Cucumber
Cucumber is famous for its cosmetic properties and one of the most popular healthy foods for glowing skin. It is rich in water, vitamins C and K, vitamins of the B complex, mineral salts as well as potassium, phosphorus, fiber and manganese. Thanks to the richness of water, natural fatty acids and vitamin E, it is an excellent natural remedy for skin care. Its pulp makes skin softer and luminous as well as deeply hydrates it.
It is also useful against oily skin and pimples and can be used as a soothing after sun exposure. The cucumbers contain a lot of water, which helps to moisturize the skin, as well as to purify the body. They are also rich in antioxidants, pain relieving compounds, vitamin C and other nutrients that stimulate collagen production, thereby improving skin elasticity.
Mamaearth offers a variety of cucumber rich cosmetics. By using the latest coupon for Mamaearth you can earn additional discount.
7. Tomatoes
Vitamin C, carotenoids and lycopene are a mix of substances that tomatoes are rich in and which significantly improve skin health. In particular, carotenoids and lycopene block free radicals, reducing the damage of UV rays and preparing the skin to receive the sun in complete safety. You can eat them both raw and cooked.
The tomato puree, in fact, contains the same level of lycopene as the freshly picked tomatoes. They also help in fighting aging. Cellular aging is due to the action of free radicals, which are effectively counteracted thanks to the antioxidants contained in tomatoes such as Vitamin C, Beta-carotene and lycopene. Tomato juice, naturally rich in Vitamin A, is known to prevent skin diseases. In addition, this essential vitamin keeps the skin naturally glowing.
8. Avocado
Avocado is rich in mineral salts such as calcium, iron, copper and potassium, but also in fiber and vitamins A, and some of the B group vitamins. In particular, it is a source of vitamins B1 and B2, but also of Vitamin D, Vitamin E, Vitamin K, Vitamin H and Vitamin PP. Full of Omega 9 fatty acids, which is a part of the foundation of healthy skin, this fruit encourages epidermal regeneration by reducing irritation and redness.
Supplementing your diet with an Avocado dish could help you have shinier skin. Avocado is also widely used in cosmetics, because it is rich in nutrients that are excellent for the well-being of skin. It is, in fact, a moisturizing, emollient and rebalancing fruit, and helps to reintegrate the hydrolipidic film of the epidermis. Ideal against dry skin, especially in the form of oil or face cream, avocado gives elasticity and tone to dehydrated skin.
9. Coconut oil
Coconut oil is made up of healthy, saturated fats and proteins that not only encourage epidermal regeneration, but help to firm the skin resulting in a radiant-looking complexion and a more uniform skin tone. This set of factors contained in coconut oil helps to make your skin shinier and more glowing.
It softens the skin and helps keep it hydrated, thus counteracting the loss of elasticity and the signs of aging due in part to environmental agents including sunlight and air conditioning. Coconut oil can also be used to soften and moisturize the skin of the body and is also perfect for soothing the epidermis after waxing, hair removal or sun exposure.
10. Spinach
The King of green leafy vegetables, Spinach is one of most healthy foods for glowing skin. It includes a huge range of vitamins; particularly folate, which helps DNA repair itself and can also reduce wrinkles. All green leafy vegetables are extraordinary for improving the skin and therefore increasing the volume of these foods in the diet can have a huge impact on your complexion and the brightness of the skin. Drinking spinach juice is extremely beneficial for skin health as it keeps the skin always rejuvenated by eliminating harmful toxins from the body.
Regular consumption of this juice helps heal skin ailments such as pimples and acne. The benefits of water spinach for the skin have been known for a long time. As stated earlier, this vegetable is a great source of vitamin A, vitamin C, carotenoids, and lutein. These minerals are vital for healthy, glowing skin. Consuming spinach water on a regular basis helps keep skin glowing and healthy.
11. Almonds
Full of good fats, almonds are particularly known for their wide range of health benefits, one of which is represented by the high levels of vitamin E that protect the skin from cell damage and encourage regeneration. In the world of cosmetics, sweet almond oil is used to fight wrinkles and stretch marks as well as the first signs of aging. It is rich in vitamin A, B vitamins, minerals and proteins that make it an excellent emollient product.
In addition, the vitamin E contained in almonds makes them a powerful antioxidant able to counteract free radicals and slow down aging. An Indian study has shown that when applied to the skin, almond oil prevents UV damage to the skin. Other studies have shown that some compounds contained in almonds have photoprotective effects on the skin, and that they can fight oxidative stress and skin redness, preventing erythema.
12. Broccoli
The high content in vitamins and in particular vitamins A, C and E allows to have a beneficial action on the skin. Broccoli is rich in vitamin C, stimulating collagen production, and in vitamin A which protects the skin from ultraviolet radiation. It also acts by stimulating the expression of some specific enzymes, some of which have the function of improving skin thickness, thus decreasing the depth of the wrinkle.
These plants are also rich in glycophorin, which when consumed turns into sulforaphane, a substance that stimulates the skin repair process and helps it stay healthy. In addition, it also contains a lot of vitamin C, which is a very powerful antioxidant capable of helping fight skin damage caused by sun exposure and pollution. Furthermore, vitamin C also plays an essential role in the formation of collagen, the main support system of the skin. Vitamins E also acts as an antioxidant, thus delaying cellular aging and fighting free radicals, even in our skin.
13. Water
In addition to preventing free radicals, proper nutrition against premature aging of the skin must provide for a good state of hydration. It is one of the best healthy foods for glowing skin. Water is the fundamental constituent of all living beings, necessary to perform numerous biological functions. Furthermore, water allows cells to receive their nourishment and to eliminate metabolic residues and toxins.
For healthy skin, it is generally recommended to take at least 2 liters daily of liquids through drinks (water, tea, herbal teas, provided they are unsweetened) which, together with fresh fruit and vegetables, prevent states of dryness & flaking and help diuresis by promoting the elimination of toxins and harmful cell metabolites.
14. Tofu
Tofu is an important source of vegetable protein. It is also rich in B vitamins, in particular B1, B2, B3 and folate (B9). Among the mineral salts, it has a good content of potassium, calcium and phosphorus, with a low sodium intake. Tofu can help firm and preserve collagen, a fibrous protein that keeps the skin firm, as it is rich in isoflavones.
A study has shown that people who eat isoflavones and are exposed to ultraviolet radiation have fewer wrinkles and smoother skin than those who are exposed to UV rays, but have not taken isoflavones. Experts believe that isoflavones help prevent collagen breakdown.
15. Blueberries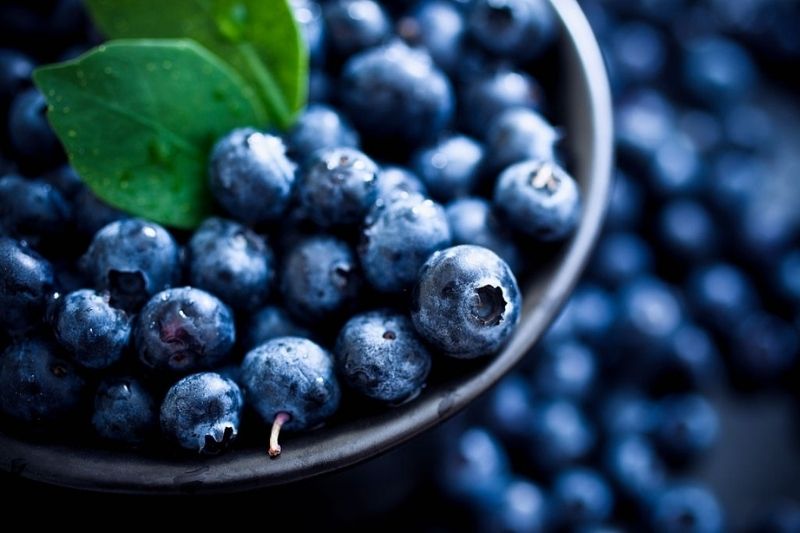 Blueberries are rich in phytonutrients, including anthocyanins, which give these fruits excellent antioxidant properties useful for protecting our skin from premature aging and from the attack of free radicals that could damage the structure of our DNA. Used as a remedy against inflammation, Blueberries are also recommended as a cure for couperose and venous dilation caused by an excess of free radicals.
It is also possible to apply blueberry directly on the reddened areas of the face, transforming them into an effective anti-couperose mask with an excellent tightening effect. Just blend a cup of fresh blueberry berries with a tablespoon of argan oil, a tablespoon of oatmeal and a little pomegranate juice, to obtain a spreadable mixture. The preparation is spread on the reddened areas of the face, is held in place for 15 minutes and then rinsed with warm water. The skin will immediately appear brighter, less congested and more compact.
16. Eggs
Beyond the great nutritional properties, eggs bring with them other positive characteristics that make them excellent cosmetics. They are one of the most sought after healthy foods for glowing skin In fact, it is no coincidence that since ancient times they have been used for face and hair care. The skin also benefits from this part of the food.
The yolk in particular contains high doses of vitamin A, necessary to balance the hormones which in turn help to clean up the hormonal irritations of the epidermis. Eggs also contain lutein, which means that they help the face retain its hydration. Very rich source of vitamins D and B, eggs promote cell regeneration and help eliminate impurities by narrowing dilated pores.
17. Lemon
Antioxidant, astringent and plumping, the properties of lemon on the skin of the body, face and hair are well known. Widely renowned for its beneficial purifying abilities, lemon helps flush out toxins from the body and cleanse the skin. Drinking warm water with a slice of lemon in the morning is a perfect way to hydrate and cleanse the skin, making it brighter. Thanks to the vitamin C contained in it, it helps tissue regeneration and collagen synthesis.
The result? The skin acquires beauty and brightness. Lemon juice contains citric acid which is a cosmetic active to reduce skin spots due to the sun or old age. In this case, just take a cotton pad soaked in lemon juice and dab the skin affected by blemishes. By using lemon at least once a week, you will see, over time, the spots lighten and diminish. Remember not to use pure lemon juice on overly sensitive or irritated skin; in these cases, dilute a little lemon juice in olive oil and proceed with the treatment.
18. Chia seeds
In principle considered an essential ingredient for a correct and healthy diet thanks to the massive Omega 3 presence, Chia Seeds have recently been re-evaluated for its countless benefits for skin and hair and are considered to be one of the best healthy foods for glowing skin. In fact, inside the oil, in addition to Omega 3, which stimulate the production of collagen, also many antioxidants including Vitamin E, tocopherols, phytosterols and minerals such as zinc, iron, phosphorus, magnesium and potassium.
To give the oil the much-praised anti-aging properties are first of all the numerous fatty acids contained within it. In particular, Omega 3s stimulate the production of collagen and improve the skin, fighting the formation of wrinkles and imperfections and guaranteeing an immediately younger appearance. Minerals and vitamins, especially E, also have incredible antioxidant properties capable of reducing the effects of free radicals while increasing cellular hydration and revitalizing the skin.
19. Mango
Mango is a fruit rich in minerals, especially calcium, phosphorus, magnesium, iron and potassium, it is also an excellent source of vitamin A, but it also contains B vitamins, vitamins C, E, K and J. Chock-full of beta-carotene, a powerful antioxidant, mango can reduce the pace of aging and can rejuvenate the skin.
Vitamin C also encourages the production of collagen in the skin, helping to maintain elasticity. For the beauty of the skin, mango can also be used to prepare DIY masks, blending the pulp of the fruit. In addition, a butter with emollient and antioxidant properties is extracted from mango, which is used in cosmetics to preserve the natural beauty of the skin.
20. Olive oil
Olive oil is an excellent anti-aging, emollient and soothing product, perfect for mature skin, for dry and dehydrated skin, to calm skin irritations and to restore life to damaged hair. Rich in fatty acids, phytosterols, squalene and vitamin E, it is in fact an excellent oil for nutrition. Thanks to its composition, olive oil has strong antioxidant properties and is able to prevent the effects of skin aging such as wrinkles, loss of skin tone and elasticity and dark spots.
Olive oil is also ideal for treating dry and dehydrated skin as it has a strong emollient action and counteracts the loss of water from the epidermis, keeping it hydrated and soft. Thanks to its soothing and repairing action, olive oil is also excellent for chapped skin or to calm irritation, inflammation, redness and dermatitis and is well tolerated even by the most sensitive skin.
21. Fish
Fish, as is well known, is a food rich in Omega-3 and consequently it turns out to be a valid ally to keep your young skin smooth and beautiful and is one of the most popular healthy foods for glowing skin among no-vegetarians. The fish with the greatest presence of Omega-3 are the blue ones, such as sardines, mackerel, tuna, anchovies, cod and salmon.
Being able to maintain a balanced diet based on fish, in addition to leading to a rejuvenation of the skin, helps the skin to acquire greater brightness, firmness and turgidity, characteristics that guarantee total physical well-being of the whole organism. Fish is also a great contributor in preventing acne to delay skin aging. A diet rich in Omega 3 helps protect the skin from sun damage by preventing sunburn and erythema.
22. Turmeric
This root is particularly rich in beneficial substances, such as curcumin, with great anti-oxidant and anti-inflammatory properties. This component helps keep hair strong and healthy and skin young and compact. Turmeric is also an excellent sebum-regulator and is rich in vitamin C, which is also a powerful antioxidant that works together with curcumin.
To use this spice for healthy skin and hair, simply mix the powder with hot water and sometimes other natural ingredients to create packs and blends to apply. The use of turmeric also favors the regulation of sebum production thanks to the presence of fatty acids and phytosterols, which together help to reduce excess sebum.
23. Papaya
This delicious exotic fruit has many properties for fighting skin imperfections. It is not a coincidence that it is known as the fruit of eternal youth, since thanks to the many vitamins it contains, it fights free radicals & acne and is perfect against sunburn.
Among the many benefits of the papaya fruit there are cleansing, purifying, anti-aging and decongestants. The reason is that it is rich in vitamins A, C, E and K as well as water and this would make it a very moisturizing fruit. Added to this are magnesium, zinc, iron and flavonoids that fight free radicals, helping our skin to remain young and elastic. But the main enzyme is papain which calms skin irritations.
24. Kale
Kale contains high levels of antioxidants and phytochemicals, such as vitamins E and A, which help to keep the skin hydrated, soft and supple and to preserve its natural shine. Another benefit of Kale is that it promotes collagen production. It also contains many flavonoids that help slow down cellular aging. The skin, therefore, remains elastic for a long time and is also protected against various pathologies that could cause free radicals.
Kale also contains a large amount of vitamin C, which is a powerful antioxidant. It has many properties beneficial in regard to the body. It strengthens the immune system, improves metabolism, is responsible for the production of collagen, slows down the aging process of cells, counteracts the activity of free radicals and much more.
25. Flaxseeds
By constantly applying, on a daily basis, small compresses of flaxseed or even creams based on flaxseed oil, you can give elasticity and resistance to your skin. The beneficial properties that flax seeds give to the skin are due to linoleic acid, which promotes hydration and elasticity of the skin. The presence of lignans in flax seeds makes them powerful antioxidants.
They also have mucilage that have great properties to combine beauty with the health of your skin. Plus, the fatty acids of flax seeds perform a powerful anti-inflammatory and immunostimulant action and intervene in the formation of cell membranes, strengthening them and counteracting infectious and degenerative processes and tissue aging.
Lifestyle habits that damage the skin
Is it enough to cleanse the skin well every evening and eat properly? It could be enough if you do not damage it every day with an incorrect lifestyle that does not promote health in general. The most dangerous are:
The abuse of alcohol, i.e., the ethanol of wine and spirits, which in addition to causing damage to the body in general produces deep dehydration, accelerates coupe rosé, produces free radicals and quickly ages not only the skin, but the entire body.
Smoking, in addition to dulling complexion and reducing brightness, also speeds up the appearance of wrinkles, helps to produce those ugly fine lines that form around the mouth due to the movement that the facial muscles make when smoking. Smoking produces free radicals, vasoconstriction which can cause changes in connective tissue, elastin and collagen.
Sedentary lifestyle, the absence of regular physical activity, in particular of the aerobic type, reduces the vascularization and the formation of the capillaries, thus reducing the nourishment of the outermost part, the skin.
Conclusion
A diet focused on high-quality lean proteins, fiber, healthy oils, raw fruits and vegetables, and spices is best for supporting healthy skin. These foods tend to contain high-quality amino acids—the building blocks for firm skin—plus anti-inflammatory and antioxidant-rich ingredients that promote optimal skin metabolism and defend against environmental stressors.
Further reading…
---
Loved our blog on healthy foods for glowing skin? Do share it with your friends on Facebook, Twitter, and Instagram.
DISCLAIMER: Being a reader-supported blog, Khojdeal earns affiliate commission from purchases made using links on our blog.
Learn more