A Drone camera could not just merely be a useful and interesting gadget but it could also be a great gifting option only if it comes at an affordable price. When it comes to affordable but useful products, Khojdeal's team always be there to serve you the best of the best. So today we brought you the best drone camera in India that too under 5000 INR.
Sound Interesting? YEAH!! but how it is an expensive thing that people use it do film making and taking eye-pleasing shots from the sky to explore and showcase the entire beauty of the earth with different camera angles.
As you we don't just brag, we show you, and comes with actual possibilities. So if you're looking for the best drone camera under 5000 in India then you're just at the perfect place to find in-depth knowledge about drone cameras and what are the best ones that you should go for.
We all know that flying a drone is an enjoyable experience in itself, plus the amazing footage you would capture would make it a much more fun experience.
Drones have come into the mainstream during the past few years due to better accessibility and flight technology reaching newer heights. From a thousand dollar drones to more reasonable, less powerful ones, the drone industry has come a long, long way.
Best Drone With Camera Under 5000
So after countless hours of research, we handpicked some top of the line drone camera that you may or should consider. We selected these drones on the basis of their battery capacity, flight controller stability, camera quality, and other several factors that you should look at while buying best camera drone under 5000.
📌Also Read: Best action camera under 5000
List of Best Drone Camera In India Under 5000
1. VVX Wifi HD Camera Drone with 1080P RC Drone Quad-Copter
Key features & specifications
Flying Height – Upto 50 mtrs
Flying Time – 30 min
Weight – 0.410 Kgs.
Battery – 3.7V 1200mAh Li Po Battery (Included)
Remote – 4 AA Battery
Foldable Drone
Wifi Camera
720p Camera
360° Flip
Headless Mode
Altitude Hold
One Key Take Off/ Landing
What we liked about this drone camera?
Introducing the VVX Wifi HD Camera Drone with 1080P RC Drone Quad-Copter – your ultimate flying companion! Our lightweight and foldable drone measures only 0.410 kg and features a Wifi camera with 720p resolution. You can fly up to 50 mtrs in altitude and enjoy 30 minutes of flight time with the powerful 3.7V 1200mAh Li Po Battery included. The remote operates on 4 AA batteries so you never have to worry about running out of charge.
With altidude hold, headless mode, one key take off/ landing, and 360° flip for perfect aerobatics, you'll be wildly entertained every time you take flight. Get your VVX Wifi HD Camera Drone with 1080P RC Drone Quad-Copter today and start enjoying memorable moments from above!
Pros & Cons
| | |
| --- | --- |
| Pros (What we liked) | Cons (What we didn't like) |
| Automatic return if the battery is low or if it loses signal | Camera could have been better |
| Follow me mode makes sure your drone follows you accurately wherever you go | |
| FPV camera allows you to accurately see what your drone sees | |
| High capacity rechargeable battery gives a greatly enhanced flight experience | |
| All settings and controls are easily accessible | |
2. Amitasha WiFi Selfie Gesture RC Camera Drone
Key features & specifications
WiFi Connectivity
Selfie Gesture Mode
Headless Mode
Speed Switch Mode
Roll 360 Flight
One Key Take off/Landing
Auto Hover
Music Recording
Special Effects & Filters
Battery: 2 x 3.7V 1600mAh Battery (Included)
Remote Controller Battery: 1.5V AA Battery (Not Included)
Weight: 300 Gm
Flying Height: 50-60 Mtrs
Flying Time: 9-10 Min
Battery Charging Time: 60 Min
120 Wide Angle Camera
What we liked about this drone camera?
Introducing the Amitasha WiFi Selfie Gesture RC Camera Drone: the perfect companion for leisure and adventure! Keep your friends up to date with your latest activities with this amazing drone. With fast and responsive WiFi connectivity, you can create pictures and videos of your escapades from an impressive altitude of 50-60 metres.
Take stunning aerial footage and selfies with its 120 degree wide angle camera. The selfie gesture mode gives you a simple way to quickly capture shots wherever you go! While flying, switch between various speeds – low speed for learning purposes, or high speed for a dynamic experience. When it's time to power down, just use the one key take off/landing feature to ensure safe landing every time.
An amazing range of features that make this product stand out include headless mode (which simplifies controlling the drone), autohover which keeps all your shots stable even if subject shifts direction, music recording capability and special effects & filters. All operated with the remote control (battery not included) powered by two 3.7V 1600mAh battery (included) providing an impressive flight time of 9-10 minutes per battery charging session (which takes about 60 minutes). Lastly, this lightweight unit weighs just 300 gm!
Build excitement around your upcoming trips – get ready to amaze friends and family with stunning aerial shots! And don't forget to try out different speeds and special effects for greater variety—all in a single quadcopter! Let your adventures begin with the Amitasha WiFi Selfie Gesture RC Camera Drone!
Pros & Cons
| | |
| --- | --- |
| Pros (What we liked) | Cons (What we didn't like) |
| Can easily switch cameras and take selfies with hand gesture feature | No night vision functionality |
| Easy to install and durable accessories | |
| Anti-slip pad to ensure landing stability | |
| Thanks to the supplied GPS, you can receive the exact coordinates on the position of the drone | |
| Superb images and videos with HD quality shooting | |
3. Amitasha 2.4GHz Selfie Gesture WiFi Camera Drone
Key features & specifications
Selfie Gesture Mode
Set Flight Path
Motion Control
Trajectory Flight
Spin Fine Tuning
Fixed Height Control
Image Flipping
Auto Hover
Speed Mode
Emergency Stop
HD Camera
Foldable Wings
360 Flip Stunt
Headless Mode
One Key Take off & Landing
Direction Control
Fine Tuning, Zoom
Gravity Indication
Battery: 2 x 3.7V 1600mAh Li-Po Battery (Included)
Remote Battery: 3×1.5VAA (Not Included)
Weight: 380gm
Flying Height: 80-85 mtrs
Flying Time: 9-10 min
Charging Time: 40-45 min
What we liked about this drone camera?
Discover the Amitasha 2.4GHz Selfie Gesture WiFi Camera Drone! Experience the thrill of taking perfect selfies from the sky with this convenient and portable drone that's packed with features.A powerful 3.7V 1600mAh Li-Po battery gives you up to 9-10 minutes of flying time, which is enough to explore heights of up to 80-85 meters! It even comes equipped with a HD camera, letting you capture brilliant quality images and videos in stunning detail.
In addition, the Amitasha 2.4GHz Selfie Gesture WiFi Camera Drone brings a world of innovative technology right at your fingertips! Its motion control system allows you to set flight paths, trajectory flight paths and spin fine tuning for smooth maneuverability so you can take creative shots and prepare beautiful compositions while in the air. You can also switch between speed mode, headless mode and auto hover feature depending on your need. Plus, its foldable wings give it compact storage and easier portability so you can keep this aerial companion close by all times!
The Amitasha 2.4GHz Selfie Gesture WiFi Camera drone is an excellent choice for those looking for an economical yet high quality drone experience – perfect for adventurous nature lovers or aspiring videographers alike! So don't wait any longer and take off into the limitless possibilities of this feature stuffed selfie gesture drone today!
Pros & Cons
| | |
| --- | --- |
| Pros (What we liked) | Cons (What we didn't like) |
| More wind-resistant and steady during flight | Flying time is too less |
| Auto-Return function guarantees a safe flight | |
| Foldable and flexible design of the drone makes it convenient to carry | |
| Gesture control makes taking selfies easy | |
| Optical flow sensor provides altitude and position hold | |
4. Amitasha Dual Camera Wi-Fi Selfie Gesture RC Quadcopter Drone
Key features & specifications
Dual Camera
Foldable Wings
360 Flip Stunt
Headless Mode
One Key Take off & Landing
Direction Control
Fine Tuning
Zoom
Gravity Indication
Selfie Gesture Mode
Set Flight Path, Motion
Control, Trajectory Flight
Spin Fine Tuning
Fixed Height Control
Image Flipping
Auto Hover
Speed Mode
Emergency Stop
Battery: 3.7V 1800mAh Li-Po Battery (Included)
Remote Battery: 3×1.5VAA (Not Included)
Weight: 380gm
Flying Height: 80-85 mtrs
Flying Time: 9-10 min
Charging Time: 40-45 min
120 Wide Angle Camera
What we liked about this drone camera?
Introducing the Amitasha Dual Camera Wi-Fi Selfie Gesture RC Quadcopter Drone, the ultimate in user-friendly and cutting edge technology. Easily take stunning HD aerial shots and videos with the 120 degree wide angle dual camera system. With its foldable wings, you can transport and store your drone conveniently on the go.
Equipped with tons of features to make sure every flight is a comfortable experience – such as headless mode, one key take off & landing, direction control, zoom, and gravity indication – you'll be able to get those perfect flying shots effortlessly. Not limited to these features, the Amitasha Drone also includes selfie gesture mode for picturesque video footage without having to use the remote control.
To up your flying games even further, set custom flight paths through motion control or use trajectory flight to follow an object as it moves around! For added stabilization during flight, enable fixed height control which keeps your drone at a certain altitude no matter how high/low wind situation gets. And for those who want something unique out of their drone footage? No problem – with image flipping and auto hover features, you can capture ultra smooth first-person shots that look like they came straight out of Hollywood!
The battery only needs 40-45 minutes of charging time but gives you 9-10 minutes of a reliable flight time up at heights between 80-85 meters! The total weight is just 380 gms so you're getting maximum portability with all these amazing features crammed into one tiny package. Don't wait any longer: take your flying photography skills to new heights with the Amitasha Dual Camera Wi-Fi Selfie Gesture RC Quadcopter Drone!
Pros & Cons
| | |
| --- | --- |
| Pros (What we liked) | Cons (What we didn't like) |
| Captures spectacular 4K photos without loss of quality | Battery not included; has to be purchased separately |
| Ultra-compact and lightweight body | |
| Easy to use; ergonomic and intuitive | |
| Designed to optimize propulsion, lower power consumption, and reduce noise | |
| One key takeoff and land function make the drone easy to use for kids or beginners | |
5. Amitasha 360P RC Drone Quad-Copter
Key features & specifications
Headless Mode
Altitude Hold
One Key Return
One Key Rotate
One Key Flip
3 Speed Mode
Led Colorful Lights
6-Axis Gyro
Battery: 3.7V 380mAh Li-Po Battery (Included)
Remote Battery: 3xAA Battery (Not Included)
Weight: 300Gm
Flying Height: 50-55 mtrs
Flying Time: 10-12 min
Charging Time: 60 min
What we liked about this drone camera?
The Amitasha 360P RC Drone Quadcopter is the perfect choice for all your drone and quadcopter needs. This advanced model offers incredible features to help you get the most out of your flight experience. With its Headless Mode, Altitude Hold, One Key Return, One Key Rotate, and One Key Flip functions, you'll be in full control of your aerial pursuits. To add to the fun, it boasts 3 Speed Modes and LED Colorful Lights to personalize your flight. It also has a 6-Axis Gyro which ensures smooth, stable flights every time.
For power and performance, the Amitasha 360P RC Drone Quadcopter comes with a 3.7V 380mAh Li-Po Battery that's already included in the package. You won't have to worry about purchasing a separate battery or remote as they are supplied separately – a 3xAA battery for the remote (not included) and its lightweight design – only 300Gm – lets you play for long periods of time without any fatigue. The flying height ranges from 50-55 mtrs while the flight time can range from 10-12 min depending on conditions and settings on the drone itself. Recharging takes about 60 min so you can get out there in no time at all!
Pros & Cons
| | |
| --- | --- |
| Pros (What we liked) | Cons (What we didn't like) |
| Altitude hold option lets can accurately lock your drone's height and location to enable steady pictures and videos from any angle | Battery life could have been better |
| Auto-Return helps the drone return automatically to its initial starting position | |
| Very easy to handle for beginners | |
| Gravity Sensor Mode allows the user to control the flight | |
| Emergency landing feature prevents collision with other things | |
6. DARKZONE 480P RC Drone Quad-Copter Black
Key features & specifications
Selfie Gesture Mode
Wi-Fi Connectivity
HD 90 Degree Camera
Foldable Arms
Headless Mode
360 Roll Flight
One Key Take-off/Landing
Altitude Hold
Wide Angle Camera
App Control
Emergency Stop
Battery: 2 x 3.7V 1600mAh Battery (Included)
Remote Controller Battery: 1.5V AA Battery (Not Included)
What we liked about this drone camera?
The DARKZONE 480P RC Drone Quad-Copter Black offers an exciting and innovative way to explore the skies. It features a sleek black design that is both eye-catching and durable. The drone comes with Selfie Gesture Mode, Wi-Fi Connectivity, HD 90 Degree Camera, Foldable Arms, Headless Mode, 360 Roll Flight, One Key Take-off/Landing, Altitude Hold, Wide Angle Camera and App Control. What's more the drone can be safely and quickly stopped in an emergency situation using its Emergency Stop feature.
To help you fly it for longer the DARKZONE 480P RC Drone Quad-Copter Black sports 2 x 3.7V 1600mAh Battery (Included) and a Remote Controller Battery of 1.5V AA Battery (Not Included). Get ready to take your adventures to greater heights with this incredible drone!
Pros & Cons
| | |
| --- | --- |
| Pros (What we liked) | Cons (What we didn't like) |
| Built-in 1080p HD camera | Battery life of this drone is relatively short |
| Easy to transport and store | Doesn't come with any auto follow features |
| Powerful brushless motor system that provides smooth and stable flight performance | |
| Intelligent flight modes | |
| Excellent control and maneuverability | |
7. SUPER TOY Wi-Fi HD Camera RC Quadcopter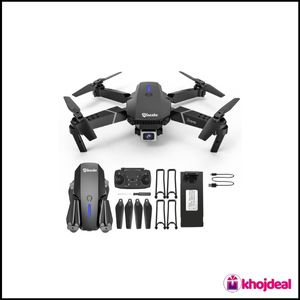 Key features & specifications
Wi-Fi Camera
Headless Mode
Hovering Function
One Key Take OFF/Landing
360° Degree Rolling
LED Light
FPV Real Time.
Camera – 2MP 360P Camera
Weight – 0.30 kg
Flying Time: 10-12 minutes
Flying Height – 40 meters
Other Functions: 2.4GHz Radio
Wider Control Range
Anti-Interference of Wind
2 Speed/Rudder Modes
One Key Return Function
Battery: 380 mAh, 3.7 Volt LI-PO (Included)
Transmitter Battery: 3 x 1.5 AA Batteries (NOT Included)
What we liked about this drone camera?
Introducing the SUPER TOY Wi-Fi HD Camera RC Quadcopter – the perfect camera drone for your next outdoor adventure! This high-quality quadcopter comes with an integrated Wi-Fi Camera, giving you the opportunity to take stunning aerial photos and videos while you're exploring new places. It supports headless mode functionality, allowing you to fly it with greater precision by making orientation perspective easy.
Plus, its easy one key takeoff/landing feature makes sure you always get the perfect shot from any height – no matter how novice a pilot you are! The 360° degree rolling function allows for plenty of once in a lifetime opportunities for unique angled shots, and its 2MP 360P camera captures every detail vividly.
Plus, FPV real time ensures that when you're looking through the viewfinder, you'll get an accurate snap of what's ahead of your drone let alone its LED light for nighttime flying. With two speed/rudder modes and anti-interference of air, this drone will stay securely in flight no matter what environment or weather condition it encounters. Weighing just 0.30kg and boasting a battery life of up to 10 – 12 minutes at a maximum height of 40 meters; this quadcopter is designed with top performance in mind!
What's more? The 'one key return function' makes finding your way back home safe and easier than ever before. So don't miss out on capturing amazing moments like never before: maximize your next adventures outdoors with SUPER TOY Wi-Fi HD Camera RC Quadcopter!
Pros & Cons
| | |
| --- | --- |
| Pros (What we liked) | Cons (What we didn't like) |
| Easy to use and fly | Limited camera quality |
| Wi-Fi camera | No obstacle avoidance |
| High quality materials | Limited flying time |
| Long battery life and wide control range | |
| LED lights | |
8. BLESSBE Remote Control HD Foldable Drone
Key features & specifications
Dual Camera
Foldable Wings
360 Flip Stunt
Headless Mode
One Key Take off & Landing
Direction Control
Fine Tuning
Zoom
Gravity Indication etc
Selfie Gesture Mode
Set Flight Path
Motion Control
Trajectory Flight
Spin Fine Tuning
Fixed Height Control
Image Flipping
Auto Hover
Speed Mode
Emergency Stop
Battery: 3.7V 1800mAh Li-Po Battery (Included)
Remote Battery: 3×1.5VAA (Not Included)
Weight: 380gm
Flying Height: 80-85 mtrs
Flying Time: 9-10 min
Charging Time: 40-45 min
WiFi FPV Drone for Adults with 120 Wide Angle Camera
What we liked about this drone camera?
Are you looking for an HD foldable drone that offers ultimate control and stunning imaging? If so, then the BLESSBE Foldable Drone is the perfect choice for you. This remote control drone comes with dual cameras for extra-clear images and video recordings. Its foldable wings offer not just convenience but great portability too; ideal when travelling outdoors. Want to impress your friends? Show off its 360 flips stunt, which takes your aeronautic skills to a whole new level!
Control couldn't be easier with headless mode and one key take off & landing features. What's more, directional control and fine tuning give you more precision when flying. There are several settings available such as image flipping, emergency stop and gravity indication to name a few – keeping you safe in the sky at all times. And if that wasn't enough, you can even capture close up selfies via Selfie Gesture Mode or try out Trajectory Flight for some real performative air stunts.
The BLESSBE Foldable Drone also has multiple speed modes including high/medium/low depending on your preference plus fixed height control so you always stay in control of the aircraft no matter what. Boasting a battery life of 9-10 minutes from a single charge and 80-85m max flight altitude – this foldable drone will make sure you never miss those mesmerizing aerial moments again! Finally, enjoy worry free flying with dedicated customer support assistance. Get up close with the scenes like never before today with the BLESSBE Foldable Drone!
Pros & Cons
| | |
| --- | --- |
| Pros (What we liked) | Cons (What we didn't like) |
| Compact, foldable design for easy transport and storage | Battery life is limited to 9-10 minutes of flight time |
| Sturdy construction | Some users may find the bright LED lights on the drone distracting |
| Built-in dual camera | The range of control is limited |
| Headless mode makes it easier to maneuver | Due to its lightweight design, it can be affected by strong winds |
| Multiple flight modes | |
9. DISHIN Foldable Toy Drone with HQ WiFi Camera
Key features & specifications
Selfie Gesture Mode
Set Flight Path
Motion Control
Trajectory Flight
Spin Fine Tuning
Fixed Height Control
Image Flipping
Auto Hover
Speed Mode
Emergency Stop
Foldable Wings
360 Flip Stunt
Headless Mode
One Key Take off & Landing
Direction Control
Fine Tuning
Zoom
Gravity Indication etc
Battery: 1 x 3.7V 1600mAh Li-Po Battery (Included)
Remote Battery: 3×1.5VAA (Not Included)
Weight: 380gm
Flying Height: 80-85 mtrs
Flying Time: 9-10 min
Charging Time: 40-45 min
What we liked about this drone camera?
Get ready to experience the wonders of flight with the innovative DISHIN Foldable Toy Drone! Offering a huge 8-speed aerial stunt mode and equipped with an adjustable gyro system, this drone is sure to challenge your inner aviator. With its self-regulating gyroscope and six-axis stabilizing function, you can achieve 360 degree flips and other maneuvers that are guaranteed to impress.
The DISHIN Toy Drone also features a 1500mAh Li-Po battery for 9-10 minutes of nonstop flight time which makes it ideal for those long days of exploring new aerial heights. Its folding wings make it easily portable and convenient for any explorer on the go. Additionally, its altitude hold and come home functions provide users with reliable navigation even in windy conditions while the headless mode ensures easy control when visibility is low.
For unforgettable photos, you will enjoy image flipping and onboard hQ Wi-Fi camera that can store in resolutions up to 2K. Other applications include motion control trajectory flight, spin fine tuning, fixed height control, gravity indication, zoom capabilities and more! Get creative by setting a pre-set flight path or capture awesome selfies with gesture mode—whatever you choose this drone promises hours of fun! Experience aerial exploration like never before with the DISHIN Foldable Toy Drone.
Pros & Cons
| | |
| --- | --- |
| Pros (What we liked) | Cons (What we didn't like) |
| Very lightweight and compact | While the drone is foldable, there isn't much protection for the rotors when folded up, making it susceptible to damage during transport |
| Wide range of features | |
| Impressive flight height | |
| Long battery life | |
| Emergency stop feature ensures safety during use | |
So this was the list of drone cameras under 5000. If you just want to kick start your filmmaking career or as a hobby by recording engaging footage with aesthetic drone shots, you can start with the above-listed drone cameras as this won't exceed your Rs. 5000 budget.
---
Camera Drone Buying Guide:
1. Ease of use
Those who approach drones for the first time probably wonder how easy it is to fly them, while those who already know how to operate these radio-controlled devices are interested in knowing what types of commands can be given to them.
This is why we group under the label "Ease of use" all the features concerning the piloting of drones, which are of interest to both beginners and experts. So, let's consider what type of remote control the drone has, what commands it supports and if there are functions that facilitate the maneuver.
a. Remote command
Depending on the model, a drone can be controlled by a special remote control or through an app for mobile devices. The first of these two cases is the most common, and even if once the diffusion of remote control via smartphone application was reserved for medium-high range models, today it is also possible to find several economic models that allow their use.
For beginners, a drone with a dedicated remote control is definitely preferable, as these are more intuitive to use, especially when it comes to motor coordination. Normally these remotes have two sticks, similar to those of the controllers of the main consoles, and a variable number of buttons.
Where there is an integration with mobile app, this usually offers a slightly more limited range of commands, but adds the possibility of taking advantage of the FPW function, or First-Person View, which allows you to shoot videos and take photos by viewing in time as real as framed by the drone camera.
b. Commands
The commands that can be given to a drone to make it fly are always basic four.
Throttle: this is the command that adjusts the speed of the propellers, and the faster they spin, the more the drone gains altitude
Pitch: This control adjusts the forward and backward movements of the drone
Roll: serves to regulate lateral displacements
Yaw: with this command the drone rotates on itself
The slightly more sophisticated models also provide a fifth command, called "trim": with this it is possible to adjust the attitude of the drone, to make it fly perfectly horizontal or with a particular inclination.
c. Functions
There are two main functions that can be found on a drone: automatic return and "headless mode".
The automatic return function is only present on drones equipped with integrated GPS, which is used to memorize the take-off position and then be able to return to it once the command is received.
To explain headless mode, we must instead dwell on a somewhat more complex explanation. Even if it does not seem, in fact, the drones have a front and a back, usually distinguished by the color of the blades or in any case by the presence of inserts or colored lights. It is important to always be able to distinguish the front and rear of the drone because all the commands given are related to the orientation of the aircraft. For example, if the front of the drone is facing the pilot and the pilot gives him the command to move to the right, the drone will move to the left of the pilot, which is the right of the drone.
As it is easy to guess, piloting a drone in these conditions is not very simple, both because it is not always possible to distinguish lights and colors from the distance, and because it is easy to lose focus and give a wrong command. To facilitate piloting, the headless mode was born, literally "headless mode": when this mode is activated, all the movements of the drone are relative to the position of the pilot and not to the head of the drone, which thus becomes irrelevant for the purposes of orientation. This function is widespread and is now also found on lower-end drones, indeed, paradoxically, some high-end models do not yet support it.
Not so widespread is the "follow me" function: with this the drone keeps a constant distance from the remote control, following its movements like a dog.
Finally, remember that of course the remote control also needs power: this is normally entrusted to normal batteries of different types depending on the model, even if alkaline batteries are very often required. The batteries are not usually supplied with the drone at the time of purchase, so you will have to get them separately: both the classic disposable and rechargeable batteries are fine.
2. Autonomy
The second thing you have to ask yourself is how long a drone can fly. For those who do not know, we must immediately specify that we must start with rather low expectations: even the highest range models hardly fly for more than 30 minutes.
At the other extreme, the cheaper models also have less than 10 minutes of battery life. This is due to the fact that a lot of energy is required to power the drone's motors and support its weight in flight, and the ratio between power and lightness of a battery is currently not particularly efficient. The batteries used on drones are naturally the lightest currently available, namely those of the Li-Po type, lithium polymer, or Li-Ion, lithium ion.
We have already mentioned what flight times we should expect from a drone, but we can still consider some characteristics of the battery to understand what performance to expect.
a. Voltage
The battery voltage has a direct relationship with the power of the rotors, and therefore with the altitude and / or speed that the drone can reach. The higher the voltage, the bulkier the battery will be, so we can say that on the more compact models we will find low voltage batteries (3-4 V), while on the larger drones we will find more powerful ones (14 V or more in the case of drones for industrial use).
b. Amperage
Battery amperage, expressed in mAh (milliampere / hour), indicates the amount of energy the battery can store. A greater capacity may indicate a longer autonomy, but everything must naturally be related to the size and weight of the drone: a large drone will necessarily need a greater supply of energy, since it will consume it faster than smaller models.
c. Charging times
The time required to fully recharge the battery also depends in part on the amperage: it is obvious that the greater the battery capacity, the longer the recharging times can be. We must say that, in any case, the recharge times are always longer than the flight autonomy, ranging from 90 minutes to three hours. In some cases, the battery is integrated, and it is therefore not possible to keep a spare charge so as not to have to interrupt the flight for a long time. In other cases, however, it is possible that the manufacturer offers the possibility to buy spare batteries separately, an important factor to consider if you are looking for a model that can fly for longer times.
d. Flight distance
In terms of performance, flight distance is another parameter to consider. Drone remote controls usually transmit on 2.4 GHz, and of course the antenna power varies from model to model: drones for private use have a range of 300 to 800 m.
Some models with integrated GPS also allow route planning pre-flight: in this way the drone, once taken off, flies with the "autopilot" on the pre-established route, and in this case, it can reach much greater distances (some industrial models even fly up to 50 km away). However, it should be remembered that currently by law the drone must always remain within the user's field of view, and that to shoot in an urban environment it is necessary to request permits from the authorities.
3. Camera
One of the main attractions of the drone is that, almost always, it is already equipped for photography and aerial shots, unlike model aircraft. It is therefore not only fun to fly the drone itself, but also to practice shooting shots and sequences filmed from otherwise impossible angles. the possibility of replacing it with another device (typically an action cam). So, let's summarize the characteristics to pay attention to.
a. Resolution
Of course, first you will want to know if the camera supplied with the drone, whether fixed or not, can take good quality photos. Keeping in mind that any integrated camera will have a 1 / 2.3" sensor, the same as digital cameras, the photographic performance will hardly be better than that of a modern compact camera. The number of pixels that you can find in a camera integrated in a drone ranges from only 2 MP to a maximum of 20 MP on very high range models.
Furthermore, in the entry level models, the cheaper ones, you will rarely find other characteristics specified, such as ISO or the viewing angle of the lenses. Only the best drones are sold already equipped with a good camera, with functions such as multiple shooting, the ability to choose between different resolutions and to set some technical parameters.
b. Video resolution
Secondly, you will evaluate the quality of the video footage taken by the drone. In this case, it is a question of considering at what definition and fps (frames per second) the video sequences are created, and whether or not it is possible to change the settings, so as to have, for example, lower resolution videos that also occupy less space on the memory card (which we'll talk about shortly). Now even the cheapest drones offer shooting in Full HD or 4K, but the final results are often far from what one might expect by simply evaluating this technical data. For a quality shooting it is necessary to invest quite large amounts, while amateur drones can simply be a good way to train your piloting skills.
c. Memory
In many cases the memory card on which to save photos and videos taken in flight is not included in the package when purchased or, when it is, it is not very large (2 GB or a little more). The advice is therefore to buy a separate one, taking care to respect the maximum dimensions if indicated by the manufacturer. Micro SD memory cards are normally mounted on drones: the top-of-the-range models can mount cards up to 128 GB.
d. Mobile integration
We have already been able to see how in some cases it is possible to control your drone from a smartphone or tablet, simply by installing the free applications made available by the manufacturers. Very often, however, applications also allow (and in some cases only) to control the camera mounted on the aircraft: that is to say that it is possible to view the images taken by the drone in real time on the screen of your mobile device, decide when to shoot and when to shoot, share images immediately online. Seeing the drone's "point of view" in real time is also useful for another reason: when it is not easy to follow the drone with your eyes, you can fly "in sight" orienting through the images transmitted by the camera.
e. Assembly
We said that a camera can be integrated into the drone or taken apart and replaced with another camera. In both cases there is a further factor to consider, namely whether the camera can be oriented at different angles, on a support that is therefore articulated, or whether it has a fixed position. The ability to orient the camera at will clearly allow you to shoot and shoot at different angles, while a drone with a fixed camera allows less creativity in directing. The best models may also have a camera stabilizer called a gimbal included in the fixing system, or provide the possibility of mounting one.
The presence or absence of a stabilizer makes a big difference in the quality of the shots: the images are in fact very fluid, without jolts, precisely because the stabilizer actively compensates for the sudden movements that a drone in flight can be subjected to.
4. Stability
Finally, some technical considerations must also be made on the stability of a drone, naturally meaning stability during flight. The characteristics that we are going to enumerate are relevant both for those who want to learn how to fly their first drone, and for those who want to specialize in aerial shooting: learning to fly with a very stable drone is naturally easier, while to make good photos and videos the stability is a determining factor. Let's go in order.
a. Rotors
One of the main factors that determine the stability of a drone is the number of rotors it is equipped with. There are no longer any drones with only three rotors, the minimum is now that of four rotors. This type of drone is often called a quadcopter or, in English, quadcopter, and from the point of view of stability in flight it already offers satisfactory performance.
The only flaw is that, in the event of a malfunction of one or two propellers, stability is lost and the aircraft becomes almost unmanageable. Much better from this point of view the models with six rotors, the hexacopter or hexacopter. These are mid – range models, usually medium-large in size, which by the simple fact of having six rotors instead of four are in general more powerful, more stable even in windy conditions and better governable even in the event of one failure or two rotors. We can therefore recommend a drone of this type to those who want to specialize in aerial shooting, while a quadcopter is fine to learn to fly.
There are also eight-rotor models (octacopter or octacopter): these are however very large, very expensive, and mostly used in the film industry.
b. Axes
Among the technical specifications of a drone, you will always find the number of axes mentioned. In this case, it is the number of sensors that allow the drone to understand how it is positioned in relation to the surrounding space: at what altitude it is, if it is upside down, if it is accelerating upwards, downwards, sideways, etc. The trend of manufacturers is now to equip their drones with six axes, as a better knowledge of space allows the drone to fly more stable and safer. The drones of the previous generation, with three axes, are in fact more prone to overturning when they are made for example a very tight and fast curve, and they also hold up much worse in gusts of wind.
c. Dimensions
Finally, the most obvious of the factors that affect a drone's stability is its size. It is not just a question of weight, for which a heavier object is obviously less sensitive to adverse weather conditions, but also of lift: larger blades in fact develop greater lift, and not only allow you to fly higher and faster, but also to maintain a better position under any circumstances.
5. Materials
For a drone, materials are important for at least two reasons. The most obvious is of course the weight: to fly a drone it has to be as light as possible. For this reason, the construction materials of the frame, the shell and the propellers must be very light: in the cheaper models it is simply plastic, while the more sophisticated ones are in carbon fiber. These two materials are also very different in terms of resistance: of course, plastic is softer and more brittle than fiber.
This is why it is also important to consider which and how many spare parts are included in the purchase of the drone: it is essential that there are some spare parts for the propellers, for example, which are the most fragile and subject to breakage parts. It is also important that there are protections specifically for the propellers, which can be mounted when you are learning to fly and when flying indoors, to protect in the latter case not only the drone, but also the furniture and people.
How to Operate/Use a Drone?
If you have purchased your new drone but don't know how to use it, don't be discouraged as it is much simpler than it may seem. First you need to make sure that the battery is charged. Then power the drone with the appropriate USB cable or, if you have a model with AA or AAA batteries, get new ones, possibly rechargeable so you will avoid buying them continuously at a considerable expense.
After charging the internal battery or rechargeable batteries, equip yourself with an instruction manual and, if the drone can be controlled by smartphone, start downloading the application recommended by the manufacturer, usually free, through the virtual stores of the iOS or Android systems.
Calibrate Drone
Before starting to fly it is important to calibrate the device. Place the drone on the ground facing north, possibly in a place free of any electromagnetic interference such as in a garden or park. Take care to disassemble the propellers and disconnect the battery and only then turn on the remote control and connect the battery.
Wait for the pairing, i.e., the pairing between the drone and the remote control, to be carried out before starting the calibration procedure which consists in moving both analog sticks following this scheme: left joystick at the top right, right joystick at the bottom center. After this first procedure it will be necessary to raise the drone in flight and repeat the procedure, but moving the left joystick up to the left and the right one always in the lower center.
Before Flying The Drone
Before starting to indulge yourself with your drone, it may be useful to perform exercises to learn to fly, especially if you are new to and have never done it before. Choose an open space, possibly without obstacles such as trees and buildings, make sure the batteries are charged and if you still don't feel safe install some propellers to avoid damage if the drone falls on the ground upside down.
When everything is ready, start with takeoff, one of the simplest operations that can be done by lifting the left joystick. Immediately after, instead of starting to fly wildly, try to stabilize yourself, keeping the drone motionless two meters above the ground. After a few seconds try the landing, trying to descend as smoothly as possible.
By repeating these exercises, you will already be able to acquire greater confidence and can then devote yourself to lateral movement, moving the right joystick after having stabilized. These are very basic exercises to which you can then add more complicated operations, such as following trajectories, performing head and tail and so on to become real professionals.
FAQs About Best Drone Camera:
1. What are the different types of Drones
There are majorly 3 types of Drones available in the market; The Beginner Drone which is considered best for Kids. The Camera Drone which is used to take shots from the sky heights with different angles. And lastly Racing Drones they more way expensive than other types but have lots of features.
2. Which is the best drone with camera under 5000 Rs?
There are several options available for the best camera drones that come under 5000 in India. Amitasha Drone Camera is one of the best options for beginners.
3. How to choose the right Drone Camera?
There are certain factors that you need to consider while buying a drone camera. You should check the battery life of the drone, camera quality, flight control stability, and other things.
4. Is it legal to fly Drone in India?
According to the Ministry of Civil Aviation of India's National Aviation Authority, flying a drone is legal and safe in India. But be always aware of the Drone Laws & Regulations in India.
5. How long does a drone last?
The duration or autonomy of a drone in flight depends a lot on the type of battery used by the device. Those that use high-capacity batteries, usually professional products, can even reach 25 minutes of autonomy while products that use simple AA or AAA batteries, usually have a duration ranging from 5 to 10 minutes.
6. How does a drone work?
The operation of a drone is very simple, it is a kind of miniature helicopter usually equipped with four or more propellers. By activating them via a remote control, you can lift it off the ground and start flying. The commands are given via Bluetooth or wi-fi connection, therefore the more powerful the internal module, the greater the distance that the drone can reach without losing the signal.
In addition to flying, drones can also be used to take photographs and record videos. Some have support for external cameras, such as action cameras, while others, generally the more expensive ones, have their own optics that are always controlled remotely via the remote control.
7. Is there any DJI drone under 5000?
No, DJI is one of the top drone companies and it has no drones that comes under Rs. 5000.
Conclusion
From more powerful, expensive drones to cheaper, less powerful ones, drones have slipped into the mainstream. Drones once were a luxury commodity and only owned by a select few.
With multiple upgrades and updates relating to flight technology, drones are now cheap to manufacture and therefore readily available to the general public. Khojdeal understands the consumer needs and brings to you the best Drone with camera under 5000 in India.
---
Loved our blog on best camera Drone under 5000? Do share it with your friends on Facebook, Twitter, and Instagram.