Your daily grooming habits will not be complete if you do not use a deodorant, yes? Why not spend a few more minutes deciding which deodorant is best for you instead of going for the one that smells the best. It will not take that long – believe me. The best deodorants for men in India are especially tricky to look for. We are natives of a temperate region – summers here are wild and unforgiving – let your deodorant help you out.
A personal decision to smell good or body odor being just offensive, finding the best deodorant out there can help you out and the people around you. Let Khojdeal guide your way – find the best for yourself.
Beat the heat and beat your body odor. Summers don't got nothing on you. Find the best deodorants for men in India and let Khojdeal help you out.
---
Everything about Deodorants for Men in India – Buying Guide
Not an easy job, living in a temperate, incredibly hot climate and smelling good. But see – that's not all. Choosing and wearing a good deodorant is much more than that. Your personal hygiene is at stake. Turns out smelly armpits have to do a lot with bacteria than what is generally perceived. Summers bring heat and sweat, and germs and diseases too. Buying the best deodorant for men in India might prepare you for that unforgiving heat and sickness that brings with it.
What are Deodorants : Deodorants are substances that are applied to various parts of the body to prevent or mask the odor that comes with the bacterial breakdown of bodily sweat.
What causes body odor : Bacteria thrive in warm and humid environments, and your armpit is the most consistently warm area on a human being. Armpits produce a "heavy" sweat – full of waste proteins and acids. This sweat is metabolized by the bacteria that causes a terrible organic smell – or body odor.
What are antiperspirants : Antiperspirants are a sub type of deodorants and attempt to stop or reduce perspiration thereby reducing the moist climate bacteria needs to thrive in. Mostly aluminium based compounds are used in antiperspirants.
Deodorants or antiperspirants : Deodorants reduces odor by eliminating the bacteria in the sweat, while antiperspirants reduce sweating itself. Explained further in detail in FAQs.
Are there health risks from using deodorants : No, after substantial research and debate, deodorants and antiperspirants were marked clear for use by multiple scientific communities. Unscented deodorants are available for people with sensitive skin. Aerosols are generally pretty harmful to the environment nonetheless.
What to look for in a deodorant before buying : Deodorants are chemicals in the end. You might want to look into the make and compounds that go in it after all. Allergies to certain substances may cause issues if you get the wrong kind of deodorant for yourself.
Should you go for a natural deodorant instead: Depending on the level and kind of your allergies, naturals might be able to help you with your odor without the use of generic deodorants. For an average person, I would not choose natural. After all all products are tested thoroughly before release.
Should you switch brands : A personal preference in the end – if your current deodorant does not work for you, make a change – or you do not like the smell of it, change it – why not.
Long lasting freshness : An important point – search and find your way through the deodorants that work for a longer period of time without reapplying.
Frequently Asked Questions (FAQs) about Deodorants for Men in India
How do deodorants work?
Body odor is caused by bacteria that thrive in warm and moist environments – armpits, feet and the groin mostly. Deodorants eliminate this build up of bacteria and makes you smell real good.
Why should you wear deodorant?
If you are an active member of society, your body odor might not be just your problem. A personal choice, to smell good is not the only thing that deodorants do – they help against the bacteria feeding on your sweat.
Is deodorant better than antiperspirant?
Deodorants help against the bacteria that causes body odor, while antiperspirants help against body sweat itself. Antiperspirants use compounds and formulas to stop sweat glands from sweating. If your issue is with excessive sweating, go for antiperspirants. Otherwise deodorant is an effective way to improve body odor significantly. Antiperspirants have their drawbacks – they cause stains on clothes and your body might produce excess sweat to circumvent the blocked glands. Keep it simple and use deodorants if sweating is not the problem.
Can kids wear deodorant?
There is no specific age for children to start using deodorant. Some children develop body odor at a young age. Natural deodorants could help them reduce this odor and parents to feel safe for their child.
What is a natural deodorant?
Natural deodorant does not use artificial substances and does not interfere with the body's natural sweating process. Plant oils and extracts are proven to be antimicrobial – mixed with accessible ingredients like beeswax, cocoa butter with oils from thyme or lavender could help with an all natural deodorant.
Is body odor a sign of puberty?
Yes, body odor is a sign of puberty. Enough said.
What's wrong with aluminum in deodorant?
Myths and marketing claims against aluminium in deodorants and antiperspirants are common. Scientific facts and experiments say otherwise. Cuts are highly unlikely to sufficiently absorb deep into the inner layers of the skin for much – if any, product to enter the bloodstream.
Why do armpits smell so bad?
Armpits are consistently warm and cause bacteria breakouts – bacteria thrive in moist and warm environments. Sweat glands in the armpits especially secrete an oily kind of sweat full of waste proteins. Bacteria metabolize this "heavy" sweat and causes the familiar bad organic smell.
Which is better roll on or spray deodorants?
Roll-on deodorants come as a liquid or gel applied via a rolling ball directly onto the skin – making application even. Roll-ons create this wet feeling and drying takes some time. Spray deodorants are quick and do not leave stains – they tend to dry quicker.
How long do deodorants last?
An important point to check for when you buy deodorants, is checking how long they last during a hectic and hot day. Some deodorants need to be applied twice a day in regular intervals to maintain proper hygiene and smell. A good deodorant need only be applied once and lasts throughout the day. Though an active lifestyle – sport activities and such can make the deodorant wear off sooner.
---
Best Deodorant for Men in India : Reviewed – Updated 2021
Reliability on your deodorant is essential. Choose what's right for you. Read through the buyers guide to know about how to choose the best deodorants for men in India. Here are a few products by brands that help men in the country smelling fresh.
1. Axe Deodorant :
Axe or Lynx is a brand of male grooming products, owned by the British-Dutch company Unilever and marketed towards the young male demographic. Known as Lynx in the UK, Ireland, Australia, New Zealand and China. In other countries it is known as Axe.
1. Axe Recharge Marine Splash Deodorant
A musky aqua-citrus fragrance – with a cooling effect – a day on the beach.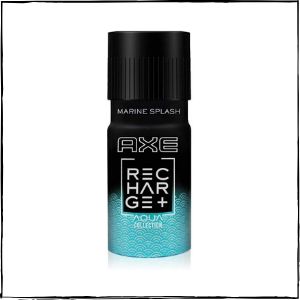 2. AXE Signature Gold Dark Vanilla and Oud Wood
A suave & warm woody fragrance – with sweet vanilla – ending in smoky tobacco – an exotic experience.
3. AXE Signature Champion
For men who don't fade – a citrus fresh fragrance with a woody trail.
4. AXE Dark Temptation
Irresistible chocolate fragrance – with a cooling effect – perfect for an indoor date.
5. AXE Gold Temptation
A smooth, rich fragrance – exotic spices blending with citrus notes – gold and sophisticated.
2. Nike Deodorants :
Nike, Inc. is an American multinational corporation that is engaged in the design, development, manufacturing, and worldwide marketing and sales of footwear, apparel, equipment, accessories, and services.
1. Nike Up Or Down Silver
Gentle and refreshing – with fruity and flowery notes – go out into the world wearing.
2. Nike Pure Men
A soft masculine smell – the sea and citrus – conquer every day.
3. Nivea Deodorants :
NIVEA is a German personal care brand that specializes in body-care. It is owned by the Hamburg-based company Beiersdorf Global AG. The company was founded on 28 March 1882, by Paul Carl Beiersdorf.
1. Nivea Fresh Active Original
A light ocean breeze – fresh and light – masculinity redefined.
2. NIVEA Silver Protect
Light wind by the sea – fresh modern masculinity – zero percent alcohol.
4. Other Brands :
Park Avenue Deodorant – Signature Voyage
Invigorating notes of amber intertwined with mandarin, with a hint of woody and musky notes.
Park Avenue brings the best in the market. The Raymond Group owned company is one of India's finest.
Denver Deodorant – Hamilton Caliber
Delightful and fresh. Its magnetic smell will keep you confident throughout the day.
A Vanesa Care Pvt. Ltd. owned business Denver is one of India's highest selling deodorant brands. Voted as 'India most Promising Brand' in the Men Grooming Category.
Wild Stone Deodorant – Code Titanium
A fruity citrus mixed with dry amber and oakmoss, Wild Stone deodorants are for sporty men who like work and play.
The India based brand McNROE are pioneers in the Indian scent industry. Wild Stone launched in 2007 has become a widely used product in the Indian male community.
Fogg Deodorant – Xtremo
A tantalizing smell of ginger, bitter orange, rose, jasmine, honey-amber accord and sandalwood mixed for an exotic experience.
Fogg, a subsidiary of Vini Cosmetics, has grown in name and stature in recent years. It is now synonymous with quirky advertisements and long lasting deodorants.
Brut Deodorant – Original
Notes of lemon, bergamot, lavender, anise and basil accompanies the sweet smell of geranium, jasmine and ylang-ylang. Base smells of sandalwood, oak moss, vetiver, patchouli, Tonka bean and incredible vanilla.
Brut is the brand name for a line of men's grooming and fragrance products first launched in 1964 by Fabergé, and now owned by the British-Dutch company Unilever. The Brut line would grow to include aftershave, balms, and deodorant. Packaged in a green glass bottle with a silver-colored medallion.
Yardley London Deodorant – Arthur
Top citrus notes of invigorating grapefruit and rosemary leads to a heart of fresh marine accords blended with delicate florals accompanied by warm amber, cedar wood and creamy sandalwood.
Yardley of London, was a British company and one of the oldest firms in the world to specialize in cosmetics, fragrances and related toiletry products. Established in 1770, Yardley was a major producer of soap and perfumery by the beginning of the 20th century.
---
Conclusion
It is important to give enough care about personal hygiene but is also quite a struggle to find the right kind of Deodorant that helps you smell good, helps with hygiene and gives you confident. The best deodorants for men in India is a difficult feat to get right. Our climate is such that we need the perfect combination of anti-bacterial, long lasting and aromatic. Are you ready to find the best for yourself? Let Khojdeal help you out. Read out expert reviews and make informed decisions while shopping online.
---
Related Articles
---
Loved our blog on Best Deodorants for Men In India? Do share it with your friends on Facebook, Twitter, and Instagram.
DISCLAIMER: Being a reader-supported blog, Khojdeal earns affiliate commission from purchases made using links on our blog.
Learn more