The best air pump for bike and car in India have been listed by Khojdeal for your convenience. Listed products are the best in their class. If you own a bike, cycle or a car, you understand how important air pumps can be while travelling. You can easily store one in the trunk of your car and use whenever needed.
Air pumps are cheap, convenient and work very well with all kinds of tires. If you're feeling lucky, you could even pump your football with them too.
Best Air Pump for Bike & Car With Price
Air Pumps can be very helpful when your bike, car or bicycle tire is less on air. Making sure you know how to use it is crucial. You don't want the tire to just blow up or be less filled than necessary. Find the best products in the market listed below.
1. AmazonBasics Compact Portable Digital Tyre Inflator with Carrying Case
Compact 12-volt portable tyre inflator for adding air to tyres; plugs into cigarette lighter port
For tyres with a 120 PSI rating; 22 L/M free flow at 0 PSI
10-foot power cord reaches all tyres comfortably
Long 23.6-inch air hose easily reaches all tyres
Inflate tyres for scooters, motorcycles and cars
Digital Gauge with Auto Shut Off Capability
Built-in LED light offers useful illumination when working in dim or dark lighting
Maximum continuous run time – 10 minutes and Cool Down time required 10 minutes after every operation before next use
What we liked about this Air Pump?
Designed for the everyday driver, this AmazonBasics Compact Portable 12-Volt tyre inflator with Carrying Case helps anyone with a car maintain optimal tyre pressure. Keeping tyres properly pressurized promotes longer tyre life, better gas mileage, and safer driving. To use, simply plug the DC-powered tyre inflator into a vehicle's cigarette lighter. The compressor's 23.6-inch air hose offers flexible maneuverability and a convenient length for easily reaching any tyre.
Sleek, slim, and perfectly portable, the AmazonBasics tyre inflator makes those monthly tyre-pressure checks a peace of cake-no need to drive to a gas station or auto shop. If you are looking for the best air pump for bike, car, bicycle, or something similar, this portable version can prove really helpful.
Pros
Digital display
Portable design
Auto shut off feature
Easy to operate
Durable quality
Cons
Display is quite small
Cover is a tight fit
2. Amazon Brand – Solimo Portable Tyre Inflator, 12V (Black)
With dimensions of 18.5×17.4×7.4 cm, it is easily portable and saves car space
Fast refill with a filling time of ~5 minutes
Works on 12V power supply, readily available in the car's cigarette power outlet
Electric wire of length 265 cm and 62 cm long hose for convenient refilling
LED bulb to facilitate usage in the dark
Pin for added utility like inflating footballs, basketballs, etc
A safety valve prevents overload, adding to the life of the product
Noise levels of < 84dB remain within permissible limits
Do not use for more than 10 minutes at a stretch
What we liked about this Air Pump?
Be prepared to tackle flat tyres with Solimo Tyre Inflator. The compact inflator does not take up a lot of boot space and efficiently inflates a tyre in ~5 minutes. It works on the 12V power supply which can be readily provided by the car's cigarette power outlet, making it handy and compatible with all cars. An electric wire of the length 265 cm and a hose of the length 62cm, provide sufficient mobility to use the inflator for all four tyres.
The inflator includes an LED, promoting easy usage in the dark. Not only cars, but it can also be used to inflate basketballs, footballs, etc. with the help of a pin included in the design. Definitely belongs on the list of the best air pump for bike in India.
Pros
Easy to use
Quick to inflate tires
Portable
Lightweight
Comes with a LED light
Not very noisy
3. Woscher 1610 Portable Mini Tyre Inflator, Air Pump, 12V DC 100 PSI Tire Pump for Bike, Scooter & Car
Inflate a Standard mid-sized bike tyre from 0-35 psi in 2 minutes & Car Tyre in 5 Minutes
Maximum Pressure- 100 PSI
Scientific bidirectional heat-dissipation Exhaust Vent prevent Overheating
Super long 3m (10ft) power cord of the compressor designed to reach all the 4 wheels and further, Comes with 2 additional Adaptors & Woscher's Storage Bag
What we liked about this Air Pump?
An accurate gauge is important for inflating your tires to the desired pressure. The gauges on some models have cramped scales that are hard to read. The gauge on WOSCHER 1610 (100 psi) with markings every 1 psi, is very accurate to use. Come with 2 extra inflator nozzle adapters, is also handy for inflating the tires on recreation vehicles, trailers, riding lawn mowers, and even wheelbarrows, sports balls, inflatable mattresses, pool floats, toys, and yard decorations. The air compressor is pretty compact.
Size 4.5 x 5.2 x 1.8 inch for easy storage. It won't take up much room in your car's trunk or cargo area if you want to keep it in your vehicle.
Pros
Highly compact
Quite powerful
Easy to use
Accurate gauge
Can be used with more or less anything
4. Voroly Heavy Duty Automatically Shut Off Car Air Compressor Tyre Inflators Pump Digital with Puncture Repair Kit and Carry Case
1 Year warranty
Automatically Shut Off
Digital LED Display
LED Lights
Multi-purpose
Product power: 120W
Operating voltage: DC12V
Maximum operating current: 10A
Maximum pressure: 150PSI
Flow: 35 / min
Power cord length: 3M
Continuous working hours: 8 min
What we liked about this Air Pump?
Digital tire pump is equipped with bright and long-lasting LED lights, easy to use even in the dark, so you can see clearly while you're inflating your tire at night or making quick repairs on a dark lonely country road. With 10ft long power cord, air pump allows to reach all tires of your car, SUV, bike, motorcycle. Also equipped with 3 nozzle adaptors for mattresses/airboat/toys/sports balls/inflatables. Tire inflator with backlight digital display, certified accurate & calibrated to ANSI B40.1 International Accuracy Standards (±2%), ensuring precise tire pressure readings.
Simply set your desired pressure with air compressor then press the "on" button, it will automatically shut off when the proper tire pressure is reached. It passed multiple repeated safety testing; with high-speed cooling, to ensure the life of the movement. Inflate tire quickly with strong power, improve efficiency and save your time. If you are looking for the best air pump for bike, or something similar, this can prove highly beneficial to your cause.
Pros
Sturdy and durable
Easy to use
Portable by design
LED display
Multi-purpose and powerful
Cons
Slightly inaccurate with readings
5. Amardeep cycles Rockbros Road Bike Tire Ball Inflator Pressure Air Pump for Car and Cycle Sports Ball Scooter Inflatable Furniture/Toys (Black, Small)
High Pressure Pump
Mini & Portable
Color: Black
Inflating Needle, Pin Nozzle Basketball/Football pin
What we liked about this Air Pump?
This is a high quality, wide-body, high volume, high-pressure, steel alloy floor pump that fits both Presta and Schrader valves. A bicycle pump that easily reaches 120PSI can be used for more than just bicycles and includes inflatables & ball adapters. The strong build of this deluxe pump makes it the ideal pump for everyday use. Buy with confidence, because we know how good they are! Perfect for strollers – mobility scooters – lawn equipment – dollies – balls – inflatables – motorcycles – vehicle tires.
Designed with an ergonomic handle to make it easier on your hands, this pump handle also functions as storage for the included ball needle and inflatable adapters. Never lose those pesky small items, and always have them at the ready when you need it. Easy to use. With the auto-select head, there is no need to disassemble or use adapters in order to fit the correct valve on whatever it is that need to be inflated!
Pros
Super compact and small
Works well
High pressure
Multi-purpose
Highly portable
Cons
Takes time to fill a tire
No pressure gauge
6. TUSA Digital Car Tyre Inflator – 12V DC Portable Air Compressor with LED Light
Swift Operation
Longer Cable
Inbuilt Pressure Gauge
Automatic Shut Off
1 year warranty
What we liked about this Air Pump?
Use it not just to pump air but also check the air. Lock the device and power on, the initial reading is the current pressure of the tire. No need to power off, the device shuts down automatically after filling up the tires. The 12.10 feet (3.70 M) cable can reach any of the four tires irrespective of how far they are from the ignition point. Can inflate a tire from flat to 30 PSI in under 4 minutes and 1-year warranty is provided along with the product. One of the best air pump for bike in India.
Pros
Digital display
Auto shut off feature
Long cable
Good design features
Durable
Cons
Highly inaccurate with pressure readings
Inaccurate with filling tires with the right pressure
7. MICHELIN Analogue Double Barrel Foot Pump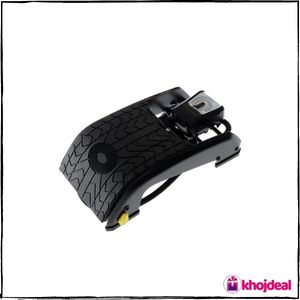 Compatibility: All cars, trucks, tractor, motorcycles, bicycles, sports goods
Analogue gauge accurate to +/- 1 PSI up to 50 PSI.
Ergonomic rubber tread plate.
Dual display PSI & BAR.
Wide footprint steel frame with rubber feet.
Snap-in adaptor storage.
What we liked about this Air Pump?
The Michelin mechanical foot pump is a versatile and handy equipment that can be used to inflate tyres of cars, SUVS, motorbikes, cycles, or even sports equipment like football and more. It is built with dual piston chambers to give you twice the air in every step. It is a high-performance foot pump designed for convenience and portability. The foot pump can be used almost anywhere as it does not require any form of electricity to operate. It works purely on mechanical energy and displays accurate values of the pressure build-up in the built-in analogue pressure gauge.
Michelin is easily one of the biggest names in the tire business and you can be sure this pump is one of, if not the best air pump for bike, car, etc.
Pros
Premium quality product
Highly functional
Highly accurate readings
Easy to use
Great durability
Long and flexible air hose
Probably the best air pump for bike, car, or whatever you want to use it for
Cons
Takes more effort due to the dual pistons
8. QUXIS Portable Mini Bike Pump Foot Activated with Pressure Gauge for Road
Lightweight Portable
High-quality Material
Quick release thumb lock valve.
Trustworthy Performance
Package Included: 1 X Foot Pump
Perfect for Cycle, Bicycle, Bike, Car, Football, Valley balloon and Etc.
What we liked about this Air Pump?
With the great performance, it's convenient for you to carry around, completely get rid of flat tire even outdoors. With sturdy aluminum alloy tube, firm plastic base and durable pump head, provides you with lasting use. Comes with free special adapters for bicycles and inflatable toys. With a reasonably accurate gauge, provides you a guideline to detect the air pressure, avoid insufficient air or puncture. This product totally belongs on the list of the best air pump for bike, car, bicycle, etc.
Pros
Lightweight
Easy to use
Durable
Accurate readings
Compact and portable
Good design
9. Lyrovo Double Cylinder Air Tyre Inflator
Warranty: 6 Month
Powerful Dual
160PSI Large Accurate Gauge
Anti-slide and Easy to Store
What we liked about this Air Pump?
It is very safe when you use our foot pump because it will be firmly fixed on the ground. And the anti-skid pedal increases the friction between your foot and pump, so you could use it without any slide problems. After use, close your pump and the built-in safety pedal locking clips will keep it steady and wouldn't pop out in suddenly. Save you space and suitable for carry out in your car. This air inflator is coupled with a large and accurate gauge, so you could read the real-time pressure easily. The air pressure could accurate to 0.5 PSI and won't be affected by the temperature or humidity. Remember to look at the related record on the gauge when you use it to prevent accidental tire blowouts.
Cylinder foot pump adopts upgraded dual-cylinder instead single cylinder which could provide up to 160PSI air pressure and much more faster speed of pumping when you step the pump. Therefore, it is easy for you to save about half of the time with our tire inflator.
Pros
Great design
Highly durable
Portable and easy to store
Easy to use
Multipurpose
Cons
Gauge is slightly off-set
10. Intex 68614 Double Quick Air Pump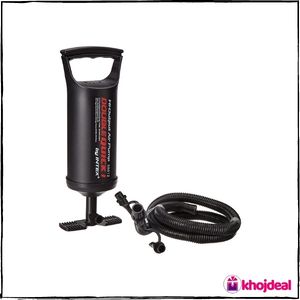 High-output manual inflation pump that is durable, portable and easy to use
Includes an air hose with 3 interconnecting nozzles that will inflate air mattresses, pool rafts, beach balls, inflatable boats and more
Inflates on both the down stroke and the up stroke for no watsed effort and faster inflation
Twice as powerful as the smaller 12 inch model
What we liked about this Air Pump?
High-output manual inflation pump that is durable, portable and easy to use. Includes an air hose with 3 interconnecting nozzles that will inflate air mattresses, pool rafts, beach balls, inflatable boats and more. Inflates on both the down stroke and the up stroke for no wasted effort and faster inflation. Twice as powerful as the smaller 12 inch model. With its multifunctional approach, this is also one of the best air pump for bike in India.
Pros
Lightweight and portable
Super easy to use
Durable
Perfect for any use
---
Frequently Asked Questions (FAQs)
Can I use car air pump for bike?
Yes, in most cases you can. There are actually multiple types of nozzles that are required to fill air into any inflatable object, be it a car tire, a bike tire, or even a mattress. With the correct nozzle, you can easily use any kind of air pump to inflate any object.
How to use portable air pump for bike?
Using an air pump is actually quite easy. There are two separate kinds of air pumps, one manual and the other with an automatic function. Automatic pumps are easy to use, and simply require you to set the pressure in PSI, attach the nozzle to the tire and inflate away. The manual one works similarly, but instead of the automatic feature, you have to be doing the pumping.
How to use manual air pump for bike?
Manual air pumps come in two different forms. They can either be used by hand, or come with a foot pedal. The foot pedal ones are easier to use and only require you to attach the nozzle to the object and use your foot to pump air into it. The hand-held ones works similarly, but requires you to work it by hand.
---
Conclusion
We have listed the best air pumps for cars, bikes and cycles above. Find the one that best suits your needs. With multiple kinds, like hand pumps, foot pumps and even electricity based automatic pumps available in the market, it can get confusing to get the good ones.
Fear not though, products we have listed are great to work with cars, bikes and cycles. The best air pumps for cars and bikes in India, listed above.
---
Loved our blog on best air pumps for cars and bikes in India? Do share it with your friends on Facebook, Twitter, and Instagram.
DISCLAIMER: Being a reader-supported blog, Khojdeal earns affiliate commission from purchases made using links on our blog.
Learn more