3D printers are no longer a novelty item. They can easily be purchased online without dishing out a huge amount of money, the kind they used to fetch only a few years ago. If you wish to build some items from the comfort of your home, getting a 3D printer is always a great option. That said, buying a good 3D printer is not easy. Since the product is rather new to the consumer market, most of us do not realize the potential of a 3D printer, or the important aspects to look for. For that purpose, we bring to you the best 3D printers in India, along with a comprehensive buying guide to help you in your purchase.
---
List of the Best 3D Printers in India – Reviewed 2023
If you do not know what a 3D printer does, let us enlighten you. Like normal printers, 3D printers also follow a similar pattern. However, they build a 3D structure of the item you want to print. They are really powerful machines and a must have if you are interested in such a thing. They are even great learning devices for kids. Here are the best 3D printers in India, listed and reviewed.
1. WOL3D Upgraded Creality Ender 3 3D Printer
Ability to resume printing even after a power outage or lapse occurs.
Easy and Quick Assembly
Advanced Technology: Upgraded extruder greatly reduces plugging risk and bad extrusion
V-Slot with POM wheels make it move noiseless, smoothly and durable.
Safety protected power supply; Only needs 5 minutes for hot bed to reach 110℃.
Mk-10 extruder
Engraving accuracy: 0.1mm
Nozzle quantity: single nozzle
Product forming size: 220 x 220 x 250mm
Layer thickness: 0. 1-0.4mm
Print speed: max. 180mm/s
Supporting material: abs, pla, tpu file format: g-code, obj, stl
What we liked about this 3D Printer
MK-10 extruder greatly reduces plugging risk and bad extrusion. The v-slot with pom wheel makes it a noiseless, smooth and durable one-piece structure, providing large printing size. The semi-knockdown package ensures quick assemble safety protected power supply, reaching 110 degrees C in about 5 minutes.
The printer comes with an additional power cut protection function to meet the needs of fast heating and longtime printing. If you are looking for an affordable options, this is easily the best 3D printers in India.
✔Pros
Great build quality
Good components used
Easy to use and assemble
Durable 3D printer
Reliable printer
❌Cons
Resume printing function not very reliable
2. WOL3D Creality Upgraded Ender 3 Pro 3D Printer
Magnet build surface plate:
Easy to remove the printing models after cooling.
Comes with a UL Certified power supply
Ender 3 Pro can resume printing from the last recorded extruder position after suffering unexpected power outages.
Easy-to-setup kit comes partially assembled
Good printing quality
Reasonable cost for the beginners and good performance for the enthusiasts
Printing Speed: ≤180mm/s, normal 30-60mm/s
Filament: 1.75mm PLA, ABS, Wood, TPU, Gradient color, carbon fiber, etc.
Working Mode: Online or SD card offline
File Format: STL, OBJ, AMF
Slice Software: Cura, Repetier-Host, Simplify3D
What we liked about this 3D Printer
The Ender 3 Pro has been redesigned with a more sturdy, 40×40 aluminum extrusion for the Y-axis base. This should improve the overall stability of the printing surface. It allows users to improve their printer upon the source code and share the changes within the community, resulting in an improved experience for all. This semi-assembled kit 3D printer is a perfect gift for kids and your friends. Allow them to learn about the basic construction of 3D printers. Only 10 minutes with 20 screws assembly before the first printing, simple assembly but more stable performance.
✔Pros
Rather easy to assemble
Easy to use
Good build quality
Quality components used
Sturdy design
❌Cons
Resume functionality is a little glitchy
3. Creality Ender 3 Pro 3D Printer
Removable build surface plate
Modeling Technology: FDM
Printing Size: 220*220*250mm
Printing Speed: ≤180mm/s, normal 30-60mm/s
Filament: 1.75mm PLA, ABS, Wood, TPU, Gradient color, carbon fiber, etc.
Working Mode: Online or SD card offline
File Format: STL, OBJ, AMF
Safe power supply
Resume print function
Semi-assembled kit
What we liked about this 3D Printer
Ender 3 Pro comes with a Mean Well power supply, protecting your printer from unexpected power surges, that can heat the hotbed to 110℃ in just 5 minutes. Triangle Slot cooperates with Prusa I3 frame: extremely innovative design, following the step of the trend, integrating with classic elements, create a new generation economic DIY 3D printers. The Ender 3 Pro has been redesigned with a more sturdy, 40×40 aluminum extrusion for the Y-axis base. This should improve the overall stability of the printing surface.
It also provides all-round protection to your 3D printer build plate and ensure consistent temperature throughout the build surface.
✔Pros
High quality extruder
Printing stability
LCD display
Good components
High build quality
Improved mechanical properties
📌 Looking for other types of printers instead? Take a look at our articles on best printer for home use and best wireless printer in India to  find the perfect device for your needs.
4. Creality CR-6 Max 3D Printer
Modeling Technology: FDM
Printing Size: 400x400x400mm
Supported Materials: PLA/TPU/PETG/WOOD
Layer Thickness: 0.1-0.4mm
Print Resolution: ±0.1mm
Nozzle Temperature: ≤260℃
Nozzle Diameter: 0.4mm as standard
Hotbed Temperature: ≤90℃
Photoelectric filament sensor
Intelligent auto-levelling
32-Bit Motherboard
Resume Printing
Touch Screen
What we liked about this 3D Printer
The key difference between the CR-6 Max and the SE is, of course, the build volume. The CR-6 Max features a 400 x 400 mm build plate, with a towering 400-mm maximum build height. The CR-6 Max 3d printer features the same innovative leveling system as the CR-6 SE, using a force-based sensor. The Max will simply touch the nozzle to the bed at specific points, and a strain sensor on the hot end will detect the exact point at which the nozzle touches the glass.
Creality designed the nozzle with modularity in mind. Users can disable the nozzle and change the heat block, heat sink, Teflon tube, or the nozzle tip with the included spares. This printer is essentially one of the best in the market and yes, also one of the best 3D printers in India.
✔Pros
Very easy to use
High quality components used
Great build quality
Printing stability
Photoelectric filament sensor
Very versatile
5. Creality 3D Ender 5 Pro 3D Printer
Silent motherboard TMC2208 driver pre-installed
Upgraded metal extruder kits
Molding Technology: FDM
Print Size: 220x220x300mm
Print Method: Online or TF card offline
File Format: STL/OBJ/AMF
Filament Diameter:1.75mm
Upraded imported blue Capricorn Bowden PTFE filament tube
High precision print quality
Equipped with dual Y-axis and Z-axis selectable motors
Built-in brand power supply, heats the heated bed to 230.0 ° F in 5 minutes.
Resume Print Function
Double Y-axis with stable output
Modular design
What we liked about this 3D Printer
Creality Ender-5 Pro 3D Printer used its' self-adhesive platform to help it easier to remove the models without other defects. It comes with an upgraded motherboard really produces fewer noises. It uses Creality 3D 4-layer PCB with solid filter and capacitor for better ESD protection and more stable performance, TMC ultra-quiet drive 256 subdivision for finer printing.
Equipped with Imported Capricorn Blue TeflonTube and the metal extruding unit, which helps stable in filament feed in and wear-resisting, resulting in a better printing quality. This makes it one of the best 3D printers in India.
✔Pros
High precision print function
High quality metal extruder
Built-in power supply
Modular design
Very easy to use once set up
Compact in size
6. Creality LD-006 Resin 3D Printer
8.9" monochrome screen: Exposure time 1-4s
4K solid-state display: 3840x2400dpi
Fast printing: Max. Speed 60mm/h
Large print size: 192x120x250mm5
Directional matrix UV: Quartz LED
Stable Z-axis: Double linear guide rails 4.3" color touch screen: Better user experience Cooling & Cleaning: Dual fan + activated carbon
8.9" Monochrome Screen- Max. Print speed 60mm/h Lifetime up to 2000H quadruples that of color screen; higher
Printing speed as curing time for single layer reduced to 1-4s.
UV Curing 4K Monochrome Screen
Built-in Air Filter
4.3" Color Touch Screen
What we liked about this 3D Printer
The Creality LD-006 Resin 3D Printer comes with a ton of different features and advantages it holds over other 3D printers in the market. Its printing size of 192*120*250mm allows for large prints and allows for various demands and printing task. Service life up to 2000H, and a higher print speed as single-layer curing time is reduced to 1-4s. Dual-dan cooling system with active carbon air purification for odor-free user experience.
Matrix Light source with min 2 degree angle with quartz LED and ultraviolet radiation, for better printing quality. Z-axis, based on dual linear slide rails and T-rod for better precision and smoother surface. Easily one of the best 3D printers in India.
✔Pros
High resolution: 4K (3820x2400dpi)
Precise outputs
Smooth surface finish
Sleek and modern design
Air filtration system
4.3-inch touchscreen
State-of-the-art steel build plate
Incredibly stable Z-axis
❌Cons
Expensive
Manual bed leveling can be difficult for beginners to work with
7. Creality Ender 3 V2 Upgraded 3D Printer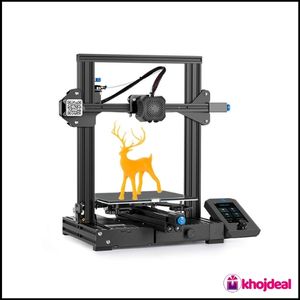 Feeder system: Bowden
Single nozzle extruder
Nozzle size: 0.4 mm
Max. build volume: 220 x 220 x 250 mm
Max. extruder temperature: 255 °C
Max. heated bed temperature: 100 °C
Max. print speed: 180 mm/s
Manual bed leveling
Heated Print bed
Display: LCD color screen
Connectivity: MicroSD card, USB
File types: STL, OBJ
What we liked about this 3D Printer
Adopt a silent TMC2208 stepper drivers mainboard always ensures smooth ovement under 50dB, no noise during printing. Equipped with a new Meanwell power supply that delivers stable and consistent power for the best performance. With its resume printing & convenient filament feed-in, the machine can automatically resume printing after power-off or filament breakage. Less worries on print failure. Rotary knob added on the extruder makes it easier to load and feed filament. The Carborundum glass platform enables the hotbed heat up quicker and prints adhere better. Ultra smoothness even on the first layer.
Newly designed operation UI system, convenient disassembly and simple operation. An affordable version of the best 3D printers in India.
✔Pros
Quiet function
Easy to use
Good build quality
Great interface
Quality-of-life improvements
❌Cons
Detachable display does not prove any purpose
8. 3 idea Imagine Creality Ender 3 V2 3D Printer
Brand new operation UI system
4.3″ smart color screen greatly improve user experience.
Carborundom heat bed heats up faster and remain constant and stable temperature
Smart sensor for Resume printing
Effortless Filament Feed-in
Filament feeder to load filaments easier
X and Y-Axis Belt Tension: quick and easy adjustment, also improves dimensional accuracy
Y-Axis – 40 40 Aluminum Extrusion: The Y-Axis has been replaced with a 40 40 extrusion
Smart Add-ons
What we liked about this 3D Printer
The self-developed silent motherboard ensures smooth movement under 50db, no noise during printing. Ender-3 V2 uses the V-guide rail pulley with stable movement, low noise, wear-resistance, and longer life. Ender-3 V2 changes the previous screen into a 4.3inch color screen and upgrades the user experience with the newly designed operation UI system. It's simple and quick to operate. And also this color screen can remove easily to repair, which saves a lot of time and energy.
With the toolbox integrated into the machine body, it is more convenient and quicker for tools organization and storage.
✔Pros
Easy to use
Easy to upgrade
Resume printing in effective
Decent print quality
High quality magnetic bed
Good for beginners
❌Cons
Extruder will not last long
9. 3 idea Imagine Creality Sermoon D1 Industrial Grade Transparent 3D Printer
FDM(Fused Deposition Molding
PLA/ABS/TPU 5100
File format: STL/OBJ/AMF
Transparent design
Aluminum alloy frame
Build volume: 280 x 260 x 310 mm
Silicon carbide glass platform
Intelligent sensor
What we liked about this 3D Printer
The printer can adapt to any power and voltage to render stable and safe printing. An aluminum frame design with a transparent double door design is convenient to monitor printing from all directions. Equipped with self developed silent mainboard the printer operates with low noise for calm silent printing. Creality Sermon D1 with 4.3 inch LCD touch screen colour display, more easily when you operate the printer.
Modular Structure with enclosed printing design. The easy hand-assembled procedure with DIY fun. Semi-closed chamber with sheet metal base features high stability and provides silent printing.
✔Pros
Intelligent sensor
Easy to maintain
Easy to use
Transparent cabin
High quality components
10. Elegoo Saturn Photocuring MSLA UV Photocuring LCD 3D Printer
4K Monochrome LCD
Matrix UV LED Light Source
Off-Line, and LAN Print
Printing Size 192 x 120 x 200mm
HD resolution of 3840 x 2400
Z-axis utilizes a double linear guideway structure
What we liked about this 3D Printer
ELEGOO Saturn is a large-sized resin 3D printer that comes with an 8.9 inches 4K mono display and a big build volume of 192 x 120 x 200 mm. You can now print much larger models at a faster speed or print a lot more models at one time, which facilitates your resin 3D printing experiences dramatically and improve printing efficiency by a great scale. The 4K mono display has an HD resolution of 3840*2400, 508 PPI and the ball-bearing leveling joint is very easy to handle and generally has a long-lasting leveling performance.
The build plate utilized a sandblasted surface to produce a stronger adhesion especially when printing large-sized models.
✔Pros
Much faster print time
4K monochrome LCD
High resolution
Prime accuracy
Great build quality
High quality product
Great for its price
❌Cons
Resume printing function not available
---
Everything about 3D Printers – Buying Guide 2023
So, when it comes to buying a 3D printer, there are a few things you would need to keep an eye out on. 3D printers are really niche items and have only recently showed up on the consumer market. The general public is largely unaware of the benefits and the usage of a 3D printer, but you should know – 3D printers are incredibly useful devices that you can benefit from if you know what for and how to use one.
Only a few years ago, 3D printers were huge, expensive, difficult to manage, and only used in factories and such. Nowadays, 3D printers are common items a lot of individuals invest in to build things out of their home, for personal use and even to fuel their small businesses. 3D printers have become incredibly affordable, easy to use, and the perfect item for any hobbyist.
Let us discuss all about 3D printers, how to purchase them, and what use they can be. The best 3D printers in India are listed above. Once you understand what to look for, do take a look at our list to make the best purchase.
What is 3D Printing?
3D printing, also known as Additive Manufacturing, has been a steady industry for a while now. Its uses were mostly in industries and factories including automobiles and aviation. However, with more consumer-friendly products on the shelves now, 3D printing has become a serious hobby for many folks trying out new DIY projects and business ideas from home.
3D printing is a process of making 3-dimensional solid objects from a digital file. A 3D printer layers successive thin layers of material, usually plastic, onto a magnetic bed until the digitally designed object is created. It enables you to produce incredibly complex shapes using much less material and much less effort. It allows you to create a range of objects varying in shapes, sizes, colors, rigidity and more.
How to Choose a 3D Printer?
Now we all know what a 3D printer is, what 3D printing is, and what these machines do. However, what we might not know is their exact function, how they do what they do, and for what uses can you use a 3D printer. Let us take a deeper look into how to choose a 3D printer for your uses.
First things first, 3D printers are not anymore limited to industrial use. You can easily set one up in your home and office and make your work a lot faster and easier. Here are the primary aspects to look for while buying a 3D printer.
Make sure you need one: Now, 3D printers, though affordable, are not cheap by any margin. Maintaining them, using them, replenishing filaments and such takes a lot of effort, time, and money. Only purchase a 3D printer if you are sure you will use it correctly and for a set purpose. No impulsive buying required.
Check the kind of 3D printer against your requirements: You might need a 3D printer for a specific purpose. If you wish turn your device into a business idea, make sure you can churn out the amount of products you need to combat demand. If you want to build strong and rigid objects for a project, make sure you invest in a potent 3D printer.
Printing speed: One of the most important aspect of 3D printers is its printing speeds. There are printers that work slow but accurately, and there are printers that work incredibly fast but are seen as messy. Make sure you are getting a printer that allows you fast speeds without compromising on quality.
Open or closed frames: A lot of new consumers have this question – open or closed frame 3D printers. Both come with their set of advantages and disadvantages. They function exactly the same way, however, if you live in a dust-ridden environment, or with pets and kids, a closed frame 3D printer is a much better option to have. Open frame printers can be dangerous if you are not being careful. Closed frames are better for you, especially in the home setting.
Size: Depending on the size of objects you want to build, make sure your printer's build area is enough to properly steady it.
Object material: There are two kinds of materials 3D printers use to create objects, PLA and ABS. Without getting too much into the details, PLA is more flexible but emits fumes when melted which users find unpleasant.. PLA also looks smoother but can be brittle. ABS melts at a much higher temperature but is much more rigid than PLA.
Print in multiple colors: A few 3D printers allow you to print in two or more colors. These dual-extruder models can be really difficult to find, not cheap by any margin, and must have files for each color. Printing items separately can be quite the hassle and you would have to fit them together like a 3D jigsaw puzzle.
So, here are the few things you should and must take care of while buying a 3D printer. The niche product is not easy to purchase, and might require you to take a close look at the functions of your prospective 3D printer. The best 3D printers in India, listed above for your convenience.
---
Frequently Asked Questions (FAQs)
What are the 3D printed objects made of?
3D printers use a technique called FFF to print objects. A plastic filament is melted inside the machine which then extrudes it out to create 3D printed objects. Most printers either use ABS or PLA materials to build objects.
Can you print in multiple colors?
Yes, you can print in multiple colors. There are 3D printers out there that allow you to print in two or more colors. These machines are slightly more expensive then single color printers. Also, if you wish to save some money on your purchase and makes things easier for yourself, you can always paint your creations.
Open framed or closed frame 3D printer ?
Either types of printers work almost in a similar manner. Their functionalities, uses, quality, and everything else almost remains the same. The one primary difference between the two is that closed frame 3D printers are much safer. So if you have kids and pets running around, it is always a good idea to invest in a closed frame printer.
How to choose the right 3D printer?
While choosing the right 3D printer, give note to its size, its functionality against your requirements, the kind you want, and its price. Since 3D printers come in a variety of functions and prices, it is a good idea to make sure you buy something that best suits your needs.
Is 3D printing expensive?
Actually no. The costs once you have bought a 3D printer only comes from the little material you use and electricity consumed.
---
Conclusion
When it comes to 3D printers, the device has become incredibly easy to use and perfect for hobbyists and DIY enthusiasts. No longer are they bulky, expensive, or reserved to only factories. You can easily pick yourself up a good quality 3D printer and start your very own at-home 3D printing journey. We have listed the best 3D printers in India above along with a buying guide to help you make an informed purchase.
3D printers might not be easy to purchase, but with us, you can easily buy one and start using to your heart's content.
Happy building!
---