If you're looking for a fun quiz to pass your time, we highly recommend you look at the Amazon Daily Quiz. Following that you can pop in here to check for the Amazon quiz answer today. It is believed that the quiz was launched in 2017, however at the time it wasn't so popular. Recently the quiz has acquired attention among Indian consumers.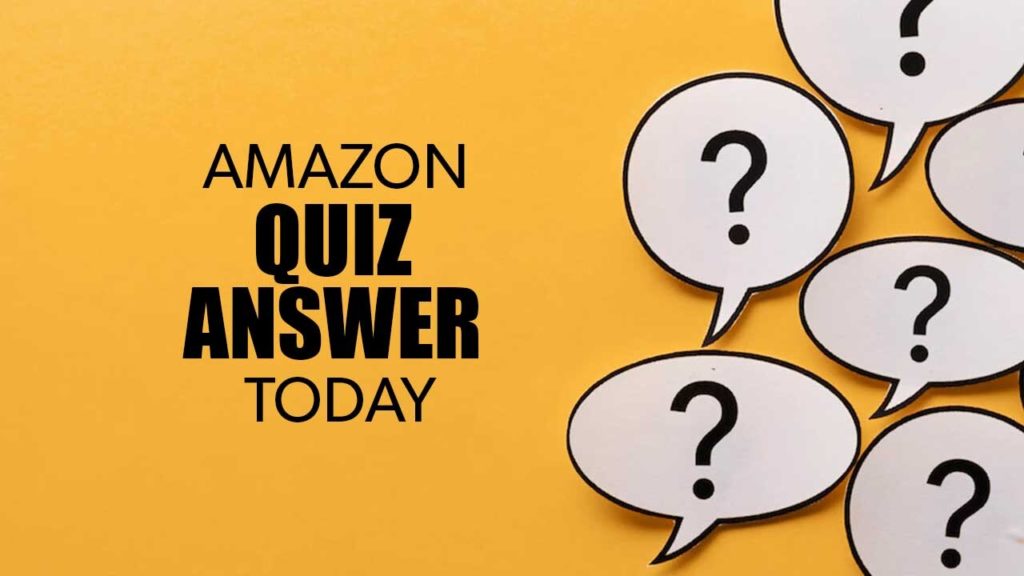 What is the Amazon quiz?
The Amazon Quiz is set to assess a contestant's general knowledge. It is an MCQ-type quiz: 5 questions and 4 options. You have to pick the right answer from the options to pass the quiz. Once you give the right answer, you will be selected to take part in the draw for the prize. Incorrect answers result in disqualification. The great thing is you can try your hand at a different set of questions the next day. Besides, you can refer to our blog to find out what the Amazon quiz answer today is. Since the answers differ daily, we bring you a blog with the Amazon quiz answer today, along with additional information about the quiz.
📌Must Read: Amazon Upcoming Sale – Get the Best Deals and Discounts on Amazon
How to access the quiz?
You can access the quiz using your smartphone and download the Amazon India mobile application from the Google Play Store or Apple's App Store.
Once downloaded, click on the application and log in to your Amazon account. If you don't have an account you can create one on the spot.
On the application look for 'Funzone'. There is where you will find the daily quiz and other games that you can play.
Click on the "daily quiz time" banner. You can only access this from 8 am to 12 pm. Click on the 'Play' button and proceed.
You will be informed of the prize of the day, followed by a 'Start' button. Once you click on the button, you will get a screen with the first question.
With each right answer, you will be taken to the next question.
Upon answering the final question correctly, you will be told when the names of winners will be released.
What are the prizes offered?
Every day, the Amazon Daily Quiz prizes change, frequently offering high-value items like smartphones and large sums of money. It recently awarded Rs 25,000 in Amazon Pay balance as a prize. As part of the campaign, it is also giving away a Samsung Galaxy Watch Active 2. Apple iPhone XS, Samsung Galaxy Note 9, portable speakers, and a Fossil Explorist timepiece are among the previous awards.
Has anyone won this quiz?
Yes! There was initially some speculation that no one was winning the quizzes. However, presently Amazon has begun announcing the winners on a publically visible forum, where they release the email and phone numbers of the winners in a concealed fashion. Additionally, winners are contacted directly whenever they win. If you win, you can claim your cash prize and other rewards easily.
How are winners chosen?
Once you answer all five questions correctly, you will be added to the pool of people participating. It seems that automated software is used to select a winner at random out of this pool, so ideally, people can win multiple prizes from different days. Only one winner is chosen per game, per day.
How is the announcement of winners made?
Winners are announced on the website itself in a forum for the Funzone, where users' email ID and phone number is posted in a censored fashion along with their names. This way the winner can recognize if they have won or not, while their details are kept safe. Additionally, users who win are informed via email about their reward and how they can receive it.
Terms and Conditions
You will be eligible to enter the draw if you accurately answer all of the questions in the questionnaire.
Only contestants who have successfully answered all of the questions will win.
To pick the winner, a lottery will be held for the reward listed during the event.
According to the contest conditions, each winner is only eligible to win one prize.
You will not be eligible for prizes or benefits listed in other contests if Amazon runs a comparable contest in conjunction with daily quizzes. Each competition is handled as a distinct entry.
You agree to be added to an Amazon email list for promotions and other materials if you enter the contest.
You may edit or amend your email choices to unsubscribe.
Participation in the contest is completely voluntary, and by doing so, you accept that Apple Inc. in no way endorses it.
Amazon reserves the right to modify or terminate the contest at any time.
Floods, natural catastrophes, war, acts of terrorism, political instability, technological difficulties, acts of God, or any other cause beyond Amazon's reasonable control are all examples of force majeure conditions that might affect the Contest.
By participating in the contest, you permit Amazon to use your name, likeness, voice and/or likeness, pictures, video recordings, and other likenesses in connection with the contest or any promotion.
The winner will be contacted by Amazon by email or SMS. Within 10 days, the winner's name will be posted on the website.
All information supplied as part of the contest will be handled in line with Amazon's privacy policy.
Amazon Quiz Answers Today – 09/Feb/2023
If you are looking for the amazon quiz answers today, we've answered them below. Utilize this answer key to answer correctly and enter the draw!
Q1: After a hiatus of 5 years, which famous singer recently released a single titled 'Easy on Me'?
A: Adele
Q2: In 1996, the UN General Assembly adopted Resolution 51/95 proclaiming 16th November as the International Day for what?
A: Tolerance
Q3: Playing in her first Masters 1000 final at Indian Wells, Paula Badosa from which country, recently beat Victoria Azarenka?
A: Spain
Q4: This is a view of Male, the capital of which country?
A: Maldives
Q5: What is this drink called?
A: Sangria
Amazon Quiz Answers Today – FAQs
1. What are the Amazon Quiz Answers Today?
Adele, Tolerance, Spain, Maldives and Sangria are the answers to the questions respectively. Fill them in correctly to be added to the draw.
2. How can I play the Amazon quiz?
You can try your hand at the Amazon quiz by using the "Funzone" option on the Amazon mobile application. For additional information, read the blog above.
Conclusion
The Amazon quiz provides an excellent opportunity for customers to win all kinds of prizes. These include physical prizes and monetary rewards that users can utilize however they please. You can also go through the Khojdeal blog to find reviews of various products and blogs rife with information on various topics (such as this one). From best brands to how to sleep better, there is a blog for everything. Meanwhile, you must try your hand at the Amazon daily quiz and with luck, you too will receive an award!