Prime Day Sale 2021 is here: India's favourite e-commerce portal, Amazon India, has just announced the dates of its biggest retail event of the year. Amazon India is hosting the Amazon Prime Day Sale 2021 on July 26th & 27th.
Every year, Amazon Prime Day Sale is held around the second week in the month of July. However, due to the pandemic situation, this year, the upcoming Amazon sale will be held in the last week of July'21.
Amazon Prime Day Sale is the biggest sale from Amazon that covers discount on every category listed on the website. But before you shop, always check the latest deals and offers on the products to save more.
Wait! How can you do that?
This is why we have written this article. We understand that sales like Amazon Prime Day offer discounts on several products. But, on which product are they offering the maximum discount is something that needs to be checked beforehand.
To help you in this, we have shared below the list of top-selling products, latest launches, live deals on electronics, appliances and Amazon devices.
Just check the Important Topic table below to read the details of your favourite topic without going through the whole article.
Live Amazon Prime Day Sale 2022 Deals
Amazon Prime Day Sale 2022 Top Deals & Offers
1. Up to 40% off on mobiles and accessories
The smartphone is now an extension of our body and an essential companion in everyday life. The market is extremely crowded and there is something for everyone, whether it be for those looking for the best display, the longest autonomy, the raw power or the best camera. A selection of the best smartphones are available on Amazon.
During the Prime Day sale customers can get up to 40% off on their smartphone purchases. Other perks like exchange offers, no cost EMI and free screen replacement will also be up for grabs. Beside this, new launches are also expected in smartphones and electronics category from brands like One Plus, Mi, Samsung, Techno, Ambrane, and pTron.
2. Up to 60% off on electronics and accessories
Whether you're looking for a new laptop or a noise cancelling headphone, Amazon India the one-stop-shop for all your electronic needs. You can shop for smartwatches, printers, soundbars, fitness trackers, camera accessories, musical instruments, security cameras, graphic tablets and pen drives at never before seen prices. Great offers on brands like AMD, Noise, HP, Acer, BoAt, etc. will be there for the taking.
Besides the latest launches from brands like Sennheiser, Intel, and Amazfit, more than 5000 products in the Amazon's electronics category will be up for grabs at jaw-dropping prices during Amazon Prime Day Sale 2021 India. Customers can also avail additional Amazon benefits like no-cost EMI, exchange offers and easy replacements.
3. Up to 65% off on TV and appliances
While 4K UHD and HDR televisions are now standard in 2021, the market remains diverse. The arrival of several panel technologies, such as OLED and QLED, have been added to the traditional LCD with LED backlighting. Also on the horizon are models using mini-LED and micro-LED technologies. The TV market is made up of many brands, but the historical TV manufacturers are generally still the ones to be trusted: Sony, LG, Samsung and Philips in the lead. Some Chinese manufacturers also manage to regularly offer interesting products like TCL.
Besides television, customers can also avail great deals on products like washing machines, microwaves, refrigerators, dishwashers, chimneys, air conditioners, etc. Additionally, new products like a 4K Smart OLED TV from LG, IFB washing machines, and new televisions from Shinco will also be available.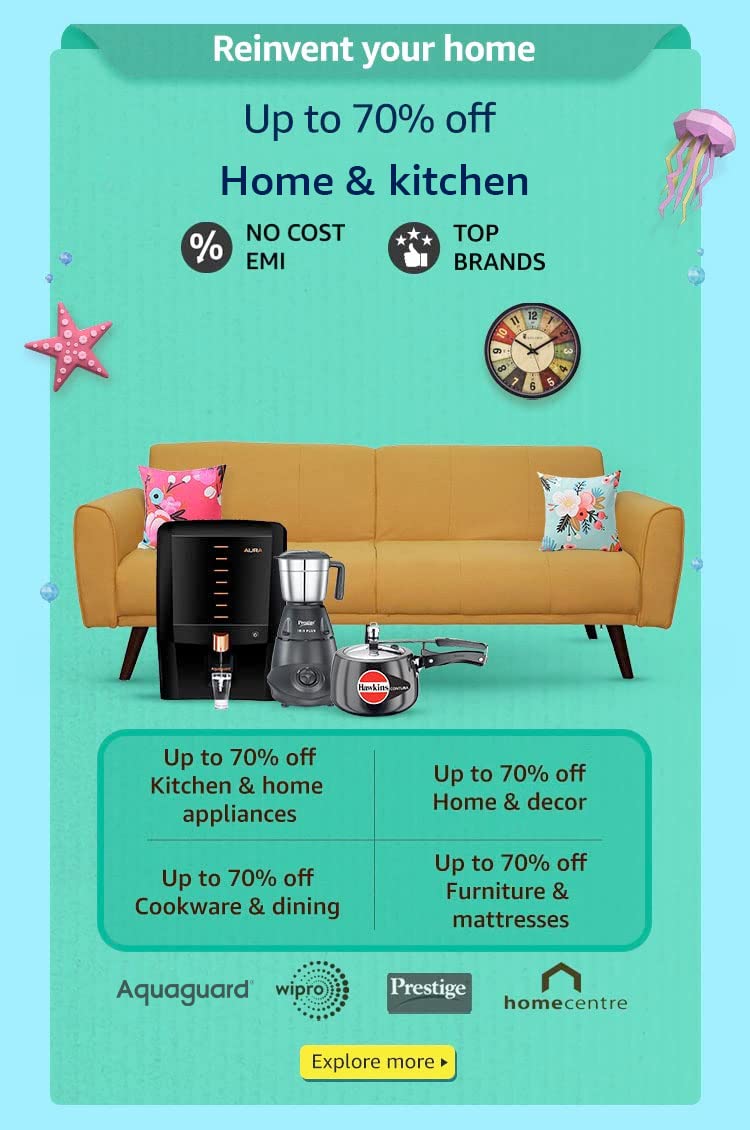 4. Up to 70% off on Home & Kitchen Appliances
Kitchen appliances help you carry out your work in a precise and optimal way. Moreover, they also help you in the preparation of your dishes, making them tastier, making your work more practical and innovative. In every home it is important to always have good appliances, which will surely save you time and energy. Choosing furniture for the home is not just an aesthetic question, we know it and you know it too. On Amazon, you will find everything you need for furnishing or remodeling the home of your dreams.
30+ exclusive products from brands like AmazonBasics, Panasonic, IFB, Bosch, Haier, LG, etc will be launched in this category during Amazon Prime Day Sale. These include new water purifiers from Aquaguard and juicer mixer grinders from Bajaj, Prestige, Pigeon & Wonderchef. More than 10,000 will be made available at never before seen prices. Additional Amazon perks like no-cost EMI, exchange offer, easy installation and scheduled delivery will also be offered.
5. Up to 80% off on fashion apparels and accessories
There will be many fashion offers that will take place on the famous marketplace on 26 and 27 July on the occasion of Prime Day, the most awaited event by all online shopping enthusiasts. This is an opportunity that will allow you to shop at discounted prices and stock up on clothing, shoes and accessories to color your summer looks. You can choose your favorite products from a wide selection of accessories, jewelry and watches, and then shoes, pants, t-shirts and dresses, bags and backpacks, for young and old.
Those looking for comfortable and stylish footwear , to wear at home or at the beach during the summer season, on the other hand, will find among the offers proposed by Crocs and Havaianas, truly unmissable opportunities. Missing them is a real shame. A self-respecting glamorous look, to be defined as such, necessarily needs accessories. Because needless to say, they are the ones who make the outfit. So here we can take advantage of the Prime Days to stock up on watches, jewelry, bags and backpacks. Let's not forget also sunglasses and belts, essential for creating original and unique looks.
6. 20% to 60% off on daily essentials
Whether you want fresh ingredients for cooking meals, quick frozen meals for busy evenings, or on-the-go snacks for school, you will find everything you need, and more, when you shop for groceries online at Amazon. In addition to groceries, you can also order household cleaning products, furniture, home décor items, health and beauty products, essential care products and baby food, baby accessories, garden tools and more.
7. Up to 50% on Amazon devices
Amazon devices such as Fire TV Stick, Amazon Kindle and the company's Echo range will get exclusive and never before seen offers. Popular Amazon devices like Echo Dot, Fire TV Stick 4K, All-New Kindle, Echo Input, etc. will be available at the lowest possible prices.
The smart speakers of the Echo line represent one of Amazon's leading technologies, with the latest generation smart speakers that integrate the Alexa virtual assistant , for managing the smart home with voice commands. The Kindle is the Amazon tablet for reading digital books, devices with optimized screen to reduce reflections of light, excellent connectivity and high storage capacity. The stick Fire TV Amazon is a bundle to transform your TV into a smart TV, a device to be connected via HDMI and equipped with remote control with integrated Alexa.
8. Up to 70% off on Amazon Brands
Great deals will also be available on Amazon's own in-house brands. These include AmazonBasics, Symbol, House & Shields, MYX, Bourge, UpCrop, Solimo, ZINQ technologies, Mama Bear, Vedaka, Presto, Supples, Jam & Honey, Popsugar, and more.
AmazonBasics is Amazon's best-selling private label brand, offering essential household items, office supplies, and tech accessories since 2009. The brand also offers products for the kitchen, home, and pets. Solimo offers everyday household goods for a lower price, from personal care to pet products and home essentials. Mama Bear sells products for babies and children, such as baby food, multivitamins and mild laundry detergent. Vedaka is a brand of Amazon India for groceries, spices, pulses, lentils, flours, teas, grains, oils, dry fruits and such everyday items.
9. Up to 70% off on books, toys, gaming and more
If you are looking for new games for your Xbox, this may be the right time to save a lot. Whether you want to buy exclusive games for Xbox or cross-platform games on the Microsoft console, you will find the best offers for video games during Prime Day.
With the glut of home game consoles currently on the market, deciding which console is best for your needs can be quite a challenge. The offer continues to grow with also streaming game services, PC gaming, as well as retro consoles and arcades which are making a comeback. Each option has its own advantages that make it an attractive choice, depending on individual preferences. There are currently three main families of consoles on the market: PlayStation, Xbox and Nintendo.
Books are the perfect companion on a journey, a lazy weekend or any time of the day. From learning life's important lessons to getting immersed in an enchanting story, books play an important role in shaping our lives. Immerse yourselves in a wide range of books at Amazon India at discounted prices and discover new authors and titles and enjoy great savings.
10. Exclusive Product Launches On Amazon's Prime Day
Over 300 new products will be launched from top Indian & global brands such as Samsung, Xiaomi, boAt, Intel, Wipro, Bajaj, Eureka Forbes, Adidas, FCUK, Max, Woodland, MyGlamm, Mamaearth, The Moms Co, Hasbro, Nescafe, Surf Excel, Dabur, Baidyanath, Cadbury, Himalaya, Whirlpool, IFB, LG and more.
Over 2000 new products will be launched from Small & Medium Businesses (SMBs) across categories including electronics from Action Pro, fashion products from Navlik, beauty products from The Man Company, jewelry sets from Satyamani, grocery from Chai Point, Khadi, handmade products from Shabari Emporium, and many more.
Some of the most awaited launches to look out for include Prestige Macho Mixer Grinder, Wipro 3W Radiant Dual Light LED Torch wipro, Wonderchef Sumo Mixer Grinder, Havells Florence Underlight 1200mm Ceiling Fan, Garmin Venu 2S GPS Smartwatch, Lenovo Legion Y-Series 27-inch QHD Gaming Monitor, Crossbeats Orbit Smartwatch, Blaupunkt BTW10S Truly Wireless Earphones, LG Full HD 27 Inch IPS Monitor, Leaf Hush ANC Bluetooth Wireless Headphones, UBON Mini Bluetooth speaker and more.
11. Amazon Prime Day HDFC Card Offer 2021
During the two-day event, Prime members will get a 10% instant discount on a purchase made using HDFC Bank Debit and Credit Cards, unlimited reward points with Amazon Pay ICICI Bank Credit Card plus, no Cost EMI option on credit cards, debit cards and Bajaj Finserv EMI cards.
12. Great deals on Amazon Launchpad products
Shop from emerging brands from Amazon Launchpad, artisans and women entrepreneurs from Amazon Karigar and Amazon Saheli, as well as neighborhood stores from Local Shops on Amazon and lakhs of other SMB sellers from all over India. On Prime Day, Prime members will have the opportunity to discover joy and enjoy deals on unique products across categories including beauty, fashion, electronics and home décor.
13. Mega entertainment treat on Prime Video
This Prime Day, Prime members will be able to enjoy the world premiere of much anticipated movies across multiple languages. The stellar line-up includes Toofan (Hindi), Malik (Malayalam), Ikkat (Kannada), and Sarpatta Parambarai (Tamil). The Prime Day entertainment line-up will mark the launch of season 2 of the popular Amazon Original Series – Hostel Daze on July 23.
Connoisseurs of international cinema can stream the global hit – Judas and the Black Messiah, while adults and kids alike can enjoy the nostalgic return of one of the most beloved rivalries in history with Tom and Jerry: The Movie.
The Prime Day Show, which is a three-part special featuring multi award-winning artists Billie Eilish, H.E.R. and Kid Cudi, is already live.
14. Launches on Prime Music
Customers will be able to enjoy season 3 of the hugely successful Mixtape series on Prime Music – Rewind in collaboration with India's No 1 music label, T-series, with 10 new songs – a mashup of iconic musical hits from the 90s and early 2000s.
15. Save big on your Prime Day purchase
During the 14-day lead-up to Prime Day, from July 8, 5:00 pm till July 24, 23:59 pm, members can shop from millions of unique products offered by SMBs and avail offers such as 10% cashback up to INR 150 on their Prime Day purchases and more.
16. Make Prime more rewarding with Amazon Pay
Customers can enjoy secure, fast payments and daily rewards with Amazon Pay. Sign up with Amazon Pay and get cashback of INR 1000. Prime members will also enjoy unlimited 5% reward points on Prime Day purchases with the Amazon Pay ICICI Bank Credit Card.
Sign Up For Amazon Prime Membership To Avail Amazon Prime Day Deals & Offers
To shop on Prime Day Sale, users must be Prime members. If you are not a Prime member, you can sign up today.
At present, Amazon is offering Prime membership under 3 plans, monthly, quarterly and annually. Below are the charges for each of the plans.
3 months of Prime – Rs 329 for 3 months (Special Offer Ending Soon).
Prime Monthly – Rs 129 per month.
Prime Yearly – Rs 999 for a year.
After six months, Amazon Prime Student members are eligible to get 50% off of the cost a full Amazon Prime membership. To avail the Amazon Student Prime Membership offer, you must me between 18 to 24 years of age with a valid identity card.
Prime members enjoy various perks such as:
Guaranteed one-day, two-day and standard delivery for eligible products.
Unlimited access to Prime video and 30-minutes early access to lightning deals.
Exclusive Amazon Prime Day deals and coupons from time to time.
How to take advantage of offers?
To take advantage of the offers that are presented during these days, you must be a paying user through a subscription. If you do not want to pay for one of these memberships, you can enjoy a free trial period for 30 days and the promotions will be activated.
The Khojdeal portal specifies that it is necessary to differentiate between flash offers and offers of the day. It specifies that the first ones last a few hours and are released little by little; in the case of the latter, they last a 24-hour day or when the supply runs out.
Amazon will also enable an exclusive internal search engine for Prime Day, where the different offers will be and can also be filtered by categories and types. This will not be the only alternative available to users. The portal specifies that there are other tools that will also be available, such as CamelCamelCamel, which will allow you to identify how the price of a product has changed over time.
It also suggests the Keepa tool , which fulfills the same function and has a browser extension; and finally Google Shopping , which allows you to compare the price of a product between several stores.
Frequently Asked Questions (FAQs) About Prime Day Sale:
1. What Is Amazon Prime Day Sale?
Amazon Prime Day Sale is an annual sale from Amazon limited exclusively to Prime members only. This sale is an attempt by Amazon to attract more and more users to become Prime members.
The sale is said to offer deals on categories such as electronics, home and kitchen appliances, smartphones, daily essentials, fashion, beauty, kids store and more. In short, Amazon Prime Day Sale offers big discounts on things you might actually want to buy.
2. When Is Amazon Prime Day Sale 2021?
Amazon India has confirmed that its much-awaited Prime Day 2021 sale is going live in India on July 26. The Prime Day sale will begin at 12 midnight on July 26th and will conclude at 11:59 pm on July 27th.
3. What Are The Benefits Of Being An Amazon Prime Member?
1. Ultra-fast shipping, free one-day and two-day delivery with Prime Now.
2. Instant access to the latest and exclusive movies and TV shows with Prime Video.
3. Ad-free music and unlimited offline downloads in English, Hindi, Tamil, Punjabi, Telugu, Bengali and more languages with Amazon Prime Music.
4. Exclusive & early access to deals, cashback offers with Amazon Pay and Prime coupons.
5. Free in-game content on popular mobile games for gaming lovers.
6. Read anywhere, anytime for free with Prime Reading.
7. Earn unlimited 5% reward points using the Amazon Pay ICICI Bank credit card.
4. How To Become Amazon Prime Member?
At present, Amazon is offering Prime membership under 3 plans, monthly, quarterly and annually. Below are the charges for each of the plans.
1. 3 months of Prime – Rs 329 for 3 months (Special Offer Ending Soon).
2. Prime Monthly – Rs 129 per month.
3. Prime Yearly – Rs 999 for a year.
After six months, Amazon Prime Student members are eligible to get 50% off of the cost a full Amazon Prime membership. To avail the Amazon Student Prime Membership offer, you must me between 18 to 24 years of age with a valid identity card.
---
Final Words
So, people what are you waiting for?
Mark your calendars now for Amazon Prime Day Sale 2021 in India on July 26th & 27th. Get exclusive Prime Day deals, discounted offers & host of new movies on to Amazon Prime Videos and tracks on Prime Music. But first, Become an Amazon Prime member to participate in the sale.

Related articles :
DISCLAIMER: Being a reader-supported blog, Khojdeal earns affiliate commission from purchases made using links on our blog.
Learn more