Breakfast is essentially the most important meal of the day. Since most of us have hardly any time in the morning, Khojdeal brings to you 10 Minute Vegetarian Breakfast Recipes.
Vegetarian breakfast is among the most delicious and easy to make meals ever. They don't take a lot of work and are effectively packed with nutrients. If you are the working class, cooking up some breakfast is a chore and maybe you don't have enough time for that in the morning. Fear not, we have your back.
---
10 Minute Vegetarian Breakfast Recipes
Though incorporating eggs in your breakfast is a must for a healthy diet, for all you vegetarians out there, that might not be an option. For that purpose, we list easy to cook quick vegetarian breakfast recipes.
Here are 10 Minute Vegetarian Breakfast Recipes.
📌Check Also: Top 14 Best Peanut Butter In India
Grilled Cheese Sandwich
Now a grilled cheese sandwich might sound easy to make, and it is, but its in no way easy to perfect. With some practice and knowledge of which cheese to use, this super easy breakfast sandwich will fill you up all at the same time tasting delicious. You only need a good soft bread, some pepper and the cheese of choice. We suggest using mozzarella, cheddar and a slice of processed cheese for the perfect combination of soft, sharp and that signature pull.
Banana Oatmeal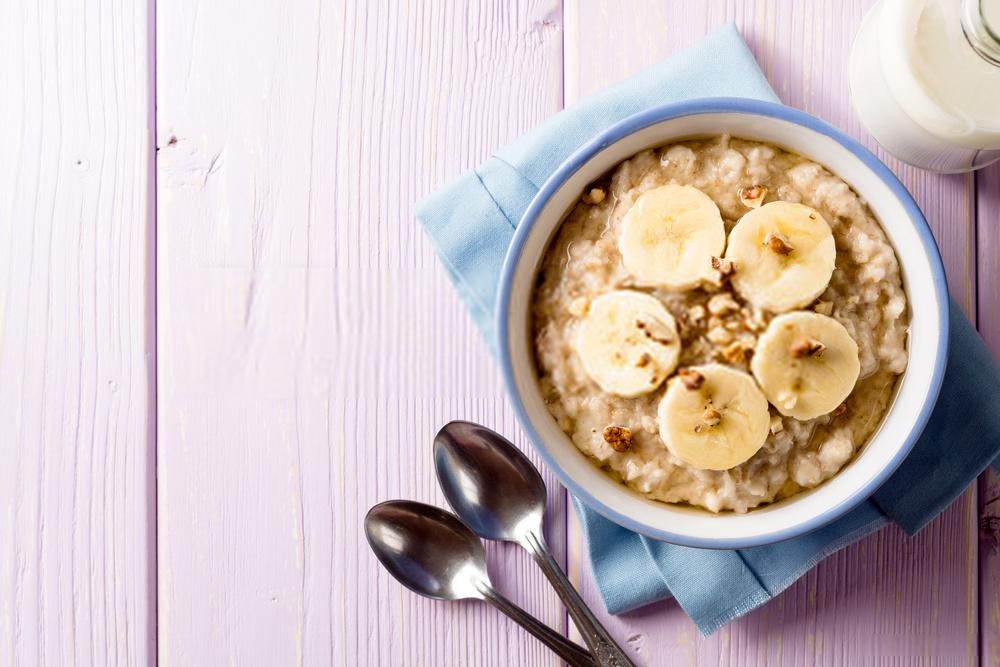 Well we all know oatmeal is probably the best and most nutritious food you can have for breakfast. Though to elevate it even further, you can totally add a sliced banana to the mix. With this meal in the morning, we assure you will have enough energy to last you till lunch.
Breakfast Burrito
Breakfast burritos are just better. You can customize them so much you have no idea. Once you get into making some for yourself, you will realize the potential this dish has to be delicious and at the same time incredibly nutritious. Also, you can easily use any leftovers to fill your breakfast burrito as well. Probably the best filling is potatoes, some spicy rice, bell peppers and a lot of fresh coriander/cilantro.
Almond Cherry Smoothie Bowl
A smoothie bowl is truly an easy but super nutritious bowl of goodness and essential morning calories. To make this brilliant looking breakfast meal, simply blend Greek yogurt and your choice of cherries and berries and top with some almonds in the end. The customization with this are truly endless and has no added sugars either, and will end up looking totally picture worthy no matter what ingredients you choose.
Poha
Some flat rice flakes, or poha is an effective breakfast in the morning. Pretty simple to make, you can even purchase ready to cook, packaged poha from the market as well. Add some diced bell peppers, spices (turmeric for sure), peas and carrots to these rice flakes and squeeze a lemon on top for a perfect breakfast dish.
Fruit Bowl
Who doesn't like fruit? Maybe you don't like a certain fruit, but that is the magic of a fruit bowl you guys. You can add whatever you want in it. For me, mangoes, oranges, strawberries, watermelon and kiwis does the job. For yourself, you can add what you want. Mix it up daily, it doesn't need to be and taste the same everyday.
📌Check Also: Best Tips to Preserve Foods
Peanut Butter Toast
Oh my, I can't even begin to list the benefits of peanut butter honestly, there are so many. Peanut butter and toast is widely considered one of the best breakfast dishes you can start to incorporate in your daily dose starting right now. Top with bananas, jam, avocados or whatever suits your fancy, it will be incredibly healthy always and so much easier to make.
---
Conclusion
Breakfast recipes that vegetarians and non-vegetarians, both can enjoy and easily make in the morning. It is not a good idea to skip your breakfast you know, and having a nutritious meal right in the morning ensures you work hard throughout the day. It effects your mood and grants you enough energy to go through your day with ease. Khojdeal lists the best 10 Minute Vegetarian Breakfast Recipes.
---
Loved our blog on 10 Minute Vegetarian Breakfast Recipes? Do share it with your friends on Facebook, Twitter, and Instagram.
DISCLAIMER: Being a reader-supported blog, Khojdeal earns affiliate commission from purchases made using links on our blog.
Learn more