Smartwatches were never as popular as they are in 2021. With so many features like a fitness tracker, GPS, etc., smartwatches are now the most wanted modern day gadget. Are you also looking forward to purchasing a smartwatch but can't decide which one to go for?
Well! Our article might help you make a decision. Our experts have compiled a list of top 10 smartwatches along with their features and a buying guide.
From running apps to displaying smartphone notifications, to monitoring your heart rate, the latest crop of smartwatches do a lot more than just tell time. Keep reading the article to find out the top 10 best smartwatches along with a buying guide and a FAQ section.
Also Read: Power Banks That Will Help Your Smartwatch Battery Last Long
Top 10 Best Smartwatch In India 2021 – Updated List
To make your life easier, here's a quick rundown of the best smartwatch in India. From our experience, these smartwatches offer the best combination of features and design. These are some of the top smartwatches in India money can buy. Whether you're a diehard Apple or are crazy for Android, the list has something for everyone.
Also Read: Best Headphones under 5000
Top 10 Best Smartwatch In India 2021 – Features & Our Reviews
Apple Smartwatch – Apple Watch Series 5
Samsung Smartwatch – Samsung Galaxy Watch (46mm)
Fossil Smartwatch – Fossil Sport Smartwatch
TicWatch Pro Bluetooth Smart Watch (Black)
Apple Smartwatch – Apple Watch Series 3
Fitbit Smartwatch – Fitbit Versa Health and Fitness Smartwatch
Samsung Galaxy Watch Active
Mi Smartwatch – Mi Band 4
Huawei Smartwatch – Huawei Fit Smart Fitness Watch
FastTrack Smartwatch – Fastrack Reflex 2.0 Activity Tracker SWD90059PP05
Noise Smartwatch – Noise Colorfit Pro 2
Asus Smartwatch – ASUS ZenWatch 2 WI501Q 4GB IP67 Smartwatch
LG Smartwatch – LG Watch Style Electronics LGW270.AUSATN Smartwatch
Pebble Smartwatch – Pebble Technology Corp Classic 301BL Smartwatch
Timex Smartwatch – Timex Metropolitan+ Activity Tracker Smartwatch
Amazfit Smartwatch – Amazfit Bip Lite Smartwatch
MevoFit Race Thrust ECG Smartwatch
Lenovo HW01 Plus Smart Band
1. Apple Smartwatch – Apple Watch Series 5
Why Should You Buy This Product?
Always-On Retina display: This watch has a display that never sleeps. With the new Always-On Retina display, you no longer need to raise your wrist or touch the screen to see the time or other information on your watch face. So whether you're riding a bike, cranking out some crunches or counting the minutes in a meeting, all you need to do is glance to find the time or your workout metrics exactly where you want them. The display dims when your wrist is down, yet key features, like watch hands, remain visible at all times. Touching the face or raising your wrist brings everything back to full brilliance.
Easy customization: It can be customized any way you like. Change the look of your watch just by swapping out straps. With more than a hundred watch faces and infinite ways to personalize them, there's never been a watch like this. Cases are available in stainless steel and, for the first time, 100 per cent recycled aluminium. Keep your style fresh with easily interchangeable straps, available in a wide variety of styles and colours.
ECG app: With the ECG app, Apple Watch Series 5 is capable of generating an ECG similar to a single-lead electrocardiogram. It's a momentous achievement for a wearable device that can provide critical data for doctors and peace of mind for you. Electrodes built into the Digital Crown and the back crystal work together with the ECG app to read your heart's electrical signals. Simply touch the Digital Crown to generate an ECG waveform in just 30 seconds. The ECG app can indicate whether your heart rhythm shows signs of atrial fibrillation — a serious form of irregular heart rhythm — or sinus rhythm, which means your heart is beating in a normal pattern.
Heart Rate app: Unusually high or low heart rates and irregular heart rhythms (known as arrhythmia) could be signs of a serious condition. But many people don't recognize the symptoms, so the underlying causes often go diagnosed. With notifications in the Heart Rate app, Apple Watch Series 5 can check your heart and alert you to these irregularities — so you can take action and consult your doctor.
Noise app: Noise can rise to levels that may impact your hearing without your even realizing it. The new Noise app senses when the roar of the crowd or the rumble of machinery reaches a level that may pose a risk. So you can step out or plug up to give your ears a needed break.
Cycle Tracking app: The Cycle Tracking App gives you insight into your menstrual cycle and can help provide a clearer picture of your overall health. In addition to simply ensuring that you're prepared, you'll have more information to help you track irregularities and symptoms and enrich discussions with your doctor.
Breathe app: Taking moments throughout the day to stop, relax and practice mindfulness can help reduce stress and improve overall health. The Breathe app keeps you centered by leading you through a series of calming breaths. It's also available as a watch face, so you can bring focus to your day just by raising your wrist.
Fitness activity friendly: Cycling, yoga, swimming, high-intensity interval training. You name it, Apple Watch measures it. Set workout-specific goals, see full summaries when you're done and track how you're trending over time in the Activity app on your iPhone. Apple Watch even works for wheelchair users, with two specific wheelchair workouts.
Workout app: The Workout app has been optimized for the new display. Whether you're holding a pose, riding a bike or swimming some laps, your metrics are always visible, every agonizing second.
Swimming metrics: Water resistant to 50 meters, Apple Watch Series 5 is designed with swimmers in mind. The Pool Swim workout automatically records splits and sets and can actually recognize your stroke. The Open Water Swim workout visualizes your route on a map. And both precisely track active calories, distance and overall pace.
Running metrics: Apple Watch Series 5 is made to take even the most advanced runner further. Pace alerts give you a gentle tap on the wrist to let you know if you're behind or ahead of where you want to be. Cadence lets you see your steps per minute and helps you refine your running technique. And rolling pace constantly updates, allowing you to see your split for the preceding kilometer at any time.
Gym compatible: With just a tap, you can pair your watch with compatible gym equipment. So you can keep important metrics like heart rate, speed and calories in sync between your watch and the treadmill, stair climber or stationary bike you're on.
Activity rings: The watch motivates you to move, exercise and stand. The Activity rings track your progress and inspire you to sit less, move more and exercise every day. You can even compete with friends in challenges.
Apple Music Library: With Apple Music on your wrist, you've got 60 million tracks of musical motivation to take you places. You can also catch up on the latest podcasts. Stream everything you need directly from your watch, even without your phone.
Great sense of direction: This watch has a great sense of direction. With a compass and ground elevation, it's made for life's twists and turns, and ups and downs.
Cellular: The watch has cellular capabilities which allows you to move out without your phone. With cellular you can call from the trail, text from the surf or stream music from the slopes. All with just your watch.
Fall detection: Apple Watch Series 5 can detect that you've fallen. When an incident like this occurs, a hard fall alert is delivered, and you can easily initiate a call to emergency services or dismiss the alert. If you're unresponsive after 60 seconds, the emergency call will be placed automatically. Your emergency contacts will then be notified and sent your location.
International emergency calling: Now you can complete a call to emergency services almost anywhere in the world. Just press and hold the side button on Apple Watch Series 5 with cellular and you'll be connected with the help you need. It even works if you're nowhere near your iPhone.
Siri enabled: You can use the watch to search a topic online, identify a song with Shazam, start a workout or lower the shades.
Aerospace-grade aluminium: Apple Watch uses 7000 series aerospace-grade aluminium that is incredibly lightweight and beautiful. It is the same alloy used in the iPhone XR. And now the aluminium used in the Apple Watch case is 100 per cent recycled — culled from the iPhone production process.
Notable Features
GPS + Cellular
Always-On Retina display
30% larger screen
Swimproof
ECG app
Electrical and optical heart sensors
Built-in compass
Elevation
Emergency SOS
International Emergency Calling
Fall Detection
S5 SiP with up to 2x faster 64-bit dual-core processor
watchOS 6 with Activity trends, cycle tracking, hearing health innovations, and the App Store on your wrist.
2. Samsung Smartwatch – Samsung Galaxy Watch (46mm)
Why Should You Buy This Product?
Physical & mental health tracking: Balance mind and body with sleep cycle tracking, reminders to keep moving, calorie tracking, guided meditation and breathing exercises for stress management.
Powerful battery: The Samsung Galaxy Watch has a powerful battery that lets you go nonstop for days on a single charge. The wireless charger lets you power up without slowing down.
Made to last: The Galaxy Watch takes on life with military-grade durability, swim-ready water resistance and Corning Gorilla Glass DX+ that prevents the display from getting scratched.
Unlimited style: Available in two sizes and three colors, the Galaxy Watch offers stylish watch faces so realistic they hardly look digital. Plus, you can choose from a collection of interchangeable bands.
Everything you need is on your wrist: Even when your phone isn't in reach, make and take calls with an integrated speaker and voice mic, respond to texts, and access scores, headlines and playlists.
Activity tracking: Galaxy Watch automatically tracks select workouts, monitors heart rate and detects when you switch activities. Get credit for up to 39+ workouts, plus GPS capabilities when you go for a run.
Daily rundown: See your appointments as soon as you wake up, then track your activities as the day unfolds. At the end of the day, check your steps plus tomorrow's schedule and weather.
Pay with your watch: With Samsung Pay NFC compatibility, you can make a payment from your wrist with just a tap.
Smartly connected: Control all your connected home devices from your wrist even when you're not home. Plus, get the details of a security camera alert from the SmartThings app on your Galaxy Watch.
Android & iOS compatible: The Galaxy Watch pairs with both Android and iOS smartphones via Bluetooth connection.
Notable Features
Case Dimension (H x W): 46mm x 49mm
Case Depth: 13 mm
Case Material: Stainless Steel
Case Crystal: Gorilla Glass DX+
Strap Material: Silicone
Main Display Resolution: 360 x 360
Main Display Size: 1.3″ (32.9mm)
Main Display Technology: Super AMOLED
Touchscreen: Yes
OS: Tizen 4.0
Processor Speed, Type: 1.15GHz
GPS Navigation: Yes
Dust and Water-resistant: 5ATM, MIL-STD-810G
Health and Fitness: Samsung Health, Under Armour
Sensor Type: Accelerometer, Barometer, Gyro Sensor, HR Sensor, Light Sensor
3. Fossil Smartwatch – Fossil Sport Smartwatch
Why Should You Buy This Product?
Google Pay Compatible: Never get caught without your wallet again. Use your watch to make payments almost anyplace you can use a credit card.
Un-tethered GPS: Leave your phone behind. Use un-tethered GPS to track your run's distance (and play your stored music) on your watch.
Heart-rate tracking: From running to yoga (and more), this smartwatch measures heart rate automatically during a workout.
Water-proof: Wash your hands, jump into the shower or hit the pool without fear. Your smartwatch will be safe and sound.
Notifications: This smartwatches use Bluetooth technology to connect to your phone. When a notification or alert arrives, a gentle buzz lets you know right away.
Customizable dials: Swap your dial to match your mood or personalize select watch faces with your favorite Facebook or Instagram photos. You can also match your watch to your mood or personal style and swap your dial whenever you want. The choices are endless.
Battery life: Designed to get you through your day, our most efficient battery yet gives you 24+ hours of touchscreen use.
Connectivity: The wearable is compatible with Android and iOS smartphones, specifically with Android OS 6.0+ or iOS 10+. All devices have Bluetooth 4.2 Low Energy and Wi-Fi 802.11 b/g/n.
Interchangeable compatibility: This watch is compatible with all 18mm straps. Match your Fossil Smartwatch to your look in seconds with interchangeable straps.
Automatic time zones: Keep track of the local time and the time in another part of the world.
Control your music: Control your music with your phone's selected music player whether it's Spotify, Pandora, Soundcloud, Google Play, iTunes or Apple Music.
LED flashlight: Illuminate the interior of a carryall or small area with the LED flashlight.
Stopwatch: Track your laps and time races with stopwatch mode.
Alarm: Set an alarm for wake-ups and workouts (and every reminder in between).
Wireless syncing: Automatically syncs to your phone so you can keep tabs on your activity and notifications without ever pushing a button.
Calendar alerts: Never miss a meeting, party or event again with reminder alerts sent right to your wrist.
Customizable buttons: Control your music, check the date and more. Assign the functions you use most to your buttons.
Microphone: Use the built-in microphone to do a variety of tasks on your smartwatch using just your voice.
Custom goal tracking: Create custom goals to track what's most important to you, like drinking water or exercising.
Weather: You're always prepared when you can get the forecast with a tap.
Rapid charging: You won't have to take your smartwatch off for long to charge it up—get up to 80% in one hour with rapid charging.
Notable Features
Heart-Rate Tracking
Ultra Lightweight
24+ Hour Battery Life
Swim-proof
Un-tethered GPS
Smartphone Notifications
Activity Tracking
Case Diameter: 43mm
Water Resistance: Up to 50 meters
Processor: Snapdragon 3100
Internal storage: 4GB
Lightweight interchangeable silicone strap
Display: AMOLED
Band Material: Silicone
Bezel Material: Stainless Steel
Clasp Type: Buckle
Crystal Material: Glass
Display Type: Digital
Case Shape: Round
Movement: Quartz
4. TicWatch Pro Bluetooth Smart Watch (Black)
No products found.
Why Should You Buy This Product?
Layered display technology: TicWatch Pro's Layered Display technology extends battery life to 2-30 days on a single charge. Two screens, two modes, and the control to take full advantage of each. Battery life, or performance? You should enjoy both. Have your cake and eat it too.
Premium design: The watch is made from premium materials and built to last. Its smart, high quality and stylish. The watch case is tough and durable since its made of carbon fiber reinforced with high strength nylon.
Hybrid leather straps: With elegant genuine Italian leather on the outward side and skin-friendly silicone layer on the inward side, the watch is comfortable, breathable and sweat resistant.
Personalization: Personalize your TicWatch Pro with thousands of watch face options available on Google Play. Let your watch face reflect your mood and be unique with hundreds of watch faces made exclusively for the TicWatch line.
Health and fitness companion: TicWatch Pro is packed with sensors to ensure your health and fitness information is measured accurately. It comes with a GPS tracker, Heart-rate monitor, Steps counter, Calories counter and Speed & cadence monitor.
Notable Features
Operating System: Wear OS by Google
Display: 1.39" AMOLED 400 x 400 + FSTN display
Dimensions: D45mm x 12.6mm
Chipset: Qualcomm Snapdragon Wear
GPS: GPS + GLONASS + Beidou + Galileo
Connectivity: Bluetooth: 4.2 / Wi-Fi: 802.11bgn 2.4GHz
NFC payments: Google Pay
Water and Dust Resistance: IP68
Sensors: Accelerometer, Gyro, Magnetic Sensor, PPG Heart Rate sensor, Ambient Light Sensor, Low Latency Off-Body Sensor
Battery Life: Smart mode: 2-5 days, Essential mode: 30 days, Mixed usage: between 2-30 days
5. Apple Smartwatch – Apple Watch Series 3
Why Should You Buy This Product?
Three rings. One goal: Stand, Move and Exercise rings visualize the ways you move each day. See if you're sitting too much. Measure calories burnt. And track how many minutes of exercise you've done. You can even share your rings with friends. Try new Activity competitions and let smart coaching give you a nudge when you need it.
Take your workouts further: Track popular workouts like yoga, cycling, swimming and high-intensity interval training. Track your runs with advanced features for runners like cadence and pace alerts. Pair wirelessly with compatible gym equipment. And stay motivated by streaming Apple Music and Apple Podcasts.
Keep your health top of mind: Monitor your heart rate and get warnings when an unusually high or low heart rate is detected. Apple Watch can also screen for irregular heart rhythm that is suggestive of atrial fibrillation. Emergency SOS lets you initiate an immediate call for help. The Breathe app can help you better manage everyday stress. And you can choose from a host of health apps to support your specific routines or goals.
The freedom of cellular: Take a call when you're out on the water. Ask Siri to send a message. Stream your favourite songs on your run. Use Emergency SOS to summon help. And do it all while leaving your phone behind. Built-in cellular gives you the freedom to go with just your watch.
Notable Features
GPS + Cellular
Optical heart sensor
Digital Crown
S3 with dual-core processor
Accelerometer and gyroscope
Swimproof
watchOS 5
Aluminium case
Display Area: 563 sq mm or 740 sq mm display area
Case Thickness: 11.4mm
Processor: Dual-core S3 processor
Connectivity: LTE and UMTS, Wi-Fi (802.11b/g/n 2.4GHz), Bluetooth 4.2
Power: Up to 18 hours of battery life
Built-in GPS – GLONASS, Galileo, and QZSS,
W2 Apple wireless chip
Barometric altimetre
Ion-X strengthened glass
Ceramic and sapphire crystal back (center)
Water resistant 50 meters
6. Fitbit Smartwatch – Fitbit Versa Health and Fitness Smartwatch
Why Should You Buy This Product?
15+ exercise modes: Choose from 15+ exercise modes to get real-time stats during your workouts, or rely on SmartTrack to automatically recognise and record exercises for you.
Store & Play 300+ songs: Fitbit Versa lets you take your favourite music anywhere by storing 300+ songs, your most-listened-to Pandora stations or tunes from Deezer. Subscription required.
4+ day battery life: A day lasts 24 hours. So should your watch. With a multi-day battery life of 4+ days, Fitbit Versa tracks your morning, night and everything in between.
Seamless smart experiences: With Fitbit Versa, your favourite apps for fitness, finance, social media, sports and more are just one tap away including new apps by developers and experimental apps from Fitbit Labs.
Continuous heart rate: Use PurePulse continuous heart rate to better track calorie burn, optimise effort during workouts, see your resting heart rate trends and discover your cardio fitness level.
Female health: Learn more about your body by using Versa and the Fitbit app to log your period, record symptoms and compare your cycle against other health stats like your sleep, activity and weight.
Connected GPS: Learn more about your runs and hikes by enabling Connected GPS on Fitbit Versa to see pace and distance on display, plus get a map of your route in the Fitbit app.
Get Active with All-Day Tracking: Keep track of steps, distance, calories burned and active minutes each day. See summaries of your stats in the Fitbit app and track how working out can impact your resting heart rate.
Exercise More with Guided Coaching: Work out anytime, anywhere with Fitbit Coach on your phone, tablet or computer. Get step-by-step workouts specifically tailored to you and as your fitness progresses, your routine will adjust and evolve.
Sleep Better with Personalized Insights: Automatically track how long and how well you sleep. With heart rate tracking, measure your time in light, deep and REM sleep to understand sleep quality and receive tips to improve your night.
Stay Inspired with Friends and Challenges: Stay motivated by competing with friends and family in Fitbit challenges. Embark on virtual experiences with Fitbit Adventures and reach your fit-ness goals. Celebrate your achievements with Fitbit badges and sharing your key stats.
Notable Features
4+ day battery life
24/7 Heart Rate Tracking
Fitness & Sleep Tracking
Swimproof
Hi-res touchscreen
Comfortable fit
Connected GPS
Female health
Works with Android, iPhone, Windows
Call and text alerts
Silent alarm and reminders to move
Dynamic Personal Coaching
7. Samsung Galaxy Watch Active
Why Should You Buy This Product?
Style that won't slow you down: Stay sporty without having to always look the part. Galaxy Watch Active features a discreet, lightweight design so you can comfortably fast-track your way toward the finish line. It also features a variety of stylish straps that are fit for most occasions.
Combines style and sensibility: Everyone has their own approach when it comes to staying active. That's why Galaxy Watch Active comes with customizable watch faces that combine style and sensibility. So whatever your goal is there's an expression that will match it.
Take it to the extremes: Daily Activity lets you achieve your daily healthy goals by being active, exercising, and sitting less. Galaxy Watch Active uses dedicated motion sensors to automatically track seven types of activity, letting you focus on enjoying your fitness.
Manage your stress levels safely: Galaxy Watch Active comes with an integrated heart rate monitor that will send instant alerts when an abnormal heart rate is detected. It can also read detect stress levels, and you can take Breath Session to bring you back in balance. Check the difference in stress before and after breathing.
Keep your health in check: Integrated with the Samsung Health app, Galaxy Watch Active is your personal health guru. View your health summary in an instant on a single screen, and access dozens of tools that let you manage not just your fitness, but also your well-being.
Stay connected on your terms: Keeping you connected, day or night. Galaxy Watch Active lets you send customizable replies using speech-to-text, emoticons or its intuitive keyboard while your phone is charging on your night stand.
Lead a balanced life: Galaxy Watch Active tracks your four stages of sleep so you can be on your way to a full night's worth of rest. You'll wake up the next morning with a clear rundown of just how deeply you spent the hours.
Power up and take charge of tomorrow: Galaxy Watch Active keeps track of your daily activities for over 45 hours on a single charge. It features innovative 'Wireless Power Share' to ensure you're powered up and ready to go in no time.
Wrist full of fun: Galaxy Watch Active connects you to a world of entertainment right from your wrist. With plenty of motivational apps to download you can customize your daily goals and put them to use next time you head out the door.
Put the focus on you: Customized for your convenience. With One UI, Galaxy Watch Active intuitively minimizes clutter and instead focuses strictly on what you want to see. Now you can instantly check what you need,whenever you need it.
Notable Features
Sleek Sporty Design in 4 Premium finishes
Always On Watchfaces
24/7 Activity Tracking
4 stage Sleep
Activity with continuous HRM
Auto Stress Tracking
High HR Alert
39 Built in Exercise Modes
Location Technology: GPS, Glonass, Beidou, Galileo
Wi-Fi: 802.11 b/g/n 2.4GHz
NFC: Yes
Bluetooth Version: Bluetooth v4.2
OS: Tizen
Technology (Main Display): Super AMOLED
Size (Main Display): 2.81cm (1.1″)
Resolution (Main Display): 360 x 360
Color Depth (Main Display): 16M
Processor: 1.15GHz, Dual-Core
Sensors: Accelerometer, Barometer, Gyro Sensor, HR Sensor, Light Sensor
Typical Usage Time (Hours): Over 45 Hours
8. Mi Smartwatch – Mi Band 4
Why Should You Buy This Product?
Smart music & volume controls: Don't stop your workout for anything. Change the song, adjust the volume from your Mi Smart Band 4 effortlessly.
Walking: Along with tracking GPS, know your heart rate, pace, intensity and calories burned in order to improve your walking efficiency each time.
Cycling: Optimize your workout whether you're doing a vigorous uphill climb or dashing around the city.
Outdoor running & treadmill: Capable of recording pace, distance, heart rate and intensity in order to help you improve your regimen.
Pool swimming: Capable of recording 12 different data sets including the pace of your swimming, stroke count, distance and more.
Unlimited watch faces: Deftly mixing fashion and features into a single wearable device, the Mi Smart Band 4 allows you to change the display according to your mood. You can also select a picture from your gallery or click one and make it your watch face.
Sleep monitoring: The Mi Smart Band 4 times your different sleep cycles – light, deep and sleep quality. This provides a comprehensive sleep analysis, so you can change your sleeping behavior as needed.
Wristband alarm: Wake up the smart way with Mi Smart Band 4. A light vibration is entrusted to wake you gently, so you are not hurried or hassled as you start your morning.
24/7 Heart rate monitoring: Get round the clock heart rate monitoring, as the Mi Smart Band 4 provides timely alerts and keeps a check on your health.
Incoming call display and app notifications: The Mi Smart Band 4 displays calls allowing you to silence/reject them without having to reach out for your phone. With the wider screen now don't miss out on important messages.
Notable Features
Color AMOLED full-touch display
Water resistant up to 50m
Up to 20 days of battery life
24/7 heart monitoring
Music and volume controls
Unlimited watch faces
Swim tracking with stroke recognition
Daily activity tracker
View messages instantly
Call display / rejection
Vibrating alarm
Sleep monitor
App notifications
Idle alert
Event reminder
9. Huawei Smartwatch – Huawei Fit Smart Fitness Watch
Why Should You Buy This Product?
Huawei fit is an all-in-one sports activity tracker, including sleep monitor, Heart rate monitor, notification display, and more. The perfect combination of sports, fashion, and intelligent design, Huawei fit will provide valuable health related information for you to better understand your body and health condition. Huawei fit features the following with the use of Huawei wear app:
Personal training experience: customize your running plan with first be at, receive real-time running guidance, and analyze the effects of your training.
Heart rate monitoring: single measurements, all-day periodic background measurement, and real-time heart rate monitoring during workout.
Multi-sport modes and 5ATM water-resistance: supports multiple forms of exercise, including walking, running, cycling, and treadmill.
Daily activity tracking: tracks and monitors daily activity information, including step count, calories burned, and distance covered; automatically detects your sleeping State and gathers statistics.
Smart notifications: incoming call notifications, message notifications, smart alarms, and inactivity reminders.
Notable Features
Personal training experience
Heart rate monitoring
5ATM Water-Resistance
Multi-sport modes for multiple forms of exercises
Tracking and monitoring of daily activity information
Automatic detection of Sleeping State
Alarm notification displays
Notifications: Call, SMS, email, calendar, and other social media apps
The strap is easily removable and customizable
10. FastTrack Smartwatch – Fastrack Reflex 2.0 Activity Tracker SWD90059PP05
Why Should You Buy This Product?
Phone Finder: Don't lose it when you can't find your phone. The phone finder feature uses GPS tracking so you never lose your phone again, all with a simple tap.
WhatsApp and SMS display: Keep with the gang. Now read and keep Whatsapp messages and SMSs at the back of your hand.
Camera Control: Give those selfies an upgrade. Take remote control of your phone and start taking them in style.
Distance, steps and calories counter: Track the distance covered, steps taken, and calories burnt, so you know the amount of action you're getting.
Sedentary Reminder: Integrate the sedentary reminder into your daily routine and make time for some more action.
Sleep Tracker: Keep a track of your ZZZZs in the bed and off it with the Reflex 2.0's sleep tracker feature.
Call notification: Connect the Fastrack Reflex 2.0 to your phone through the app, and never miss a call from Bae or your squad ever again!
Vibrating Alarm: Need a good shake to wake up? The vibrating alarm will ease you into your day better than Bae.
Water Resistant: The Reflex 2.0 conforms to the IPX6 Water Resistance norm, which means you can play around with a few splashes of water but make sure it doesn't get too wet.
Battery life: With up to 10 days of battery life, the Reflex 2.0 helps you keep moving on.
Notable Features
Dial Color: Black
Case Shape: Rectangular
Dial Glass Material: Acrylic
Compatible with all iOS versions 8.0 and above and android versions 5.0 and above
Band Color: Black
Band Material: TPU
Watch Movement Type: Processor
Watch Display Type: Digital
Case Material: Plastic
Case Diameter: 50 millimeters
Touch screen
1-year manufacturer warranty on manufacturing defects
11. Noise Smartwatch – Noise Colorfit Pro 2
Why Should You Buy This Product?
Perfect look: ColorFit PRO 2's new super-light, impact-resistant polycarbonate watch case is now available in 3 gorgeous colours, with matching swappable straps that you can mix & match. Combine these with swappable watch faces to find the perfect look, everyday!
Keep up with your active lifestyle: ColorFit PRO 2 tracks and logs your efforts with 9 sports modes, so you can walk, run, hike, bike, treadmill, work-out, climb, spin, and perform yoga with it.
Comprehensive activity & health tracking: ColorFit PRO 2 now features comprehensive activity & health tracking, with a 24/7 heart rate monitor, a sedentary alarm, a sleep monitor, plus step tracking and calories burned.
Breathe Mode: Take five wherever you are, with the new Breathe Mode on ColorFit PRO 2. It guides you with mindfulness and controlled breathing, lowering your heart rate and decreasing your stress level.
Waterproof: The water resistance rating on the new ColorFit PRO 2 is now up to an IP68 certification so you never need to worry about getting it wet.
Historial data: With the Noise Fit SPORT you can see your past activity and health data for up to one year and get an overview of your fitness journey using ColorFit PRO 2.
Notable Features
Brilliant 1.3″ colour display
Capacitive touch
Supporting taps and swipes
Strong polycarbonate case
24×7 heart rate monitoring
9 sports modes
IP68 waterproof rating
Up to ten day battery life
Complete activity and health tracking
Optional menstrual tracking for women
12. Asus Smartwatch – ASUS ZenWatch 2 WI501Q 4GB IP67 Smartwatch
Why Should You Buy This Product?
Perfect fit and finish: A great watch experience starts with the perfect fit. Available in two sizes, ASUS ZenWatch 2 brings sophisticated style and powerful functionality to any wrist.
Speaker: ZenWatch 2 comes with a built-in speaker that brings a new level of convenient functionality to your wrist, including making and receiving calls without taking out your phone, setting audible alarms, and hearing app notifications and sounds.
ZenWatch Message: Convenient, fast, and fun watch-to-watch communication. Exchange short messages, emojis, and drawings with friends and family, right from your wrist.
HyperCharge: Features magnetic connector snaps place automatically with ASUS-exclusive HyperCharge technology that provides industry-leading charge times – just 15 minutes to a 60% charge.
Wellness manager: Built-in pedometer with industry-leading step counting accuracy, activity tracker, and progress reports help you accomplish your fitness goals.
Notable Features
1.63-inch AMOLED Touch Screen Display
Corning Gorilla Glass 3
IP67 Water Resistance up to 1 meter
Built-in Wi-Fi
HyperCharge technology
Smart Gesture control
13. LG Smartwatch – LG Watch Style Electronics LGW270.AUSATN Smartwatch
Why Should You Buy This Product?
Designed to resemble a Classic timepiece, the beauty of the chic, slim LG Watch style is more than skin deep. Under its Titanium, Silver or Rose Gold exterior lies innovation that keeps any mover and Shaker going and going and going.
Thanks to Swappable bands and easy-to-set-up Bluetooth and Wi-Fi, the LG Watch style pairs with any Android or iOS smartphone -and outfit -seamlessly. And with Google now voice activation, operation couldn't be simpler.
Set fitness goals and the LG Watch style is there every step of the way to help you reach them. Within its dust- and water-resistant frame, movement tracker and fitness apps record every move.
Notable Features
All-new Android wear 2.0 is compatible with both Android (4.3 or later) and iOS (9 or later)
IP67 rating for dust and water resistance
Not fully waterproof
Supports Google mode snap-and-swap bands
Google assistant built in
42.3mm stainless Steel case
High-quality Leather band
Also Check Out: Best Smartphones To Buy
14. Pebble Smartwatch – Pebble Technology Corp Classic 301BL Smartwatch
Why Should You Buy This Product?
The Pebble Smartwatch connects to your iOS or Android smartphone via Bluetooth so you get the information you need exactly when you need it. Designed to make your life easier, Pebble provides personalized notifications and downloadable apps to keep you in the loop when you're on the go. You can also customize with watchfaces and apps to suit your personal style and interests. It features a long-lasting battery, user-friendly operation, and a screen that's readable even in bright daylight or underwater. Pebble comes with a USB charging cable and Quick Start Guide.
Pebble does more than just tell the time. It displays email, SMS, Caller ID and other notifications from your favorite apps right on your wrist, allowing you to leave your phone in your pocket while you're in meetings, social engagements or on the go. Pebble alerts you with a silent vibration to incoming calls, meeting reminders, and notifications from apps like Facebook and Twitter and organizes it all: Pebble's Timeline interface arranges all your daily events, reminders and notifications in an easy-to-read chronological view. And because of its long-lasting battery life, Pebble blends in to your day to day activities without slowing you down while you're running, cycling or just going about your busy schedule.
Pebble has a straightforward, wearable design that lets you get the information you need in just one glance. The e-Paper display is easy to read even in direct sunlight so you can always see what's going on inside or out. Lightweight and comfortable to wear, Pebble won't weigh you down when you're on the move. Its 5 ATM salt or fresh water rating means you'll still be accessible if caught in a downpour or swimming and the scratch-resistant display can take some hard knocks while keeping its good looks. The battery conveniently lasts five to seven days on a single charge.
Access Downloadable Apps: Pebble gives you quick access to a range of downloadable apps for endless combinations that suit your hobbies, interests and lifestyle. Health and fitness apps like Misfit, Jawbone, Runkeeper and others let you track steps, sleep and workouts. If you're ready to hit the links, the FreeCaddie golf app lets you see the distance to the green at over 25,000 golf courses. And since Pebble is an open platform, new apps are always in the works from our development community and partners, letting you take advantage of new watchfaces, games and other innovations.
Even Easier with Timeline: Pebble timeline collects all of your daily appointments, notifications, and events and arranges them in single, easy-to-read chronological view, accessed by the same easy-access UP and DOWN buttons that let you scroll through watchfaces and menus. The SELECT button takes you to the main menu which includes music control, alarm, and settings. A simple tap on the watch or flick of your wrist will illuminate the backlight. To charge Pebble, simply connect it to a computer using the included custom USB cable.
Make it your Own: Pebble is easy to personalize to reflect your style and personality. Choose from a variety of downloadable watchfaces and even swap in a standard-sized 22mm watchband of your choice for a custom look (sold separately).
Get Notifications: With notifications, you can get discreet updates on the information that is most important to you. In addition to Caller ID, email, text message and calendar alerts, you can choose to receive notifications from Facebook, Twitter, Instagram and more.
Enjoy your Favorite Music on the Go: Control your favorite music apps–including iTunes, Spotify and Pandora – from your Pebble without missing a beat while running, cycling or just playing music from a dock at home.
Works with iPhones and Android Phones: Pebble connects wirelessly via Bluetooth with iOS and Android devices. Pebble works best with iPhone (iOS6 and up) or Android devices (OS4.0 and up).
Notable Features
Notifications: email, SMS, Caller ID, calendar and your favorite apps
Includes Pebble timeline, a chronological display of calendar and notifications
Download watch faces and apps to suit your style and interests
Control music playing on iTunes, Spotify, Pandora and more
Rechargeable battery lasts 5-7 days on a single charge
Compatible with devices running Android 4.0.3 or higher and iOS 8 or higher
Best experienced when mobile is connected with Wi-Fi or 3G
15. Timex Smartwatch – Timex Metropolitan+ Activity Tracker Smartwatch
Why Should You Buy This Product?
This stylish activity tracker blends the functionality of an activity tracking band with the look and feel of a traditional analog watch. The unique fourth hand tracks daily steps, distance and % to goal right on the dial.
The iQ+Move Metro uses Bluetooth technology to connect to the Timex App on your phone that tracks daily activity, including steps, distance and calories burned.
The phone app stores your data so you can access and analyze it at any time. This watch also features quick release straps so you can easily change your look in seconds.
Notable Features
Track Steps, Distance and Calories Burned and sync progress with your phone
Extra Orange Nylon Strap
Indiglo Night-Light
Analog-quartz Movement
Case Diameter: 42mm
Water resistant to 50m
Suitable for short periods of recreational swimming
Band Material: Silicone
Band Width: 20 Millimeters
Case Material: Brass
Case Thickness: 13 Millimeters
Display Type: Analog
Case Shape: Round
16. Amazfit Smartwatch – Amazfit Bip Lite Smartwatch
Why Should You Buy This Product?
Powered for 1.5 month to keep up with your active lifestyle: Save the trouble of frequent charging with the whopping 45 days battery life on a single charge to keep up with your busy & active lifestyle. With only steps counting and sleep monitoring on, the watch can last up to 4 months!
Ultra Lightweight and comfortable: Only 32g including a highly stretchy and light strap make the watch comfortable to wear day & night and during sports.
Swim Proof: With 3 ATM, the watch can resist to any of your daily activities and can even be worn while swimming (up to 30 meters' water pressure).
Transflective Screen: With the 1.28'' reflective always-on display, your health & sports data can be seen clearly even under bright sunlight by simply raising your hand. Corning Gorilla glass and anti-fingerprint coating make it scratch resistant and easy to keep clean.
Heart Rate Monitoring: Amazfit Bip Lite provides 24h continuous heart rate measurement to get a comprehensive view on your heart behavior day and night. During exercise, the watch keeps you informed about your heart rate zones to optimize your workouts. You will also get notified when your heart rate exceeds the warning value.
Sleep Tracking: Wear your Amazfit Bip Lite to bed in the evening to automatically monitor your sleep. It will measure your total sleep, light sleep, deep sleep and awake time to give you an analysis of your sleep patterns.
Sedentary Reminders: A sedentary lifestyle can have a negative impact on you overall health, so your watch will notify you when you have been inactive for too long. Now get up and move!
Sports Modes with Connected GPS: Amazfit Bip Lite provides detailed sports tracking for outdoor running, treadmill, walking and cycling, and can be connected to your phone's GPS to track your runs and rides.
Notifications & Alarms: Receive notifications for incoming calls, emails, messages and other smartphone applications right on your wrist to keep you informed while working-out, without having to pull out your phone. You can also set vibration alarms to wake-you up or remind you about your schedule.
Notable Features
Up to 45 days battery life
3 ATM water resistant
Lightweight
Activity and sports tracking
Notifications: Incoming calls, emails, messages and other apps
Sedentary reminders if you've been sitting too long
Display: 1.28-inch Always-On display
Reflective 8 Color TFT
Resolution: 176×176
Corning Gorilla 3 reinforced glass
Anti-fingerprint coating
Wristband type and material: Quick release, silicone
Sensors: PPG heart-rate sensor, 3-axis acceleration sensor
Watch body material: Polycarbonate casing
Supported devices: Devices with Android 4.4 or iOS 9.0 and above
17. MevoFit Race Thrust ECG Smartwatch
Why Should You Buy This Product?
Activity Tracker: This Smartwatch comes with advanced all day activity tracker – steps, calories, distance, sleep, & more.
ECG+PPG: MevoFit Thrust comes with latest technology ECG function. The band will continuously monitor your ECG & Heart Rate condition for better & improved health.
Heart Rate & Blood Pressure: Use MevoFit Thrust smartwatch to keep a close watch on your heart rate and blood pressure. Please don't use the smartwatch as a replacement to any medical device.
Sports Mode: This Smartwatch comes with 4 sports mode including Walking, Running, Hiking & Cycling. Switch on the mode from the device and view details on watch screen only.
All in one Smartwatch: This smartwatch comes with all advanced fitness tracking features. One fitness device for all your needs!
Multiple themes: The watch comes with 3 dials which can be easily changed from the device so that you never get bored of it.
Social notifications: See call, messages and social notifications for FB, Whatsapp & more on your wrist using MevoFit Thrust.
Water resistance: The watch is IP 67 water resistance certified & comes with 1.3″ colored display which is clearly visible in sunshine too.
Notable Features
Strong, smart and durable
Advanced daily activity tracker
Sleep, HR, BP, ECG, PPG tracker
Notifications: Call, SMS and Social
Latest technology ECG function
4 sports mode including Walking, Running, Hiking and Cycling
IP 67 water resistant
Button Click/Single Touch Point Screen Display
Gesture Control
1-year warranty
18. Lenovo HW01 Plus Smart Band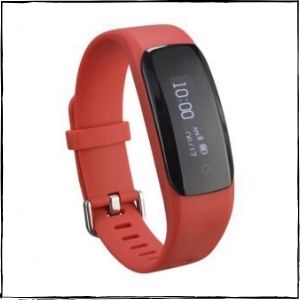 Why Should You Buy This Product?
The Lenovo HW01 Plus fitness tracker smart band is designed to get you closer to your fitness goals. Our busy lives leave us with little time to pay full attention to our health. This smart band can be the perfect companion to your fitness journey.
The Pedometer and activity tracker will help you track every move you make keeping a track of how many calories you burn. The screen size for HW01 Plus is 0.87", for bigger screen, we suggest to purchase Cardio plus HX03W at 0.96″.
Notable Features
PAI Integrated
IP67 Waterproof for a maximum of 30 minutes at a depth of 1 meter
Dynamic heart rate monitor
Activity tracker
Sedentary reminder
Tracks your workouts like steps, distance, calories burned, sleep quality all-day
Smartwatch Buying Guide – How do I choose a smartwatch?
1. What features do you need
Are you just after smart notifications, fully-fledged workout tracking, or do you absolutely need to hail a taxi from your wrist? Bells and whistles can look enticing, but often, getting notifications without having to look at your phone is the most useful feature. Save yourself a lot of money by just getting what you need.
2. Operating system
There are three main choices of operating system – Apple watch OS, Android wear and Tizen. Android wear is designed to work with Android phones. It does work with the iPhone but not as well as the Apple watch, which works exclusively with Apple devices. Tizen is exclusive to Samsung devices and works with both Android phones and iPhones. Devices that run their own OS tend to work well with all phones.
3. Battery-life
Full-featured smartwatches tend to need charging every day or so. Devices with fewer smart features like those from Garmin and Withings can last for weeks on a single charge. Keep in mind that if you take your watch off at night to charge it, you'll lose the sleep tracking function.
4. Display
Most smartwatches these days use a colorful LCD screen or AMOLED display. This lets you see photos, apps and other content in richer colour and makes them brighter. However, an LCD or AMOLED display tends to make the battery life shorter. Also, LCD displays tend to make the watch dial thicker than OLED ones. That's why brands like Apple and Samsung are goings for OLED displays to make the dial as thin as possible.
5. Interface
While opting for a touch screen on your smartwatch would seem like a no-brainer, it can sometimes be difficult to target items on a smaller touch display, and some of the gesture-based interfaces aren't spontaneous. That's why brands like Apple and Samsung have opted for a combo approach. Apart from offering a touch display, they have a side button that lets you scroll through menus, documents, etc.
6. Design and Personalization
Most smartwatches today offer plenty of customization options before purchase. For instance, you can pick the band color and material, as well as face color, finish and size. This is important if you want to personalize the look of your device.
7. Fitness Features
As fitness trackers continue to attract attention, smartwatch makers are getting in on the action by integrating activity-monitoring functions. Some smartwatches depend on your smartphone for activity tracking, but most at least have a built-in pedometer for tracking steps and built-in heart rate monitor.
8. GPS
Some smartwatches also have GPS, which makes them more attractive to those who want to go running or biking outdoors, and want to track their distance and pace. However, keep in mind that using GPS will have a significant impact on battery life.
9. Splash/water-resistant
You most likely want to wear your smartwatch all day, other than when it is charging. Look for devices that hold up to everything from washing your hands to taking a shower to going for a swim.
10. Charging
Some smartwatches come with convenient wireless chargers. Others come with snap-on docks for charging. Still others require a cable that plugs into the watch itself.
People Also Ask For: Best Bluetooth Speakers for Home
Frequently Asked Questions About Smartwatch – FAQs
Which Samsung smartwatch is best?
The best Samsung smartwatches are listed below:
Is the Galaxy watch better than the Gear S3?
While Samsung Gear S3 is still a very respectable smartwatch, it does struggle to match up against the more advanced Galaxy Watch in terms of design and the features available. Everything that made the Samsung Gear S3 noteworthy – its battery life, connectivity, music streaming and rotating bezel – has been built upon or maintained in Galaxy Watch. The additional wellness features and exercise smarts help cement the Galaxy Watch as the go-to Samsung smartwatch.
Conclusion – What is the best smartwatch?
While a smartphone can do everything that a smartwatch claims to do, it is quite easy and cool to peep into our smartwatch rather than to take out our phone from the pocket especially when you are driving or on the go.
Therefore, we are of the opinion that we all should have a smartwatch and this guide will aid you in picking the best smartwatch in India. For any other questions that have not been answered here, feel free to reach out to us in the comment section below.
---
Loved our blog on the best smartwatch in India? Do share it with your friends on Facebook, Twitter, and Instagram.
DISCLAIMER: Being a reader-supported blog, Khojdeal earns affiliate commission from purchases made using links on our blog.
Learn more