Don't have the time to dedicate to searching for the Kitchen Chimney for Home? We've done it for you and spent countless hours researching and testing the best Kitchen Chimney that comes under the budget too.
We analyzed hundreds of customer reviews to find the best Chimney for your Kitchen. Our final rankings are based on features like stylish looks, suction power, and value for money. If you choose from these models, you can be sure that you buy a great product.
Indian cooking involves a lot of grilling and frying with a wide array of herbs and spices. While the spluttering sound of the "tadka" gives an enticing aroma and enhances taste, it also leaves its mark on the kitchen ceiling and tiles.
Over a period of time, filth and grunge accumulate on kitchen appliances and cabinets. That's why most modern kitchens nowadays have chimneys installed.
A kitchen hood or chimney is convenient for removing fumes, grease, odor, steam, heat, and other small particles while cooking. It also provides proper ventilation in the kitchen and removes stale air.
Online Best Selling Kitchen Chimneys In India
Keeping the Budget & kitchen schematics in mind, we have picked these Kitchen chimneys for your home. They will not only blend perfectly with a modern kitchen but also add élan to it.
Depending upon the size and layout of your kitchen, there are different types of chimneys that you can choose from. In this article, we've included some of the best kitchen chimneys in India from top brands like IFB, Faber, Hindware, Prestige, Bosch, Sunflame, and more. Use the latest Amazon Deals available on Khojdeal to earn an additional discount on your purchases.
---
List of 10 Best Chimney in India 2021
So here we've reviewed some of the best in industry Kitchen Chimneys in India that offers some excellent features that not just make your kitchen fresh, free from smoke and unpleasant smell but also keeps your whole house clean with fresh air.
These are some top-of-the-line kitchen chimneys available online. So if you're buying a chimney for kitchen for the first time then you can start with the below models.
IFB N3SS-Suction Cooker Hood (Silver)
Seavy Auto Clean Chimney
Faber Chimney Hood (Cleo PB SS LTW 60), Steel Grey
Elica Chimney (Strip CF 60 Nero), Black
Glen Pyramid Kitchen Chimney (6050 Junior), Silver
Hindware Chimney (Sabina Black 60), Black
Sunflame Curved Glass Kitchen Chimney (BELLA 60 BK), Black
KUTCHINA Tiara Auto Clean Straight Chimney, Grey
KAFF Chimney (BASE TX 60), Steel Grey
Eurodomo Chimney (Sapphire PB SS 60), Stainless Steel
1. IFB N3SS-Suction Cooker Hood (Silver)
IFB Chimneys get rid of smoke, odour and keep your kitchen clean – all at the same time. Not only do IFB Chimneys look great, they come with many useful features that make them a joy to use.
Their aluminium and stainless steel filters easily manage the fumes from Indian cooking The LED lights save on power and you can light them up to better see what you are cooking. They accumulate less soot which means they can work for longer without needing to be cleaned.
The Clean Air function fills your kitchen with clean air, by automatically running the chimney at slow speeds – 10 minutes every hour – which in turn removes stale air in the kitchen. All IFB Chimneys come with a 5-year warranty.
Notable Features
Type: Wall mounting
Size: 600 mm
Finish: Stainless steel
Control switch: Slider
Suction power: 570 m³/hr
Speed: 3
Filter: Aluminium cassette
Light type: Incandescent
Light Wattage: 2 x 40 watt each
Device wattage: 260 watt
Max power consumption: 330 Watt/hr
Installation mode: Ducting / re-circulating model
Air outlet: 120/150 mm
Warranty: 5 years
2. Seavy Auto Clean Chimney
Heat auto clean technology: To keep the chimney clean and fresh after regular usage, it is designed with a built-in heat auto clean technology to get rid of sticky oil and grease. The chimney automatically cleans itself. The residual grease or oil gets collected into the stainless-steel oil cups that can be discarded later.
Soft-touch panel: The one-touch control panel gives you complete access to the basic functions of the chimney such as automatic cleaning, suction speed control, focus lights and power of the chimney. Its elegant design can add a sophisticated look to any modern-day kitchen.
Motion sensor technology: This smart kitchen chimney incorporates motion-sensing technology to enable easy operation by the wave of your hand. Wave the hand towards the right to turn on the chimney and wave it towards the left to turn off the chimney. Overall this is one of the best auto clean chimney that you can afford under 10000 INR in the Indian market.
Elegantly designed: Keeping style and substance in perfect harmony, this chimney is a blend of premium features and aesthetic looks. The premium, glossy finish of this model is sure to elevate the overall aesthetics of your kitchen.
LED lights: Illuminate your cooking space with the LED focus lights on the chimney. These bright lights can improve the visibility and focus on the stove. These elegant chimneys can add luminescence to your kitchen with its built-in energy efficient LED lights
1200m3/hr suction capacity: The chimney can effectively get rid of any kind of odors and stench from the kitchen. With a powerful suction capacity of 1200 m3 per hour, it eliminates foul smell, grime and smoke from your kitchen.
Stainless steel baffle filters: Two baffle filters are provided in the chimney for improved airflow and draining of the impurities. The baffle filters quickly and repeatedly change the direction of the grease saturated air to condense them and finally drain them onto the filter tray.
Durable stainless steel body: Stainless Steel is not only durable but also posses anti-corrosive properties. Hence, the chimney can stand well against grease, moisture and impurities.
Notable Features
Size: 60cm
Suction Capacity: 1200m3/hr
Auto Clean
Touch Control
Stainless Steel Finish with Curved Glass
Motion Sensing Technology
Noise Level: 55 dB
Installation Type: Wall Mount
Wattage: 180 Watts
Lighting: LED
3. Faber Chimney Hood (Cleo PB SS LTW 60), Steel Grey
If you are tired of maintaining your kitchen walls and ceiling and are desperately looking for a solution, then get the Faber CLEO PB SS LTW 60 Kitchen Chimney installed right away. This kitchen chimney features a suction capacity of 700 cubic meter per hour which ensures that your kitchen is a smoke free zone. It is a wall mount variant which saves you the trouble of worrying about the installation. There are also several other features which makes this a must have for every household.
Design: Being a wall mount variant, the Faber CLEO PB SS LTW 60 Kitchen Chimney is easy to install. If you have the required set of tools at home, you can even install it yourself. It has a convenient shape and size that does not take up much space from your kitchen without compromising on its functionalities. Situated on the front panel of the appliance are electro mechanical controls which allow to control and set up as per your requirement. The buttons are ergonomic and highly responsive. There are 2 CFL bulbs situated underneath the chimney which are of 5W each. This provides a luminescent ambiance while you are working in the kitchen. The body is silver and black in colour which give an elegant contrasting effect.
Performance: With a powerful suction capacity of 700 cubic meter per hour, the Faber CLEO PB SS LTW 60 Kitchen Chimney ensures that there is no smoke left behind in your kitchen. This in turn helps in avoiding the accumulation of oil stains on walls and ceiling. When it comes to sound, do not have to worry a bit as this product has a noise level of 62 decibels. You can now belt out some mouth-watering dishes without having to worry about any noise distraction. This appliance uses baffle filters which are known to be highly efficient.
Warranty: One of the best reasons to own the Faber CLEO PB SS LTW 60 Kitchen Chimney is the Lifetime Warranty that comes along with it. This provides you with assurance of receiving assistance throughout the entire lifespan of the product; however certain conditions may apply.
Notable Features
Size: 60 cm (2-4 burner stove for wall mounted chimneys)
Suction Capacity: 700 m3/hr (For kitchen size <100 sq ft & low frying/grilling)
Warranty: 1 year on product, 12 years on motor
Max noise(dB): 58
Type: Wall Mounted
Colour: Steel Grey
Filter: 3 layer baffle filter
Type of controls: Push button
No. of Speeds: 3
4. Elica Chimney (Strip CF 60 Nero), Black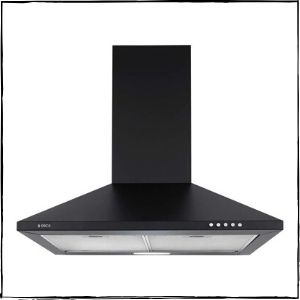 For your modern kitchen, Elica presents you an amazing Kitchen chimney that works excellently while complimenting your kitchen. The Elica Strip CF 60 Nero Kitchen Chimney is power packed with amazing features that offer you smoke, dust & stickiness free cooking experience.
Attractive design: Elica Strip CF 60 Nero Chimney comes with pyramid shape design that will surely enhance your kitchen décor. The classic design with compact size can be easily installed in the kitchen. Now you can cook in a smoke free surrounding.
Max air flow: With a suction capacity of 880 cubic meters per hour, it will amaze you with its amazing performance. It lets you cook hassle free without worrying about smoke or dust.
LED lamp: Upgraded with LED lamp that will brighten up your cooking area. The lamp is designed to deliver unmatched illumination while cooking.
Cassette filters: The Elica Chimney is equipped with a cassette filter that has a layered metal filter whose primary job is an efficient purification. This type of filter gives you the ease of removing or replacing the filter without any trouble. You can clean this filter right in your house without seeking professional help.
Push button control panel: Elica Strip CF 60 Nero Chimney comes with ease of access push buttons. By easy push you can easily access the device. The Push Button control offers both style and innovation.
Power efficient: This kitchen chimney from the mansion of Elica consumes less power and thus it's a must have kitchen appliance for all modern kitchens.
Notable Features
Size: 60 cm (2-4 burner stove for wall mounted chimneys)
Suction Capacity: 880 m3/hr (For kitchen size >200 sqft & heavy frying/grilling)
Warranty: 5 years on Motor and 1 year on product from Date of Purchase
Type: Wall Mounted
Colour: Black
Control Type: Push Button Control
Max noise(dB): 58
Input Voltage: 230V/50 Hz
Rated Motor Input Power: 230 Watts
5. Glen Pyramid Kitchen Chimney (6050 Junior), Silver
The Glen 6050 Junior Hood has a soft push button control panel and it ensures your kitchen remains smoke-free with its efficient suction rate. It has lighting attached to it which offers maximum visibility and convenience to ensure you get the texture and colour of the food right. Add a dash of luxury in your life and in the kitchen by installing it and have a hassle-free and comfortable cooking experience. The Glen 6050 Junior Hood ensures you have fresh breathable air in the kitchen and enjoy your cooking experience. It filters and sucks in the unwanted smoke so that you do not end up coughing your lungs out in the kitchen and prevents your kitchen interiors to be safe as well as it sucks all the smoke that could potentially blacken your walls.
Efficient Filtering of Air: This Hood has 2 Stainless steel baffle filters that filter the air effectively. It is a sleek contemporary hood cast in glass and steel. It ensures that your home and kitchen is free of smoke and the walls of your kitchen are protected from potentially blackening substances. The Glen 6050 Junior Hood has 2 40W lamps for better illumination of your counter top. Apart from also helping to keep health issues at bay, the kitchen chimney with its sleek design is sure to add more beauty to your kitchen décor. This hood has an Italian motor with Thermal Overload Protector.
Large Suction Rate: You do not have to worry about smoke making things difficult for you in the kitchen any longer. This chimney has a large suction area and an Air Flow of 1000 m³/h that sucks in all the unwanted air in the kitchen to give you fresh and breathable air. It has a large suction area that helps in providing amazing oil suction and also helps to keep the walls of your kitchen safe from easy blackening. Cooking in the kitchen can sometimes be a very difficult experience due to the different smells and gases being emitted during the cooking process.
Literally, this is one of the best Kitchen Chimneys in India so if your budget is a bit low then you can go for it.
Notable Features
2 Stainless steel baffle filters
Lifetime warranty
All safe Flame Retardant Plastic housing
Size 60 cm
2 powerful 40W Lamps
Airflow 1000 m³/h
More powerful & energy efficient motor to save electricity
Italian motor with Thermal Overload Protector
A bold, stylish straight hood in matt steel
Installation Type: Wall Mount
Operating Mode: Exhaust
Connection Rating: 235 w
Voltage: 220 – 240 V 50Hz
Controls: Push button control
Number of speed Settings: 3 stage
6. Hindware Chimney (Sabina Black 60), Black
Maximum Suction: The chimney comes with powerful suction power. The maximum suction feature makes Hindware chimneys one of the best kitchen chimneys available in India.
SS Baffle Filter: Made from stainless steel, Hindware chimneys come with baffle filters which effectively push the oil and residue to collect inside the baffle.
Energy Efficient LED Lamps: The lamps illuminate a wider surface but consume less power, this makes them handy for viewing your counter tops easily.
Notable Features
Size:60 cm (2-4 burner stove for wall mounted chimneys)
Suction Capacity: 1100 m3/hr (For kitchen size >200 sqft & heavy frying/grilling)
Motor Power: 200 W
Wall Mount Type
Warranty: 1 year on product, 5 years on motor
Baffle Filter
Control Type: Push Button Control
Max noise(dB): 58
Blower Type: Plastic
Curved Glass
Colour: Black
7. Sunflame Curved Glass Kitchen Chimney (BELLA 60 BK), Black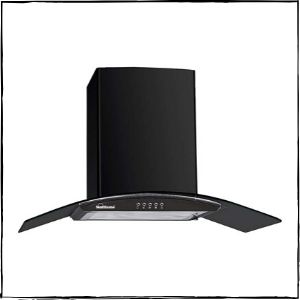 Baffle Filter: The Stainless steel baffle filter works efficiently forcing oil & other residues to settle inside the baffle, letting only the air move freely in between the filters.
LED Lights: All Sunflame chimneys come with energy-efficient LED appointments to keep your kitchen bright and heat-free unlike the halogen alternatives. It provides the perfect amount of light while cooking.
Powerful Motor: The high efficiency 190w motor is the heart of our high extraction chimney and our unique design holds the motor and housing in place whilst absorbing any vibrations they create. This allows the fan to spin much faster while still maintaining a very steady and quiet operation level.
Push Button Control: The Intelligent push button control offers maximum comfort and user convenience. It helps you control and operate light and different fan speed levels enabling the ease of operation to create a perfect environment in the kitchen.
Suction Capacity: With a powerful suction capacity of (1100 m 3 h) and noiseless operation, the Bella is operated with a powerful motor that prevents smoke from escaping the chimney which in turn keeps the kitchen fresh.
Notable Features
Warranty: 5 years on Motor and 1 year on comprehensive from Date of Purchase
Size: 60 cm (2-4 burner stove for wall mounted chimneys)
Type: Curved Glass, Wall Mounted
Voltage: 230V AC, 50Hz
Airflow max 1100 m /h
Black powder coated and black tempered glass
Push button controls
3 speed settings
Baffle filter
LED Lights
8. KUTCHINA Tiara Auto Clean Straight Chimney, Grey
No products found.
Grace Your Kitchen with Elegant Design: Enabled with an extremely aesthetic design and strikingly advanced features, Kutchina Tiara has an unchallenged presence in the market in the domain of kitchen appliances. With an elegant exterior and a highly regulated functionality, this chimney would undoubtedly grace your kitchen.
3rd Generation Auto Clean Technology: Kutchina Tiara is built with competent 3rd Generation Auto Clean technology , that auto cleans your chimney with the push of a button. With the 3rd Gen heat auto clean technology, all the grease particles get collected in the collector placed right below.
Filterless Technology: Kutchina Tiara has innumerable feature to absolutely vouch for including its filterless oil collecting technology that does not allow any blockades to occur in the suction. The powerful suction capacity draws in the unhealthy smoke and oil completely and prevents the droplets of oil from dripping on your food.
High Suction Capacity: Kutchina Tiara is built with a suction capacity of 800 m3 / hour, which brings freshness & comfort in your kitchen and helps you to cook in a non sticky healthy environment
LED Lamps: It has power saving LED Lamps that also makes it quite a pocket friendly deal for the people who are looking for efficient services. They also add illumination in the experience of cooking and make it the best stack for your kitchen. Now lights will never be an issue while you're cooking.
Notable Features
Size: 60 cm (2-4 burner stove for wall mounted chimneys)
Wall Mounted Hood Chimney
Appropriate for medium size kitchen which is bit spacious & using 3 or 4 burner gas stove
Filter-less technology for 100% oil suction
Suction Capacity: 1100 ± 50 m3/hr (For heavy frying/grilling)
Enjoy peaceful cooking with Kutchina no noise technology
9. KAFF Chimney (BASE TX 60), Steel Grey
Smoke and fumes don't necessarily have to go hand in hand with cooking. Get rid of fumes and odours with the Kaff BASE LX 60 Wall Mounted Chimney. The aluminium filter and the Touch Controls featured in this chimney ensure good health, and make cooking a comfortable and enjoyable experience.
Powerful Air Flow: With an air flow of 700 cubic meters per hour, this chimney removes smoke and fumes effectively, so you don't have to go out of the kitchen every time you need a breath of fresh air.
Aluminium Filter: The lightweight aluminium filter is highly efficient in making your kitchen a clean and healthy place. Also, since it is easy to clean, you won't have to bend your back when it's time to clean the chimney.
A Silent Guardian: If you think efficient performance comes with loud noises, think again. The Kaff Base LX 60 works efficiently, while ensuring a maximum noise level of 59 dBA.
Push Control Capability: Using the different functions and features of the chimney is made easy, thanks to the Push Controls. This energy-efficient chimney comes with three speed levels, which you can set as per your cooking requirement.
Notable Features
Air flow: 700m3/h
Aluminium Filter
Stainless Steel
Normal light
Air Outlet: 150mm
Noise Level: 59 dBA
Push Controls
Lifetime Warranty
Size: 60 cm
10. Eurodomo Chimney (Sapphire PB SS 60), Stainless Steel
Stainless steel elegant body: Designed to match all modern kitchen decor, the eurodomo kitchen chimney is all you need to relish the true cooking experience. The stainless steel body adds durability and ensures reliable long term quality performance.
Cassette filter: The Eurodomo kitchen chimney filters the dust and smoke particle with its cassette filter. The high quality cassette filter is capable of capturing fine dust and smoke particle.
Push buttons: To offer easy and quick accessibility, the Eurodomo kitchen chimney comes with ease of access push buttons. The push button can be easy clean with soft fabric.
Powerful suction: The chimney has a power capacity of 850 cubic meters per hour. The powerful suction capacity allows smoke and dust free cooking.
Notable Features
Size: 60 cm (2-4 burner stove for wall mounted chimneys)
Finish: Premium Stainless Steel
Suction Capacity: 850 m3/hr (For kitchen size 100-200 sq ft & medium frying/grilling)
Warranty: 1 year on product, 5 years on motor
Cassetter filter
Control Type: Push Button Control
Max noise(dB): 58
Type: Pyramid, Wall Mounted
Colour: Stainless Steel
---
How to Choose Best Chimney for Indian Kitchen?
After having seen in detail which are the best models on the market, it's time to move on to the real buying guide. A good kitchen chimney, in addition to eliminating the problem of vapors and bad odors immediately, allows us to preserve the walls of our home from premature aging and annoying stains as well as curtains and other fabrics that would otherwise run the risk of becoming impregnated with acres and annoying odors.
For this reason it is of fundamental importance to know how to choose the kitchen chimney more efficient and better suited to our needs. And it is precisely to help you choose the product that best suits your needs that below we will provide all the necessary information on types, structural characteristics (materials, structure, design, dimensions, filters, lighting) and functions (suction capacity, controls , power, consumption, noise level). Before purchasing a kitchen chimney, make sure to apply the relevant Amazon coupons to earn some extra discount on your purchases.
1. Types of Kitchen Chimneys
Here are the different types of chimneys to consider.
a. Undercabinet or Built-in Chimneys
These chimneys are fitted under the bottom of a wall cabinet. Pipes installed inside the ceiling and adjoining walls are being used to carry fumes and smoke outside. Such designs save space and look compact.
They range in sizes from 21 to 42 inches wide and can be as tall as 10 inches. Blower outputs can go as high as a 1000 CFM's on a few models but more commonly CFM's range between 300 and 800 with included blowers. These hoods will also we'll have the most flexible price points.
b. Wall Chimneys
Wall-chimneys hoods work well in compact kitchens where there are no cabinets over the stove. They are wall-mounted and have exposed vent shafts to expel gases outside. The canopies on these models are available in stainless or glass with several decorative styles to accent any kitchen.
They range in sizes from 30 to 60 inches wide with the ability to extend the duct cover up to 12 inches high depending on the model to accommodate up to a ten-foot ceiling. They average between 300 and 800 CFM's with the included blowers and only a few models available over 1,000 CFM's.
c. Island Chimneys
These chimneys are specially designed for modern kitchens where the cooktop is in the middle. Installed directly above the stove in the centre, island chimneys require a lot of ductwork and piping. Since they don't have walls or cabinets alongside them to help exhaust fumes, these chimneys should be at least 6 inches wider than the cooktop.
d. Ductless or Non-Ducted Chimneys
This installation option is available for all the above chimneys – undercabinet, wall, and island. Ductless chimneys direct fumes, steam, and smoke away from the stove, but back into the kitchen since they have no ductwork.
They are not recommended because they disperse kitchen fumes and odors throughout the kitchen and home.
e. Downdraft Chimneys
Downdrafts are a good alternative if traditional venting isn't an option. They lay flush with the cooktop when not in use and pop up for venting when needed. Downdrafts work by drawing the air down through a vent to the outside and in a few models have the ability to recirculate. Downdraft chimneys range in sizes from 4 to 48 inches wide and have an average CFM rating between 300 and 1200 depending on the blower type.
2. Chimney Filter
The most important thing to consider is the chimney filter. Filters trap oil and other particles thereby boosting the purification process. There are three types of filters available:
Mesh or Cassette Filters: Made of multiple layers of aluminum mesh, these filters have small holes that get clogged easily thereby affecting performance. They require a lot of maintenance and need to be cleaned at least every fortnight.
Baffle Filters: The design of the baffle filter includes multiple curve structures that change the direction of kitchen fumes and separate the grease and other particles from it. Even with the accumulation of grime on the first layer, the suction power of the chimney is not affected at all. Baffle filters are ideal for Indian cooking and also easy to maintain and clean.
Charcoal Filters: Charcoal filters are made of charcoal granules and are mainly used for odour absorption. The performance of these filters depends on its thickness and the size of charcoal granules. More the thickness, better the performance. Such filters usually don't come fitted with chimneys but can be custom installed. Depending upon the intensity of usage, they need to be replaced every 3 to 6 months. 
3. Venting Options
Kitchen chimneys have three venting options – vented or ducted, non-vented and Convertible.
Vented or Ducted: Vented or ducted funnels the bad air to the outside of your home through a duct wall or roof.
Non-vented or Recirculating: Non-vented or recirculating chimney pulls the bad air through a charcoal filter and exhausts the clean air back into the room. It's a good idea to change the charcoal filter regularly otherwise it's not as effective.
Convertible: Convertible which simply means that the chimney has the option to be vented or non-vented.
4. Air Suction Capacity of the Chimney
The suction power of a chimney is the capacity of its motor to suck oil, smoke, grease and other particles. For heavy cooking, high suction capacity is required, while for regular cooking medium suction capacity works. Depending on the size of the kitchen, anything between 400 m3/hr to 1000m3/hr is ideal for Indian cooking.
5. Number of Blowers in the Chimney
Blowers run in tandem with the motors to expel unwanted odour and oils. More blowers are required to dispel the smell and fumes particularly if the cooking includes deep-frying.
6. Types of Chimney Blower
There are three types of chimney blowers – internal, external and inline.
Internal: Internal which means the blower motor is inside the actual hood. Because of this, these units tend to be a bit noisier than external journal models but are ideal for those who have restrictions with ductwork or several bends in the duct. They are extremely functional and offer great performance.
External: External which mean the blower is usually mounted somewhere outside the home usually on the roof or in the Attic. These units minimize noise levels on the inside and perform just as well or better than internal blowers because they tend to offer higher CFM's. But, be sure to mount them far enough away so that the external noise from the units doesn't disturb you when you're outside. Do note that such blowers will require a more detailed installation.
Inline: Inline which means the blower that sits in the duct runs either between the ceiling joist, floor joist or in the Attic. Inline blowers are beneficial if you have a long duct run or a number of turns in your duct. It can also be added to your main blower to strengthen power.
7. Chimney Fan Speed
Chimneys come with two to six fan speeds. At least two speeds are recommended. High – which is used while cooking – and low – which is used after cooking to dispel smell and ventilate the kitchen. Anything more than three fan speeds is generally not required.
8. Kitchen Chimney Noise
The noise level of the chimney should also be considered. Some chimneys have silent kits installed which makes them function silently or with less noise.
9. Air Capture Area
The air capture area is the area that the chimney actually covers. The best way to get effective air removal is to purchase a chimney that is at least as wide as the cooking surface and deep enough to cover the back burners and at least half of the front burners. Shallower chimneys should be mounted closer to the cooktop surface.
10. Other Features To Consider Before Purchase
A few add-on features can also be considered.
Auto Clean Chimney: This feature allows chimneys to clean themselves without any human intervention.
Auto heat sensor of the Chimney: Some chimneys have an in-built sensor that detects temperature and grease and automatically switches on and off.
Alarm: Few chimneys have indicator alarms or buzzers that alert you when the chimney filter requires cleaning or replacement.
Lights: Chimneys nowadays come with one or more LED or CFL lights for better illumination of the cooktop.
Top Benefits of a Kitchen Chimney
Although largely overlooked and least appreciated when considering kitchen appliances, a chimney is actually one of the most essential appliances in the kitchen.
If you do not have a kitchen chimney, we strongly recommend installing one. Here are a few important benefits of installing and using a kitchen chimney.
A kitchen chimney improves air quality by removing odors, smoke, grease, and other pollutants that are released into the air while cooking.
Kitchen chimneys are great at cutting down the amount of carbon monoxide that may be present in your home. There are many health dangers associated with carbon monoxide.
Another great benefit of a kitchen chimney is the fact that it helps remove heat from the kitchen, whether it's heat coming from the cooktop or steam coming off of the food.
A kitchen chimney provides additional lighting over the cooktop. Being able to actually see what you are cooking is important to ensure that food is being cooked properly. This will also help prevent it from burning. Better lighting is also helpful in keeping your cooktop clean because with the light from the chimney you will be able to clearly see dirt and grease. Removing that filth and dirt will keep your cooktop spick and span.
Using a chimney will help prevent bothersome greasy and filth build-up and cut your cleaning time in half.
FAQs About Kitchen Chimneys:
A kitchen chimney is a household appliance that sucks in and eliminates the fumes, vapors and odors that derive from cooking food. A chimney, which can also be filtering , in addition to removing unpleasant odors in the place where it is installed, plays a fundamental role in air purification, especially in small domestic environments or in kitchens equipped with gas ovens. Below, our experts have answered some of the frequently asked questions about kitchen chimneys.
1. What are the top 10 kitchen chimney brands in India?
Here are the top chimney brands you can invest in – Eurodomo, Elica, Hindware, Kaff, Glen, Sunflame, Faber, Seavy, Inalsa and Bajaj.
2. How does a kitchen chimney work?
Although kitchen chimneys differ from model to model, they operate on similar principles. A chimney is used in conjunction with a stovetop to vent steam, grease and food odours to the outside of the home or through filters back into the kitchen. The air is circulated through the chimney by a fan motor which is energized by voltage sent to the motor when the fan switch is actuated. Some models will have one or more motor speeds to achieve optimal venting. A standard grease filter is used when the steam is being vented to the outside of the home. A charcoal filter is required if the steam is being recirculated back into the kitchen.
3. Is auto clean chimney better?
Yes, auto clean chimneys are better because they are equipped with the latest technology to save time and effort. While auto clean chimneys are expensive when compared to non-auto clean chimneys, they require very less or no maintenance costs. Auto clean chimneys also have a higher suction power because oil particles are not stuck in the filter.
4. At what height chimney should be fixed?
The distance between the gas stove and the bottom of the chimney should be a minimum of 26" and a maximum of 30". No matter which type of cooking range you are using – electric cooking range, built-in-hob or a usual cooktop – the distance maintained remains the same. If the distance is less than 26", there is a risk of the chimney catching fire.
Similarly, if the distance between the gas-stove and the bottom of chimney is kept more, the performance and efficiency of the chimney will reduce.
5. How do I choose a chimney size?
Most kitchen chimneys are available in standard sizes of 60 cm and 90 cm. Choose the size of the chimney depending on the size of the stove and the size of the kitchen. The chimney size should be slightly larger than the size of the stove, in order to absorb the smoke much more effectively. Normally for 2 to 4 burners stove a 60cm kitchen chimney is enough and for 3 to 5 burners stove a 90cm kitchen chimney is adequate.
6. How to clean a kitchen chimney?
To clean a stainless-steel chimney, you will need the following:
1. Very hot or boiling water
2. Non-abrasive dishwashing gel
3. Non-abrasive scrub
4. Micro-fibre cloth
Instructions:
1. Wipe the chimney with hot water.
2. Pour a dollop of non-abrasive dishwashing gel on a non-abrasive scrub and thoroughly clean the chimney.
3. Once you're done, clean the chimney with hot water to remove the soap. Repeat this process until the soap is properly removed.
4. To finish off, wipe the chimney with a micro-fibre cloth.
7. What is a ductless chimney?
Unlike a ducted chimney, which vents air to the outside, a ductless chimney consists of a fan with a charcoal filter that sucks up grease, heat, smells, and smoke, filters it, and then recirculates it back into the kitchen. Ductless chimneys are generally more affordable than ducted chimneys and are also easier to install.
They don't require any external ducting or changes to the kitchen's heating and ventilation systems. It is also easy to move and reposition. The downside of a ductless chimney is that it is fitted with a charcoal filter that needs to be replaced regularly. Also, ductless chimneys typically capture and filter certain types of particles only.
8. Can kitchen chimney run on inverter?
Yes, a kitchen chimney can run on inverter. However, it is important to keep a few pointers in mind before connecting the chimney to the inverter. The total power consumed by the chimney must not exceed the total load handling capacity of the inverter. If it does, then your inverter will not be able to handle the load and will trip. Also, it is important to ensure that the power of the inverter is between 600 to 800 VA.
9. Does modular kitchen include chimney?
Yes, most modular kitchens include chimneys. Infact, it is really important that modular kitchens have a chimney so that the grease and smoke produced by Indian cooking doesn't settle on your cabinets and appliances. Depending on the needs of your kitchen, you can choose from different types of chimneys like wall chimneys, downdraft chimneys, island chimneys or built-in versions.
Which chimney is best for Indian Kitchen?
For Indian kitchens, a vented or ducted chimney is best because it evacuates greasy fumes, vapors and odors outside the house thanks to a dedicated exhaust duct which generally opens onto the roof or the façade depending on its installation. Before being discharged outside, the charged air still passes through an anti-grease filter which will purify it so that only odors and humidity are evacuated. Some of the best ducted chimneys include:
1. Faber 60 cm 1200 m³/hr chimney
2. GLEN Senza 60 cm 1050 m3/hr chimney
3. Inalsa 60 cm 1150 m3/hr chimney
4. Hindware 90cm 1100 m3/hr chimney
5. Eurodomo 60 cm 1200 m³/hr chimney
Which is better Faber or Elica?
Both faber and Elica are good chimney brands. However, if you're looking for a low-priced option, it is recommended that you opt for Elica, since Elica chimneys are better priced that Faber chimneys. On the other hand, in terms of features Faber chimneys are better. They come with various useful and impressive features like Sil-K technology, Auto-clean technology, and Triple-layer filter.
---
Conclusion
Kitchen chimneys aren't a cheap or easy addition to a kitchen, but if you're building a new kitchen from scratch or going through a remodel, they're well worth including in your plans.
There are plenty of options to choose from to find one that suits your particular needs and kitchen design. It's a worthwhile investment for anyone who aims to use their kitchen for cooking often.
---
Loved our kitchen chimney list? Do share it with your friends on Facebook, Twitter, and Instagram.
DISCLAIMER: Being a reader-supported blog, Khojdeal earns affiliate commission from purchases made using links on our blog.
Learn more